Sep 2-12, 2019: Cocos Keeling – Paradise Island Highlights!
So we finally found the spot that defined the concept «Paradise Island»: Direction Island, one of the Cocos Keeling Islands. Crystal clear water, white sandy beaches, coconut palm trees, healthy corals and exotic fish in abundance. This atoll – and especially the anchorage at Direction Island – is known as The sailor's paradise. We fell in love with it –  surfing down "The Rip" with sharks & and schools of colorful fish of all sizes, spending time with old and new sailing friends, meeting the friendly people on Home Island and West island, and even discovering some unexpected pleasures, such as finding the coolest baker who makes the best freshbaked bread we've encountered so far in our 2 year travel around the world. And even getting it home delivered on board Vilja!
You've gotta love Cocos Keeling!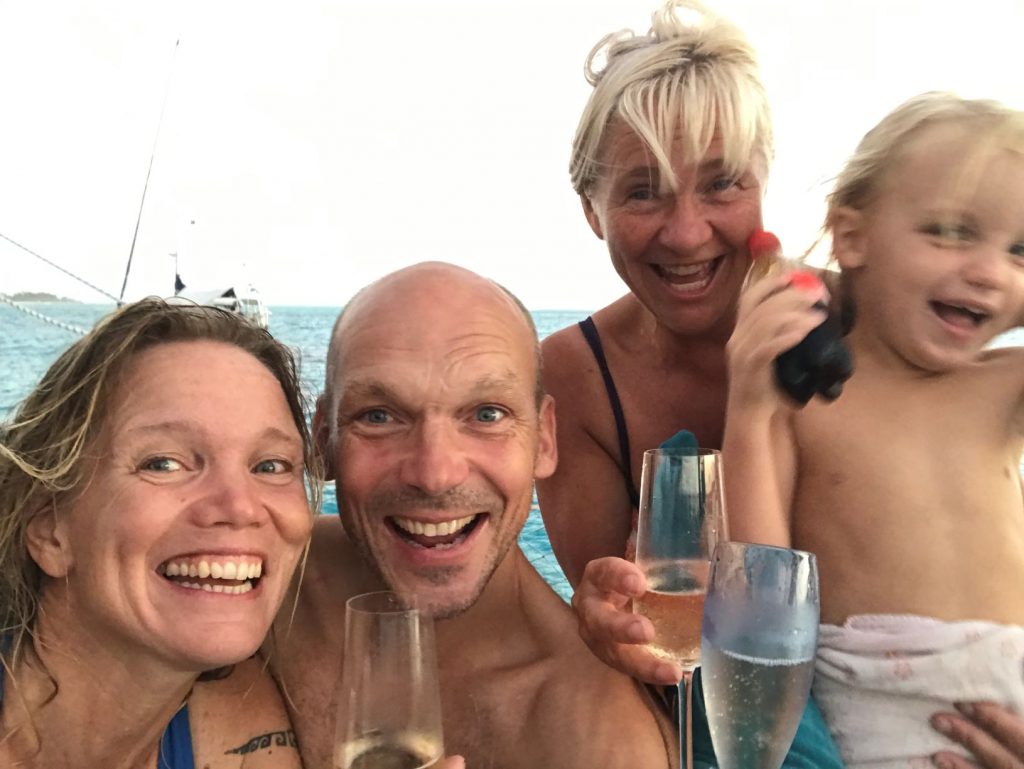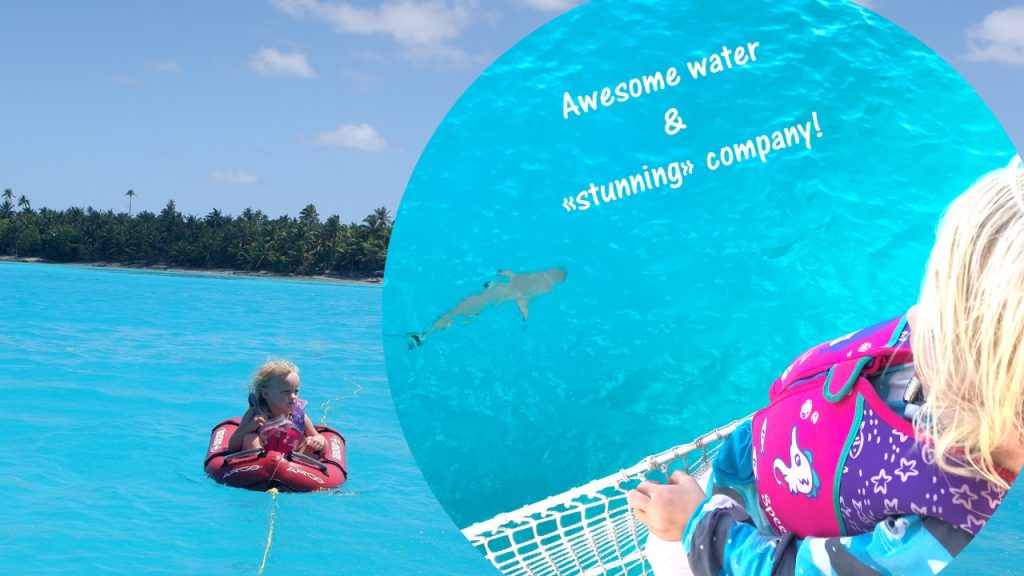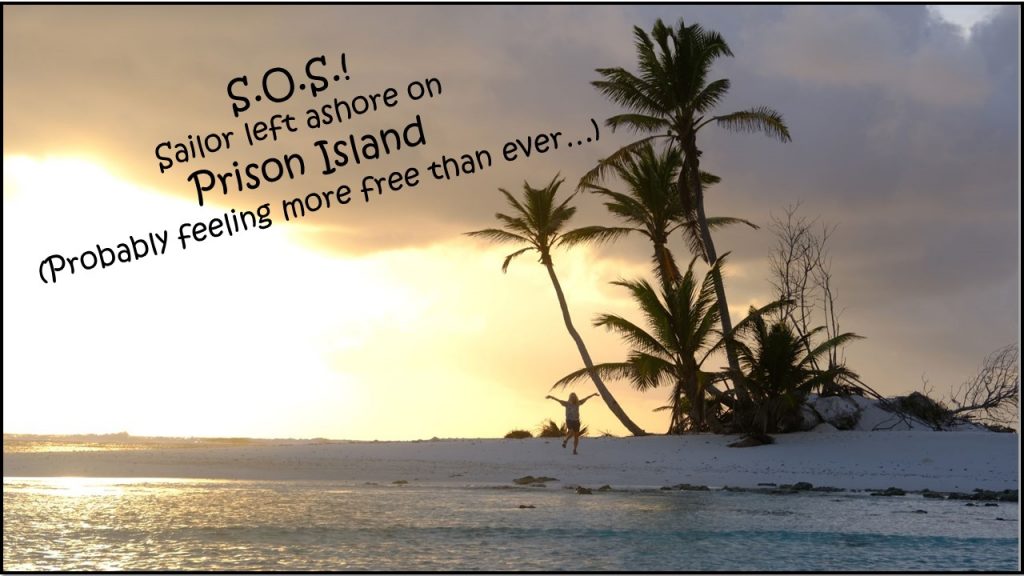 DIRECTION ISLAND –  "The Sailor's Paradise Island"
The first week we were many sailors here -as we had hoped for.
While Direction Island belongs to anyone who takes the trip out here during daytime – After dark it turns into the Sailor's Island. Nobody here but sailors and hermit crabs. 🙂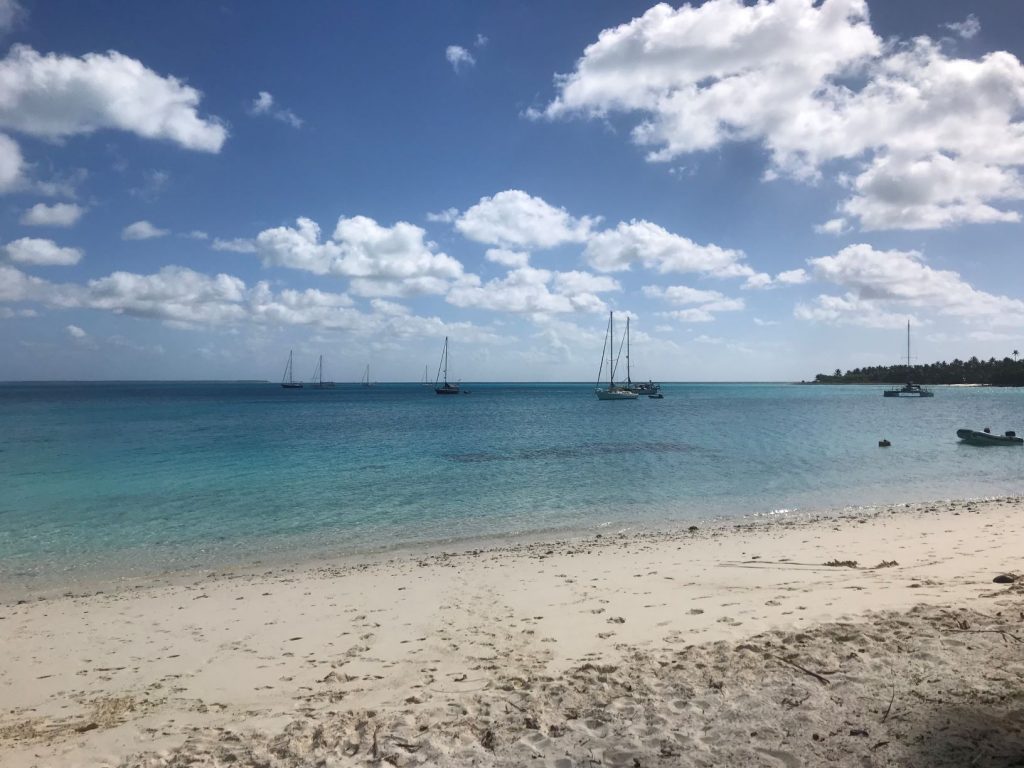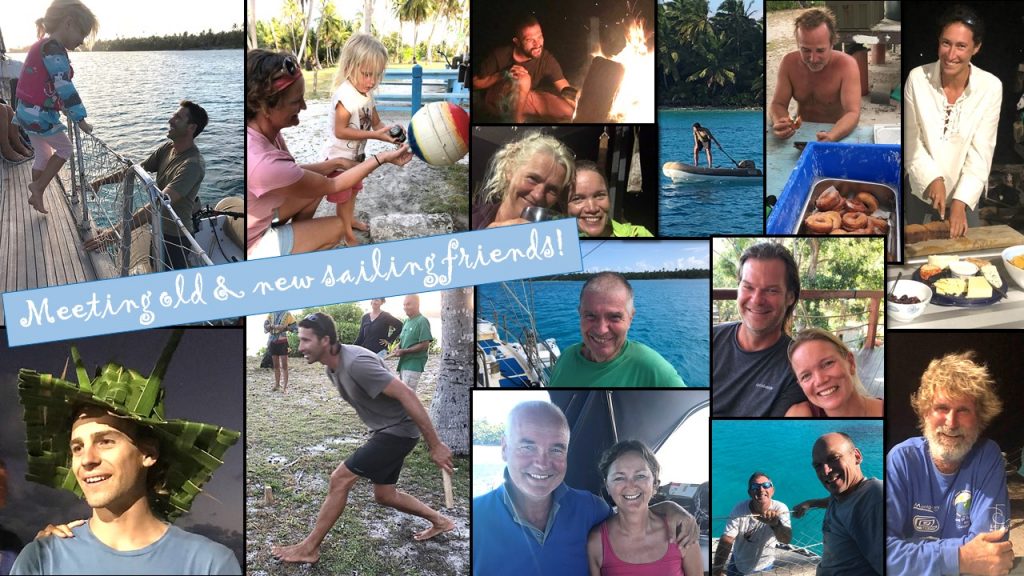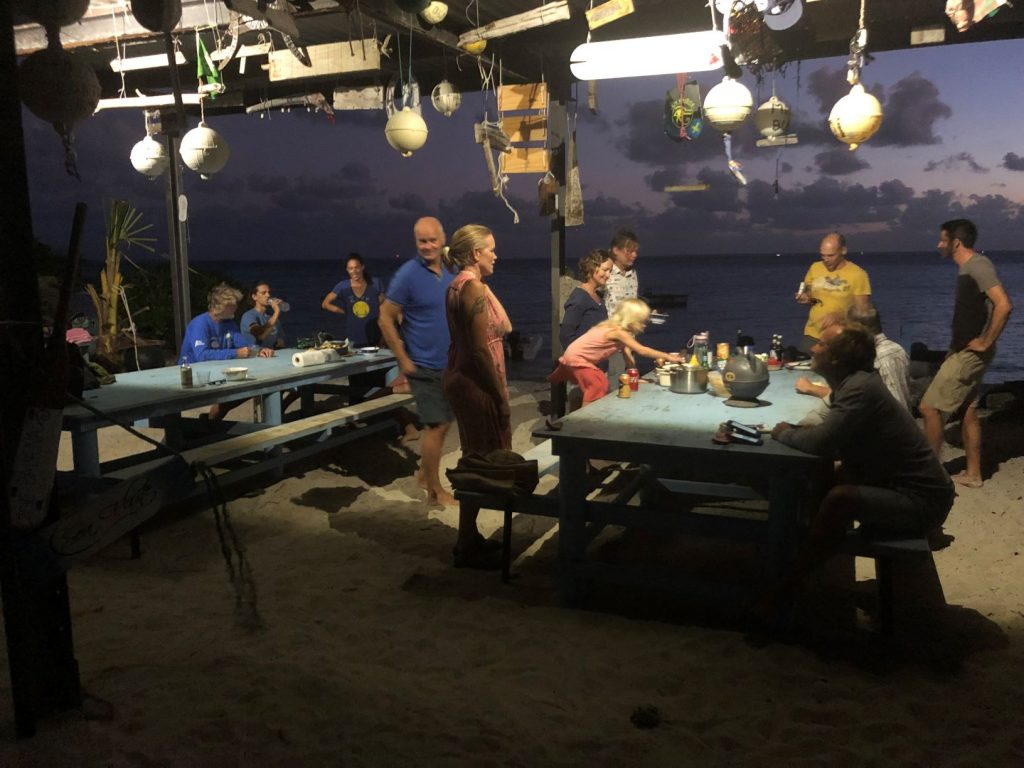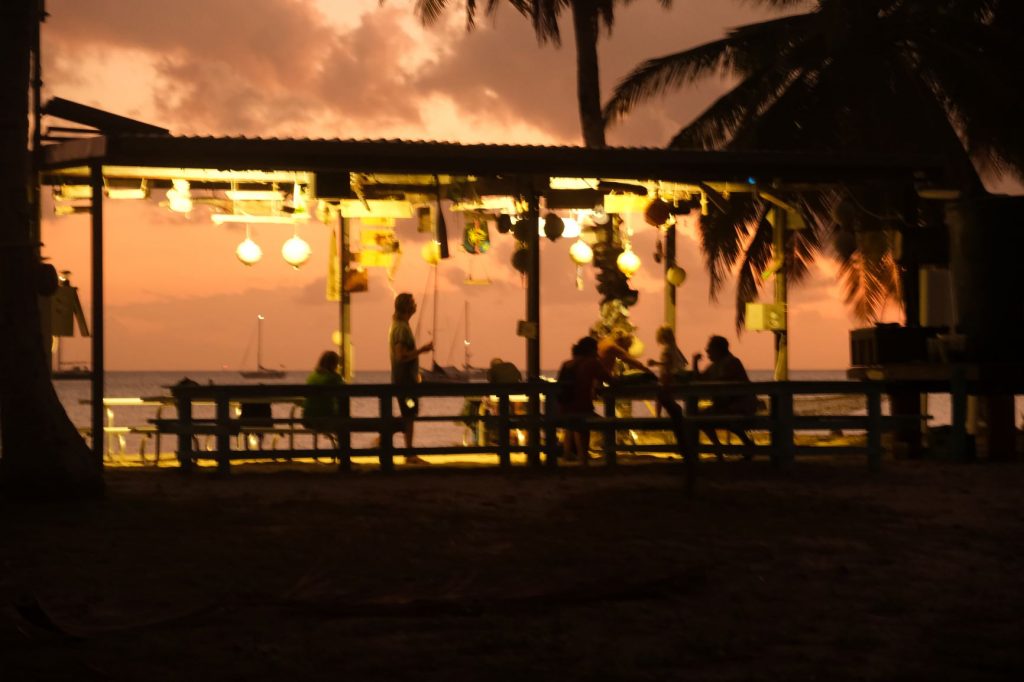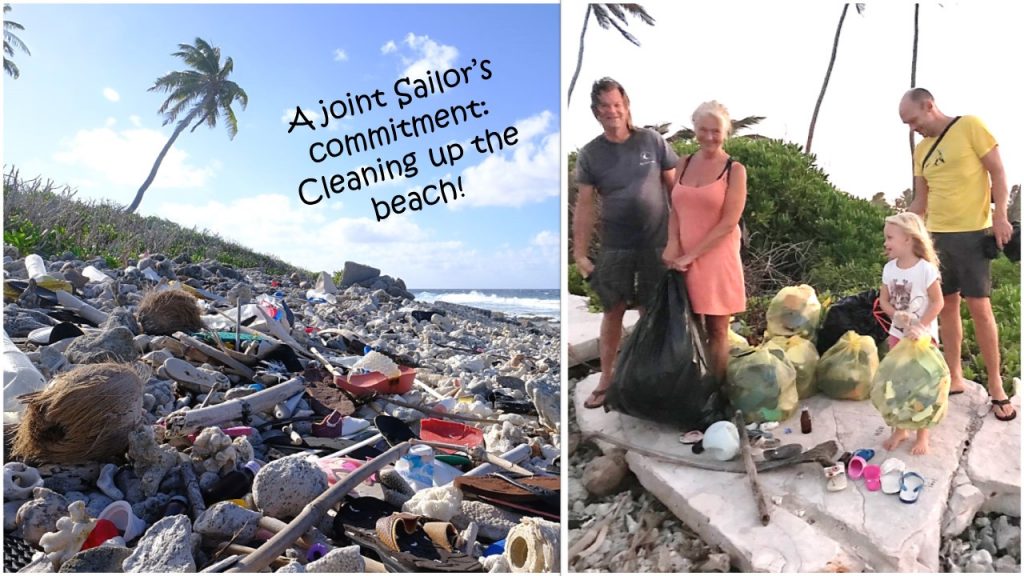 Trips to town: West Island and Home Island
There are two settlements in Cocos Keeling; West Island where somewhere between 50-100 people live, mostly Australians. And Home Island, where a bit more than 500 people live, mostly Malays. We «went to town» and visited them both a couple of times.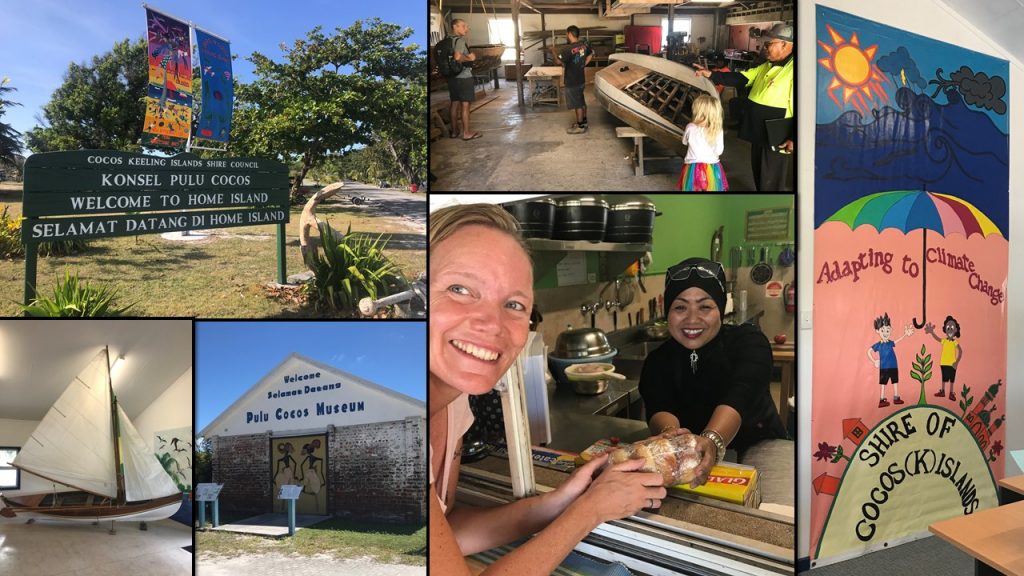 Some Tropical Island time on our own
Then the sailors sailed – or flew; our third-time-returning Vilja crew member Brynhild caught a flight home to Norway.
And us 3 – we stayed! For another week. It's hard to leave this place! And hey, after all – this is our circumnavigation, and we're on a perfect tropical island. Why not just ENJOY!?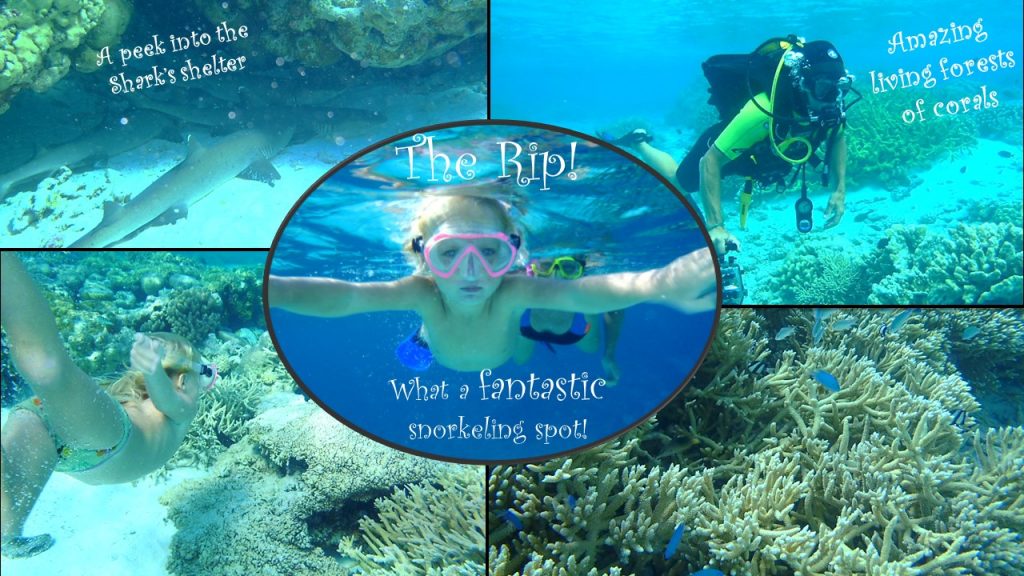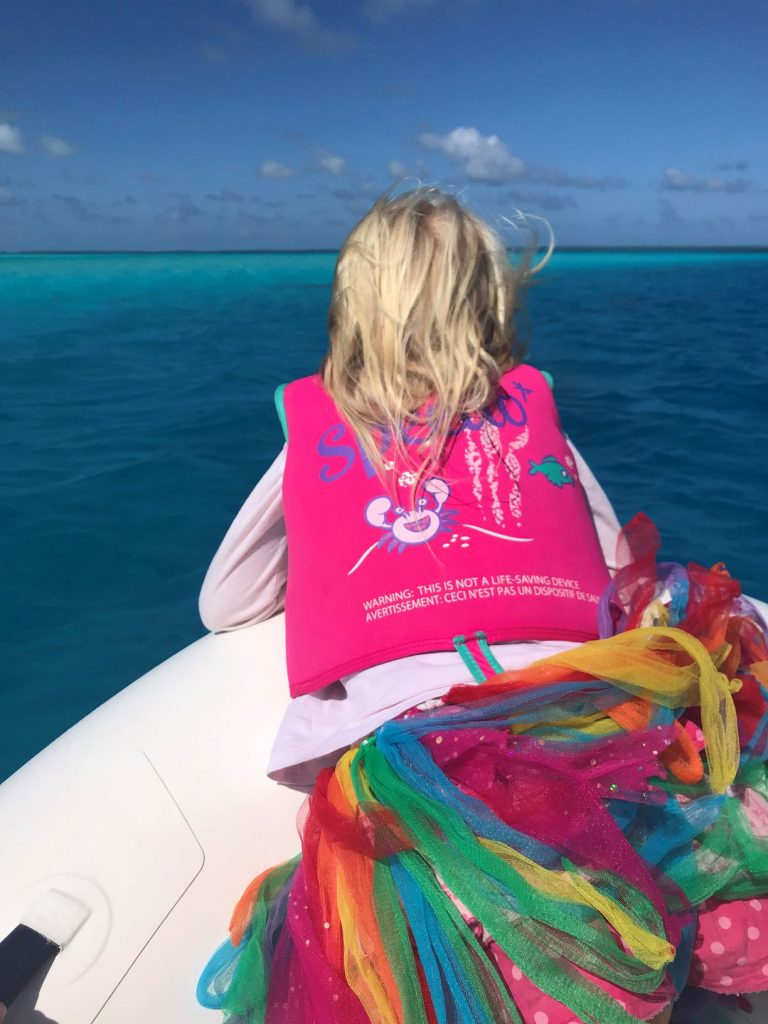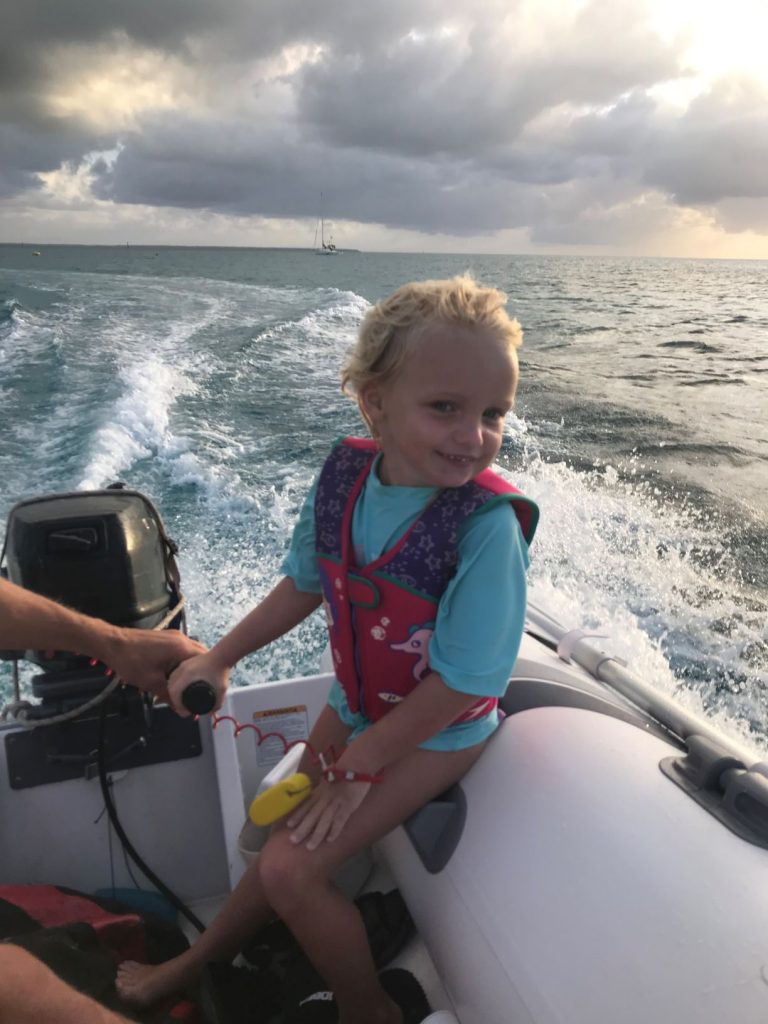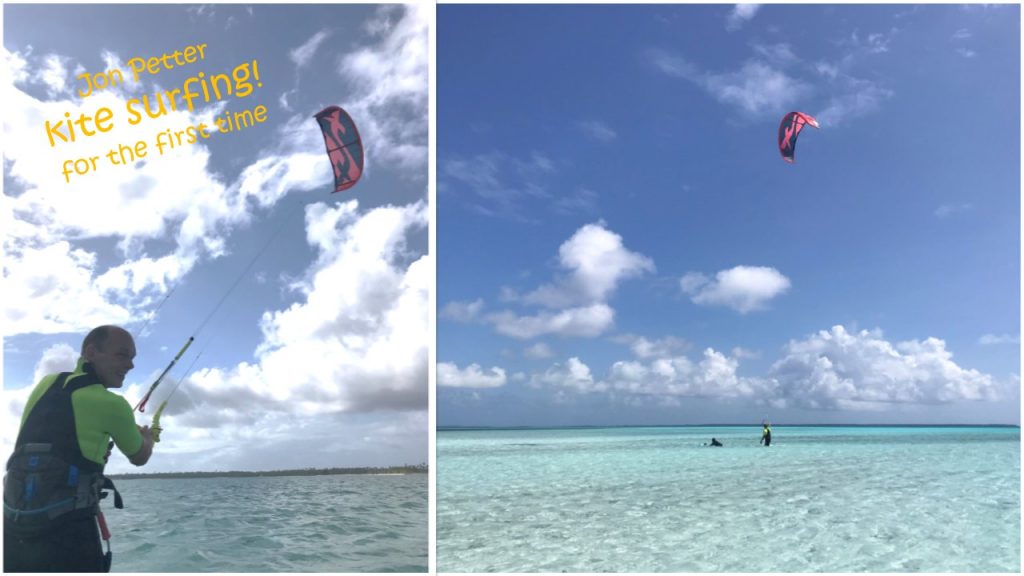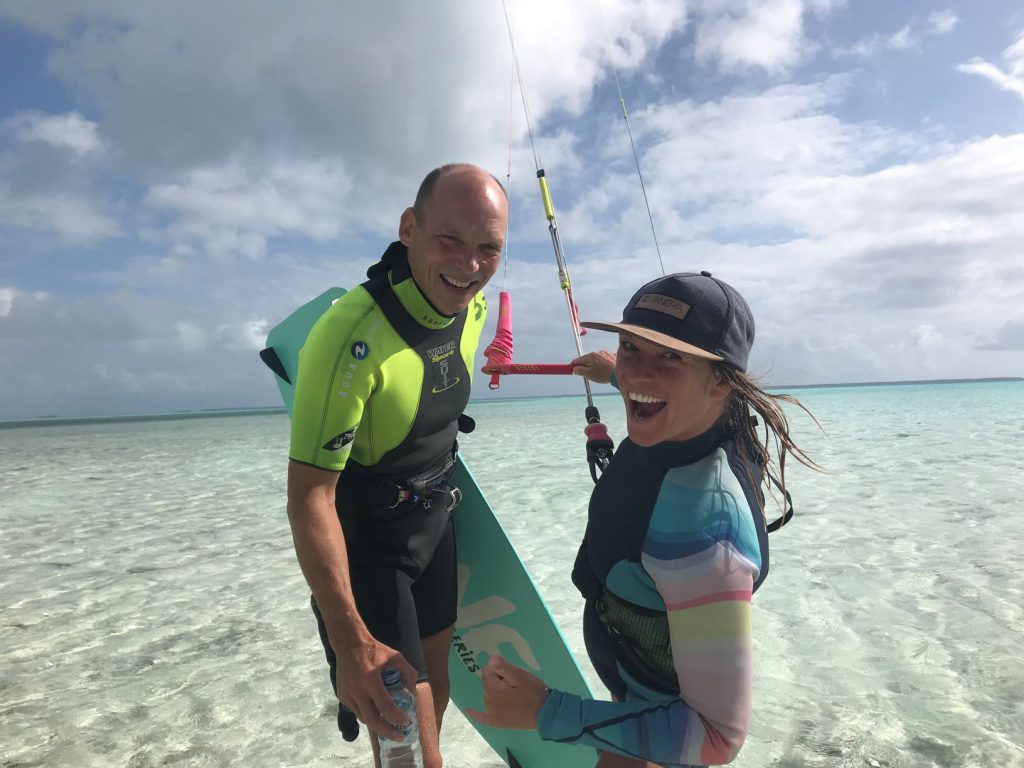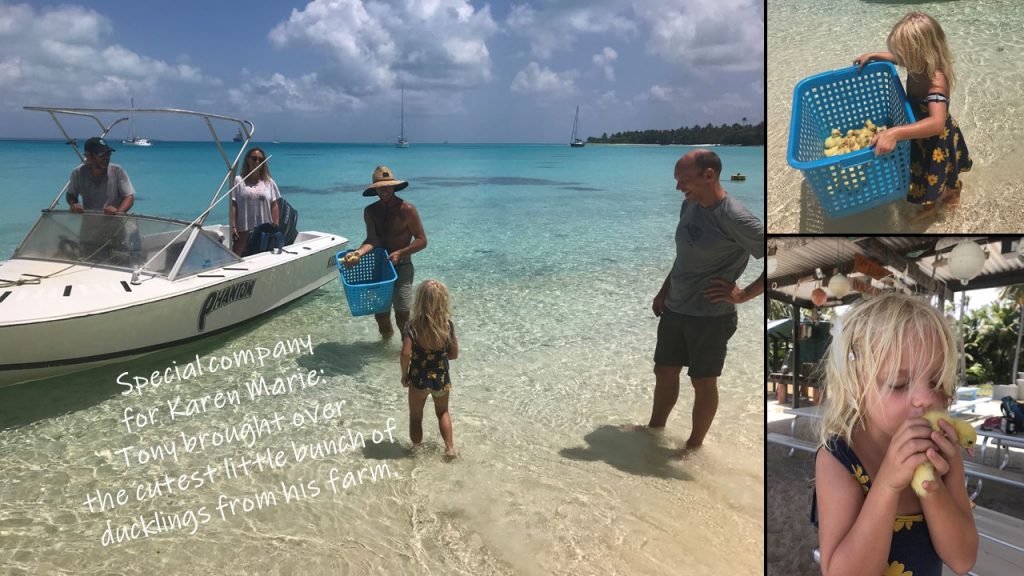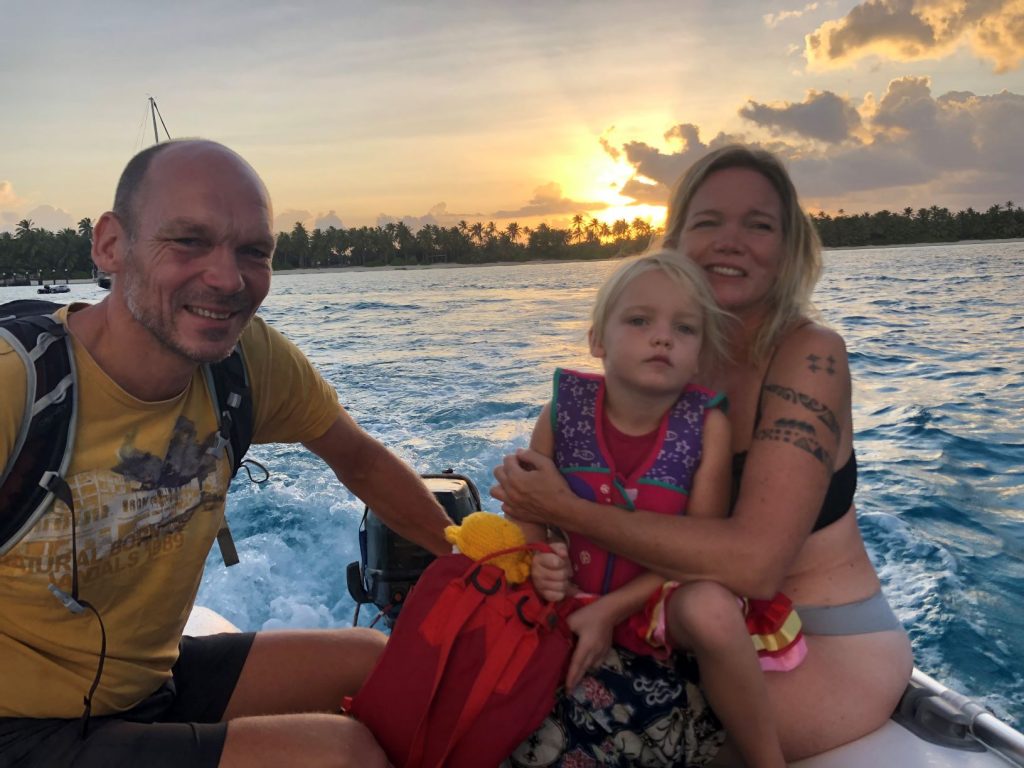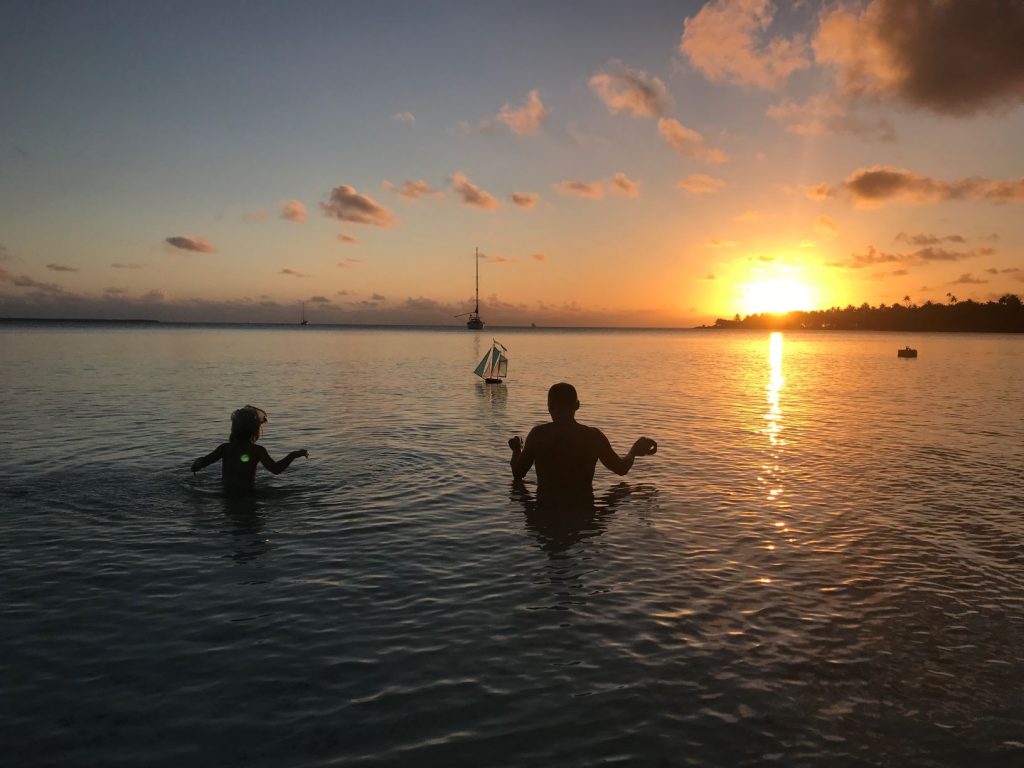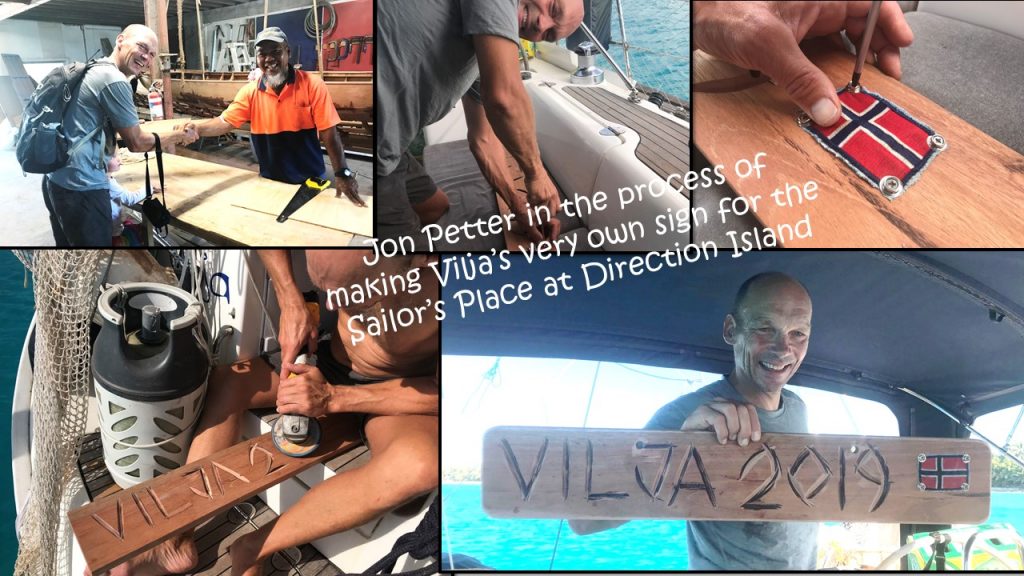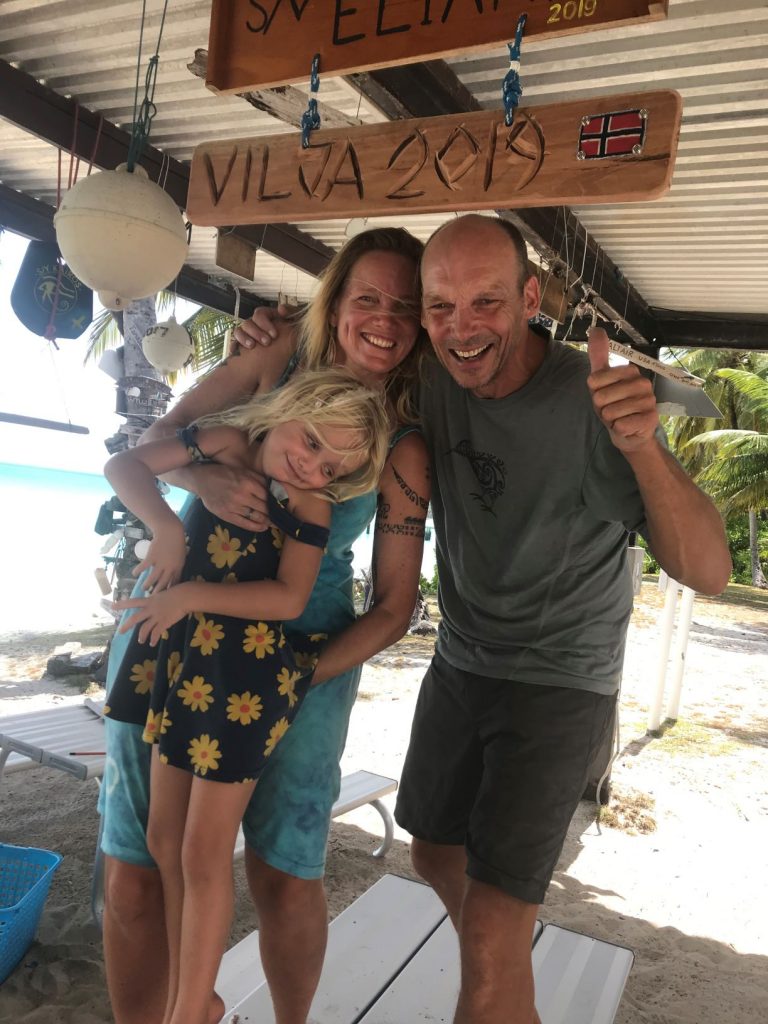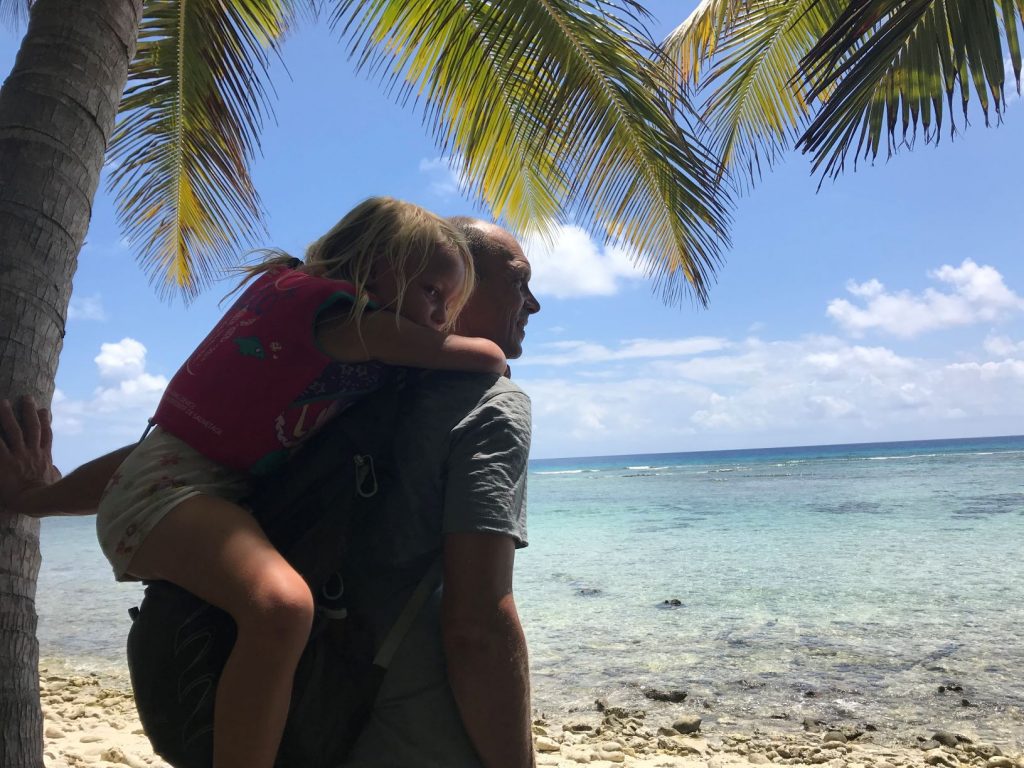 So now we're heading West. 1500 nautical miles NW we'll look to find another tropical paradise, however with a tragic history. Next stop: Chagos, the British Indian Ocean Territory (BIOT)!
______________________________
July 11th to August 18th, 2019: Photo update from Indonesia!
As we're getting ready to cross the Indian Ocean, leaving from Lombok,  we just want to post «an avalanche» of pictures showing some of the many good moments from our more than five weeks here in Indonesia.
August 11th-15th: First stop: Tual, The Kei Islands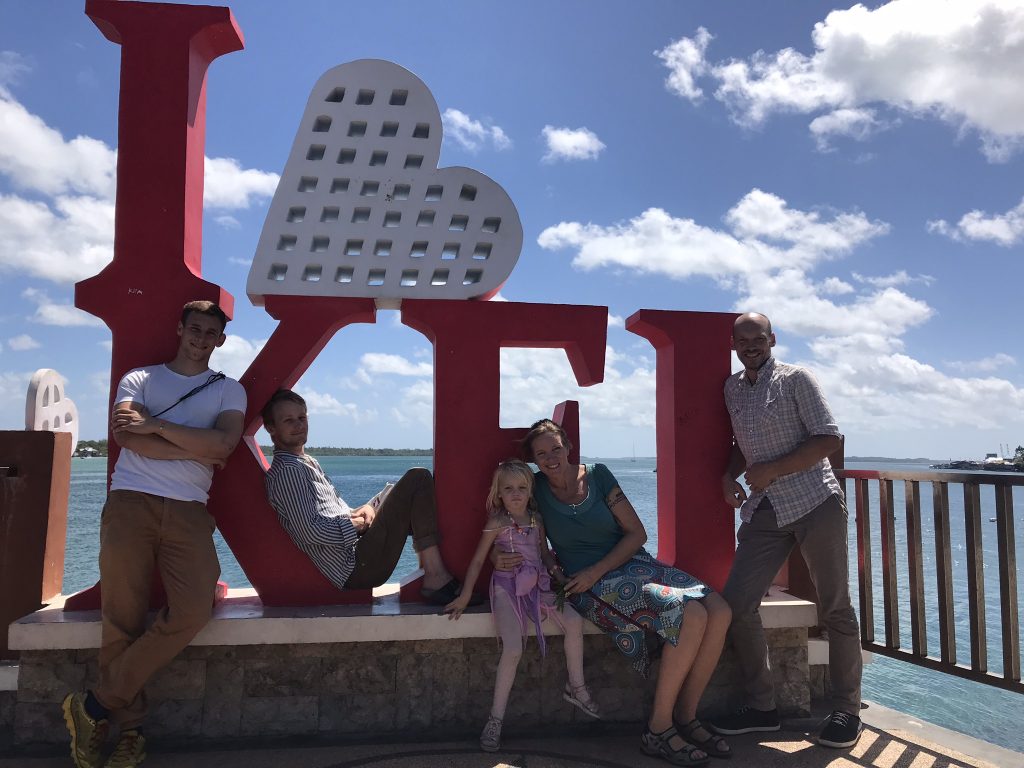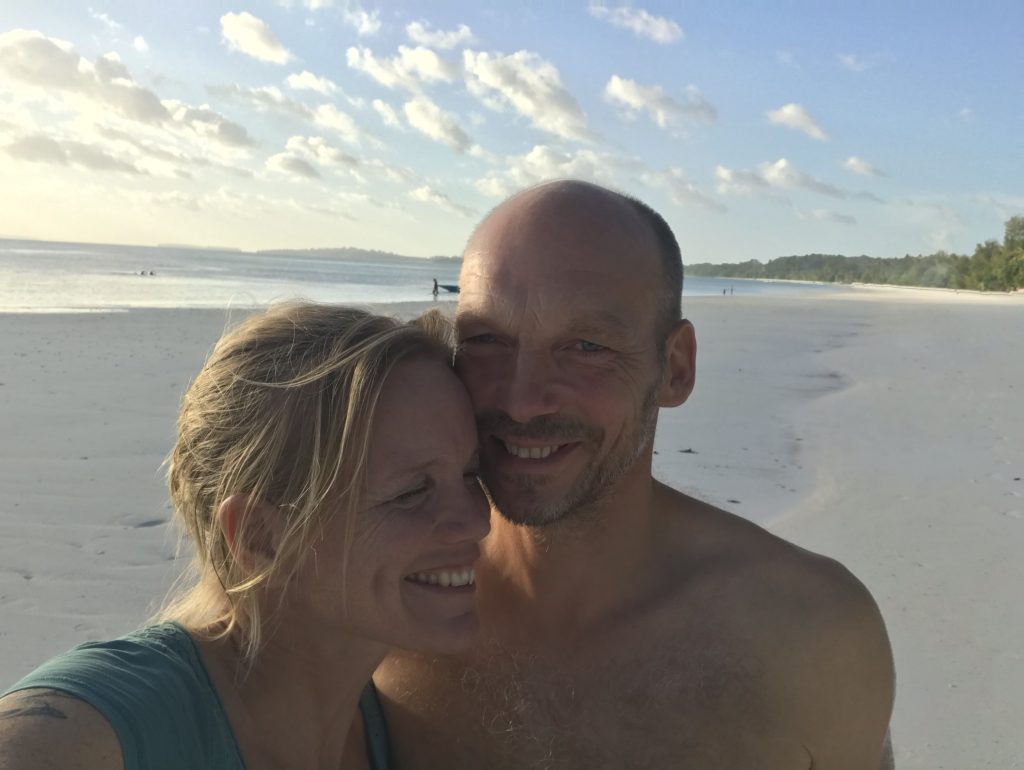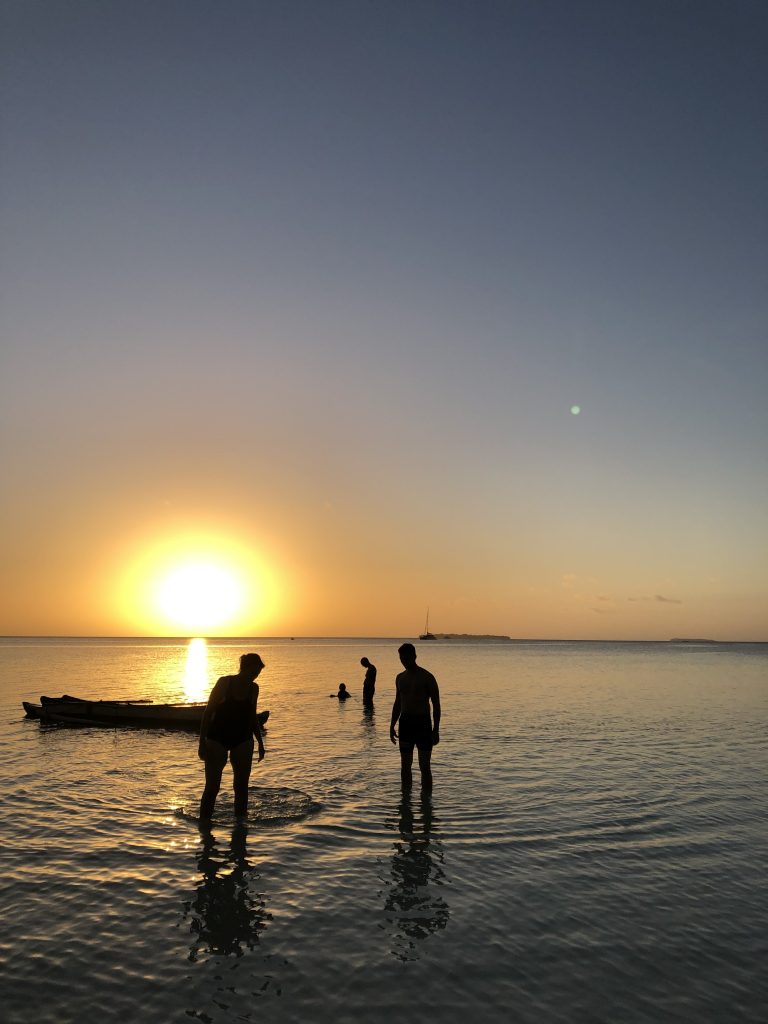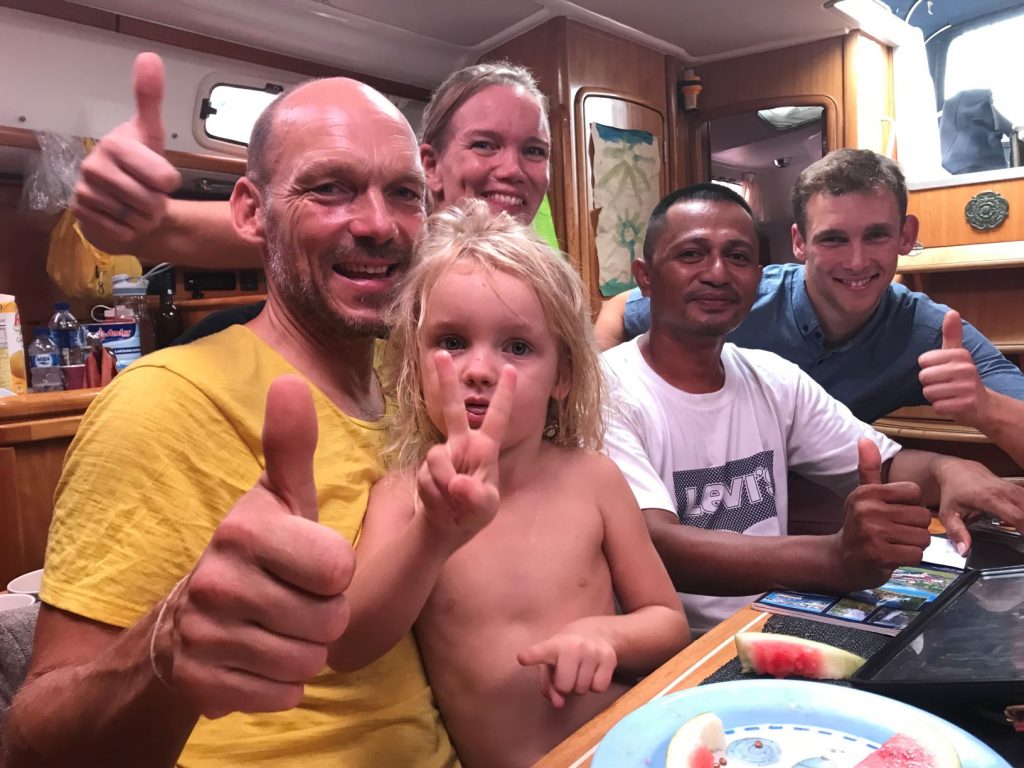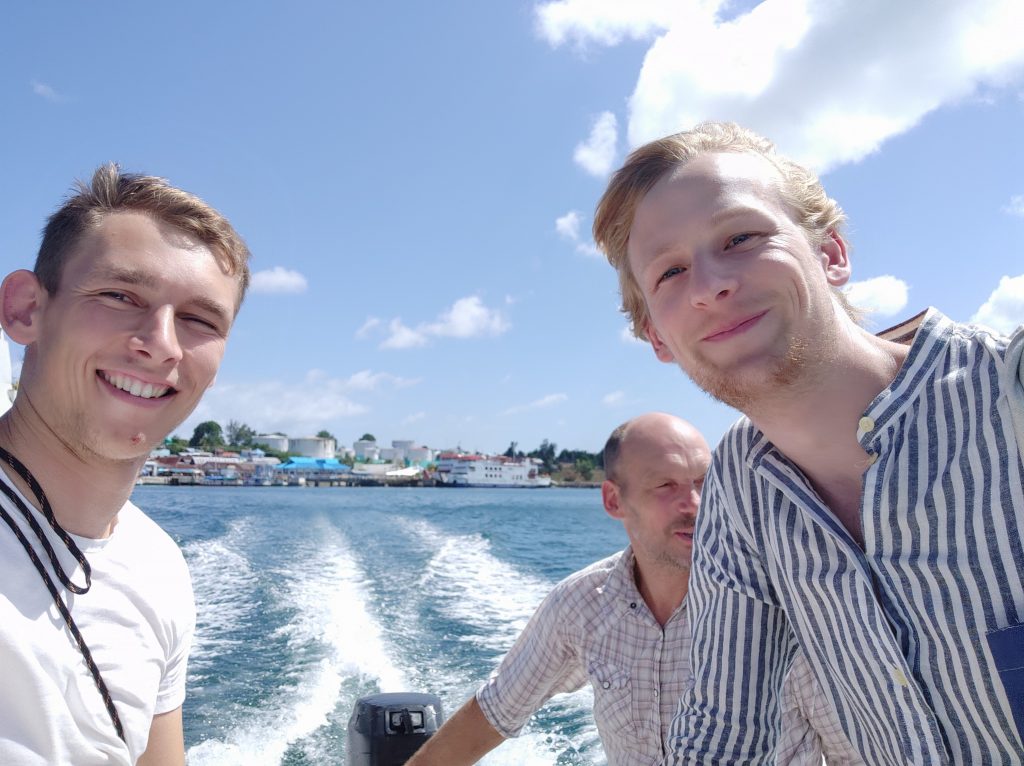 We actually did some diving in Indonesia. Finally our brand new compressor has been put to use. We found many good sites for both diving and snorkelling throughout Indonesia, many with crystal clear water and the feeling of being in an aquarium full of tropical fish.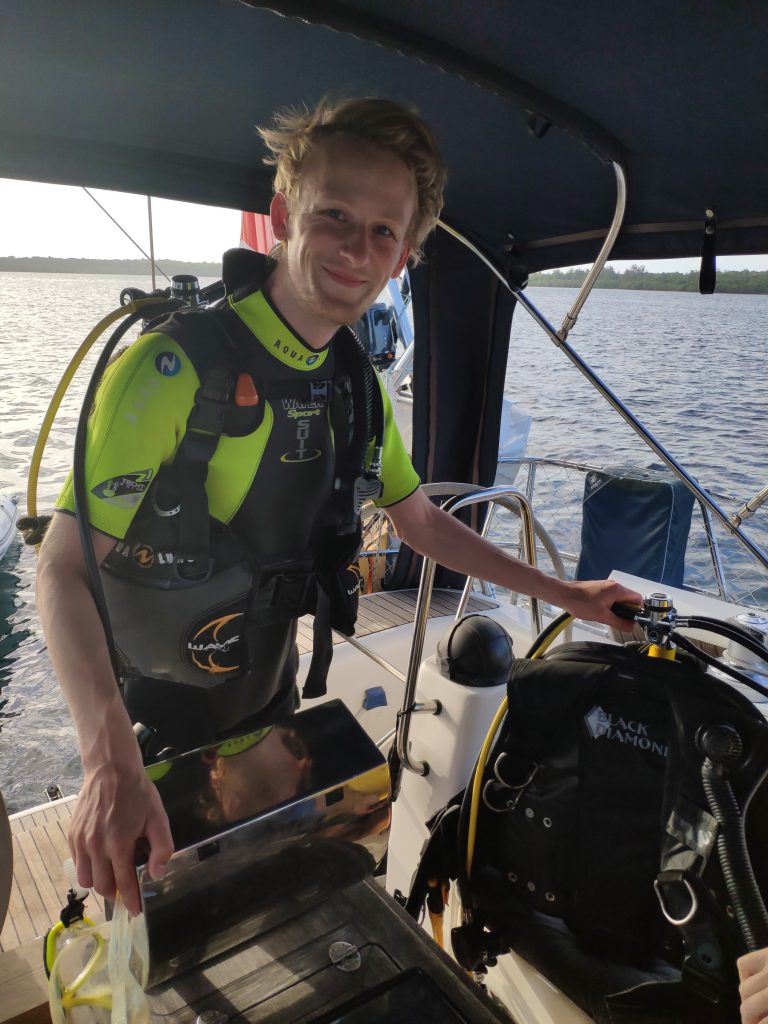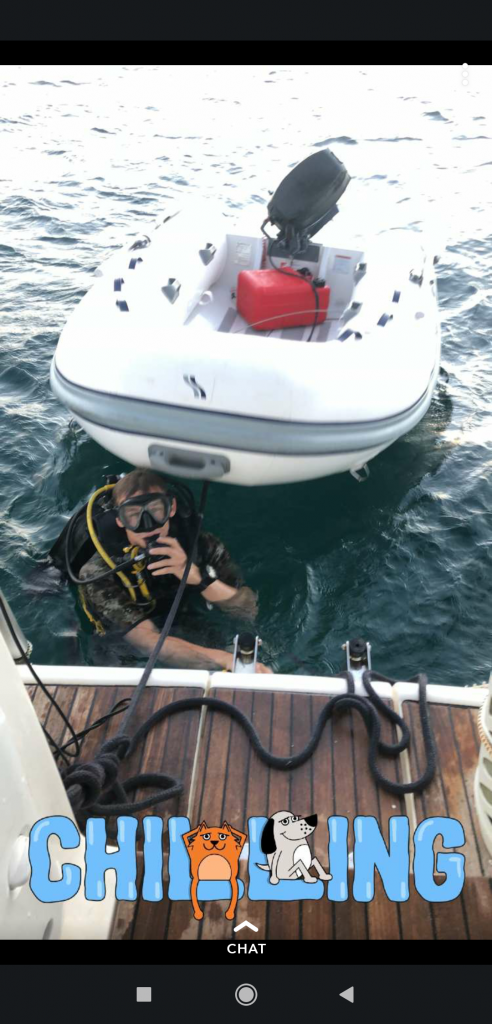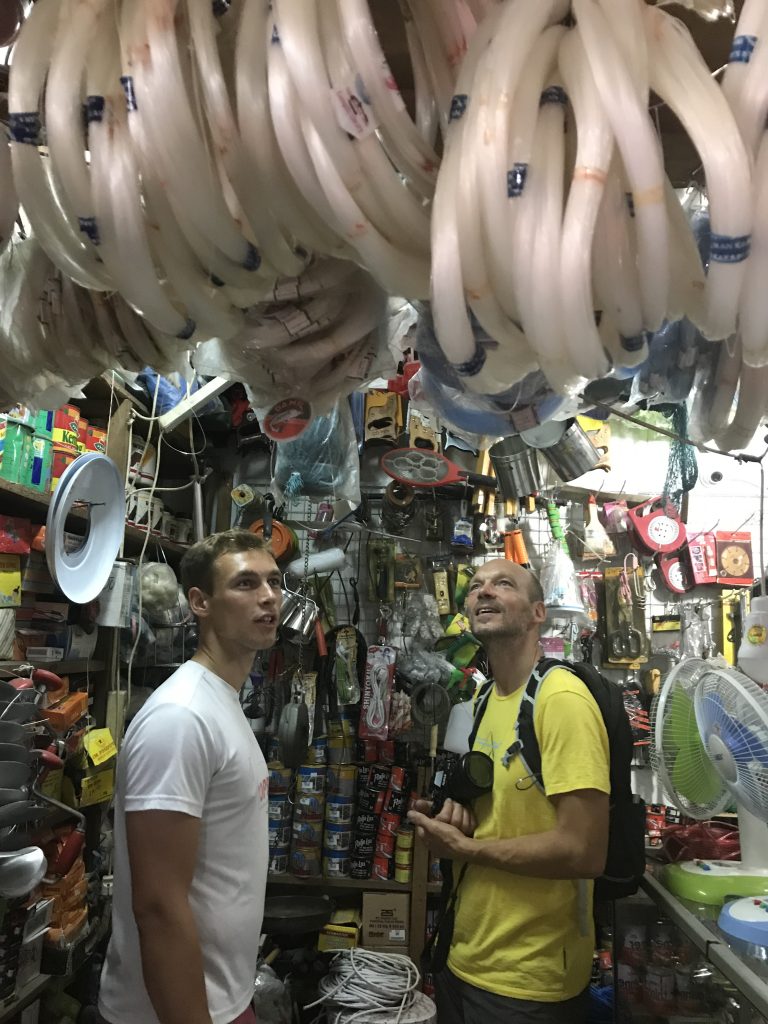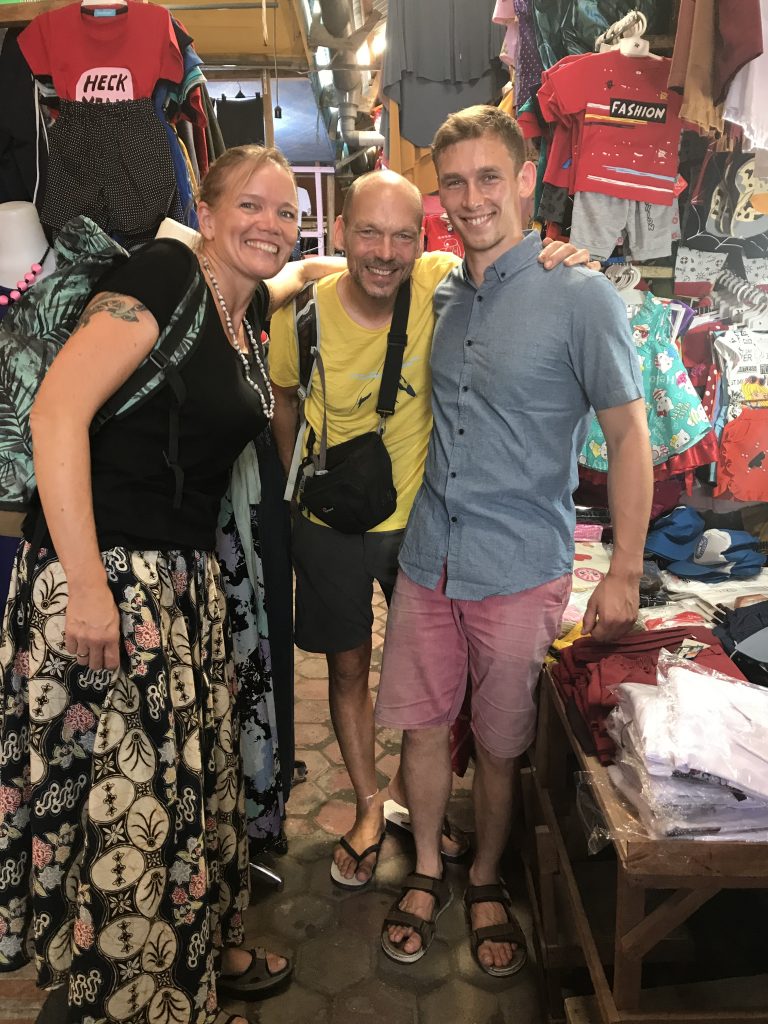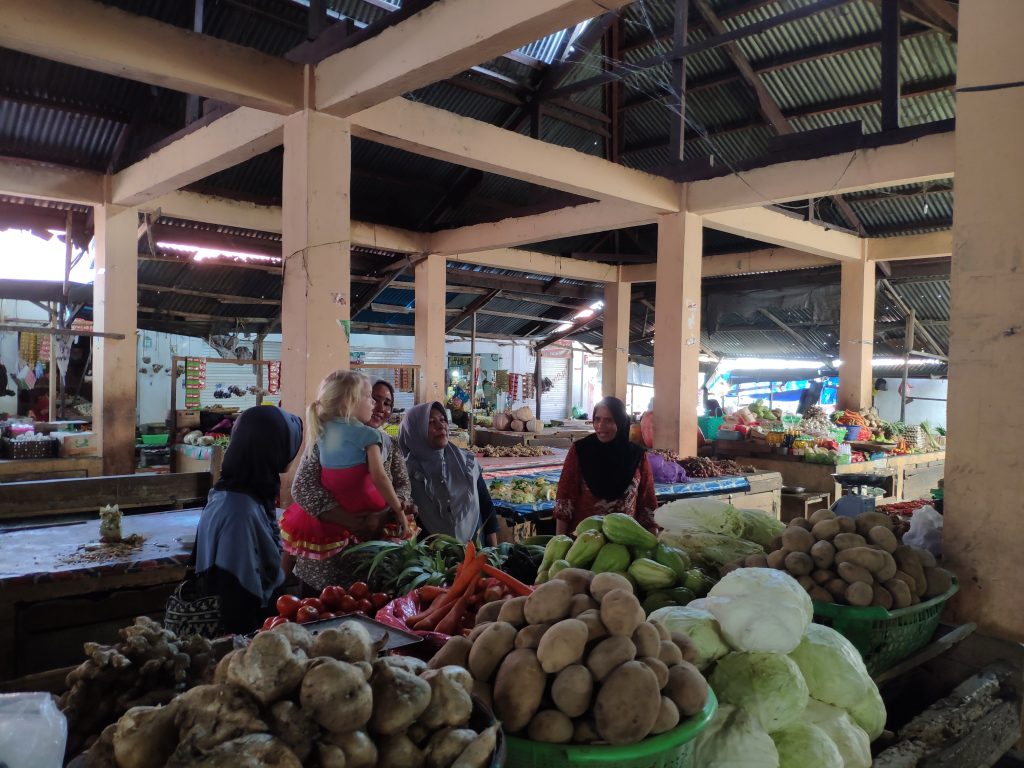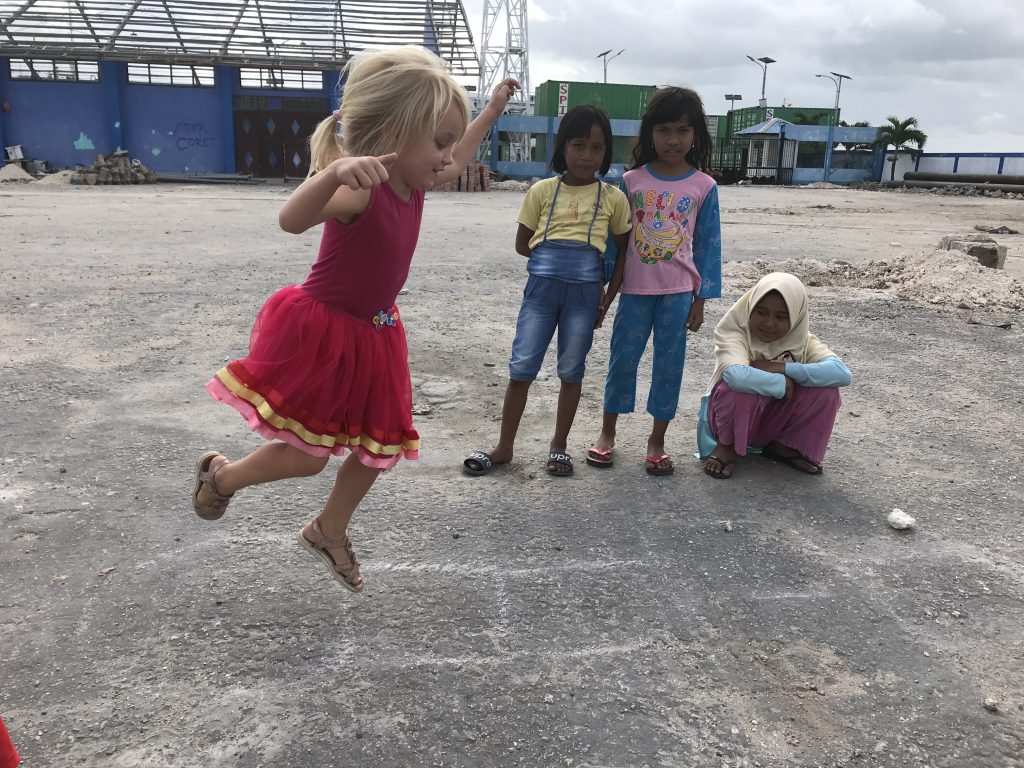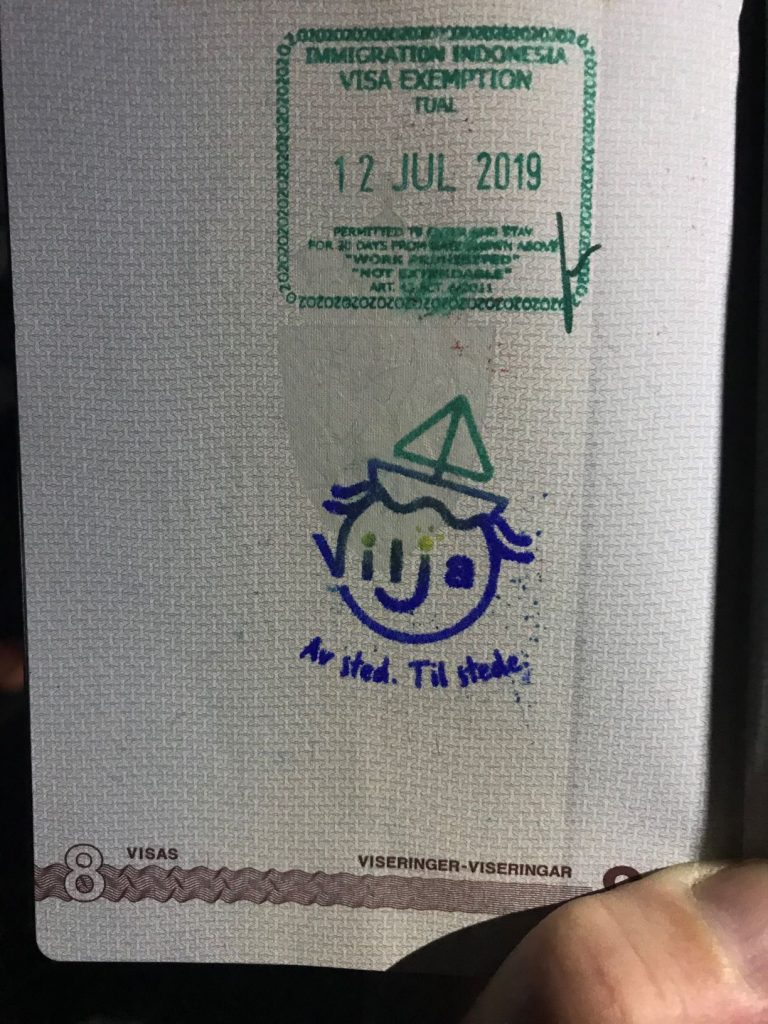 August 15th-18th: 3 days sailing from Tual to Wakatobi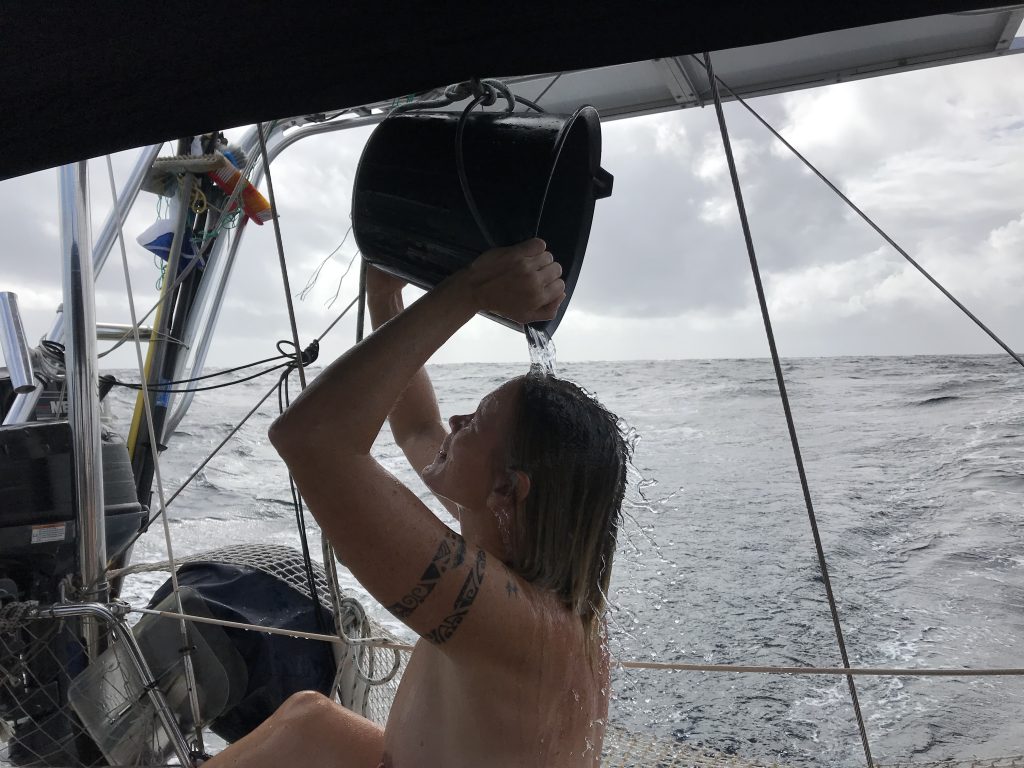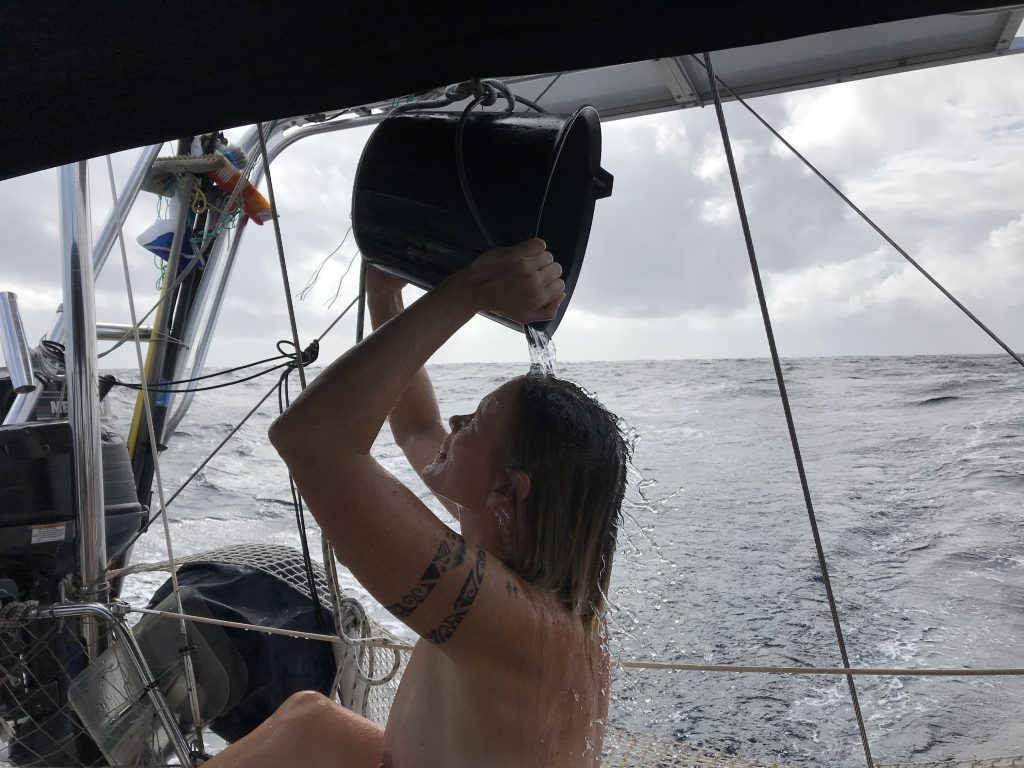 August 18th-21st: Hoga and Sampela Islands, Wakatobi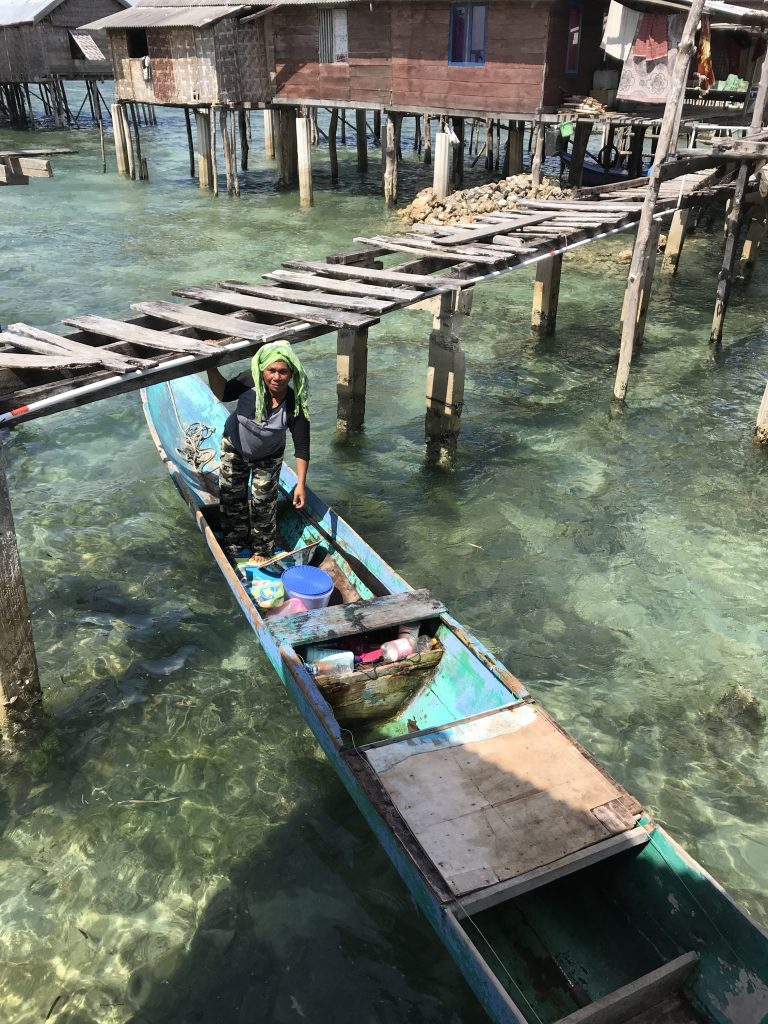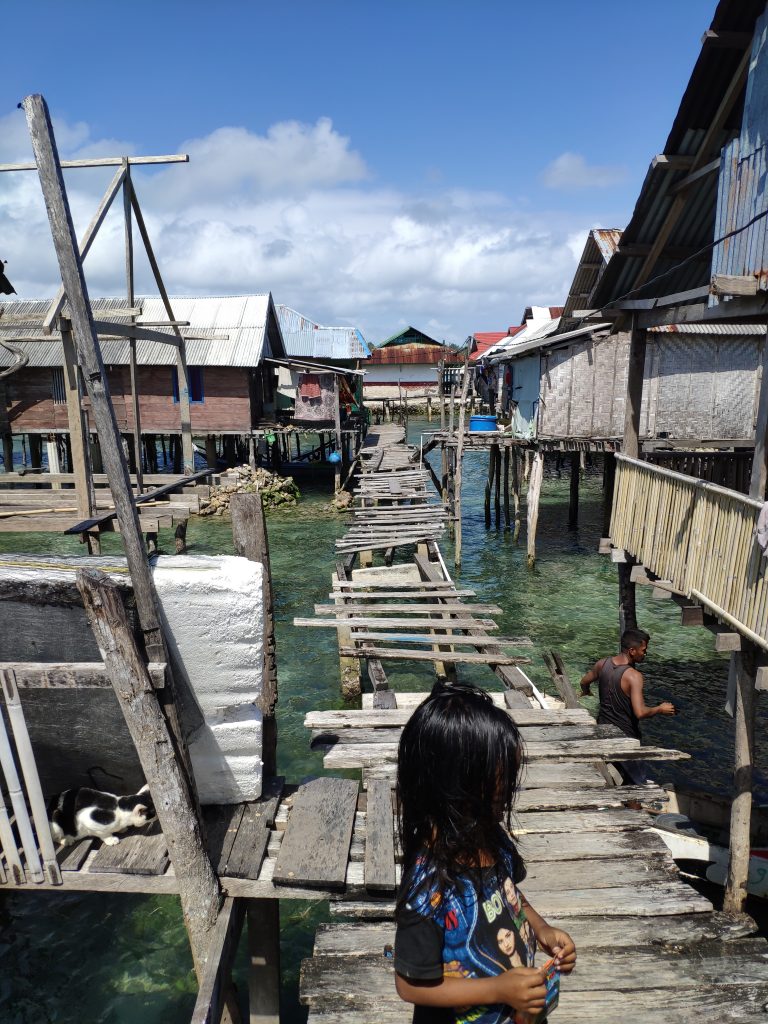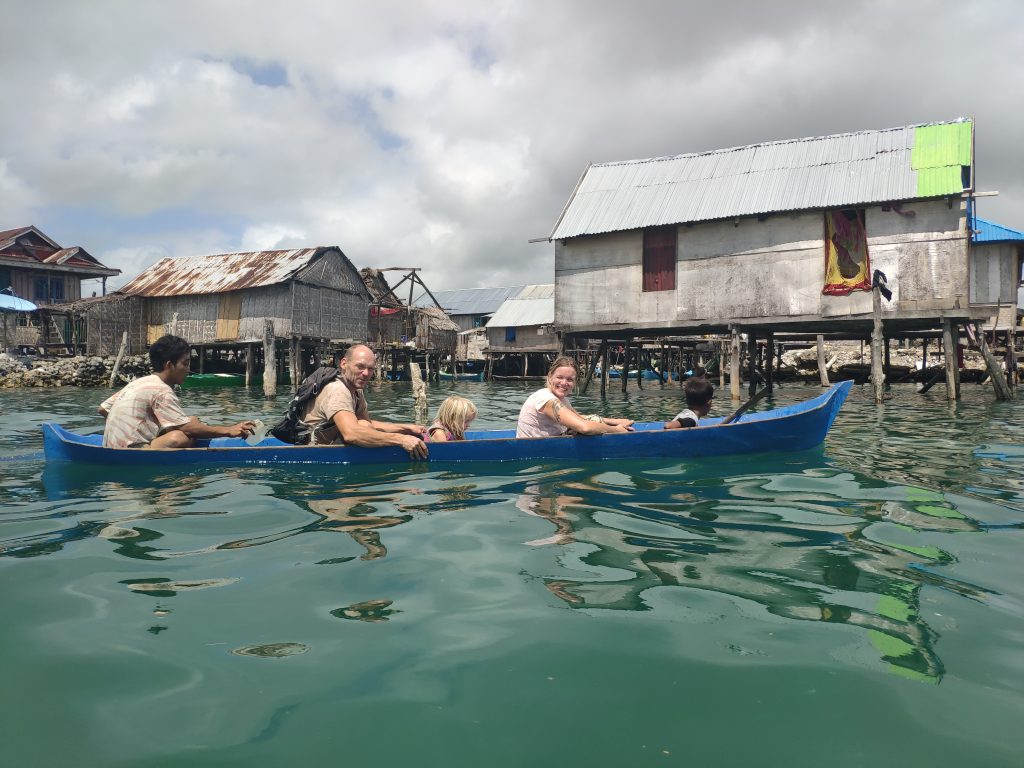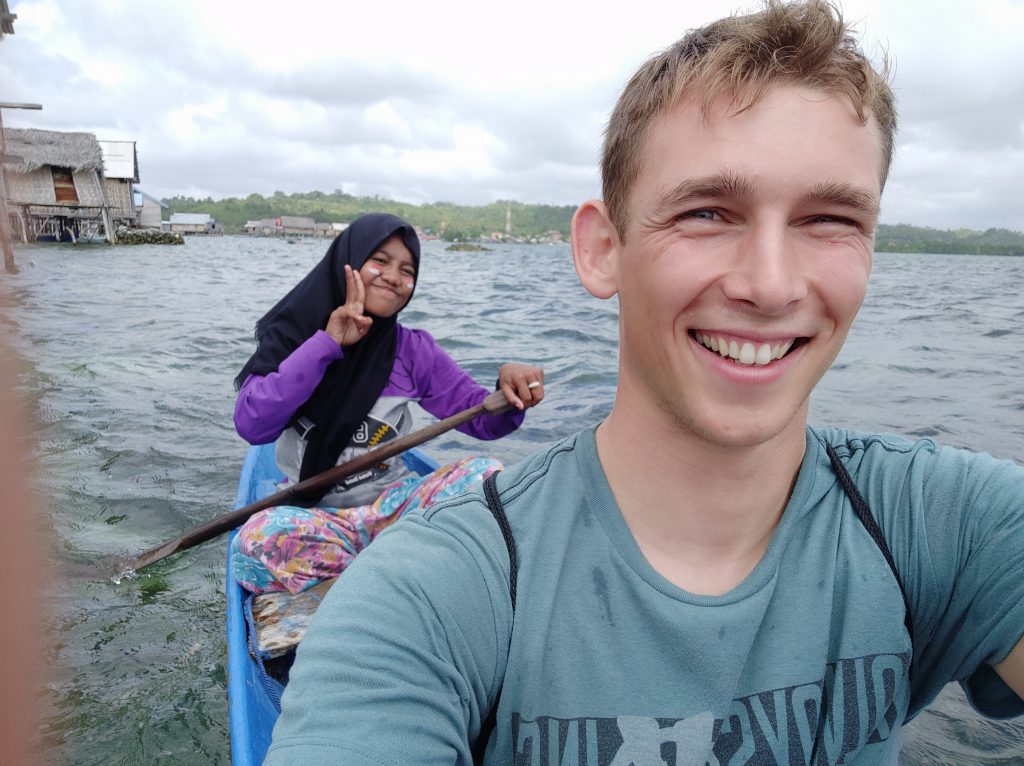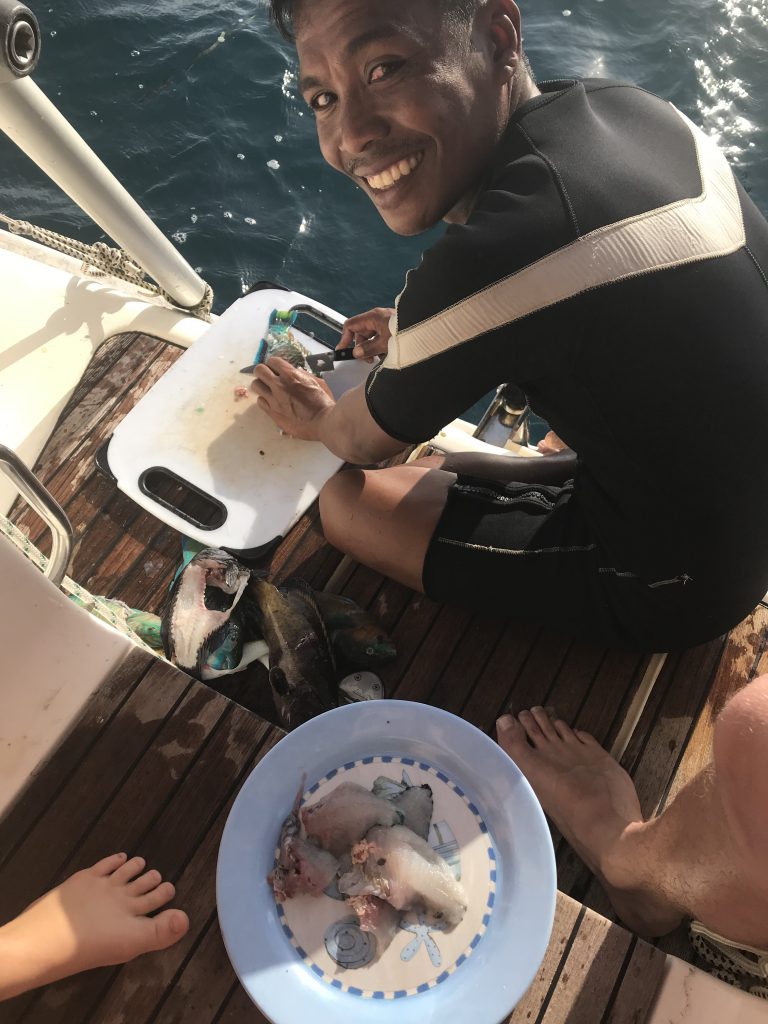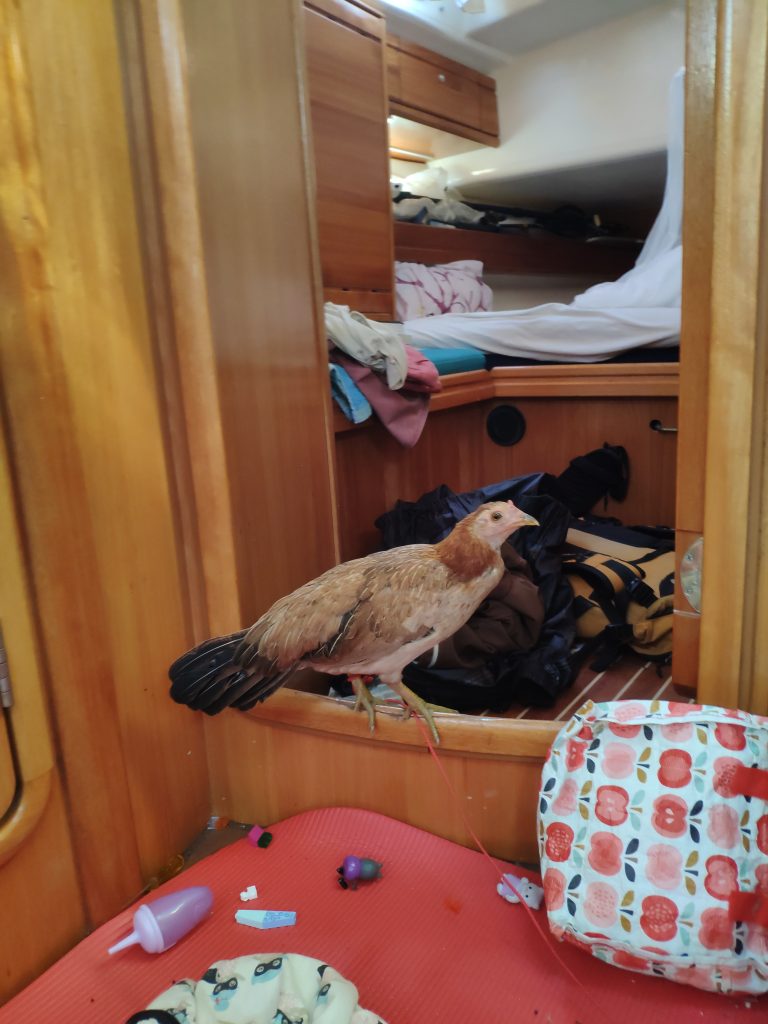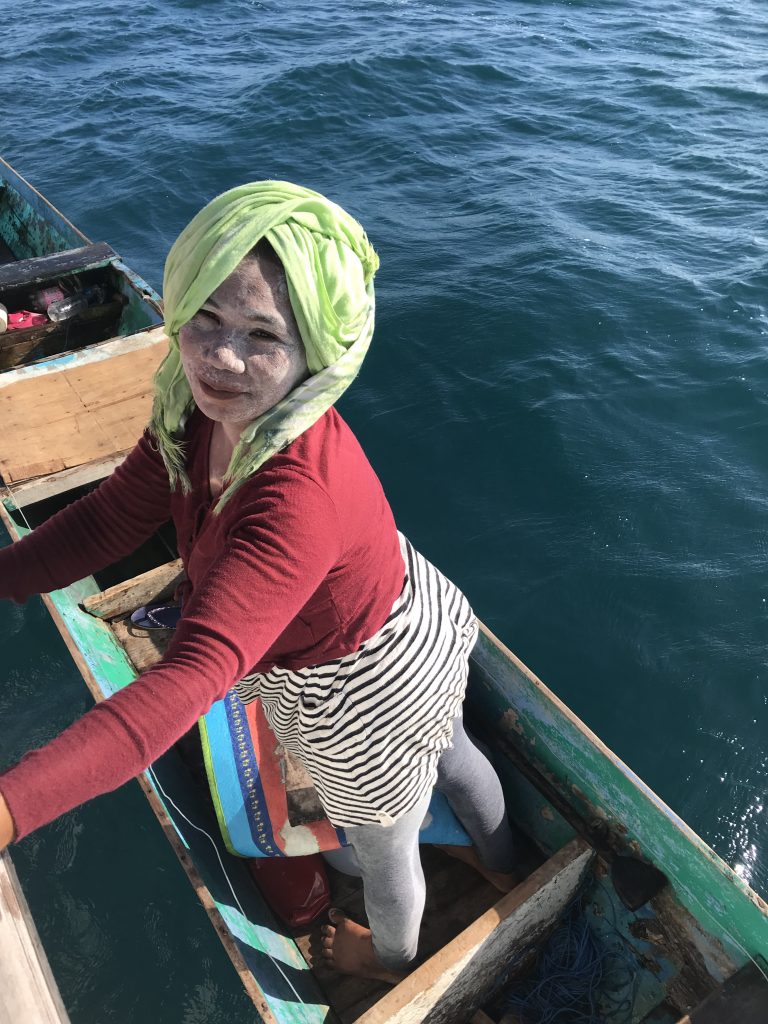 August 23rd-25th: Labuan Bajo, Flores
We arrived in Labuan Bajo, Flores on July 23rd, just in time to pick up our new crew who arrived on the same day: Ingrid's big sister Karen and her husband Sozaburo, and our caring&cool nieces and nephew Cecilie Mariko, Dag Takura and Liv Emiko. We had so long and so much looked forward to this much appreciated visit. Sharing the SailingVilja everyday life and adventures means so much to us all. We had two weeks to look forward to, and it turned out simply unforgettably GREAT!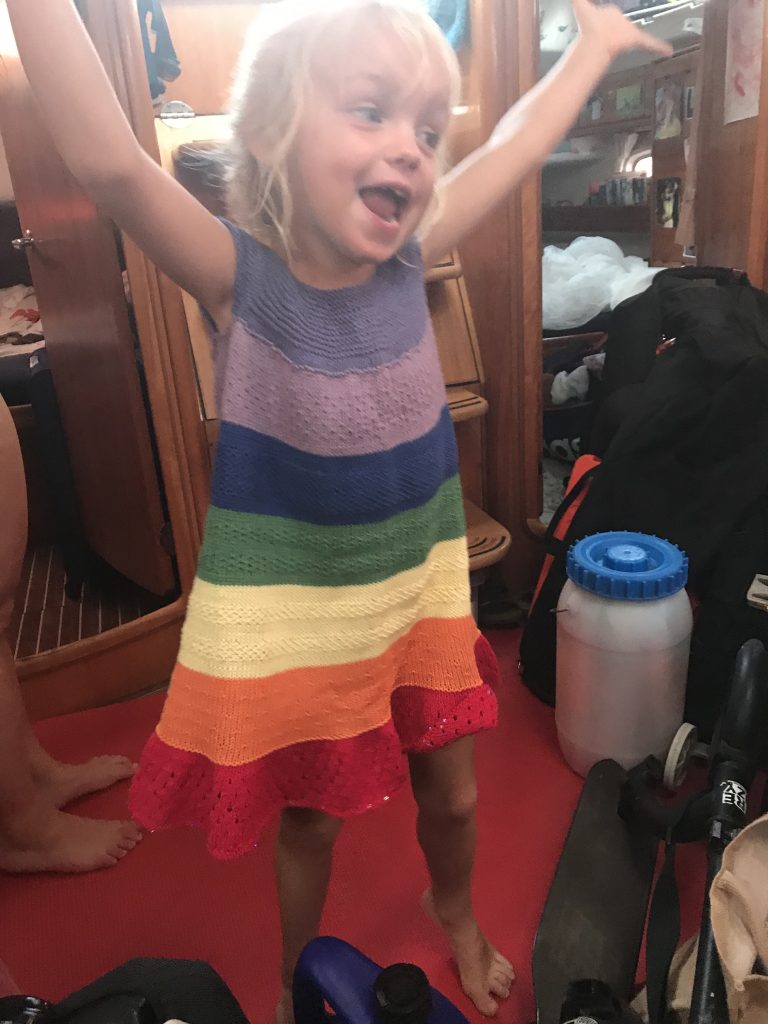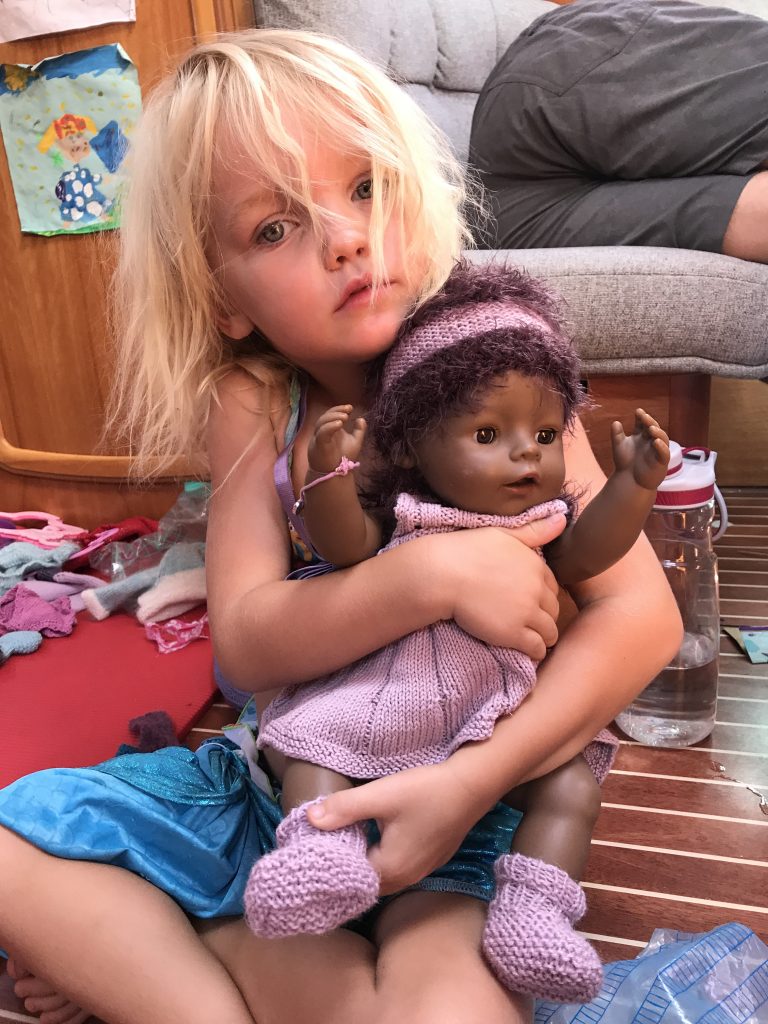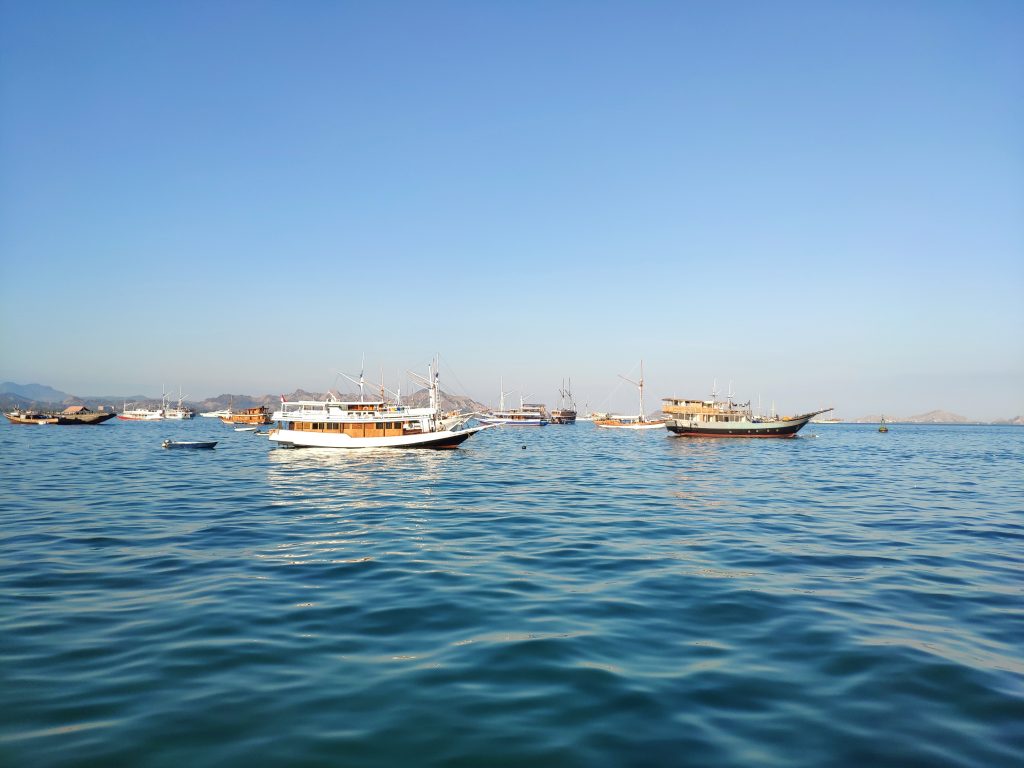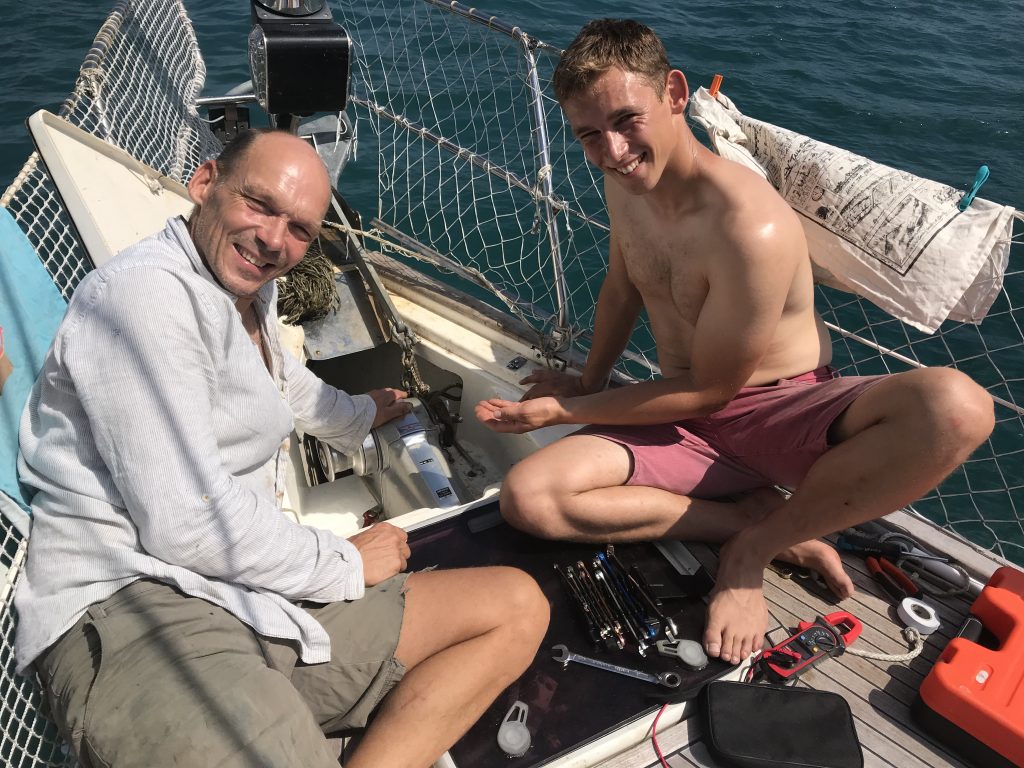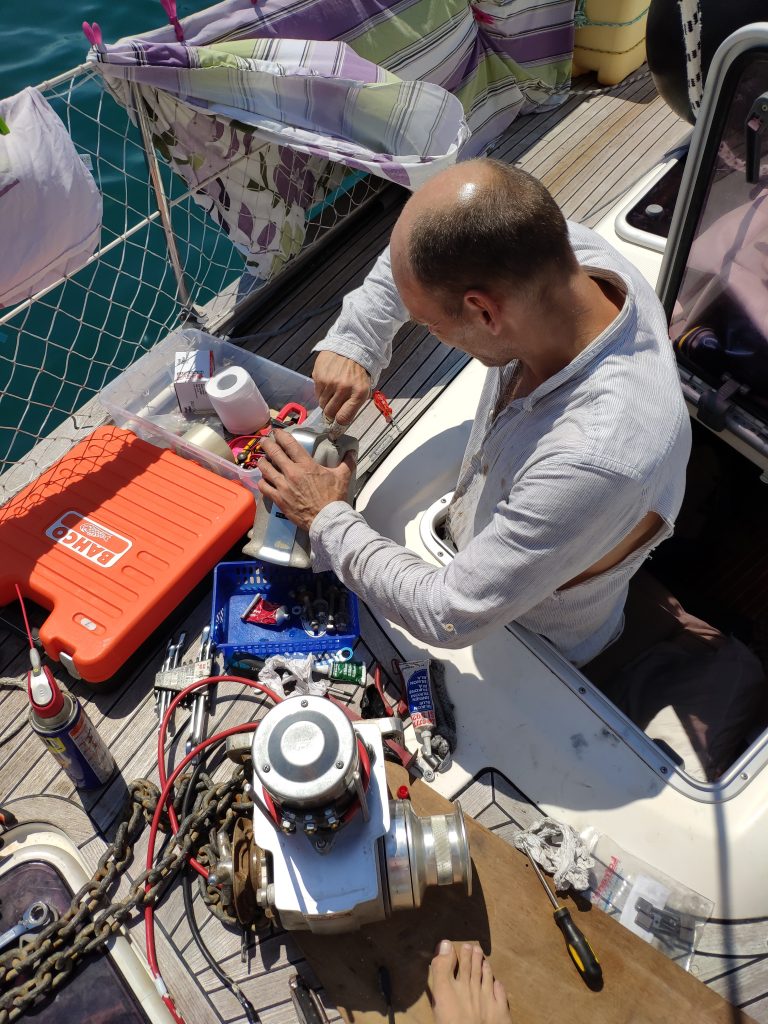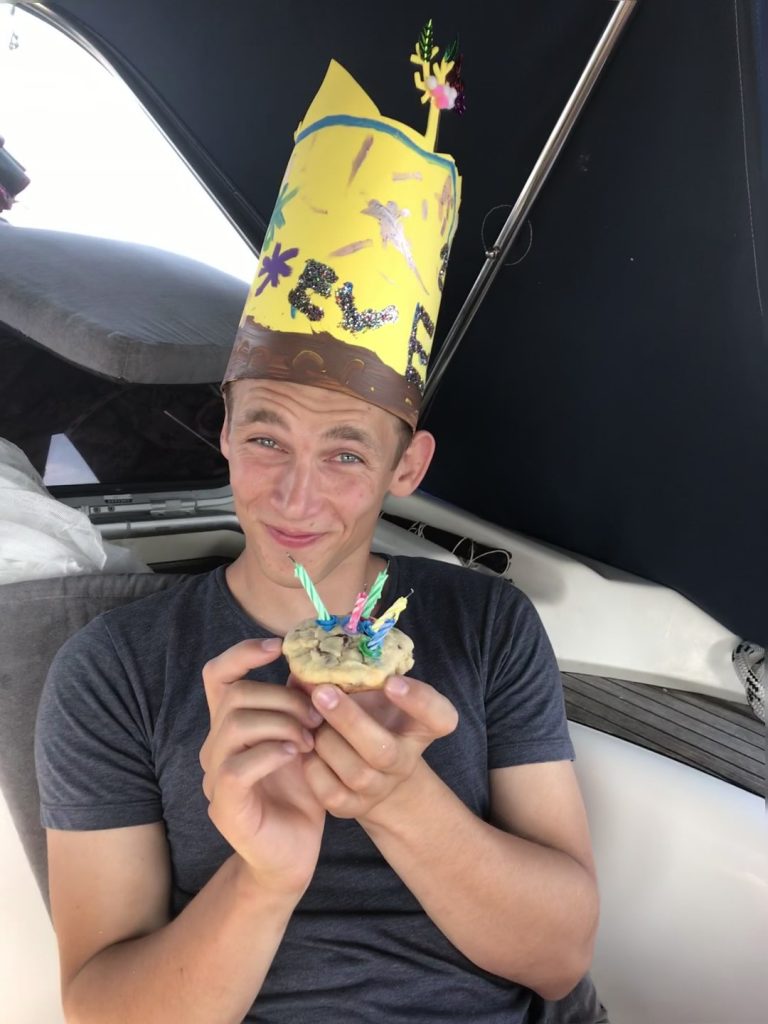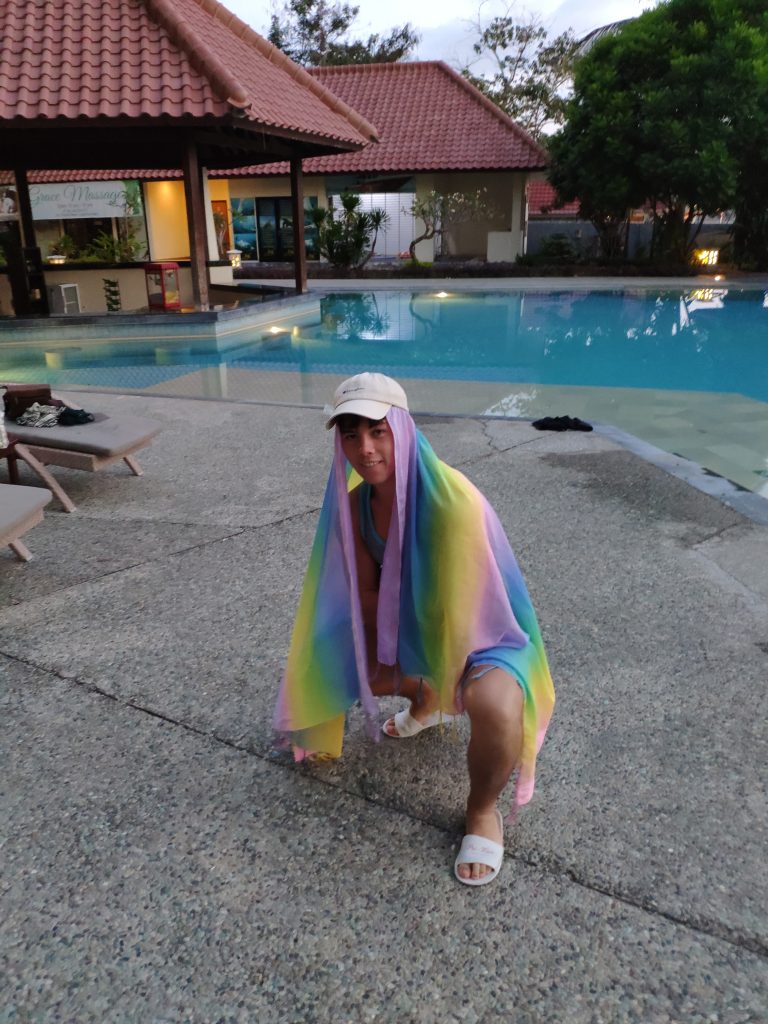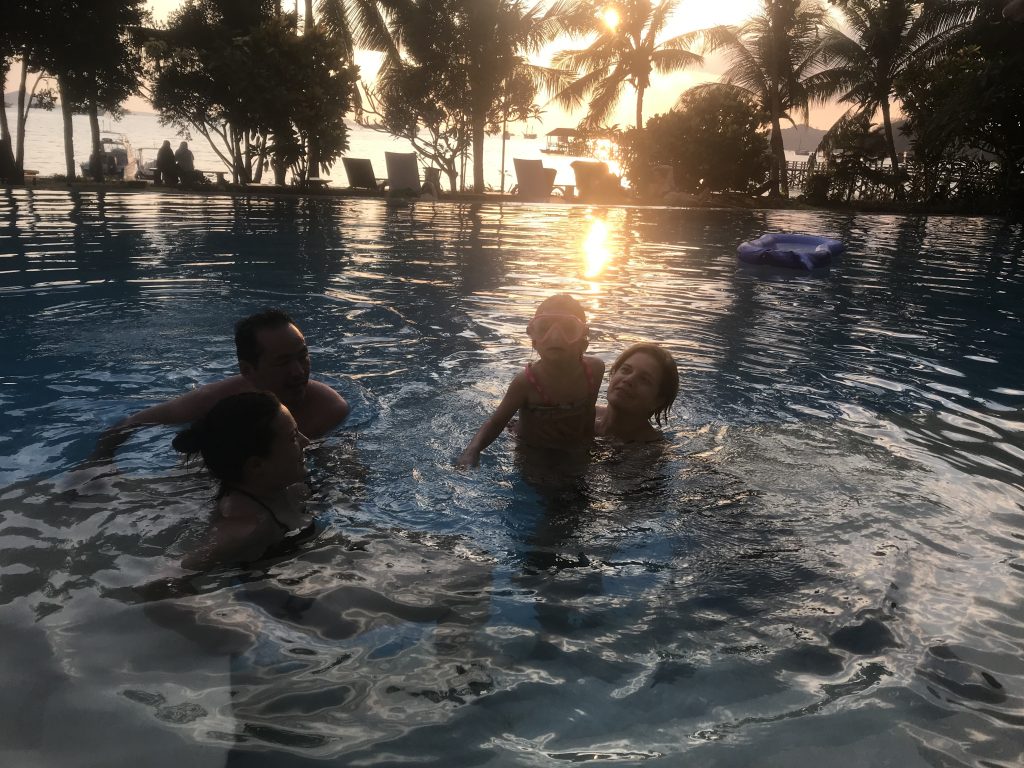 August 25th-28th: Komodo National Park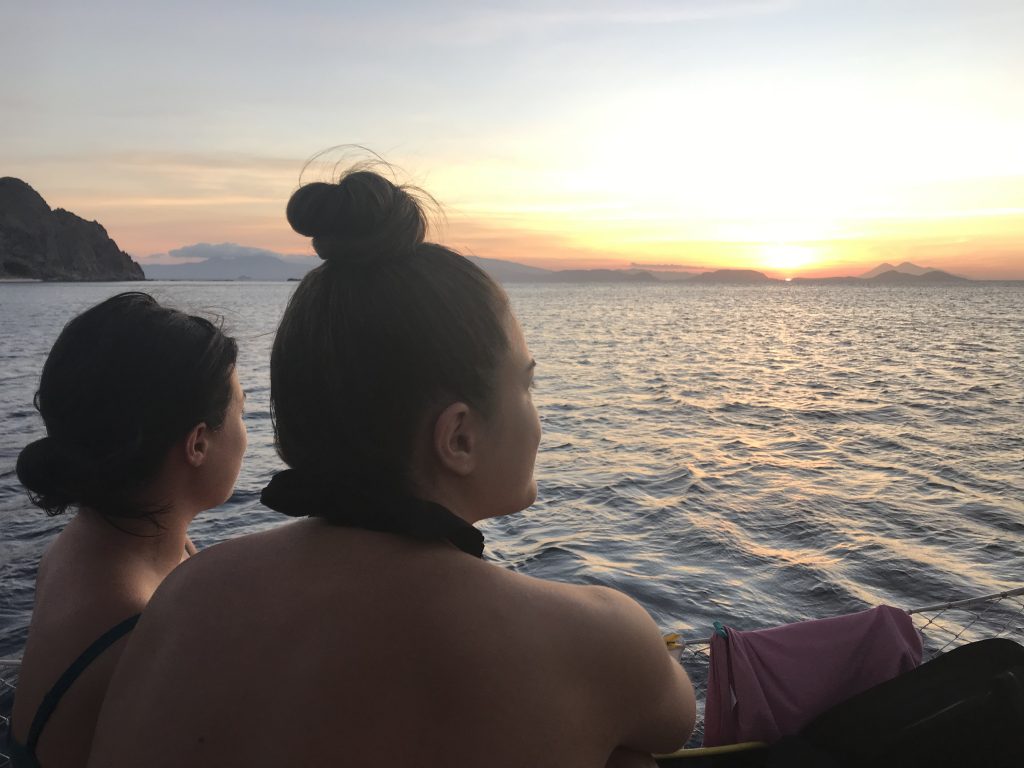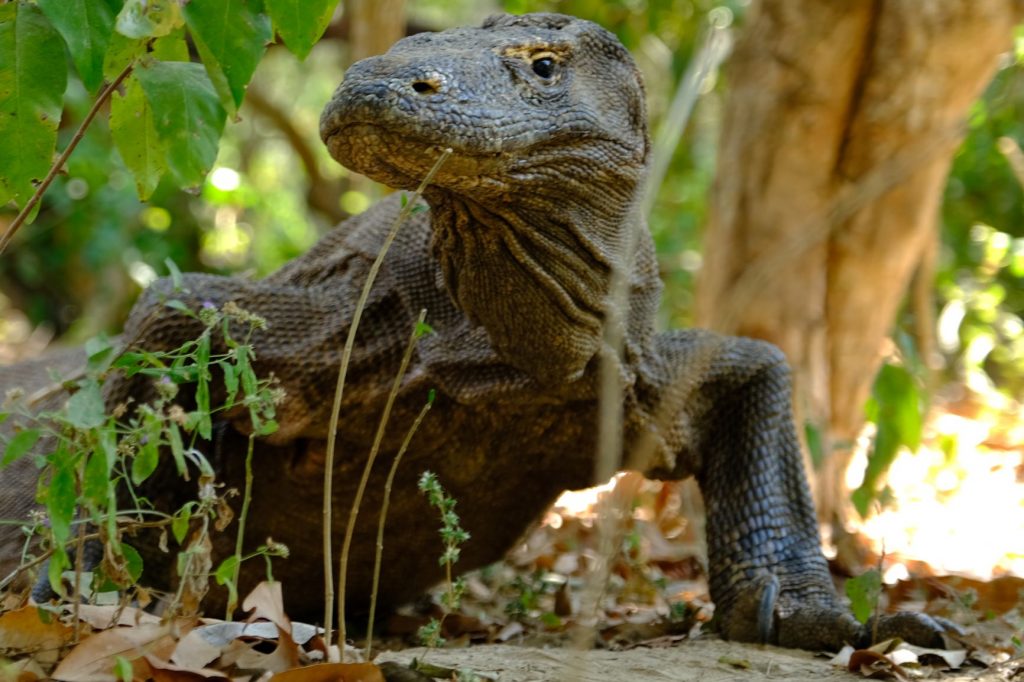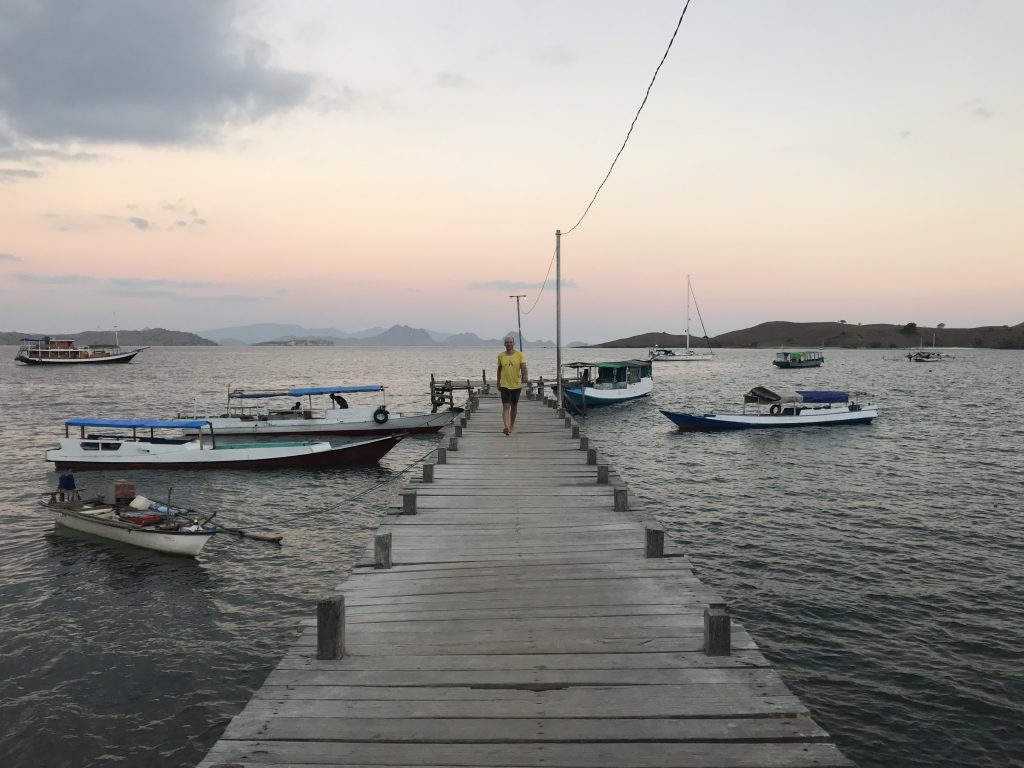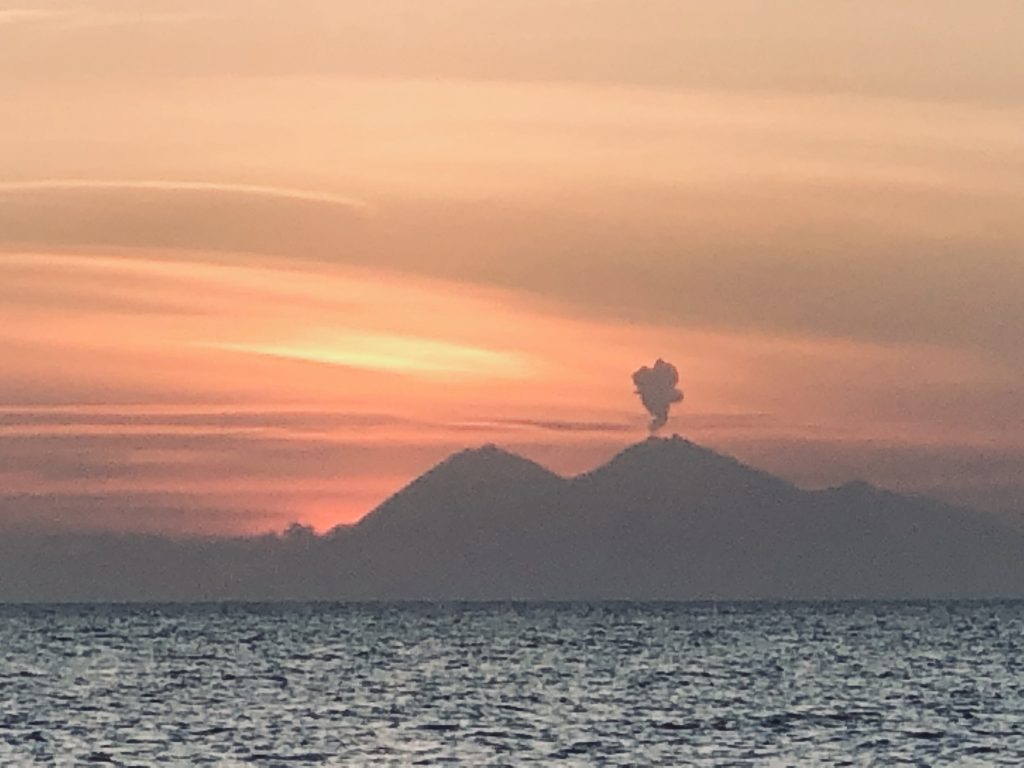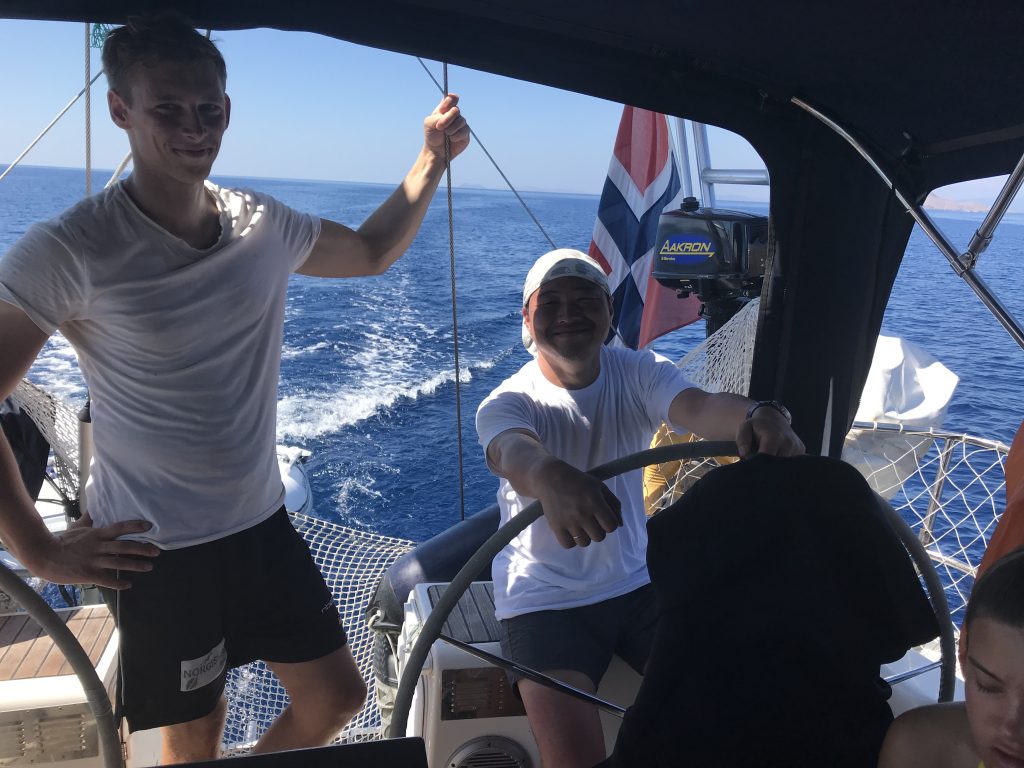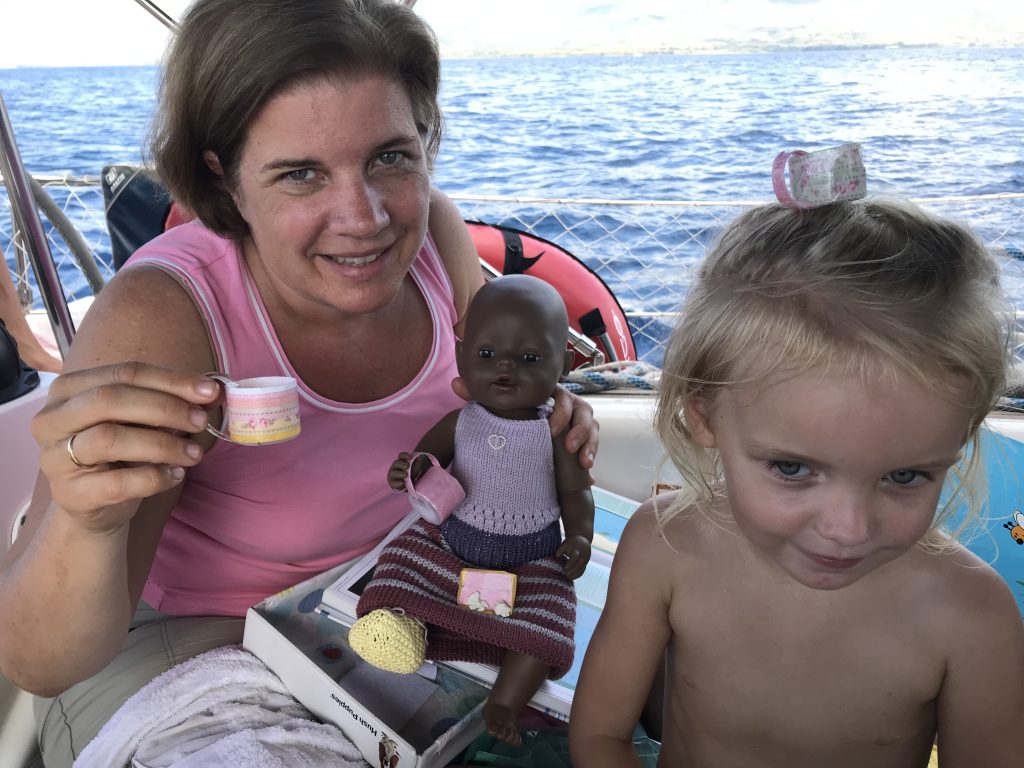 July 30th-31st: Kananga village on Sumbawa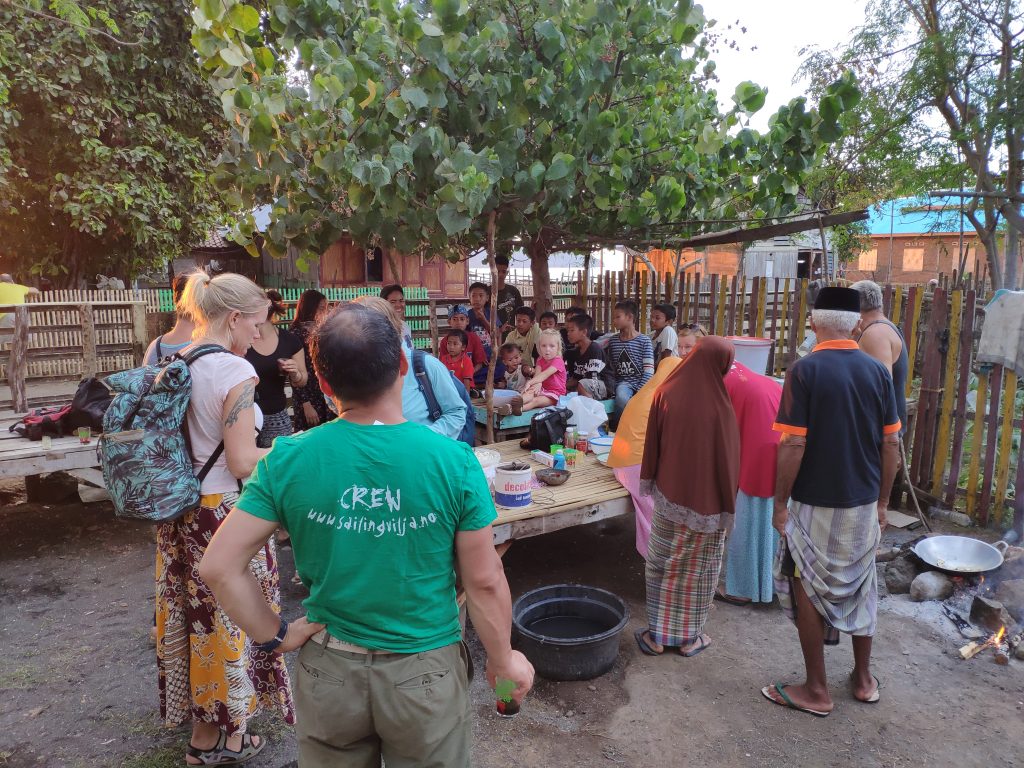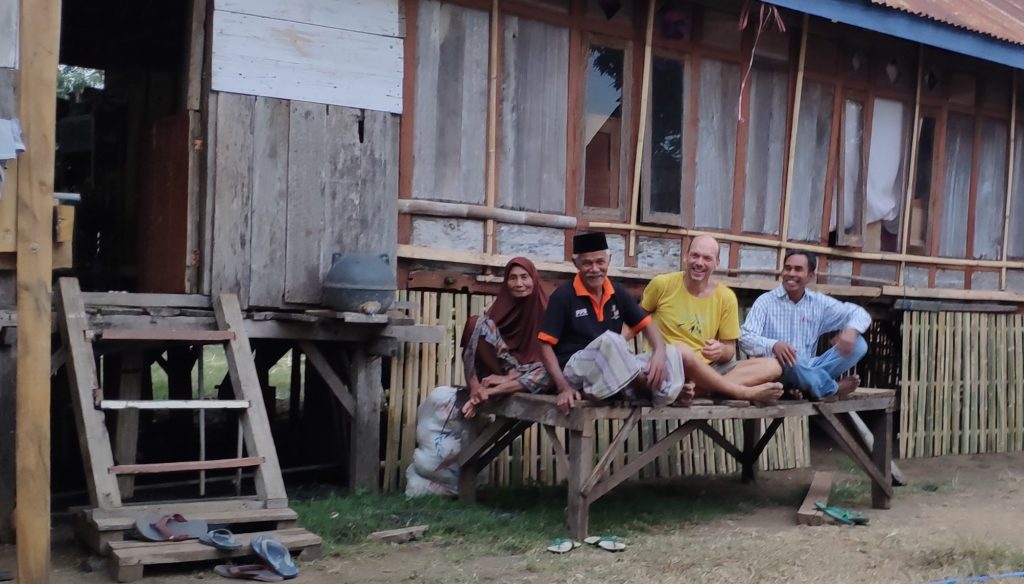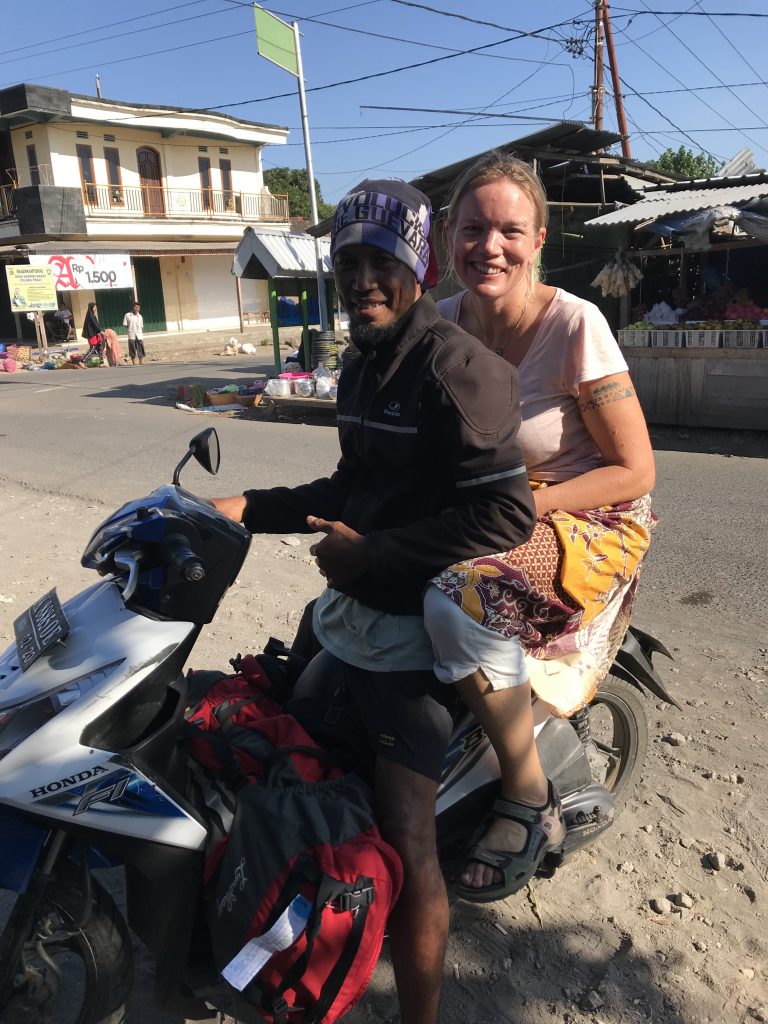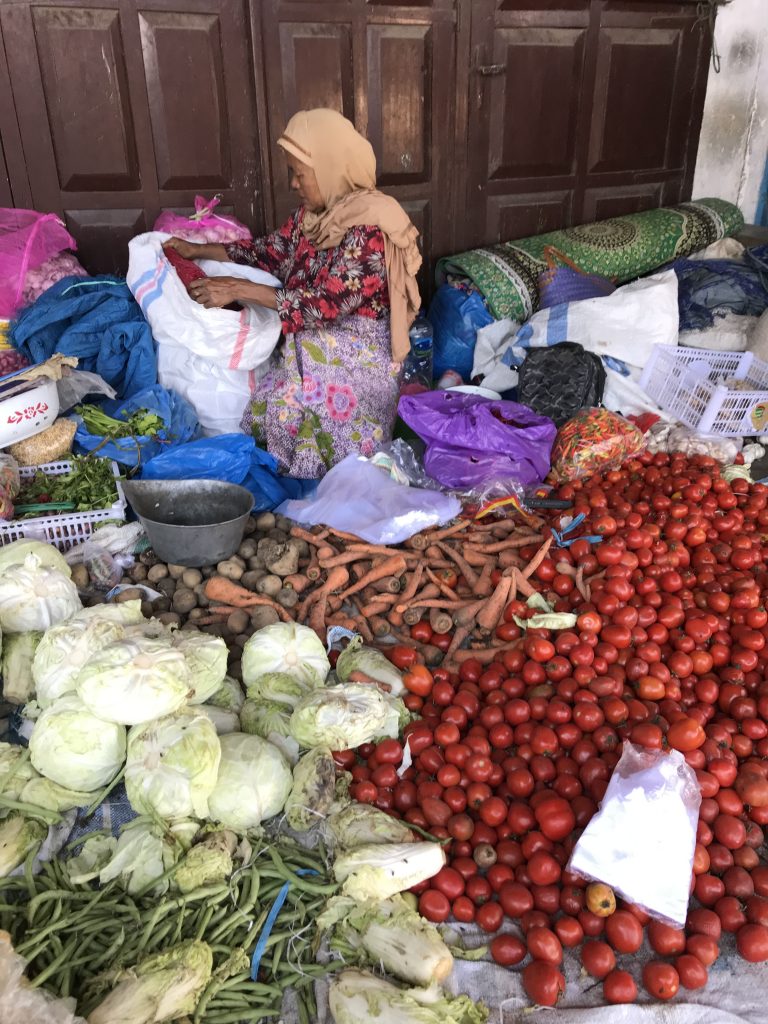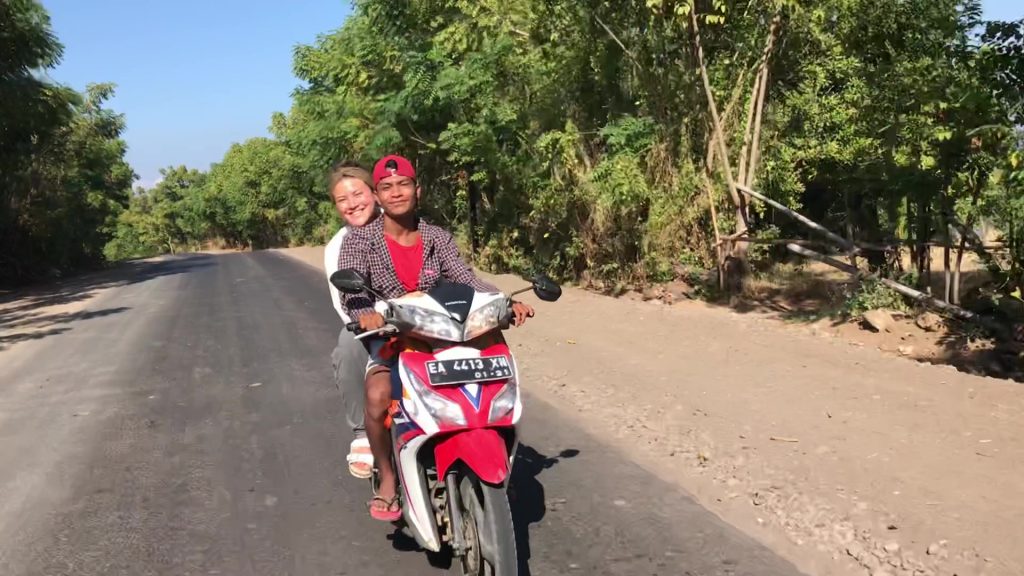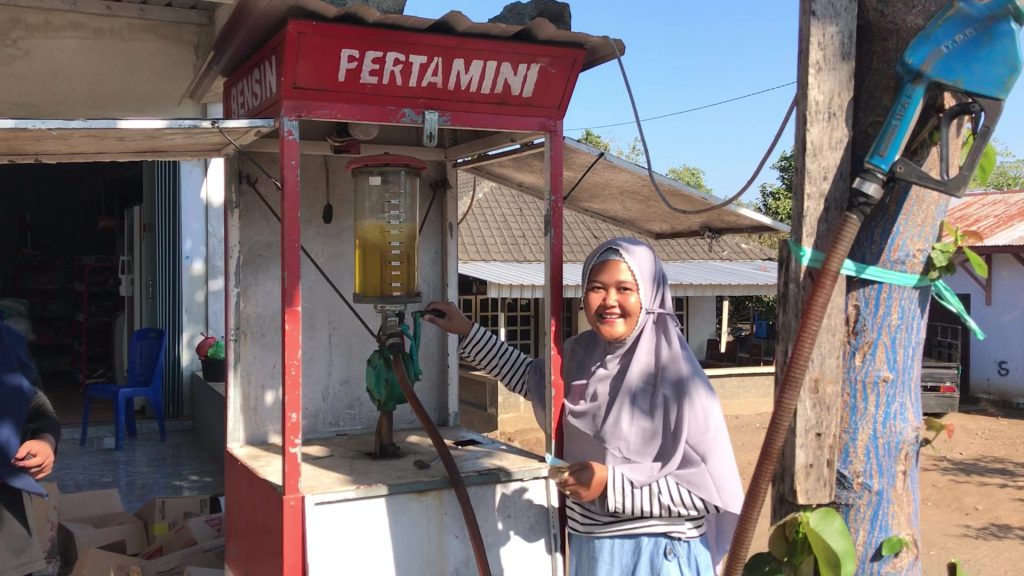 July 31st – August 1st: Palau Moyo
We paid the reknown Amanwana Resort a visit to have a look at where celebrities such as Princess Diana and others like to recharge their batteries. No doubt it was nice. And we enjoyed our Coladas and Honeycomb ice cream. But actually – in our opinion – we'd rather recharge our batteries on Vilja!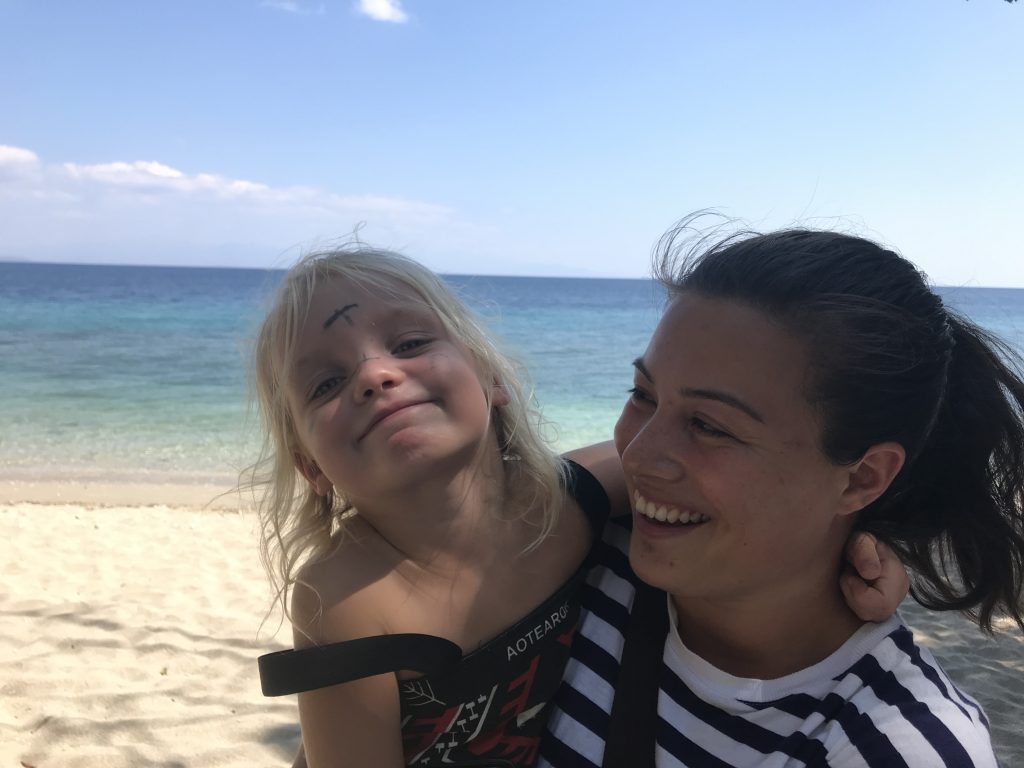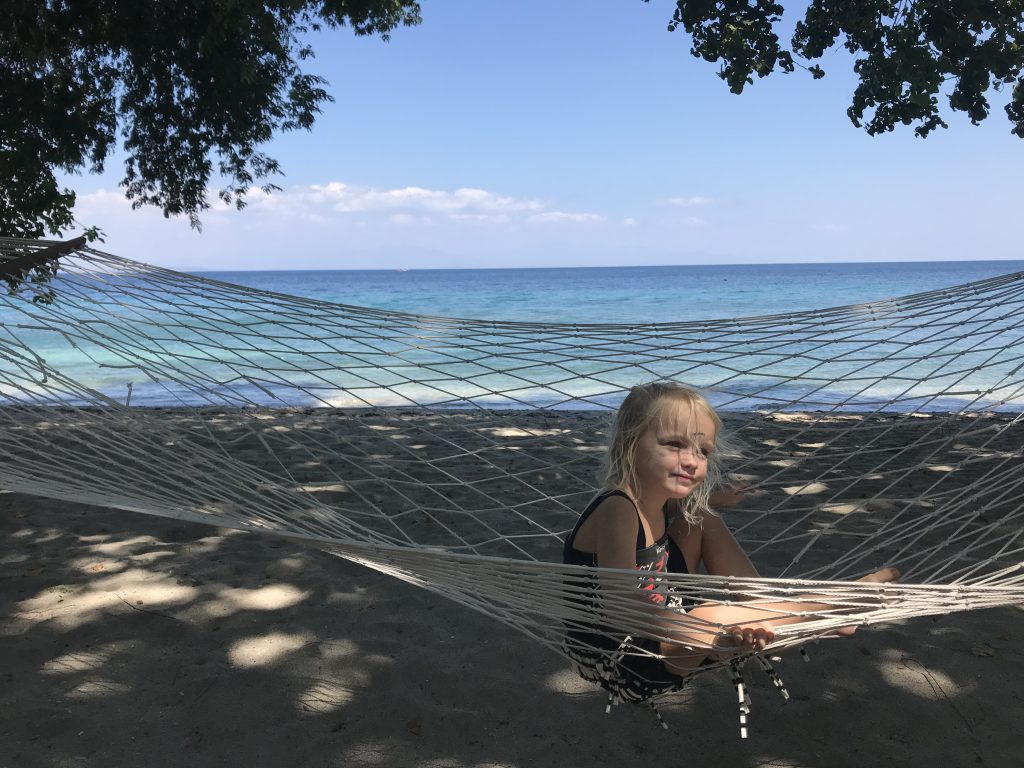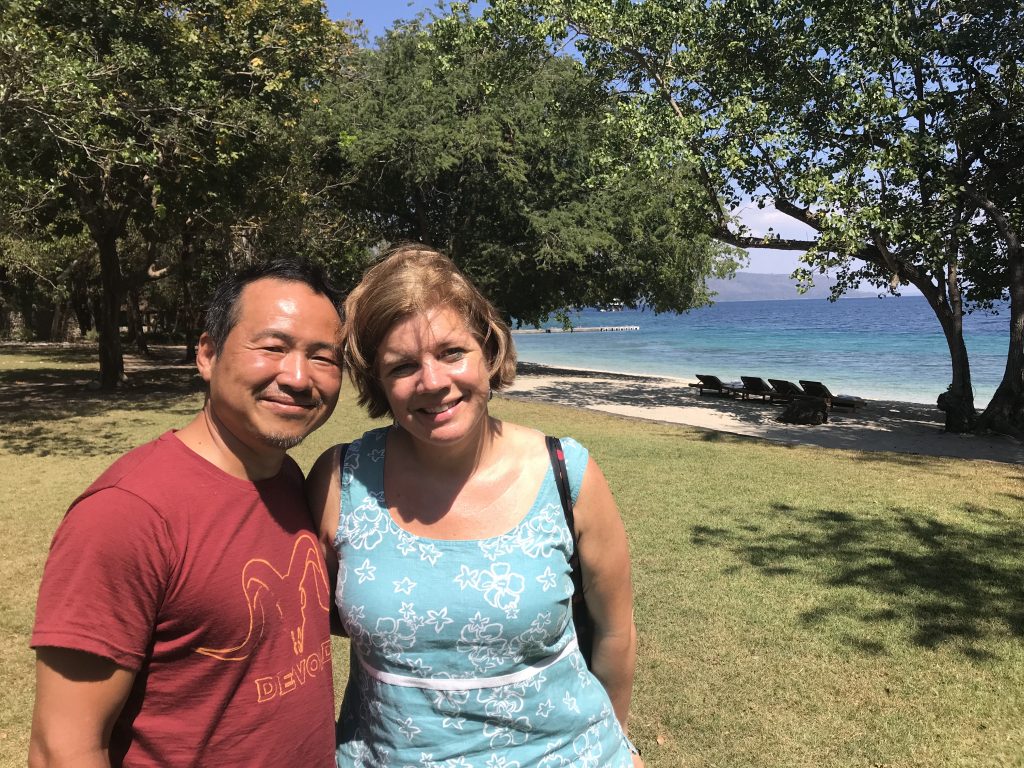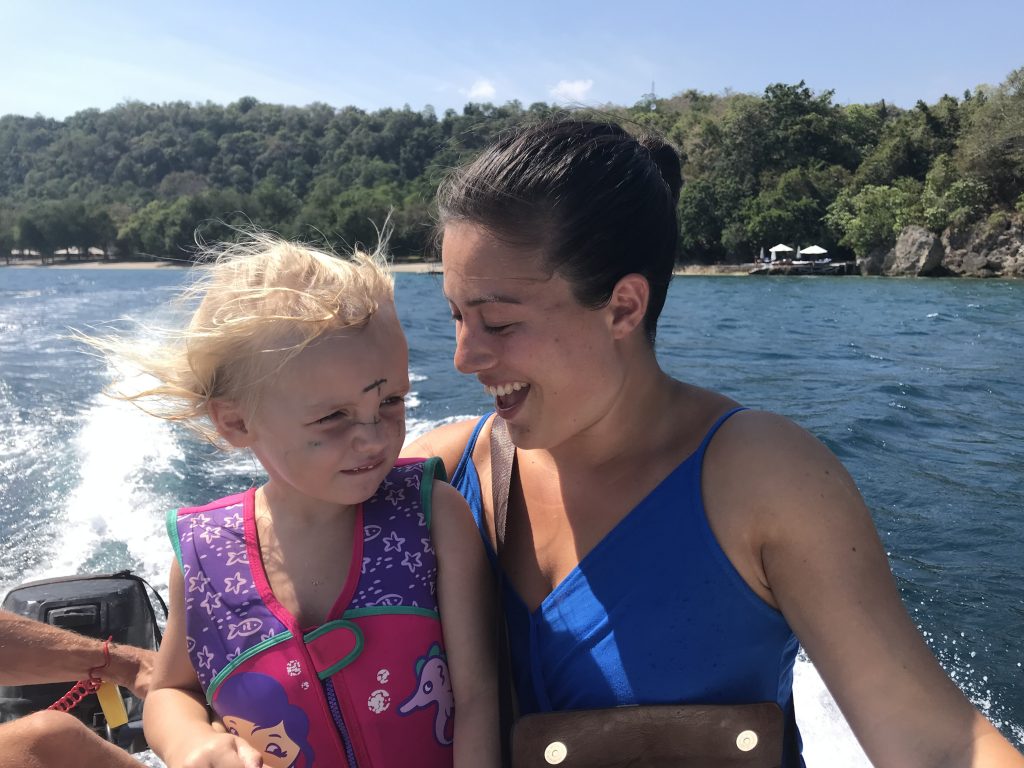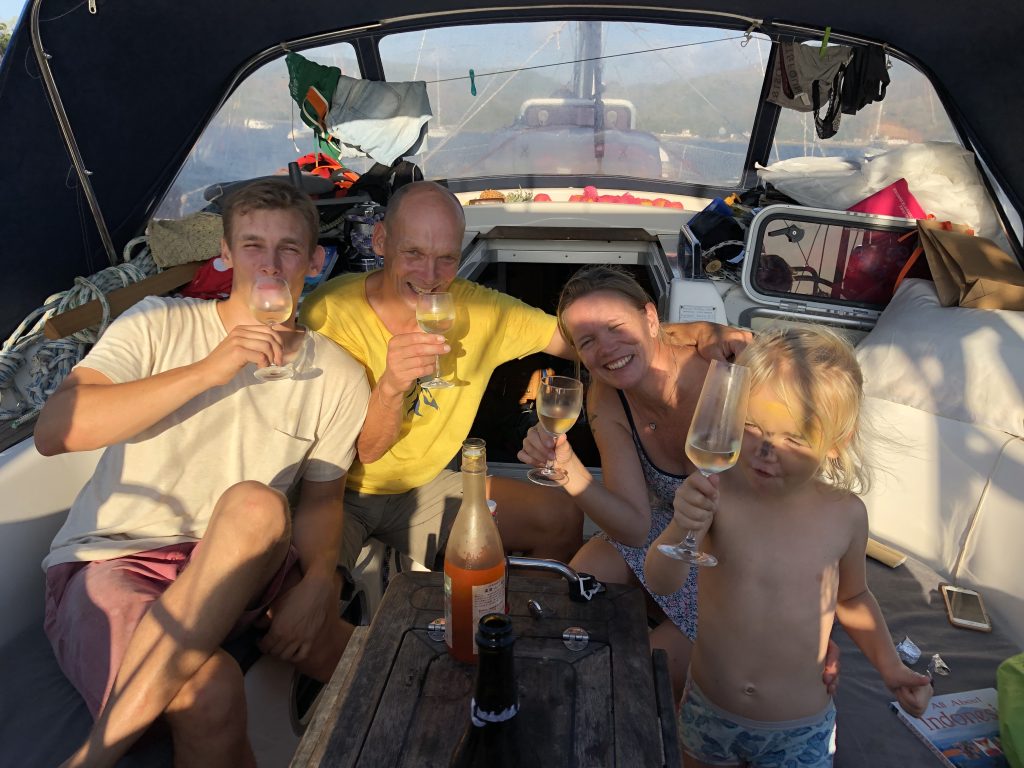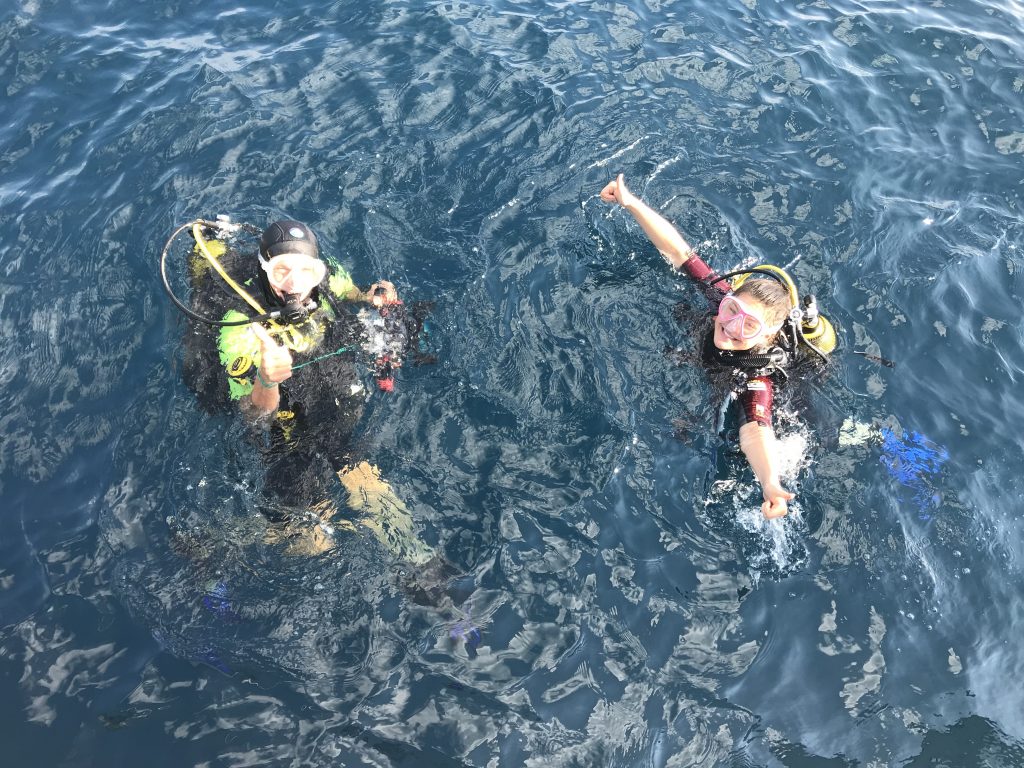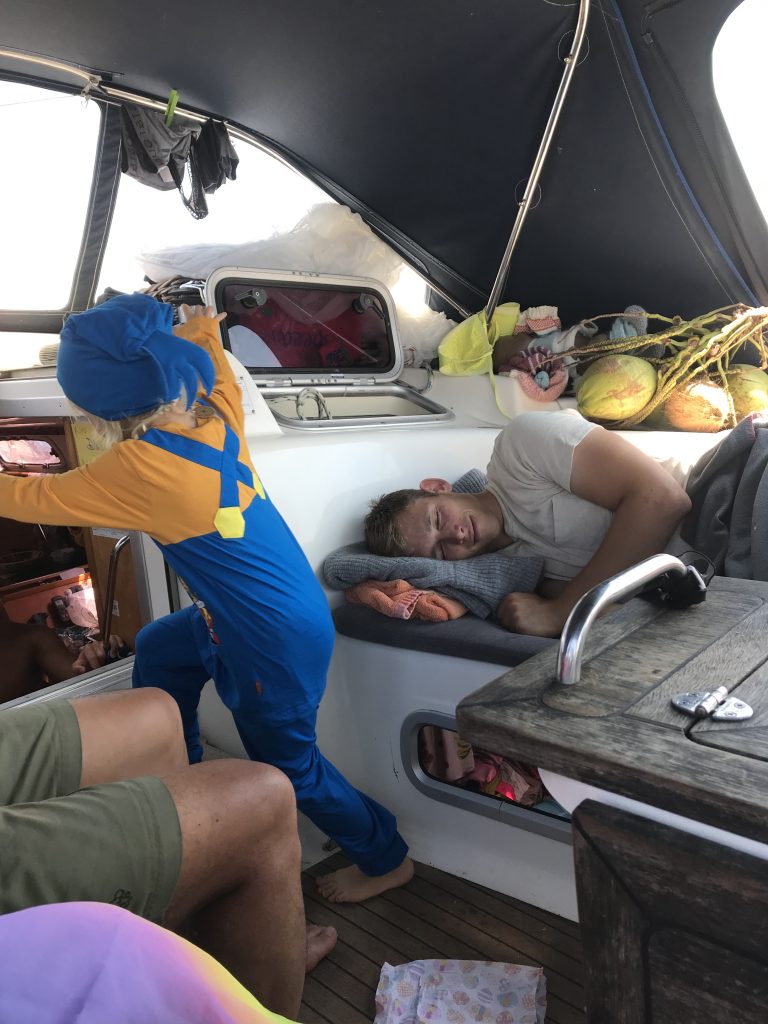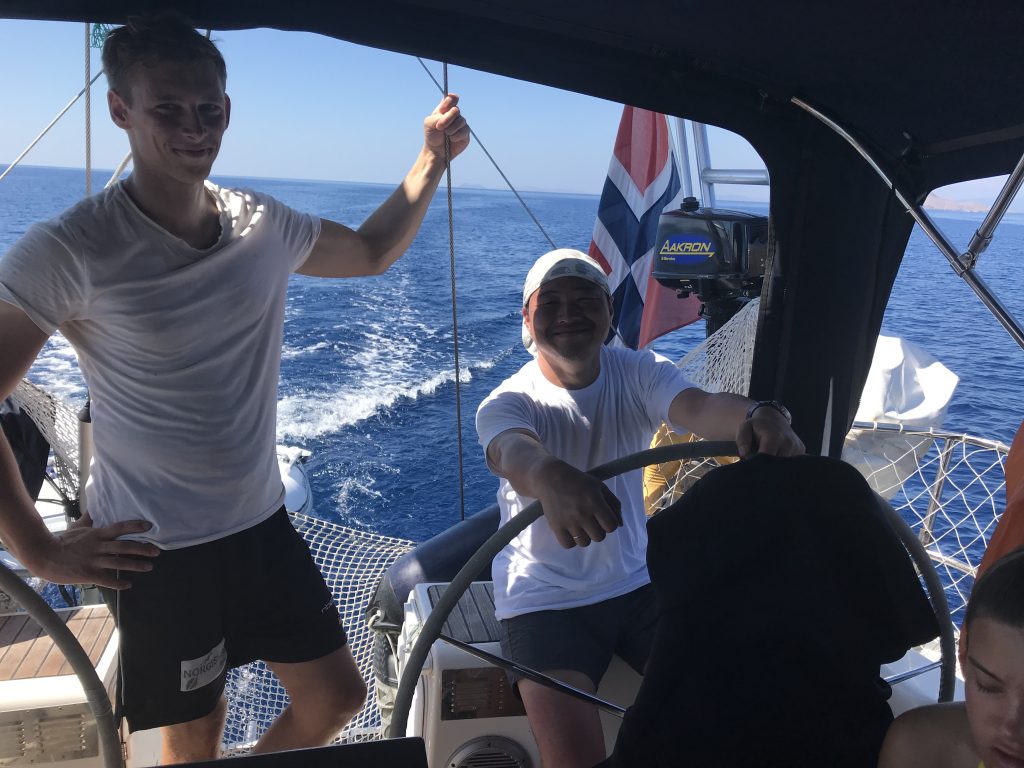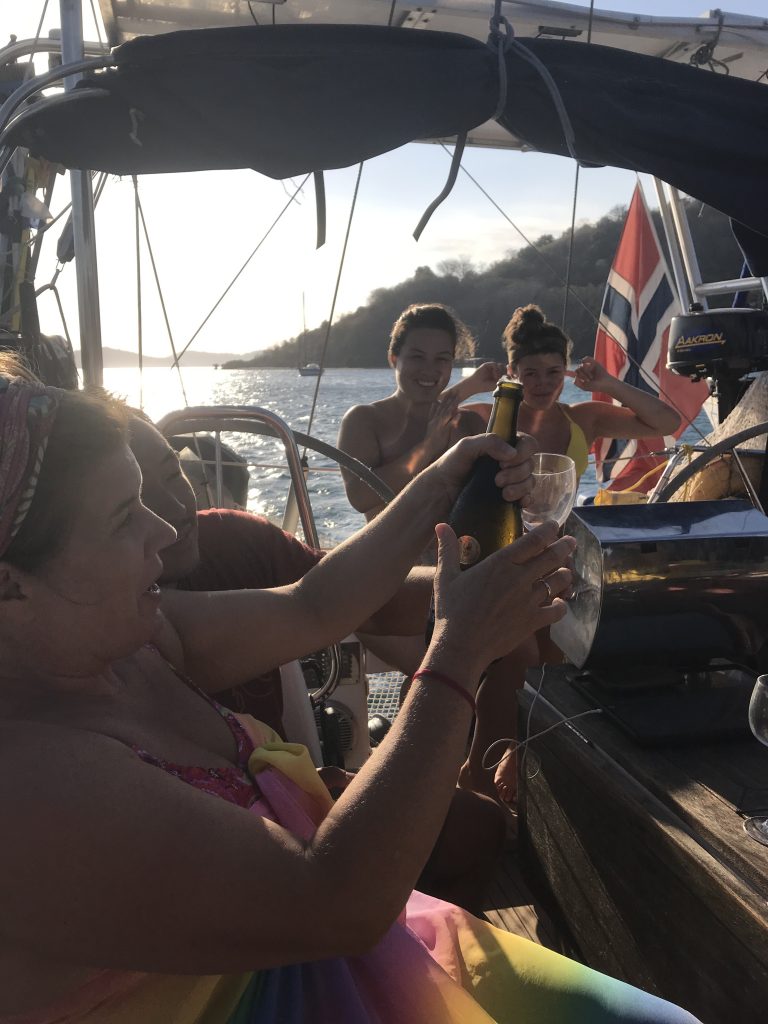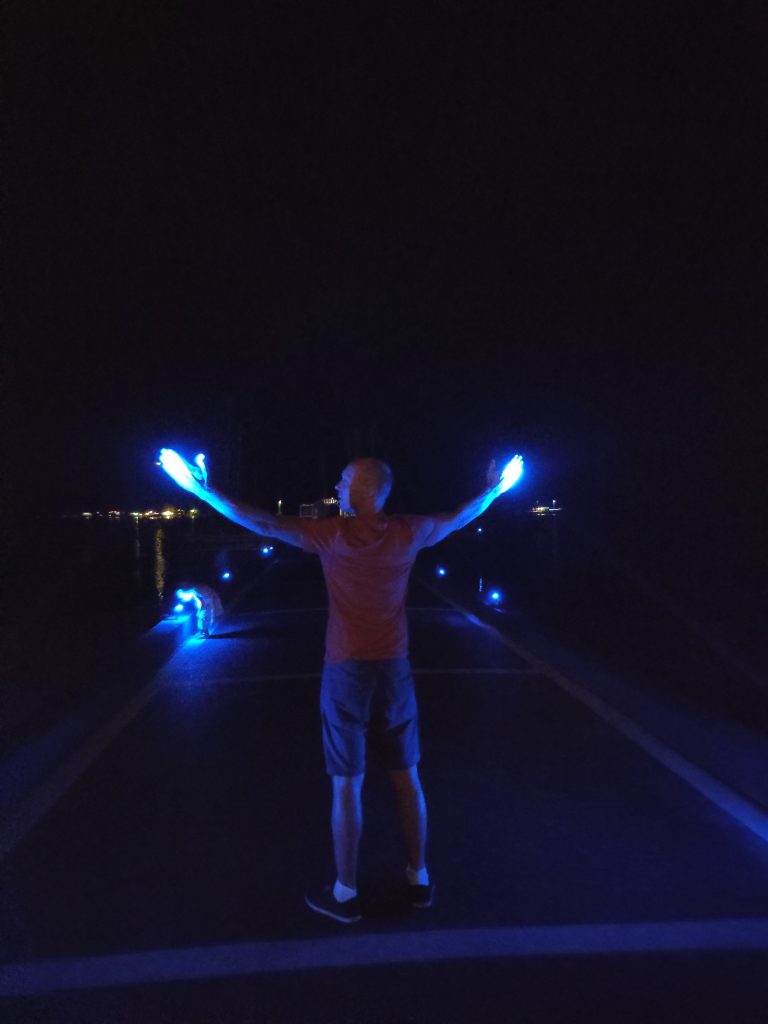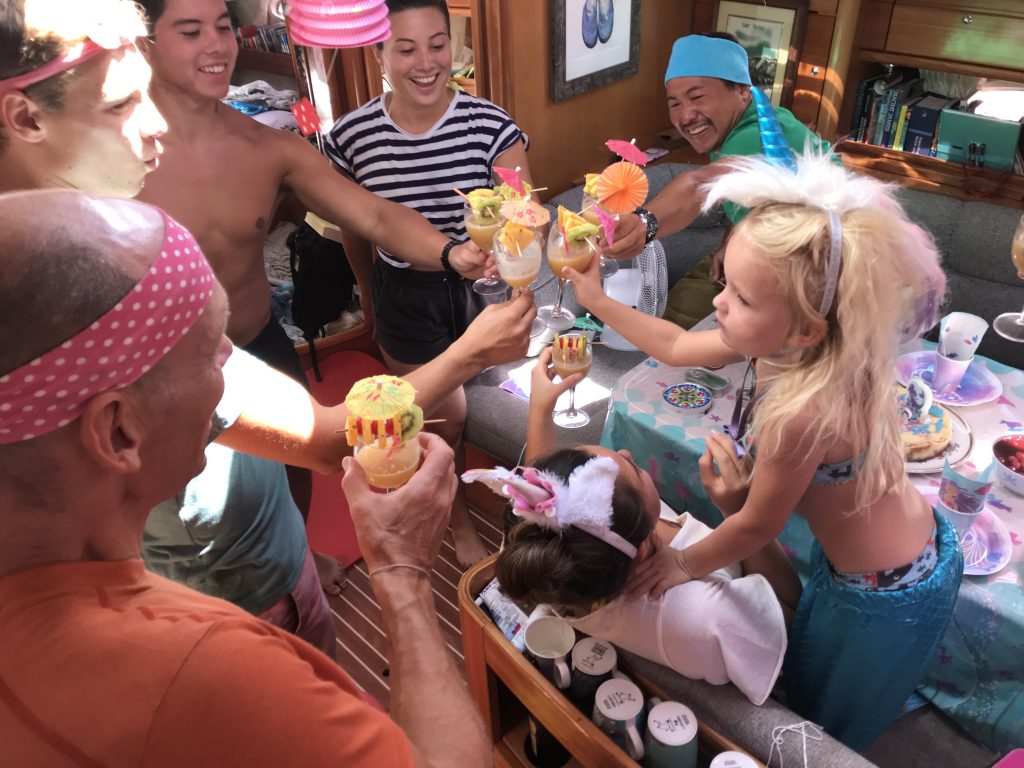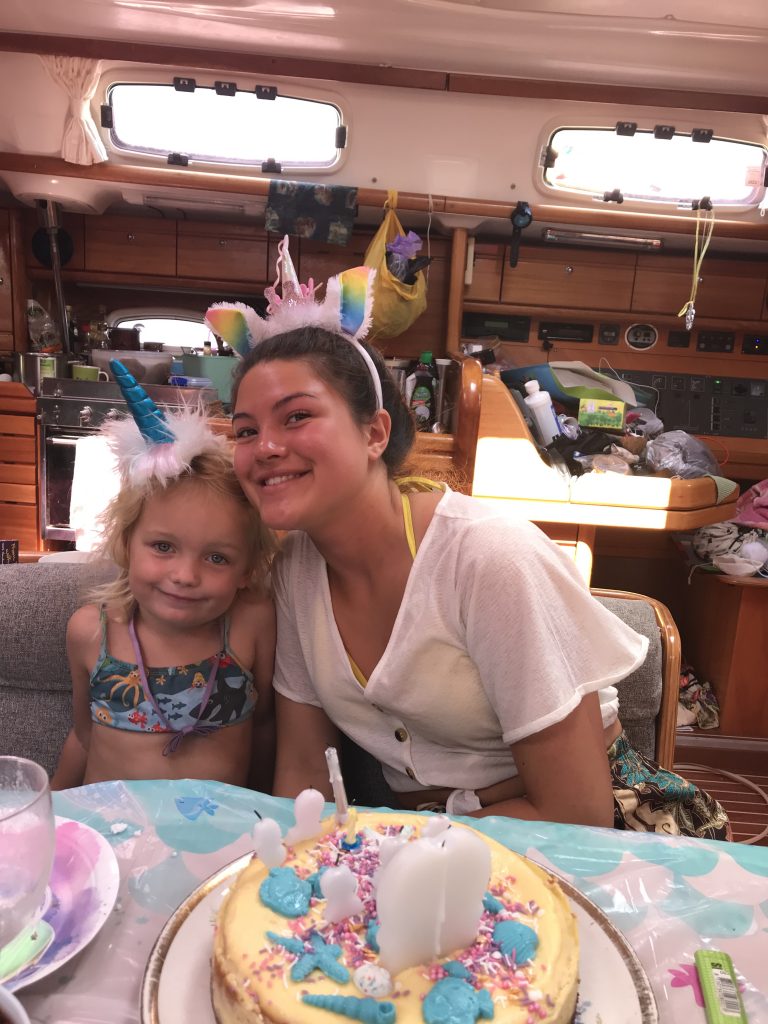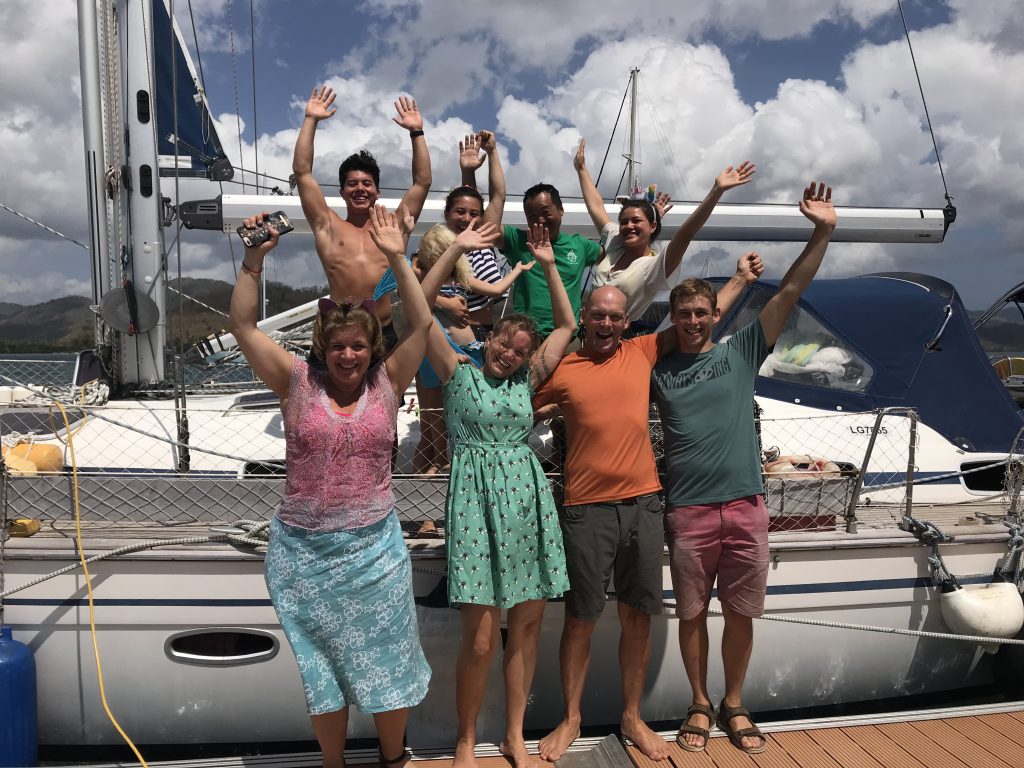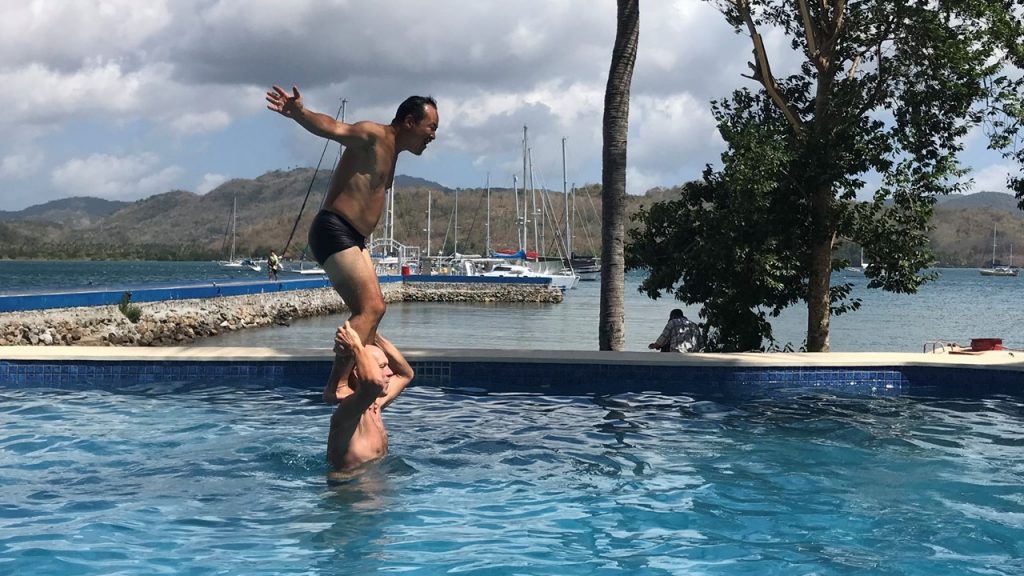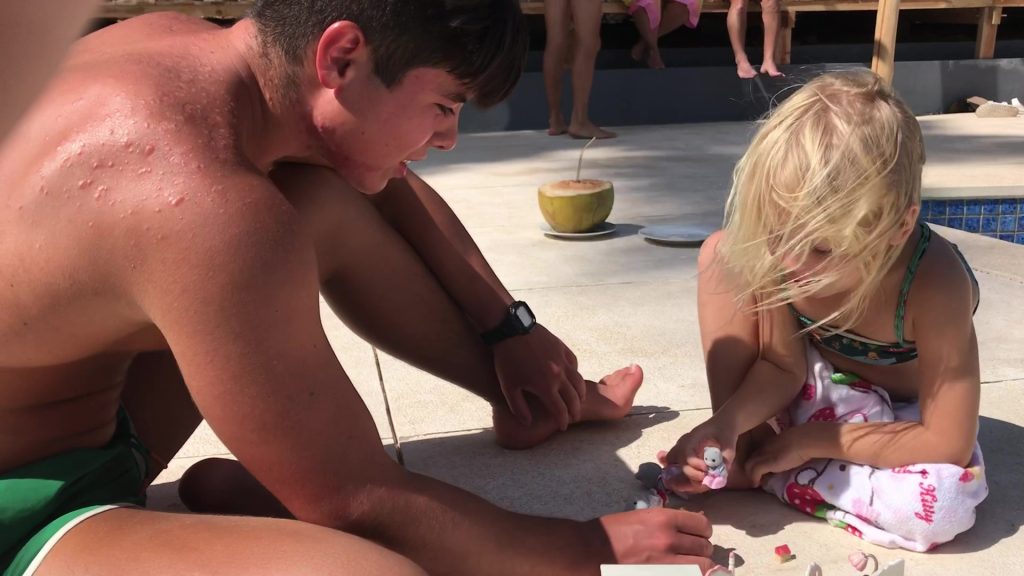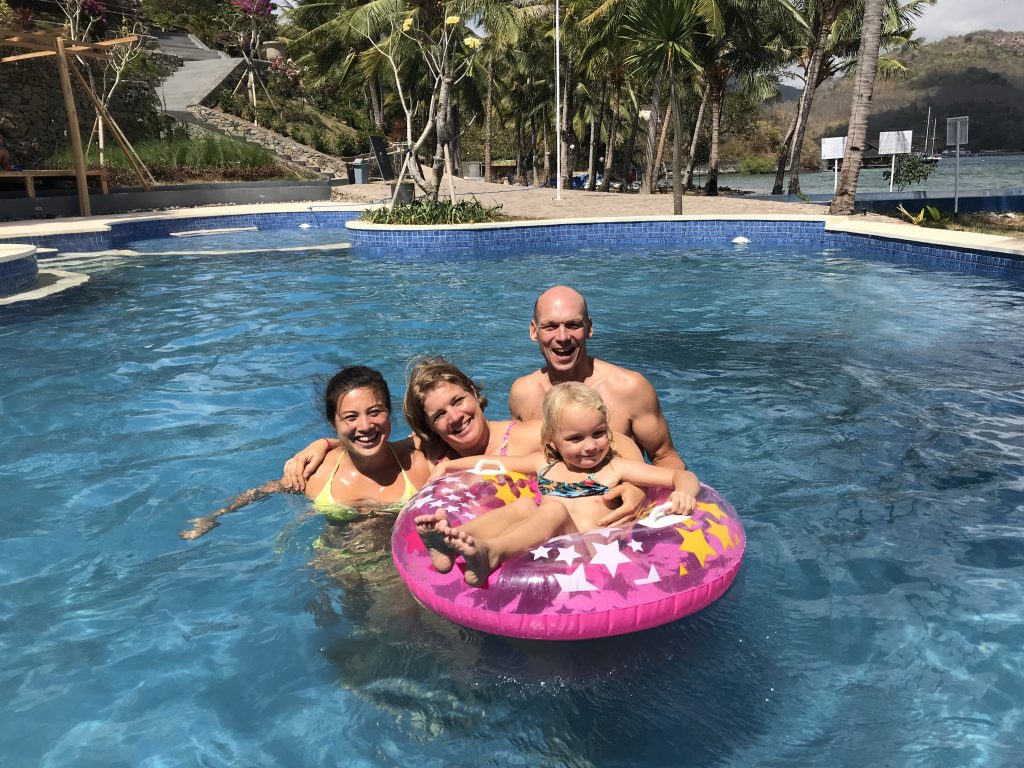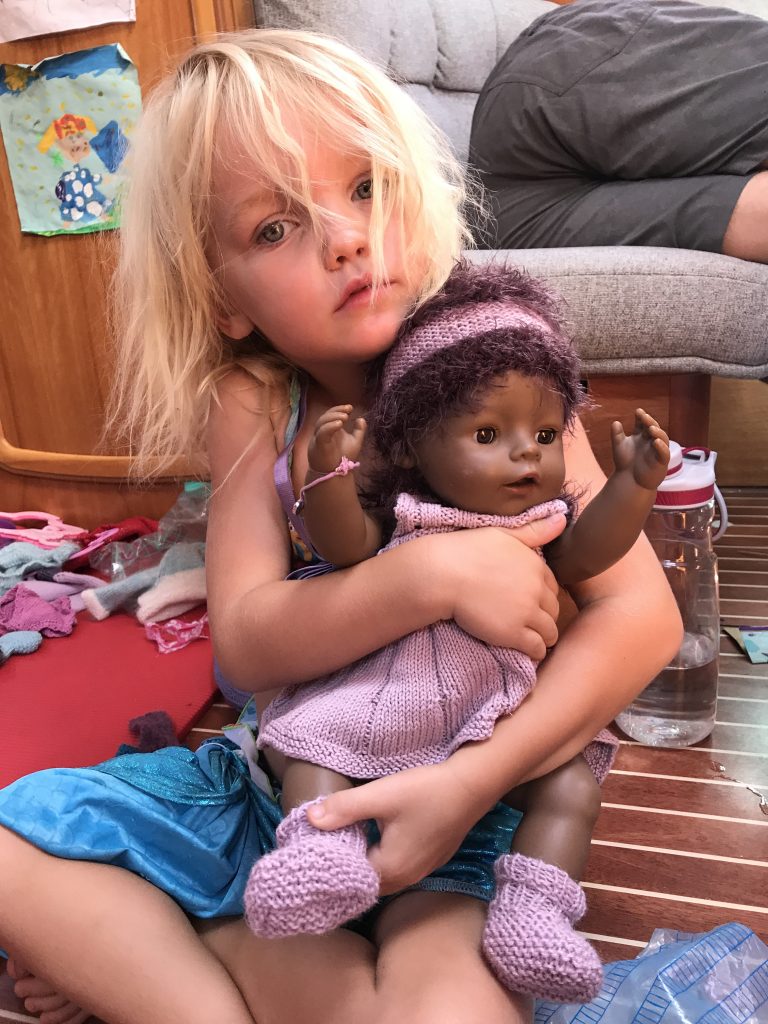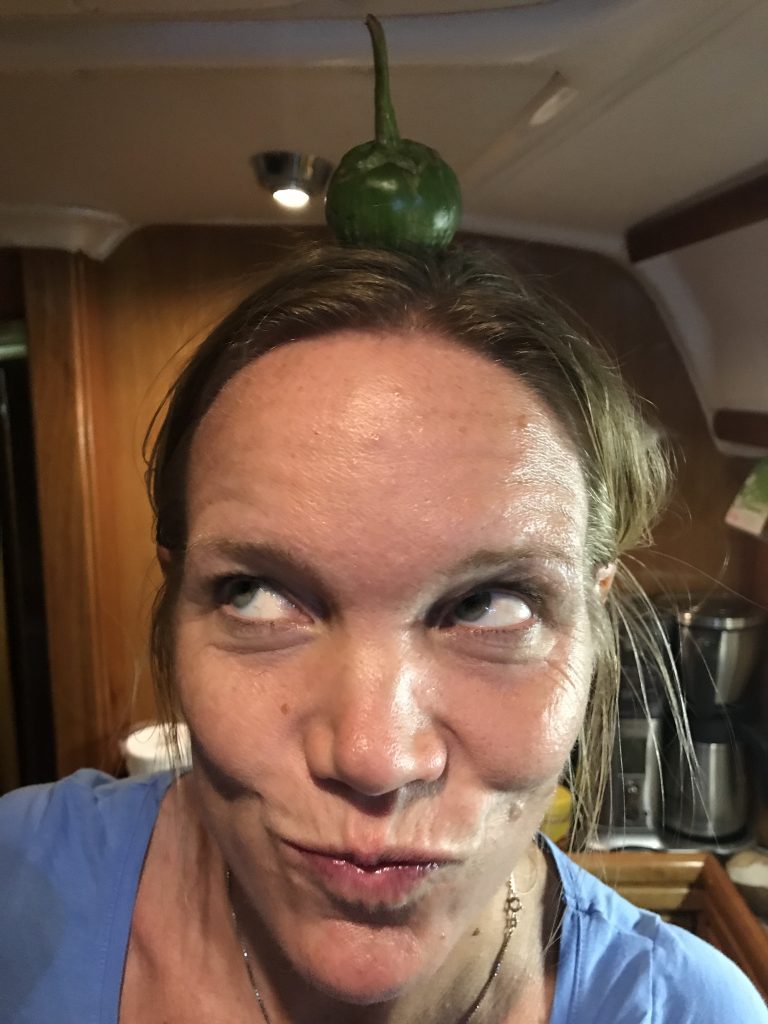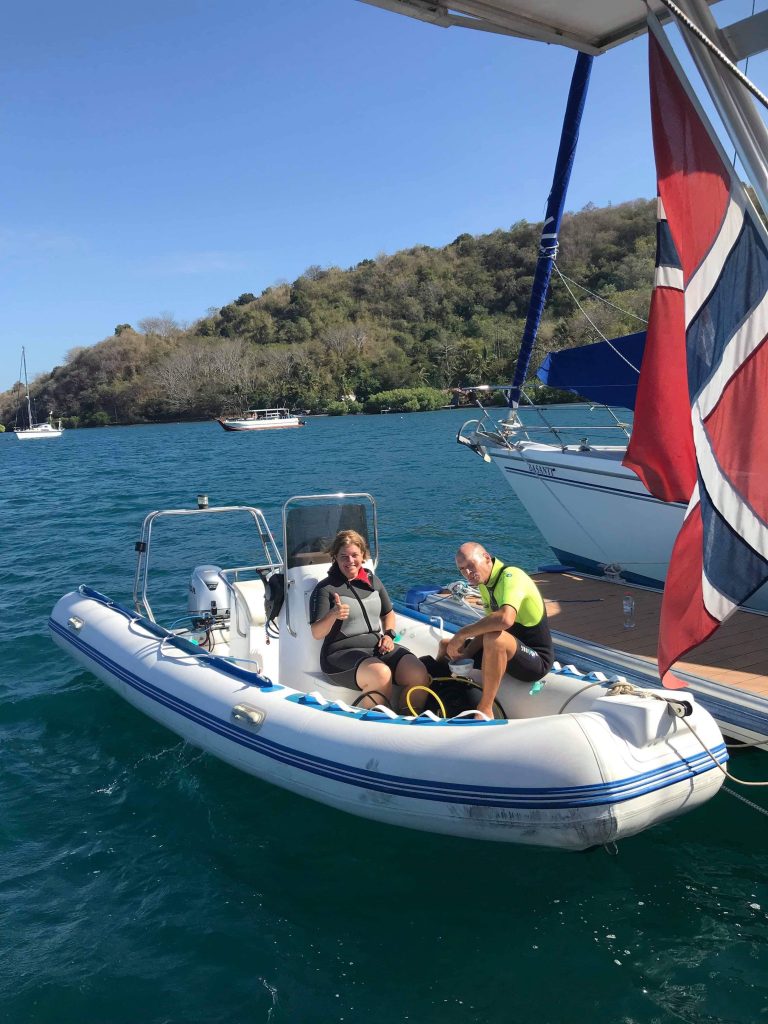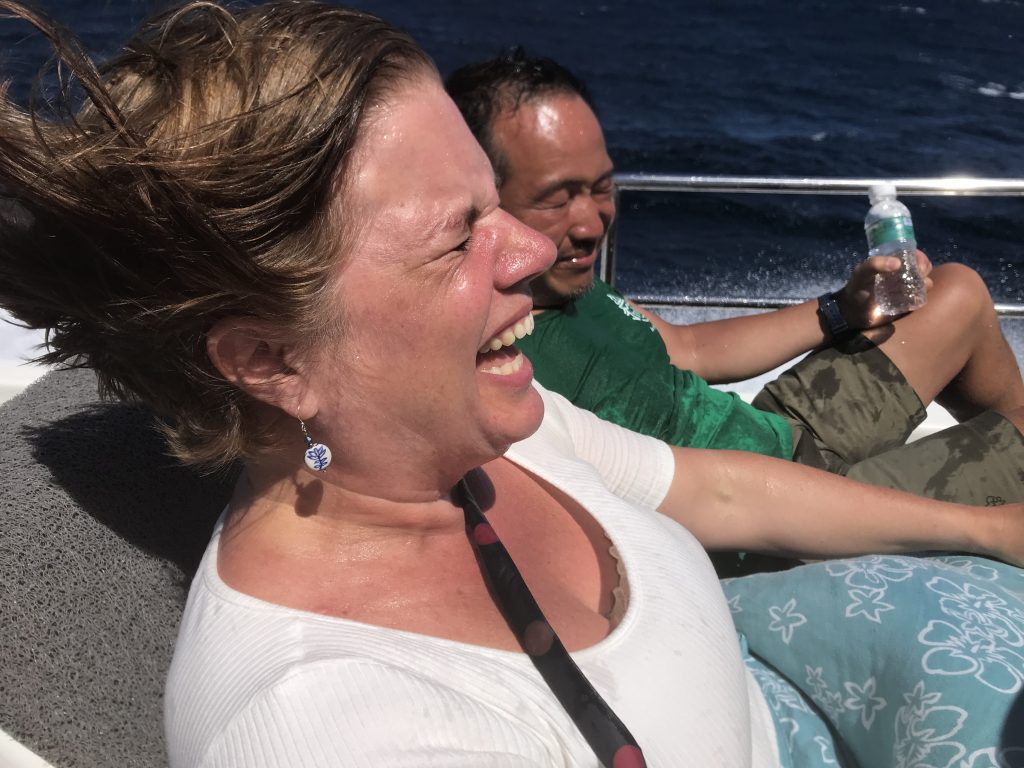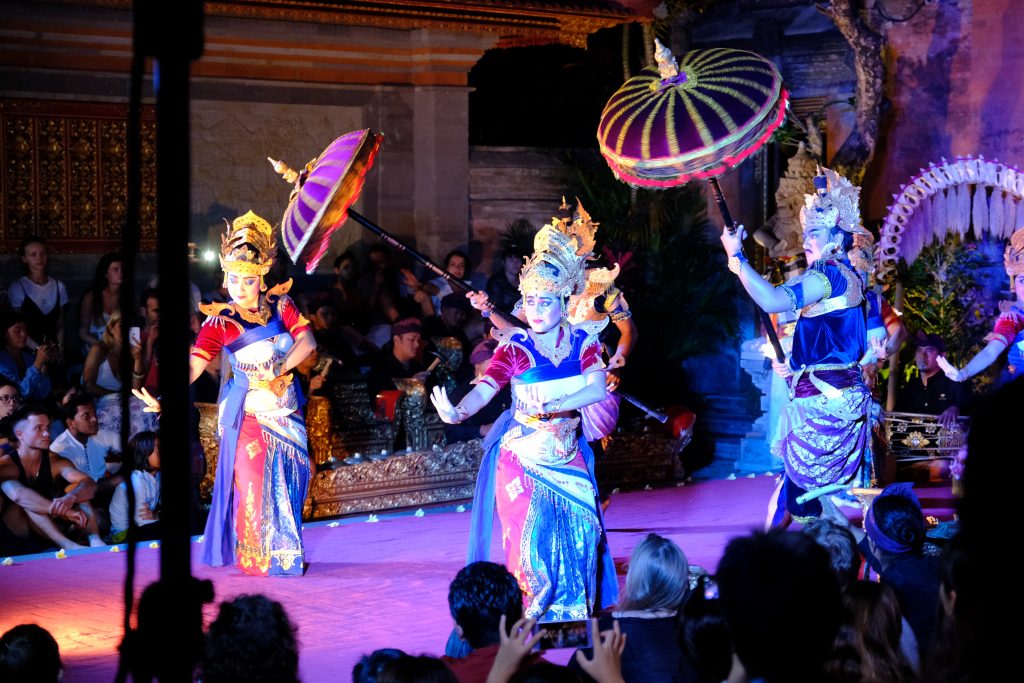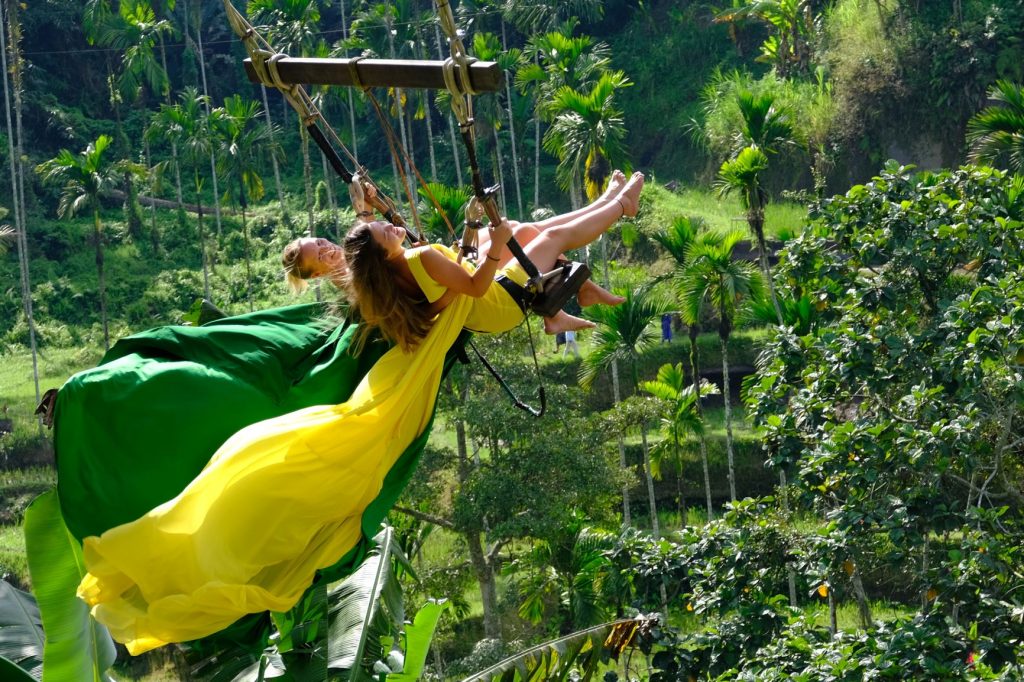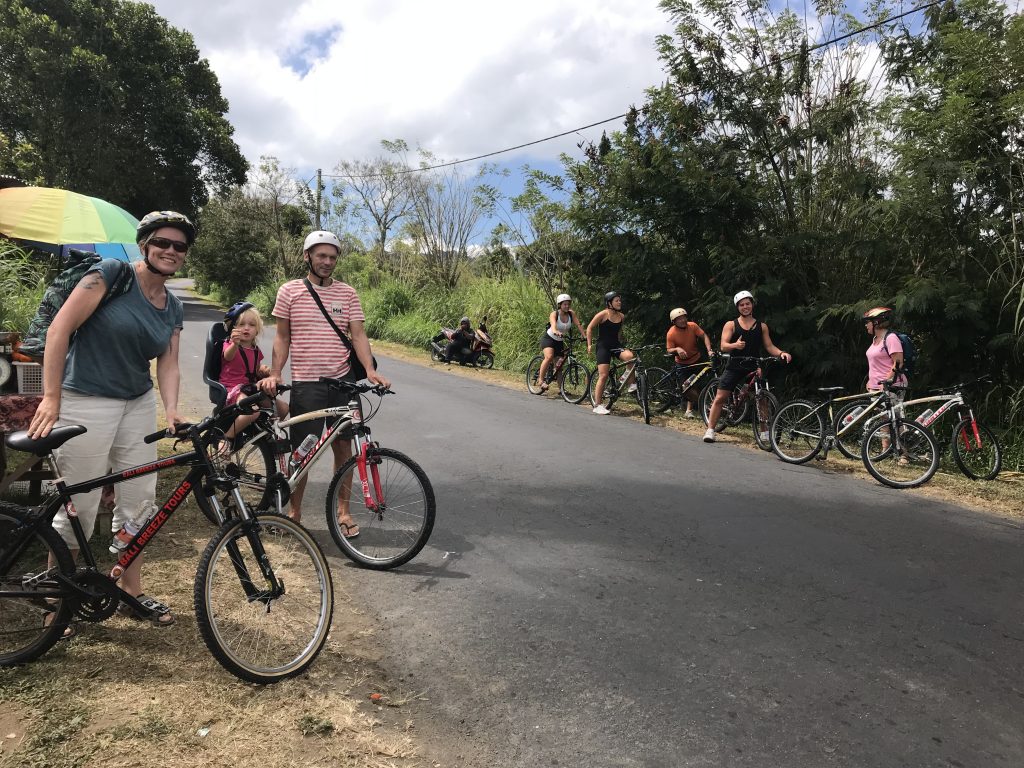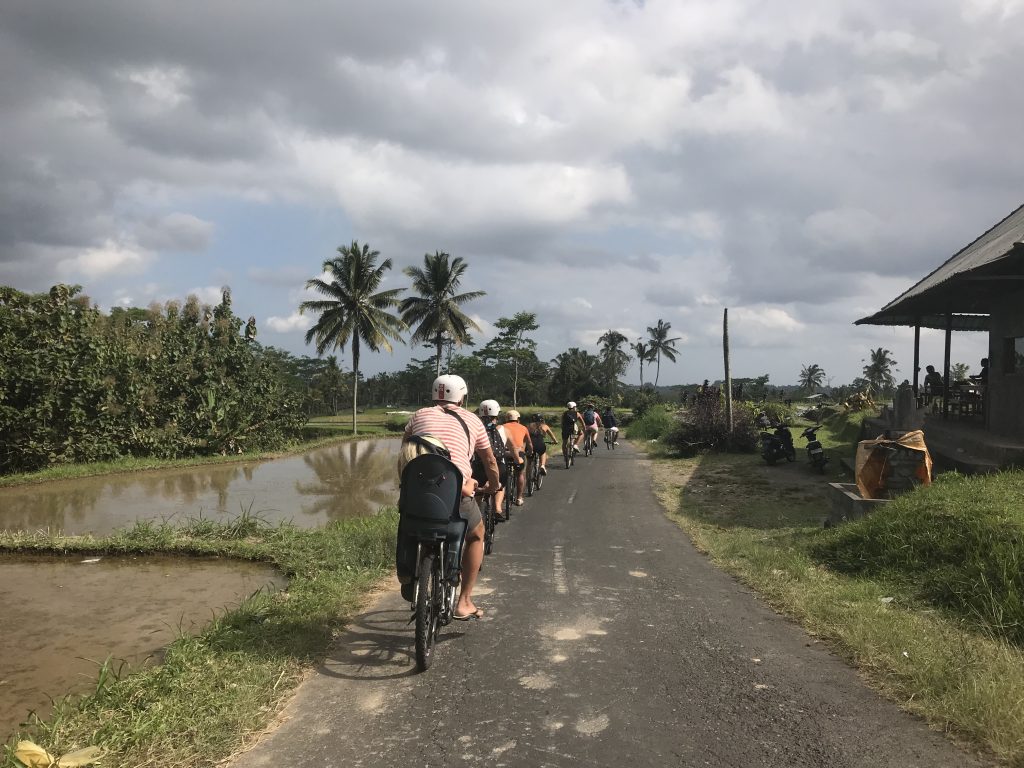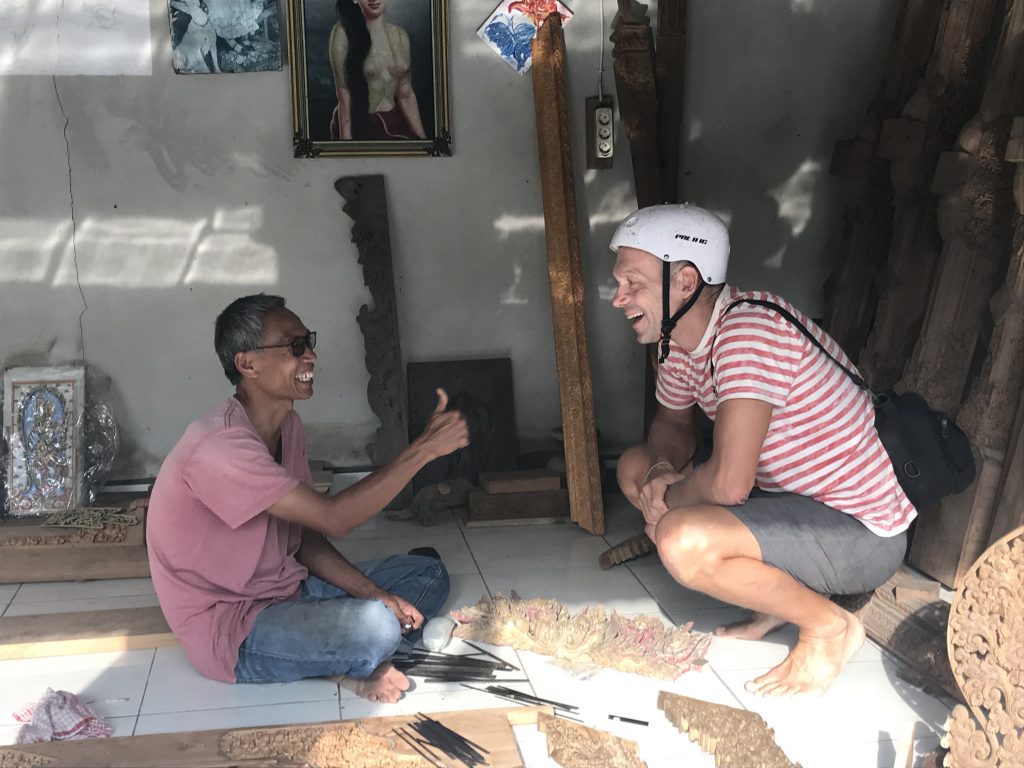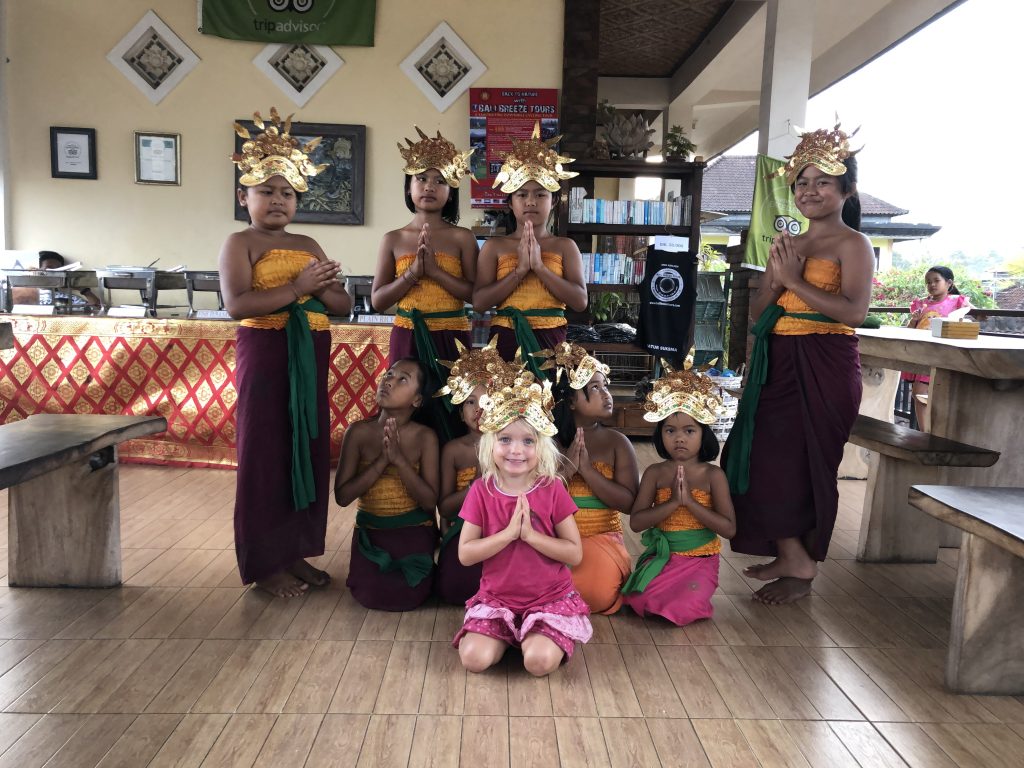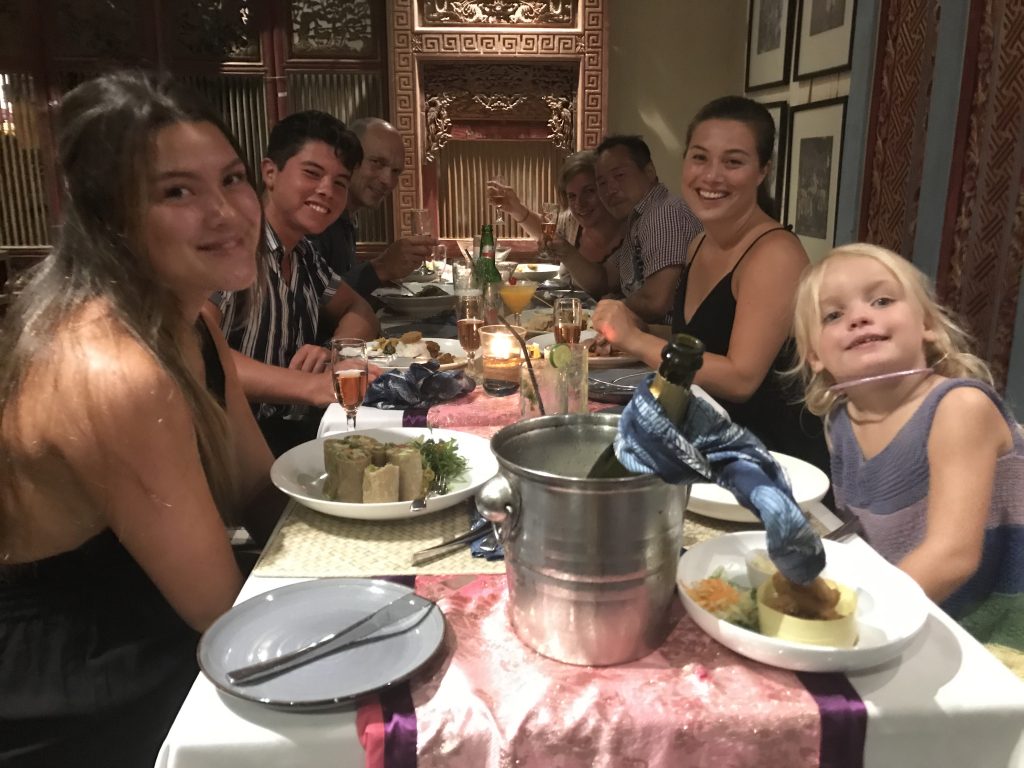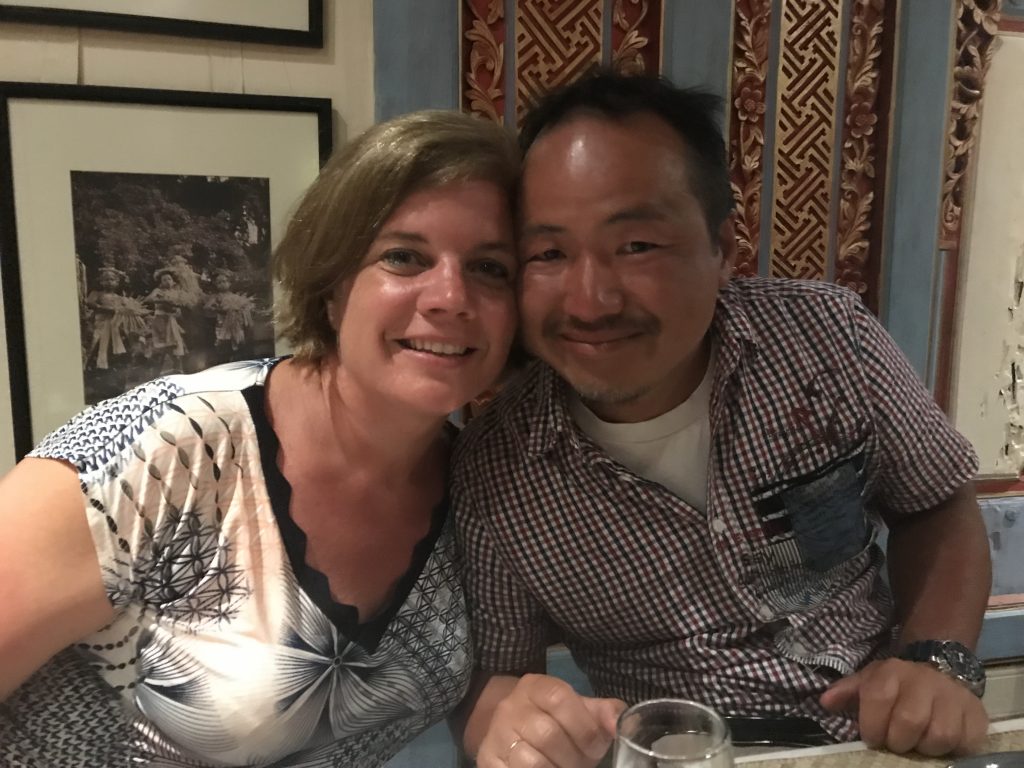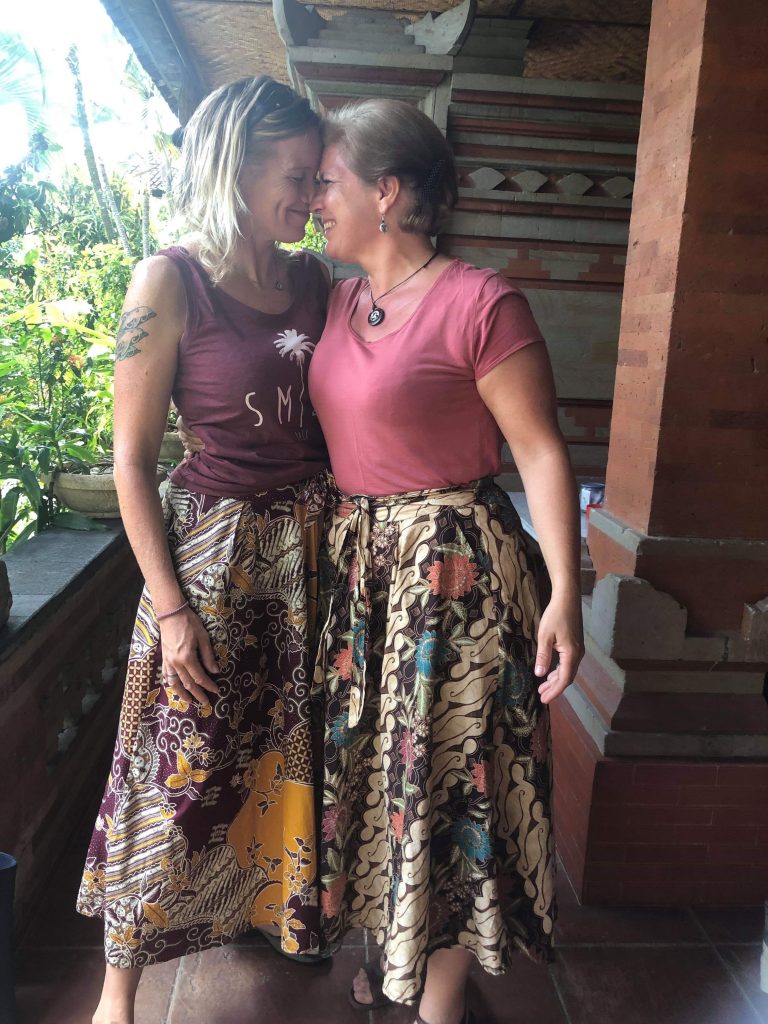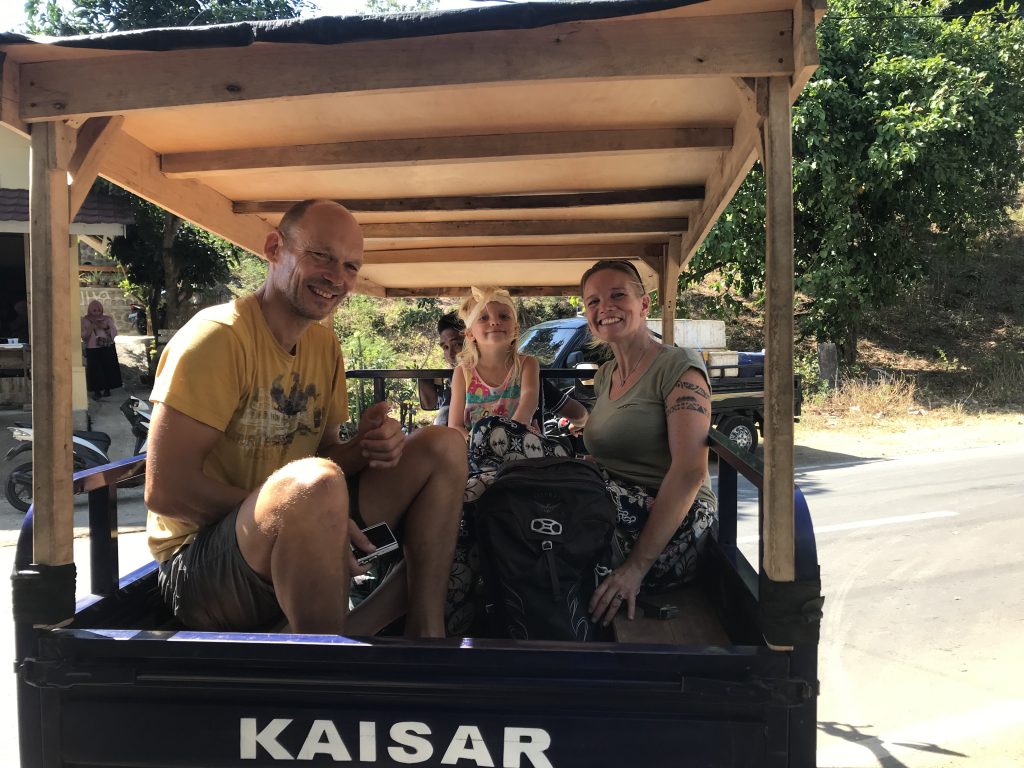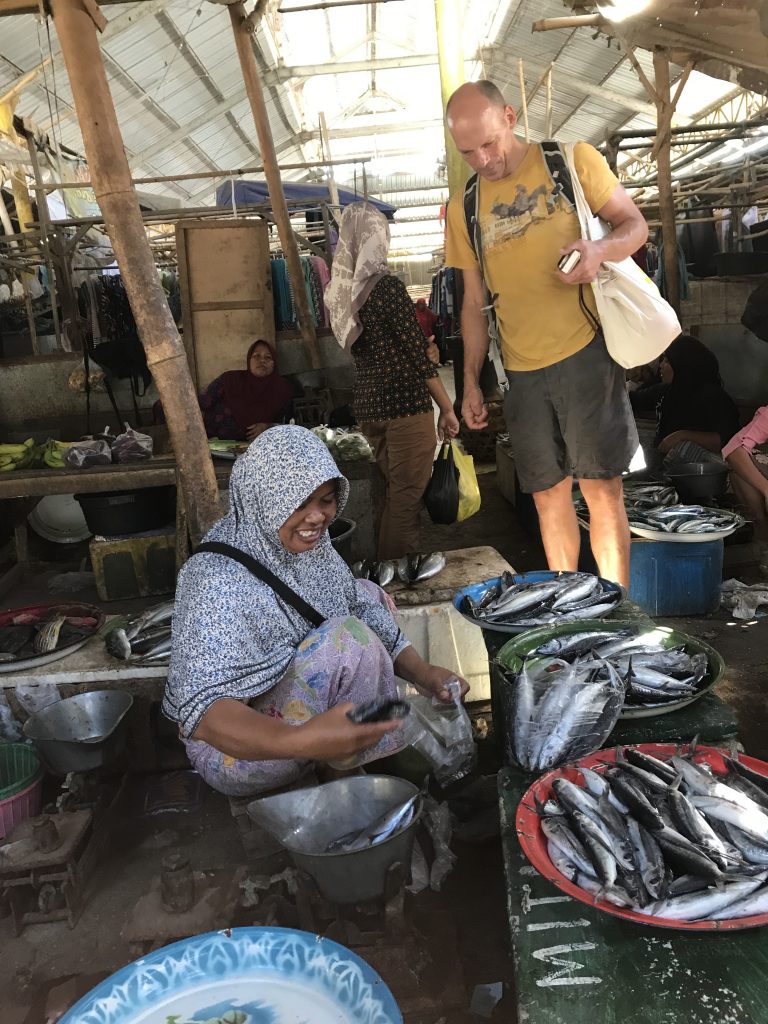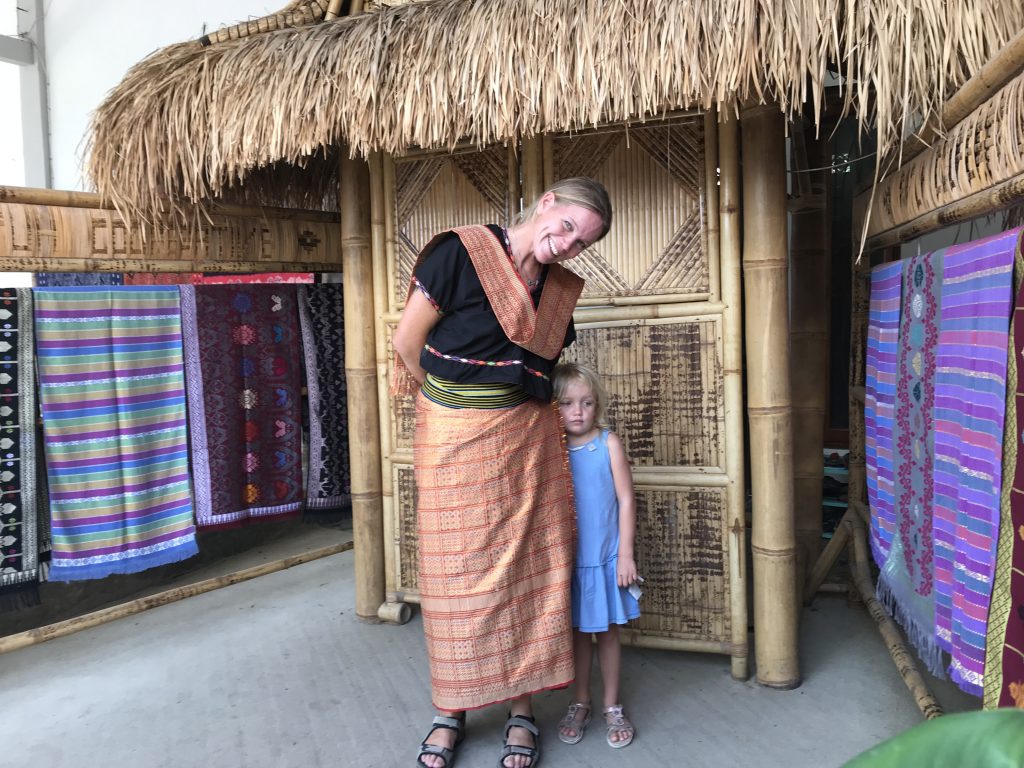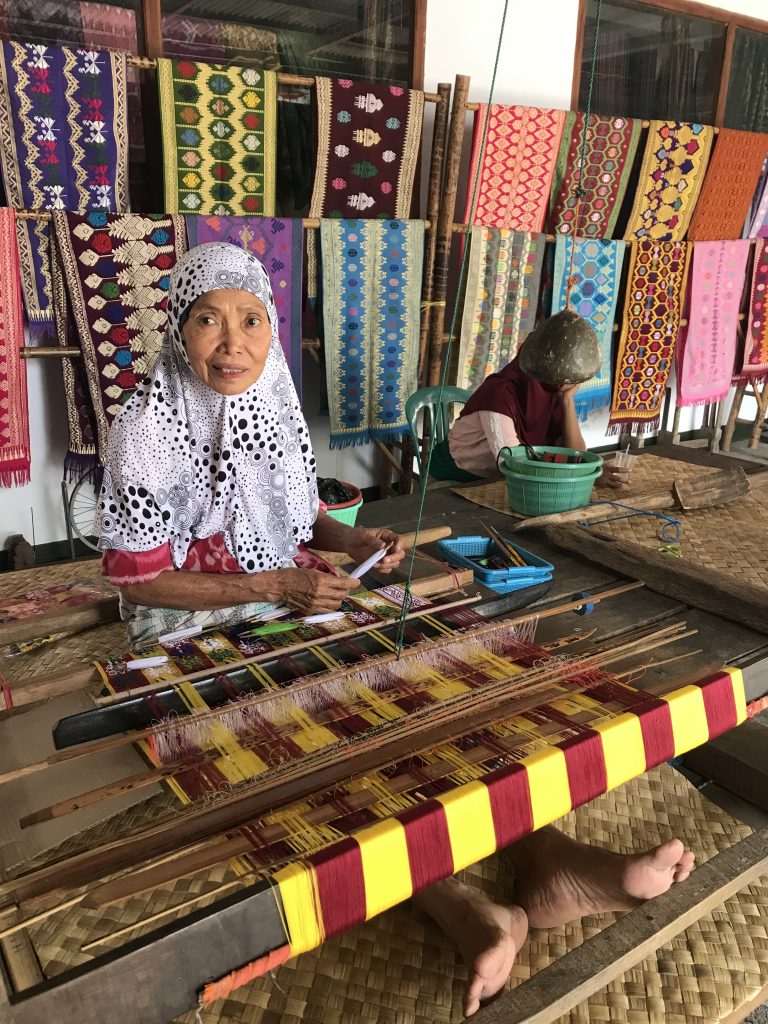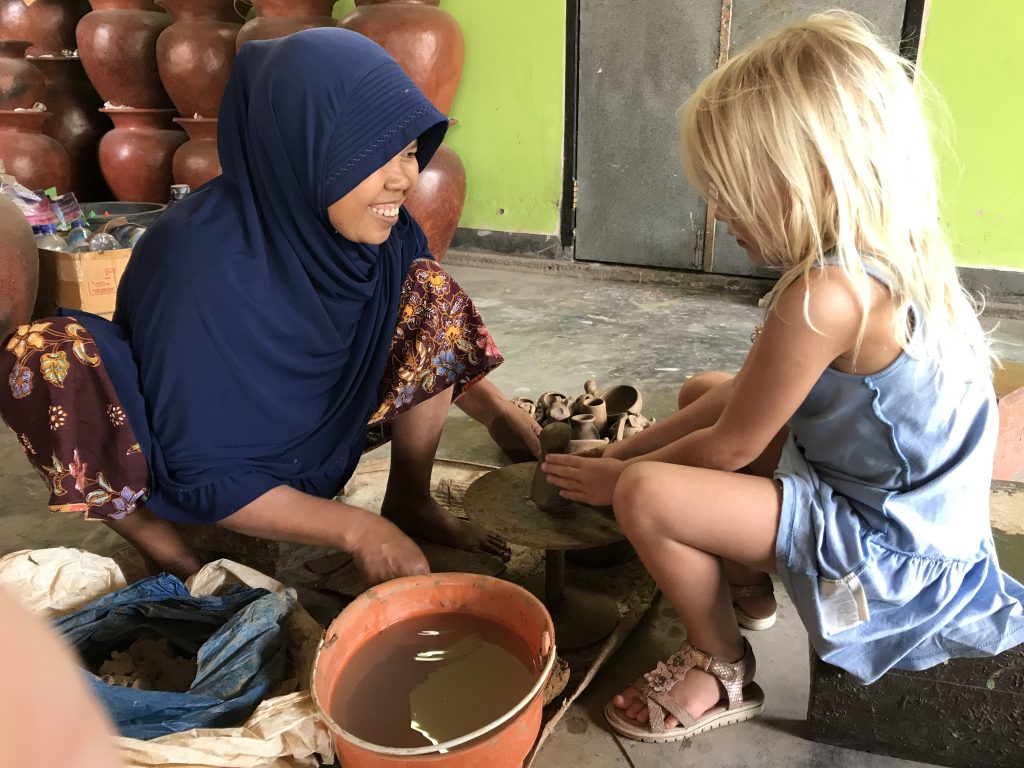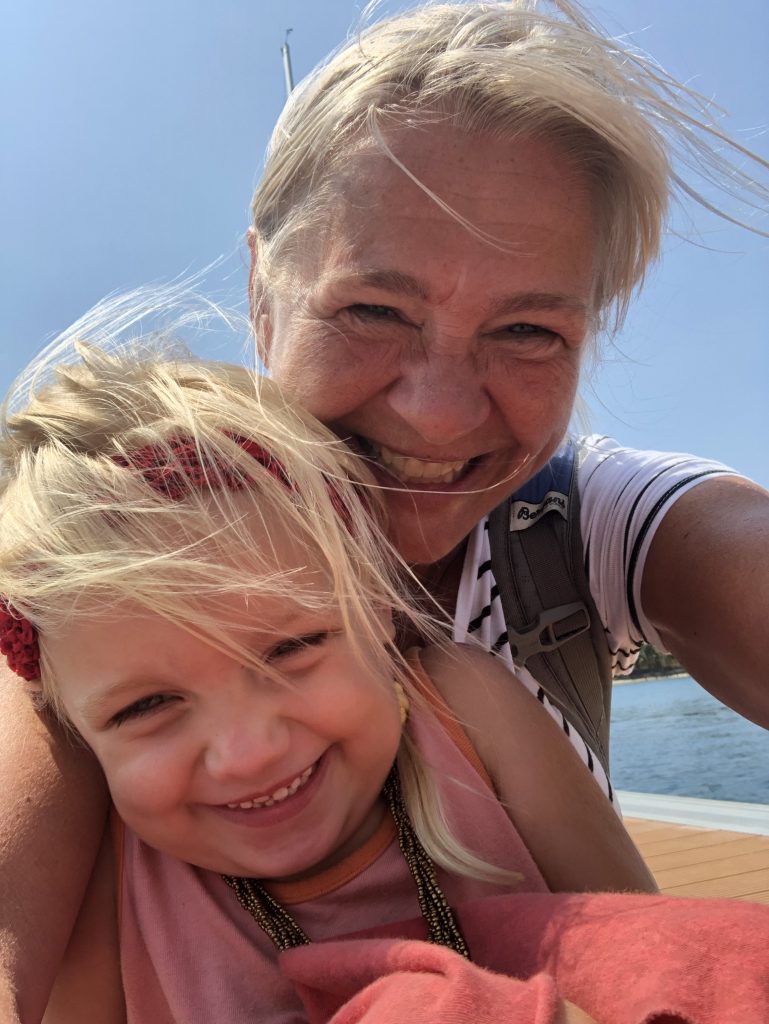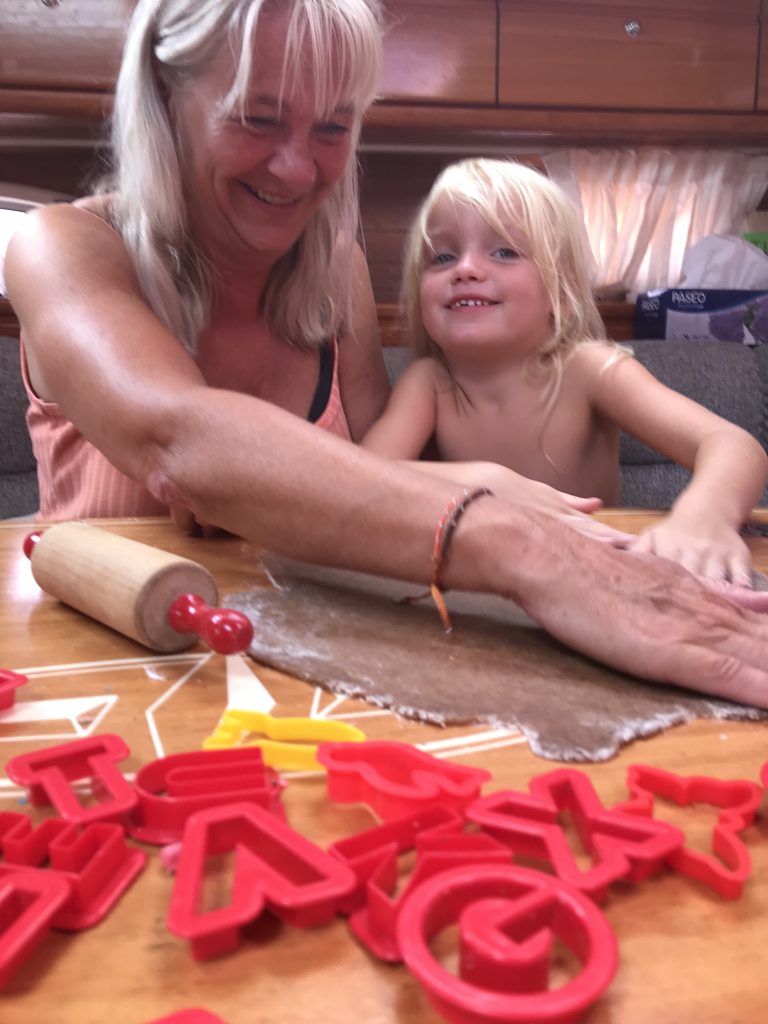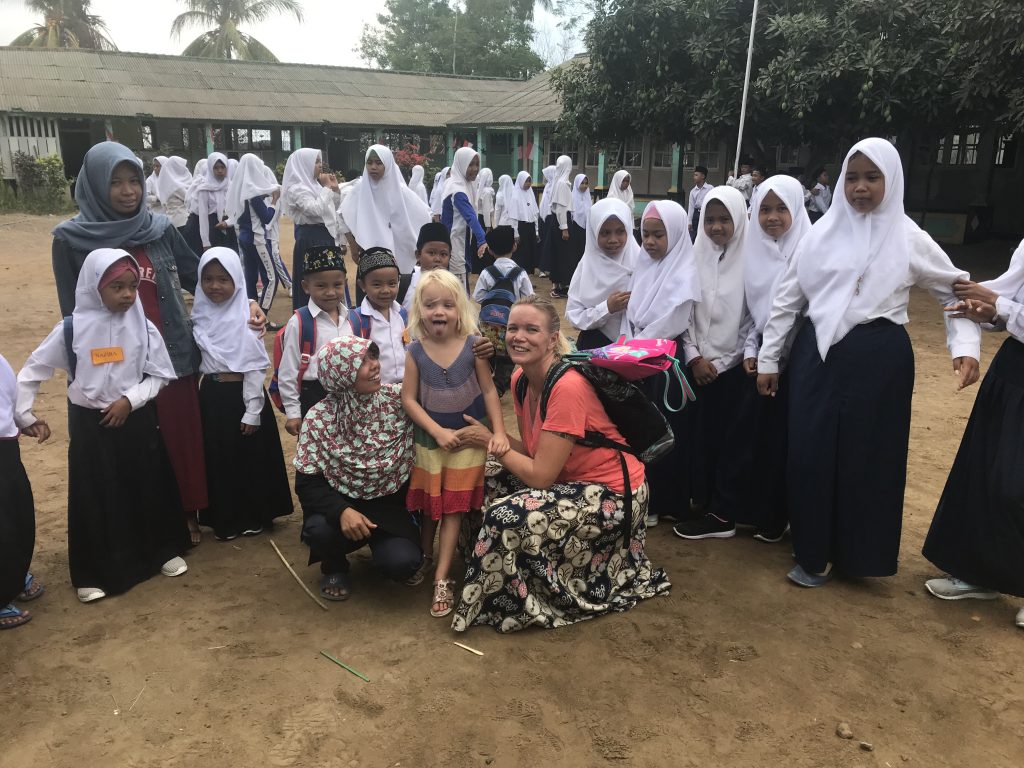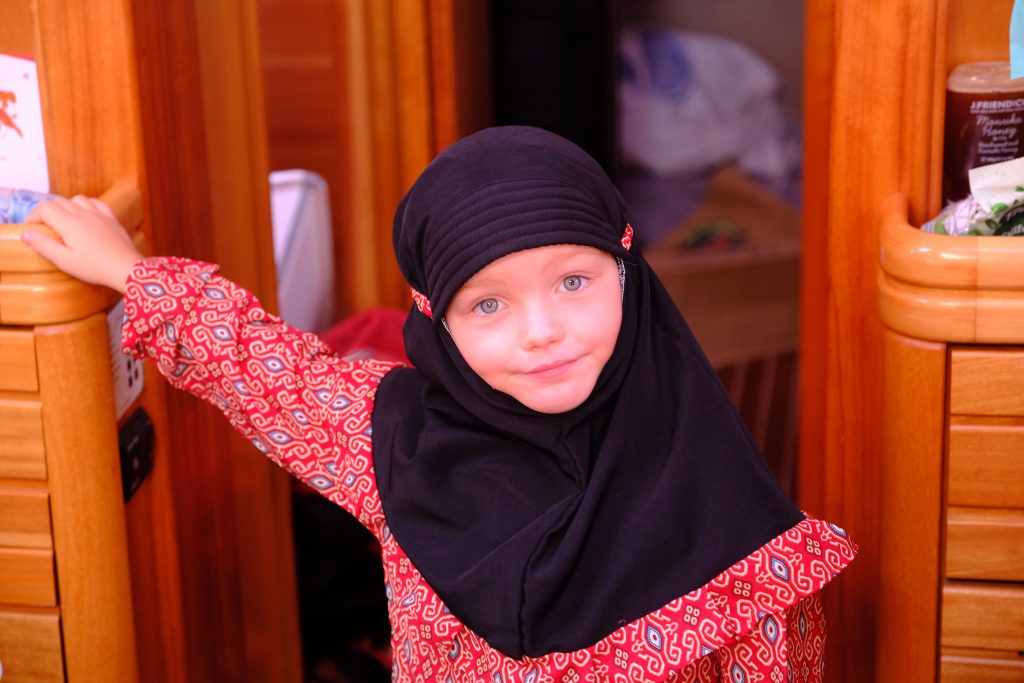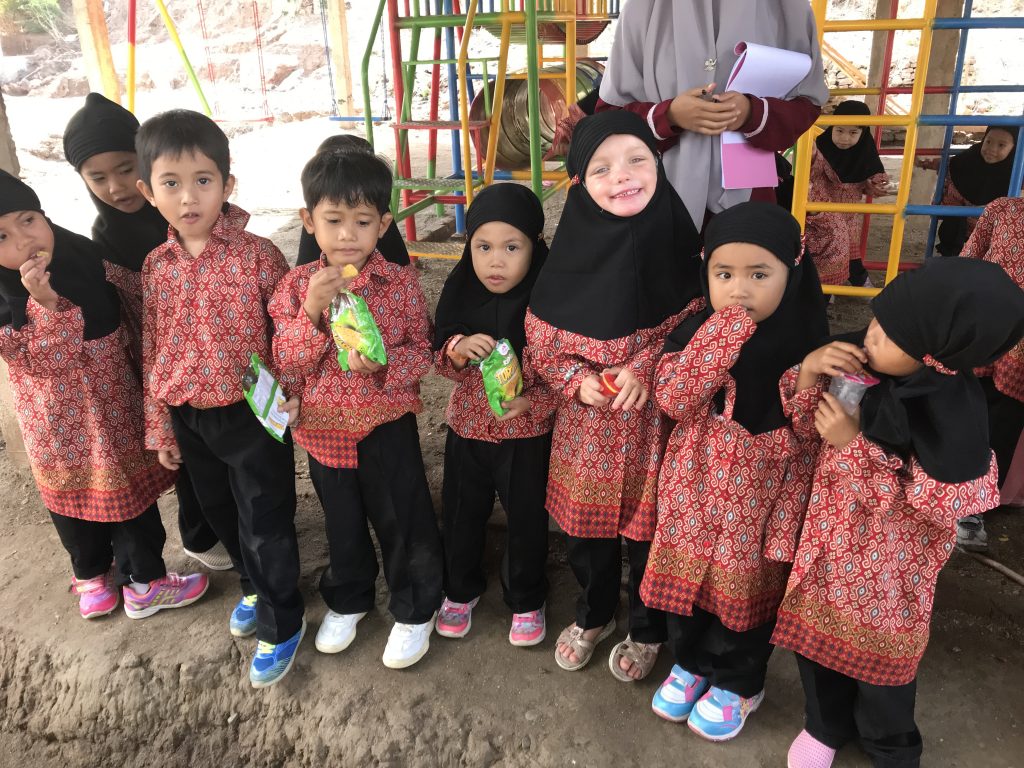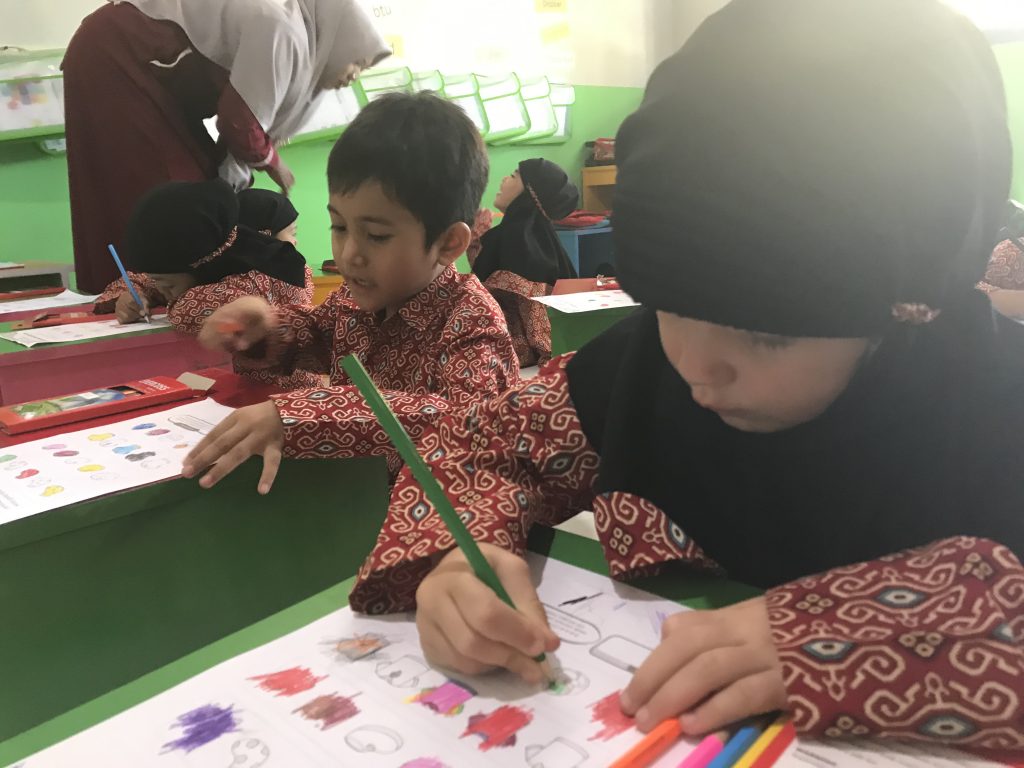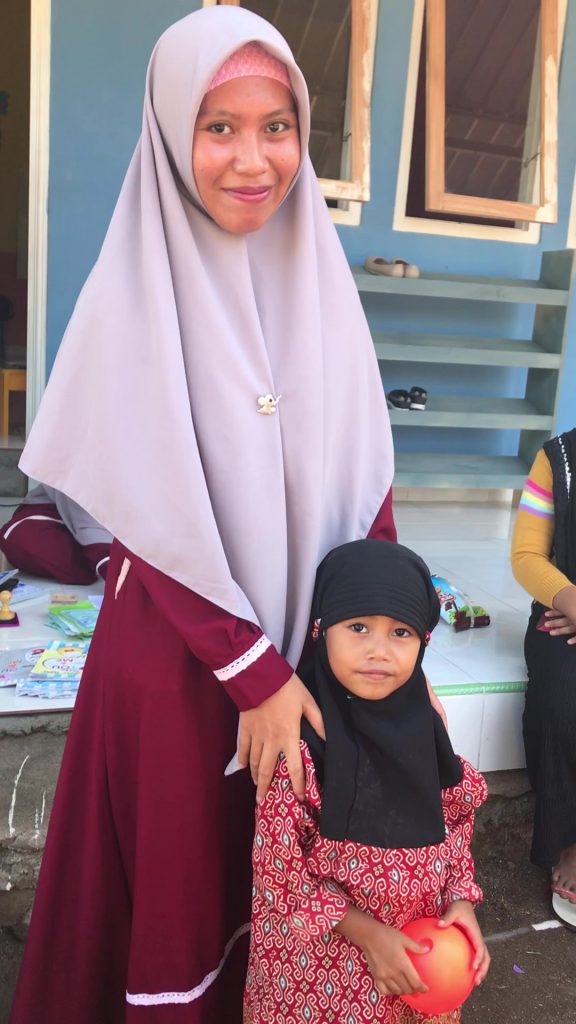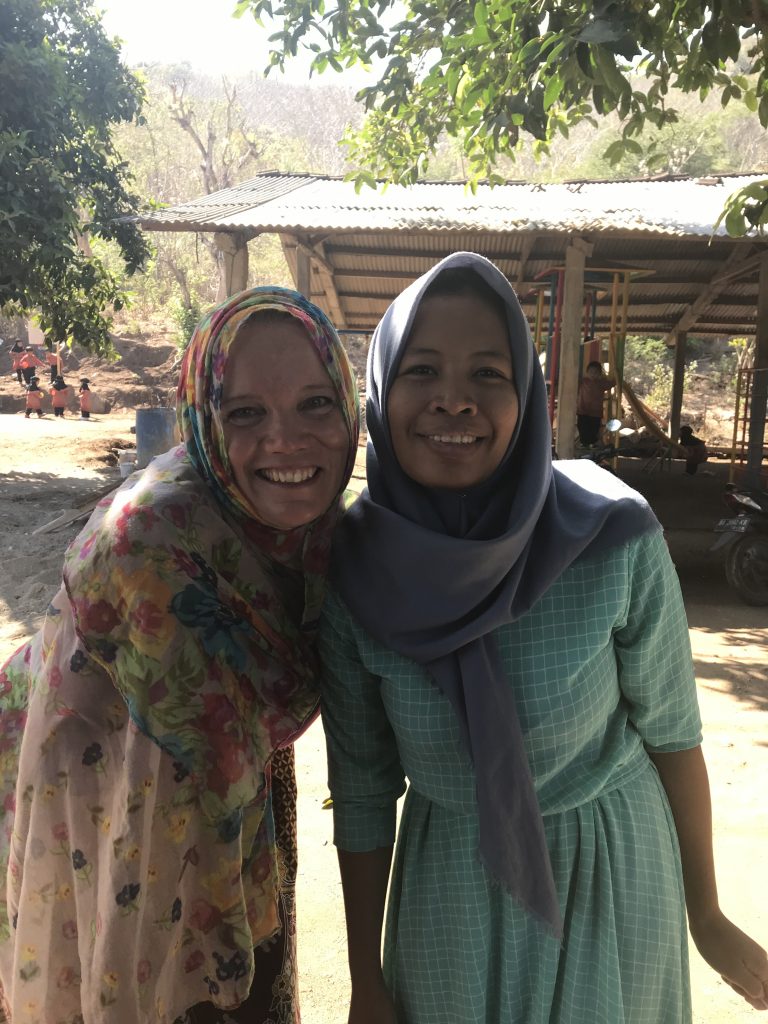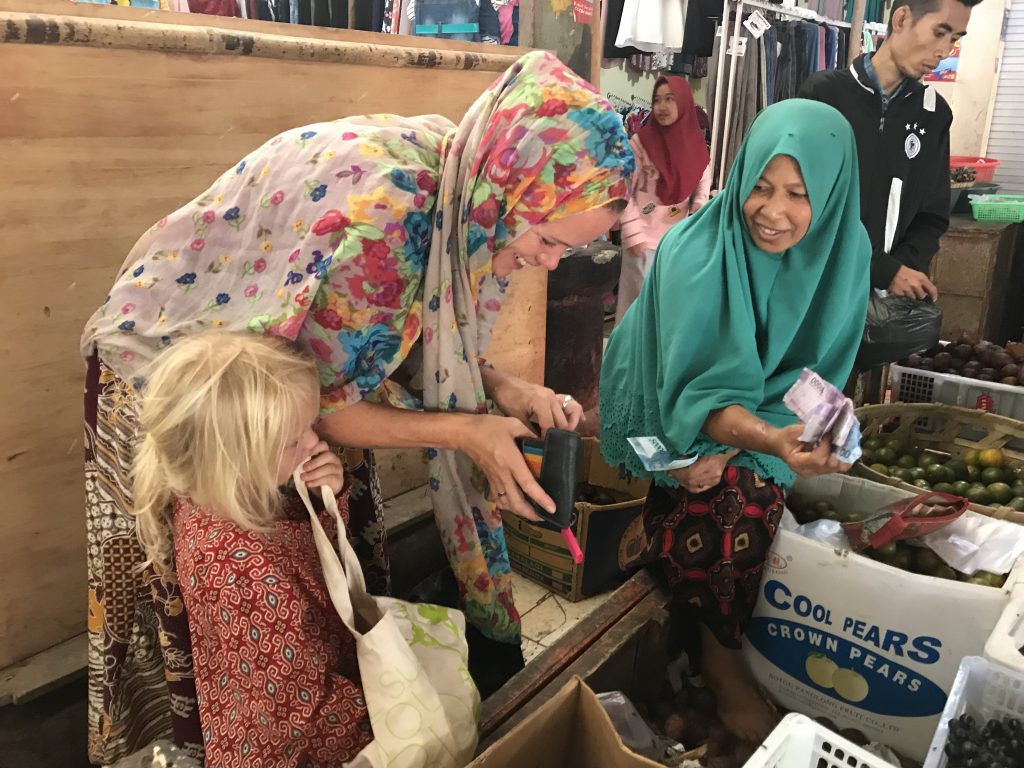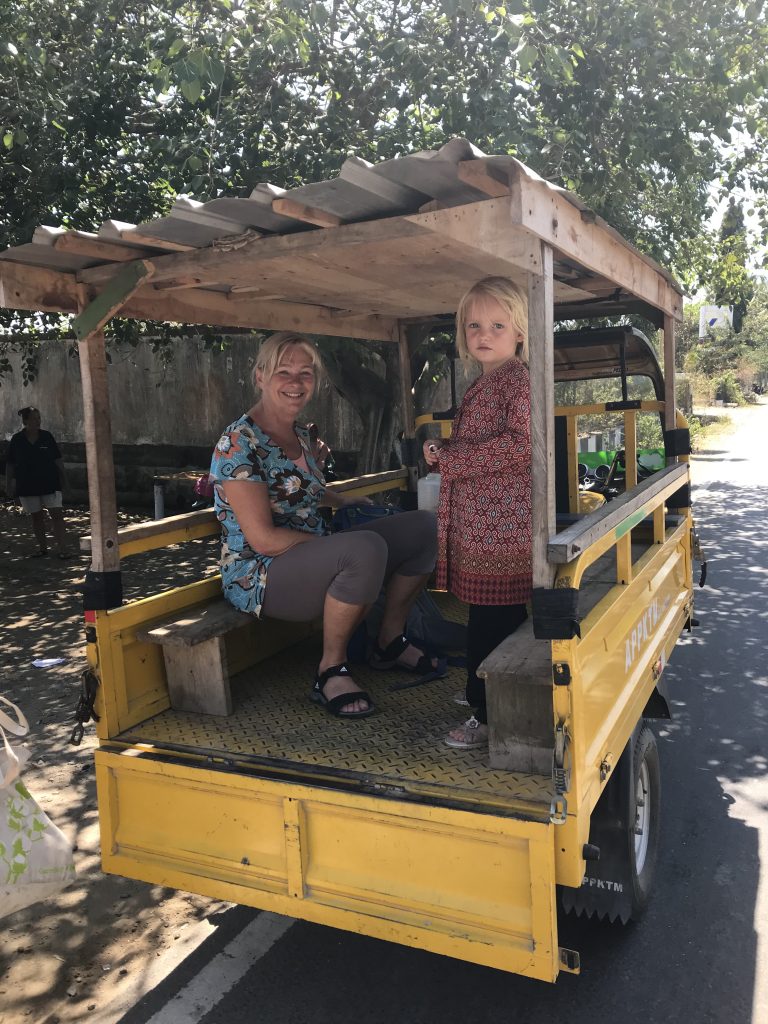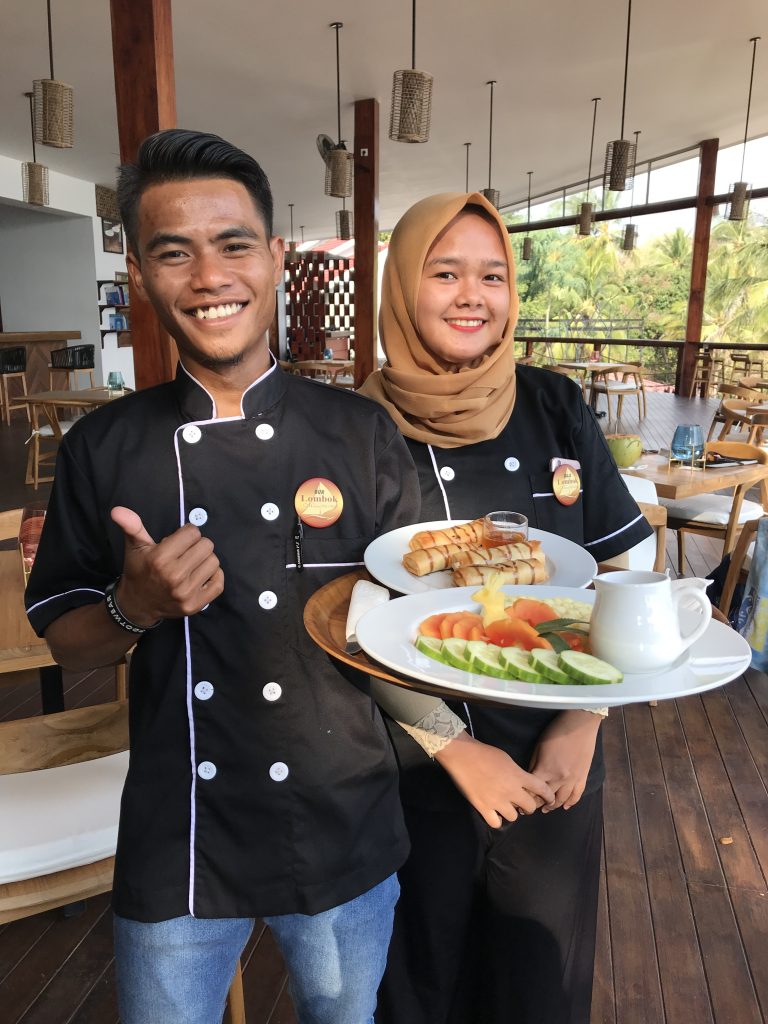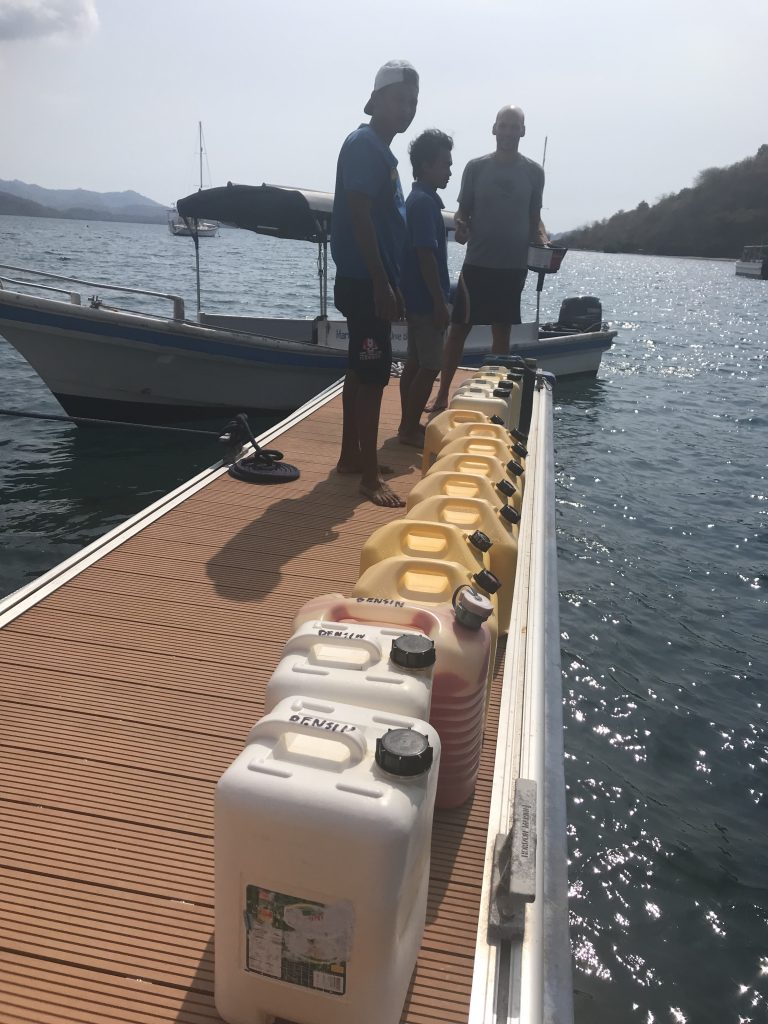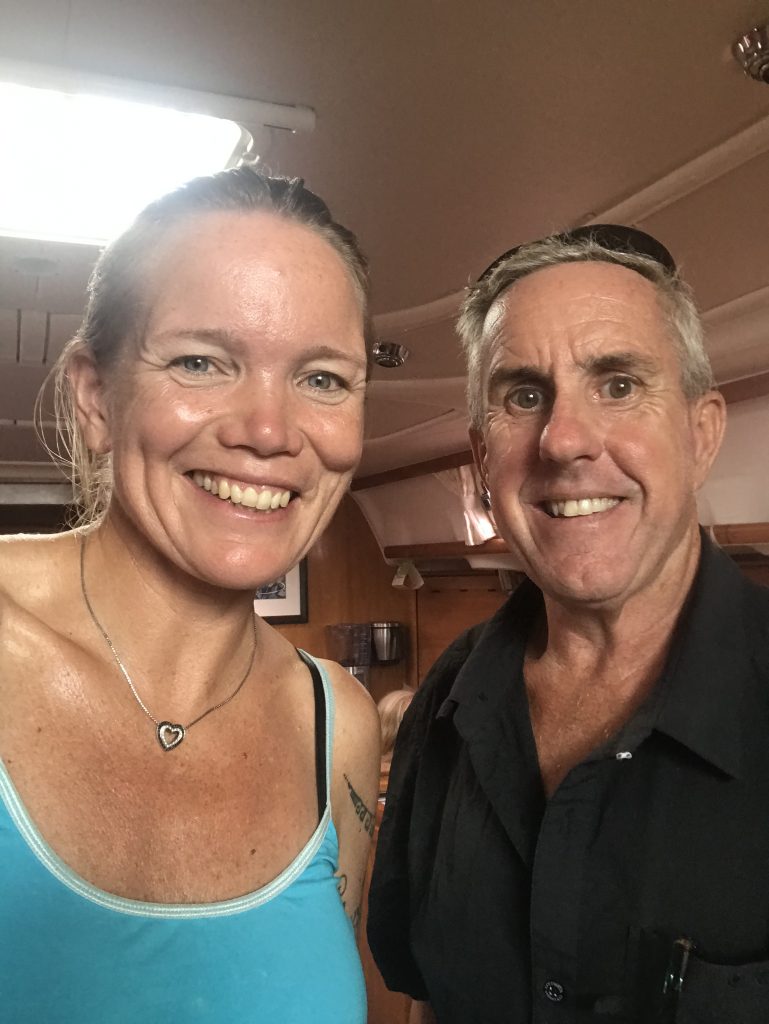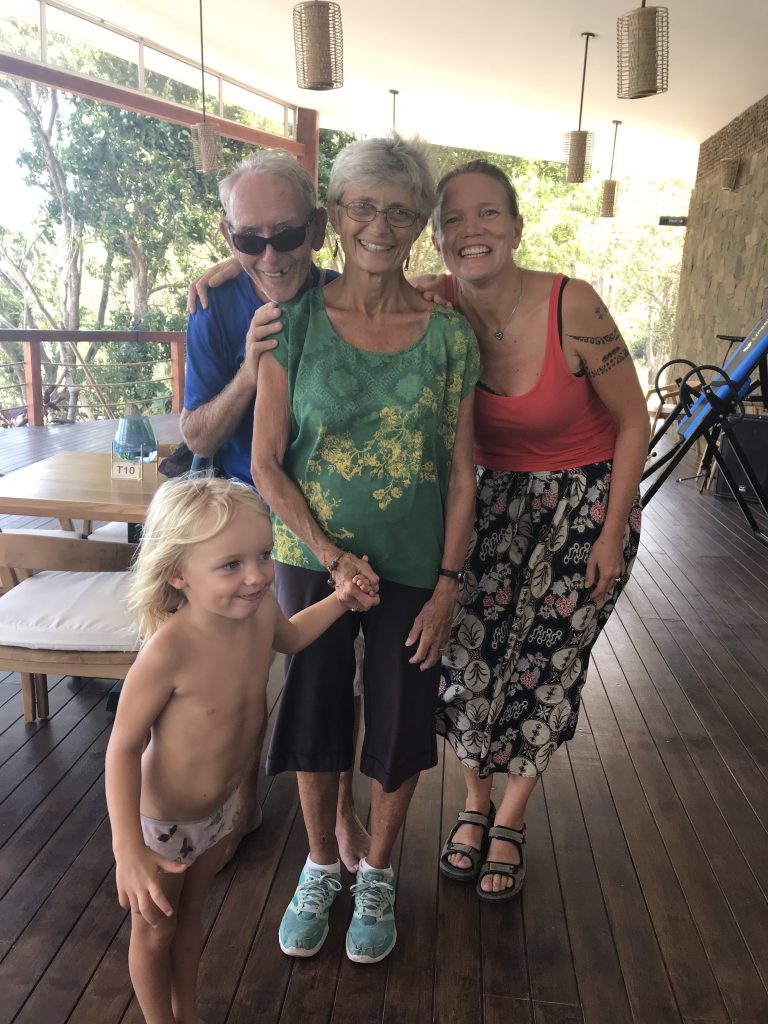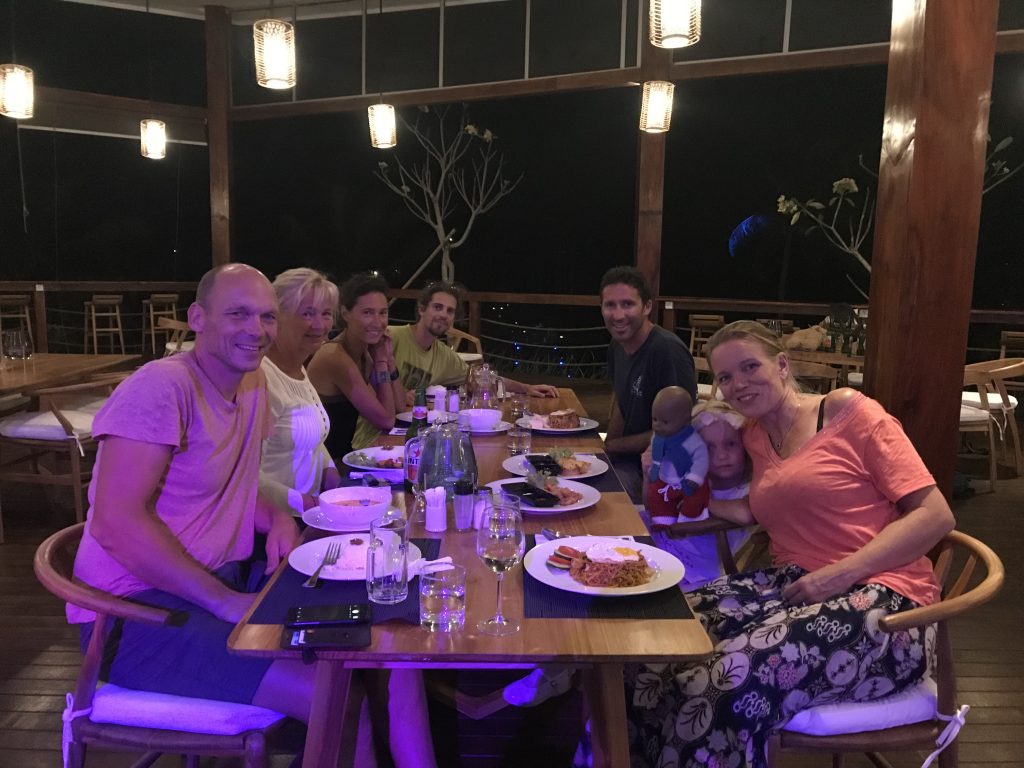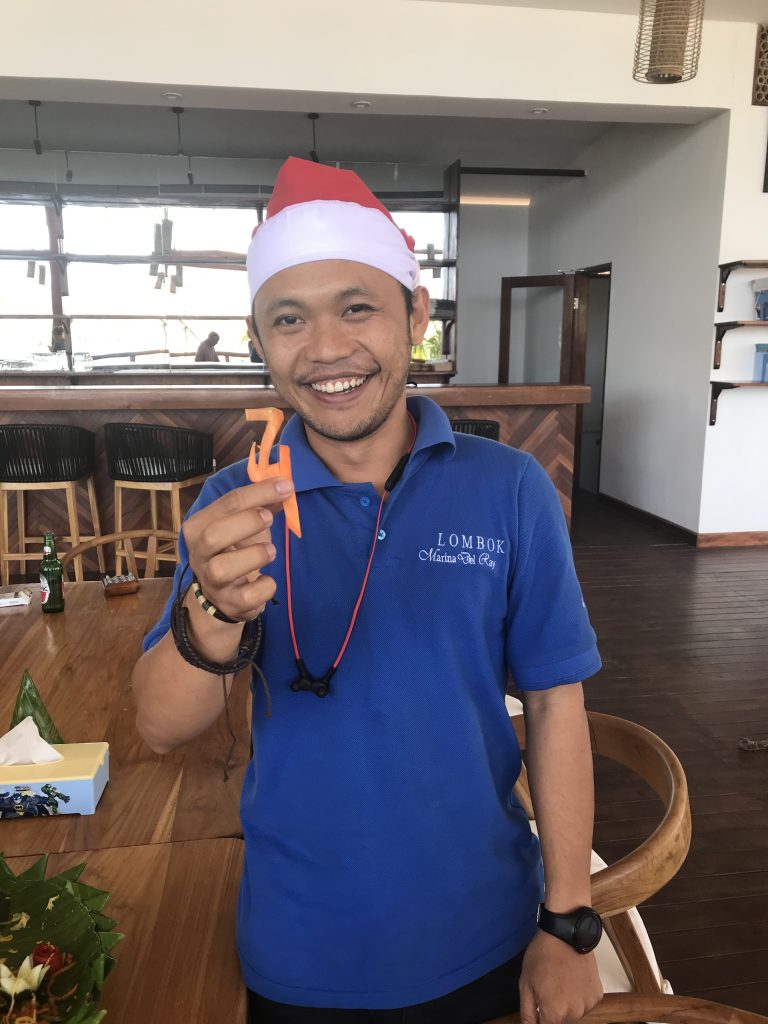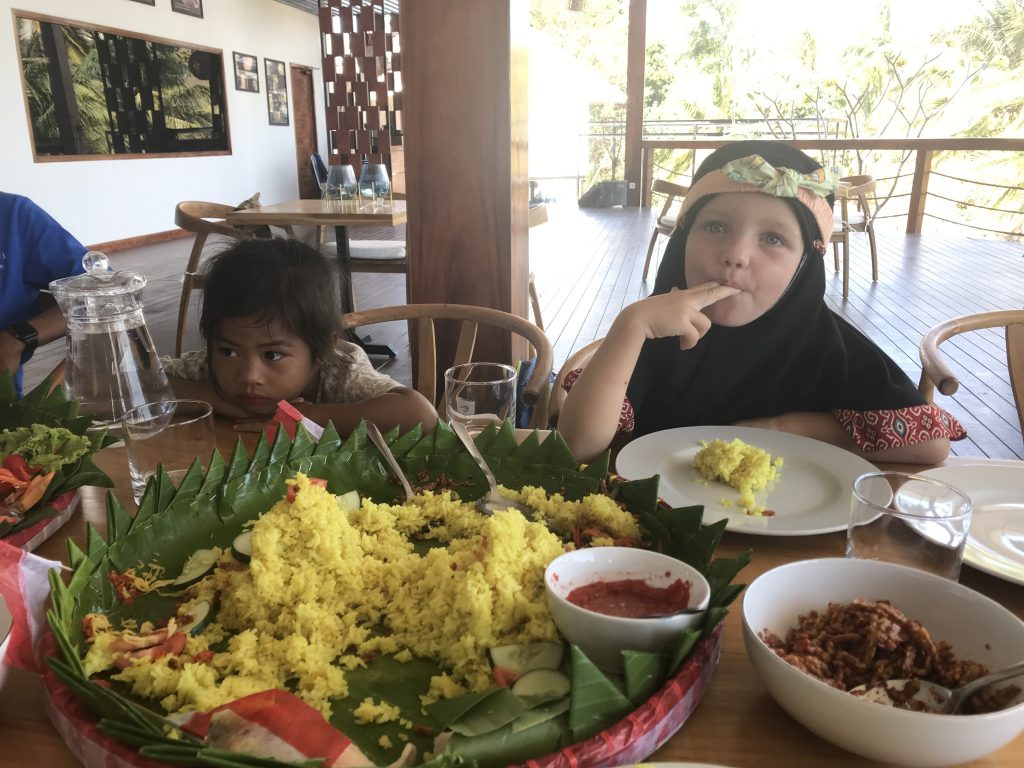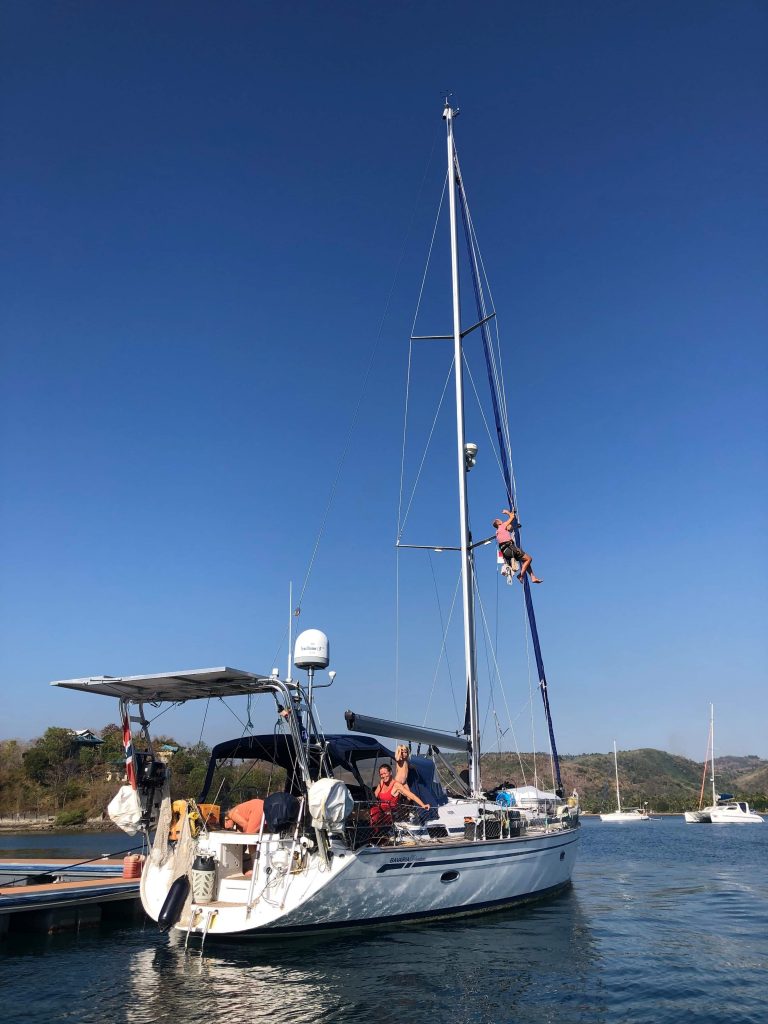 Thank you to the all the friendly, helpful and interesting people we've met on our way. A special thank you to Jhon in Tual, Pundang and Kundang in Sampela (Wakatobi), Arif in Kananga (Sumbawa Island), teacher Sarah at Miftahul Ulum school in Lombok, interpreter Jumanim and husband Ainun in Lombok,  headmaster Indah and the teachers and children at TK Muyassaroh Kindergarten in Lombok, and to the friendly staff at Marina Del Ray on Gili Gede (Lombok). Our trip would have been so much less without you.
SO nice to meet up with our long distance sailing friends: Pam & Eric on Pied-a-Mer III, Rob, Cannell & Fabian on Yonder, Warren on Iliana, Tim on Intrepid and Christian. You're our sailing family at Sea and our floating neighborhood. See you again somewhere in the World!
BIG hug and lots of love to our friends & family  who've joined us sailing Vilja in Indonesia. Not only do you take part in and make the experience; you are also our precious history keepers whom carry the SailingVilja stories with you in your hearts for sharing with us in the future. Our amazing crew in Indonesia have been: our son Even, his (and now our) friend Andreas Øverlie Svela, Ingrid's big sister Karen and her husband Sozaburo, our cool&kind nieces and nephew Cecilie Mariko, Dag Takuro & Liv Emiko and now (Karen Marie's «big sister» & «honorary crew member» of Vilja) Brynhild Reitan. Brynhild shared the last week in Indonesia with us and will continue writing SailingVilja history as we now venture with Vilja together across the Indian Ocean.
We've just gotta say it out LOUD again: WE'RE THE LUCKY ONES! …and even more so because we know we are!  🙂
_________________
14/7-19 Tual, Indonesia: The coolest gift! And taking in the scents and bustling life of an Indonesian Market
We've enjoyed another hectic, but good day in Tual, Indonesia. Saturday was spent diving & enjoying the last hours of having our friend Andreas Øverlie Svela on board: He disembarked before the break of dawn on Sunday morning. And the remaining crew went on land to get some fresh food and try out the market of Tual.
The coolest gift!
Latest news on boat equipment: We now have our very own & one-of-a-kind Vilja logo stamp on board! Hand carved in Tual, Indonesia, where having a stamp is of essence as it makes things "serious". Thanks to Andreas, who gave us this eminent gift along with a genuine bottle of champagne. We guarantee that both will be thoroughly enjoyed! 😊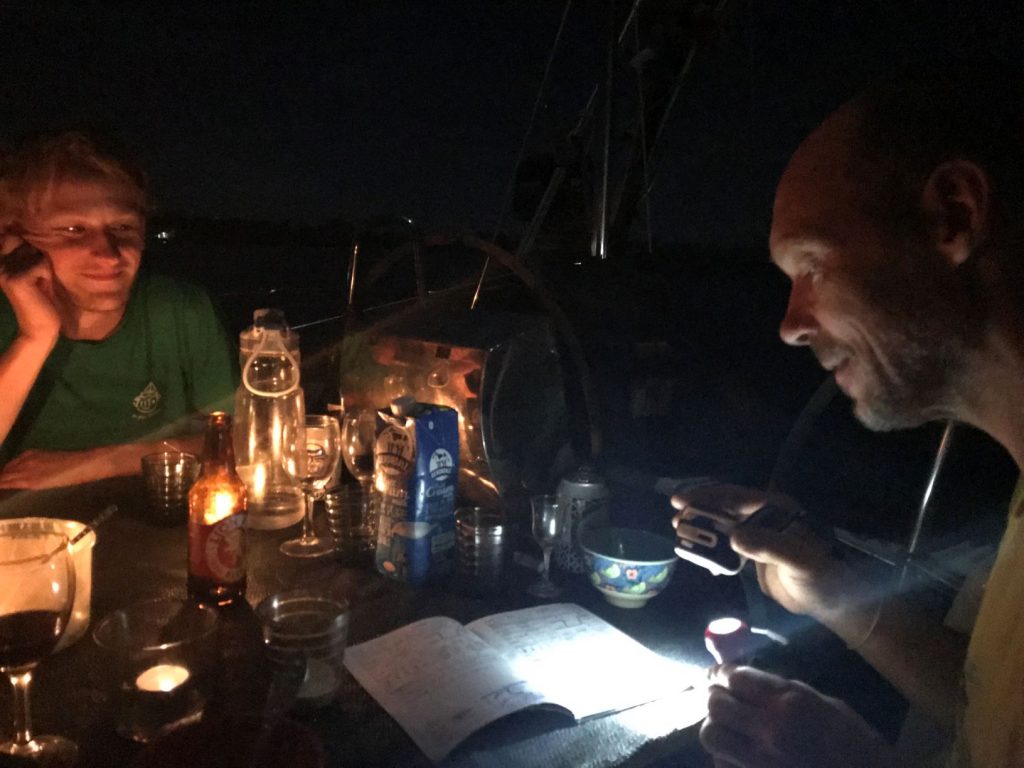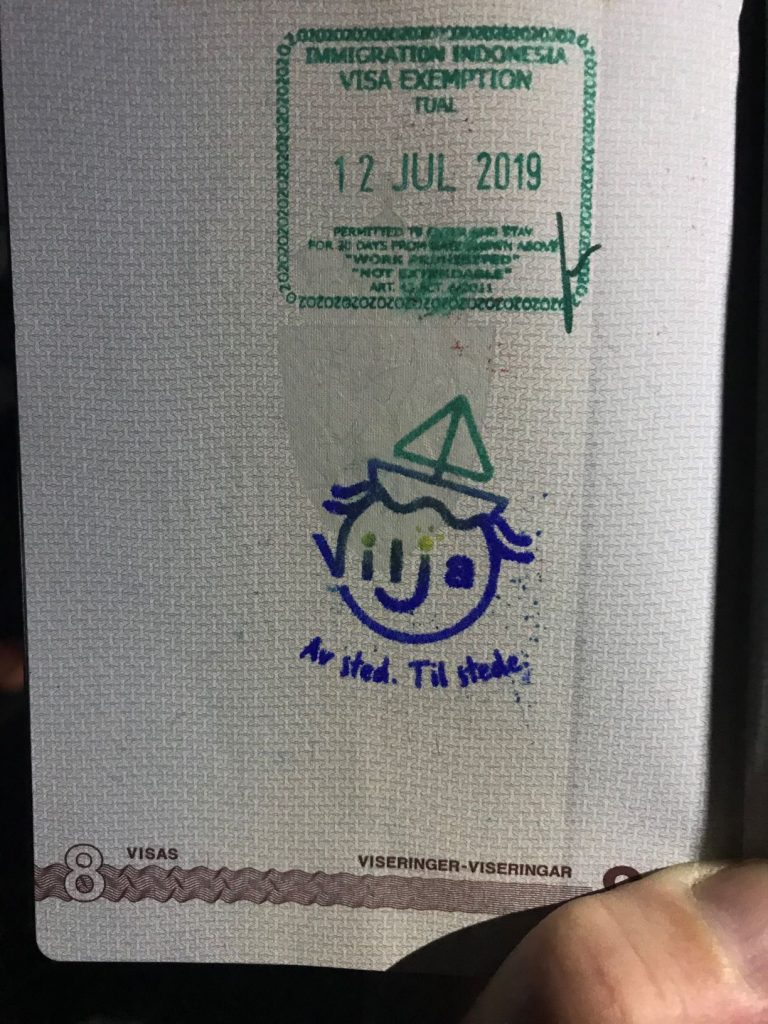 Shopping in Tual
Shopping at the "festival market" of Tual is quite a different experience than shopping at home. Far more intense, many more people, heaps of more attention and MUCH more interesting. About the attention part of it: "Everybody" wants to take pics and touch Karen Marie's fair hair, not to mention carry her away. 🙂 Karen Marie's a trooper, and is handling the intensity & attention with a mix of enjoying the VIP status as well as sometimes longing for a more incognito travel. 😊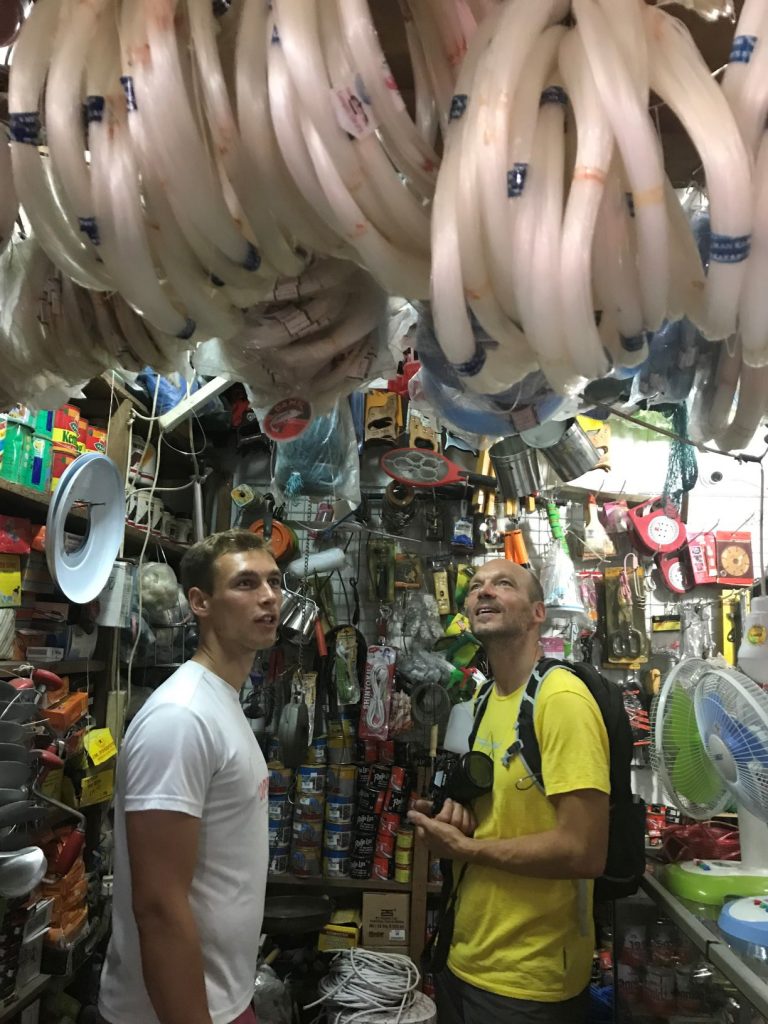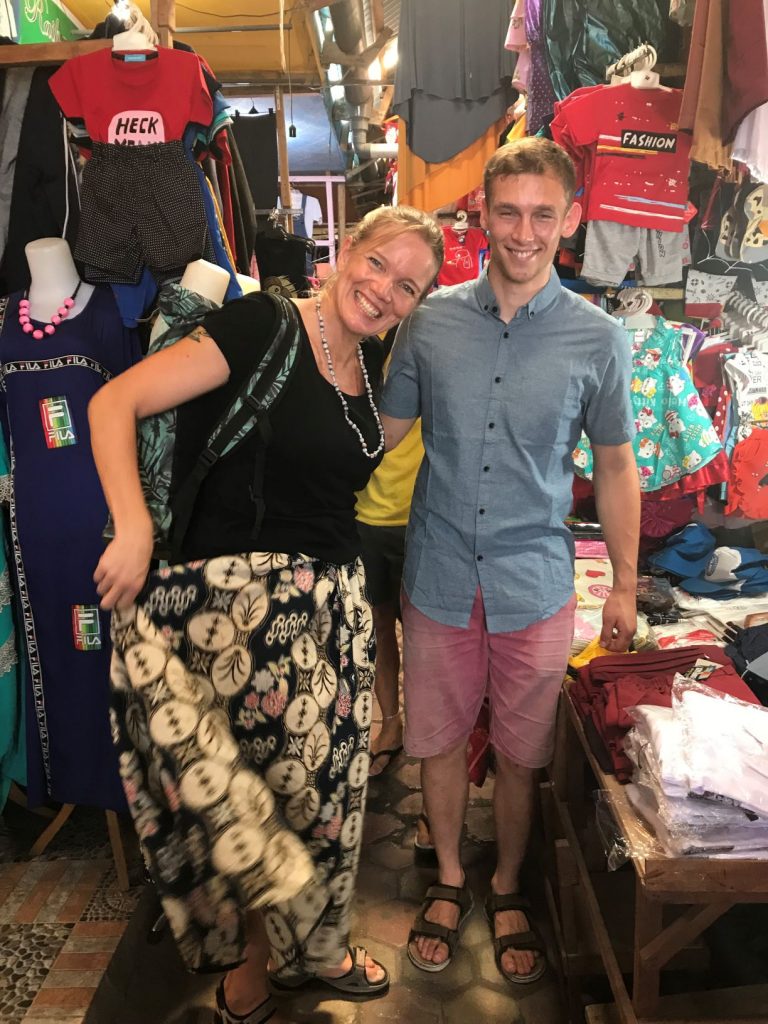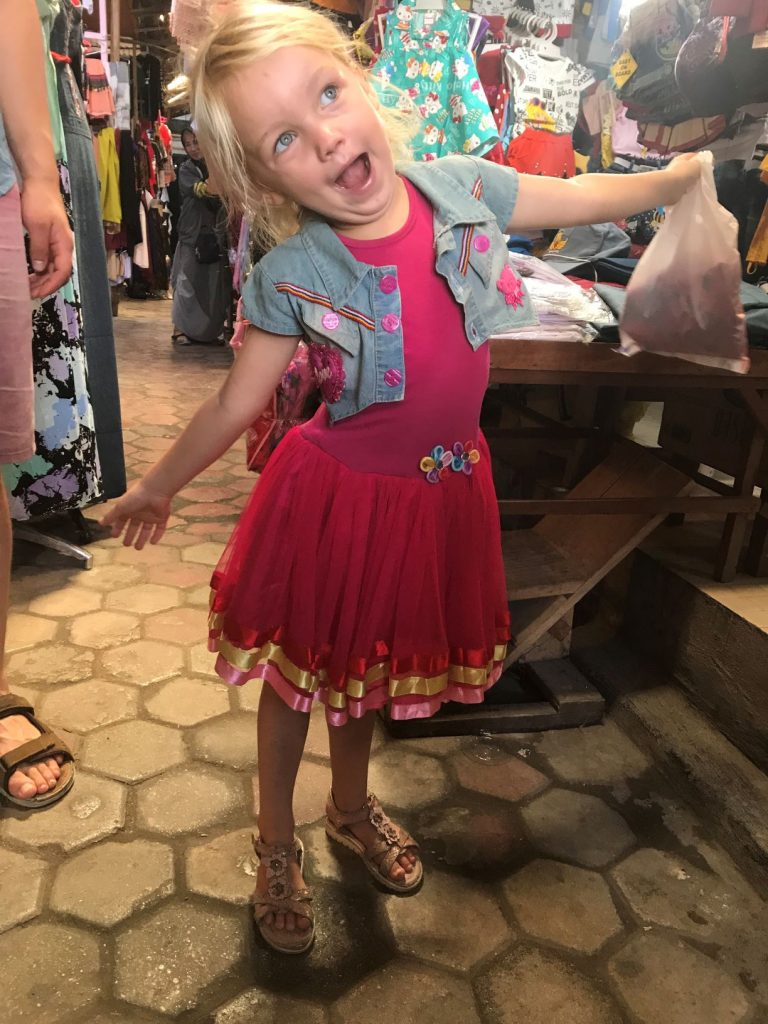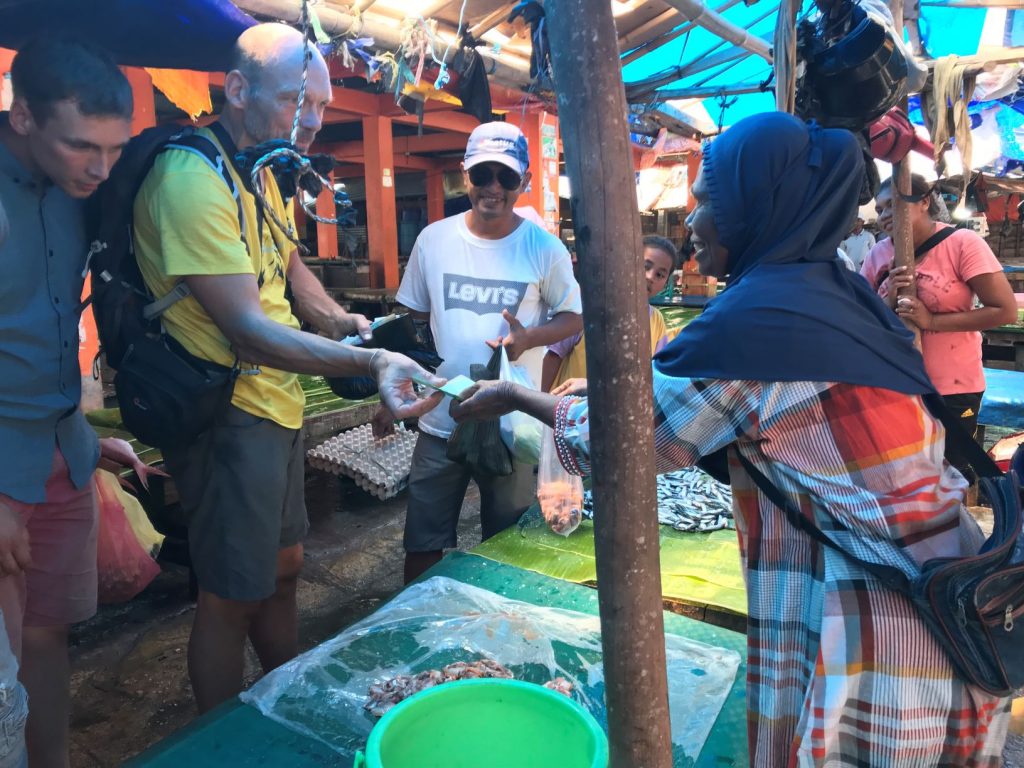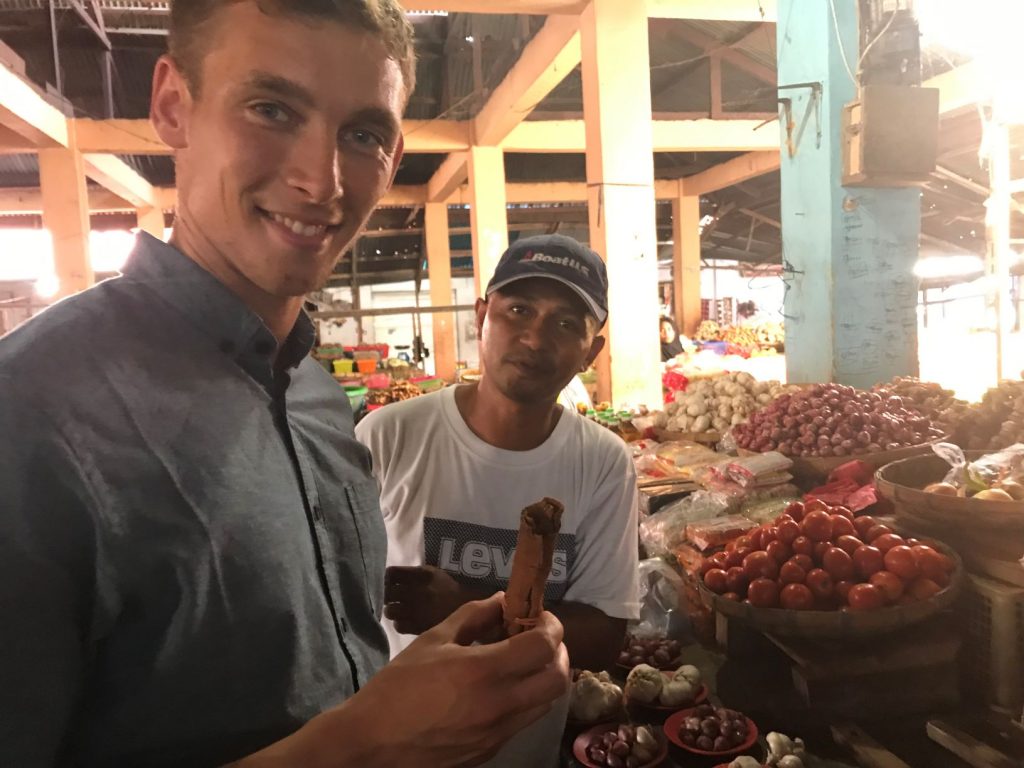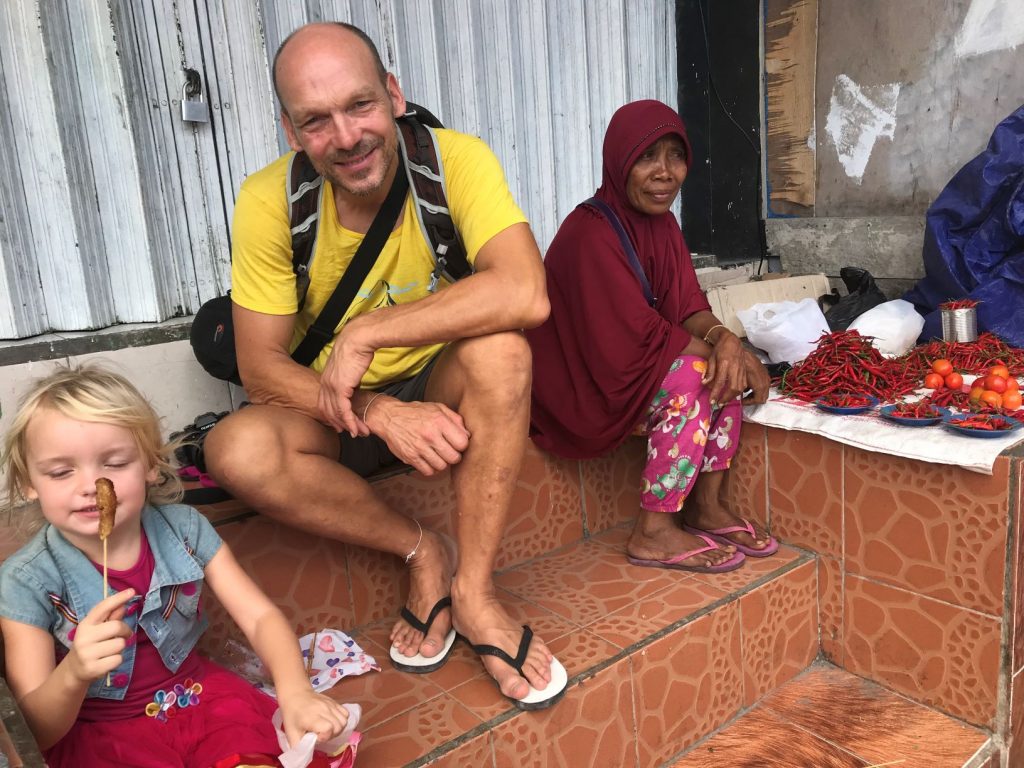 Kid contact
Hop scotch is a universal game. As soon as you take out the chalk, the kids – whether it be in New Zealand, Galapagos or Indonesia – instantly start drawing the hop scotch squares on the ground. A perfect starting point for fun.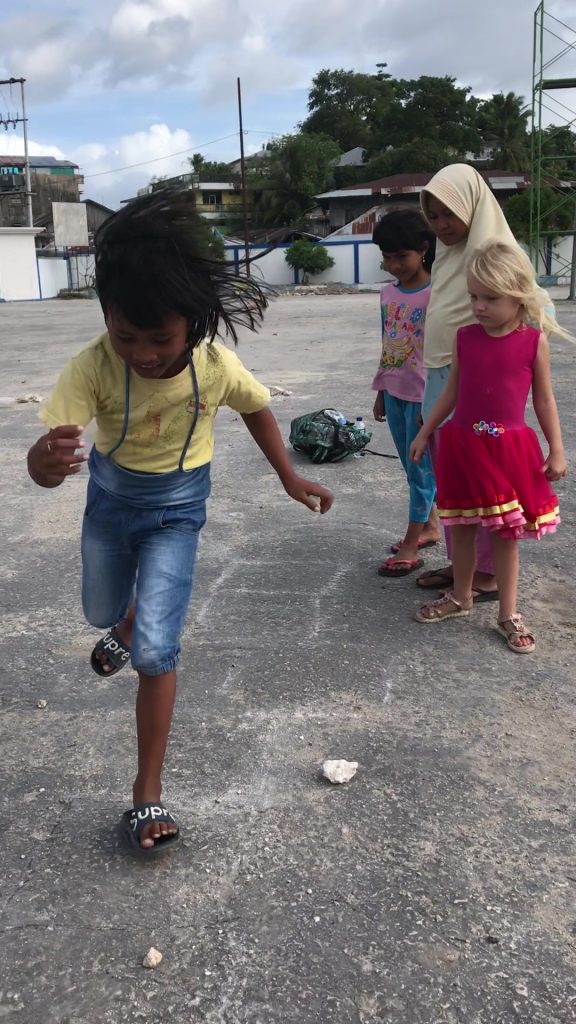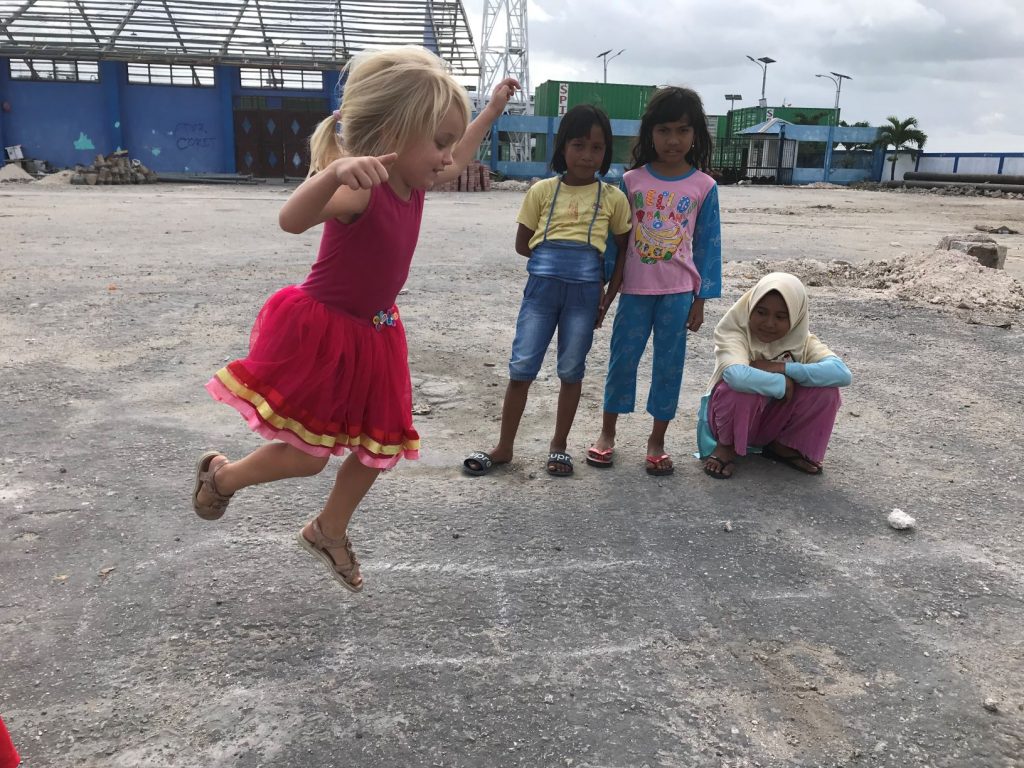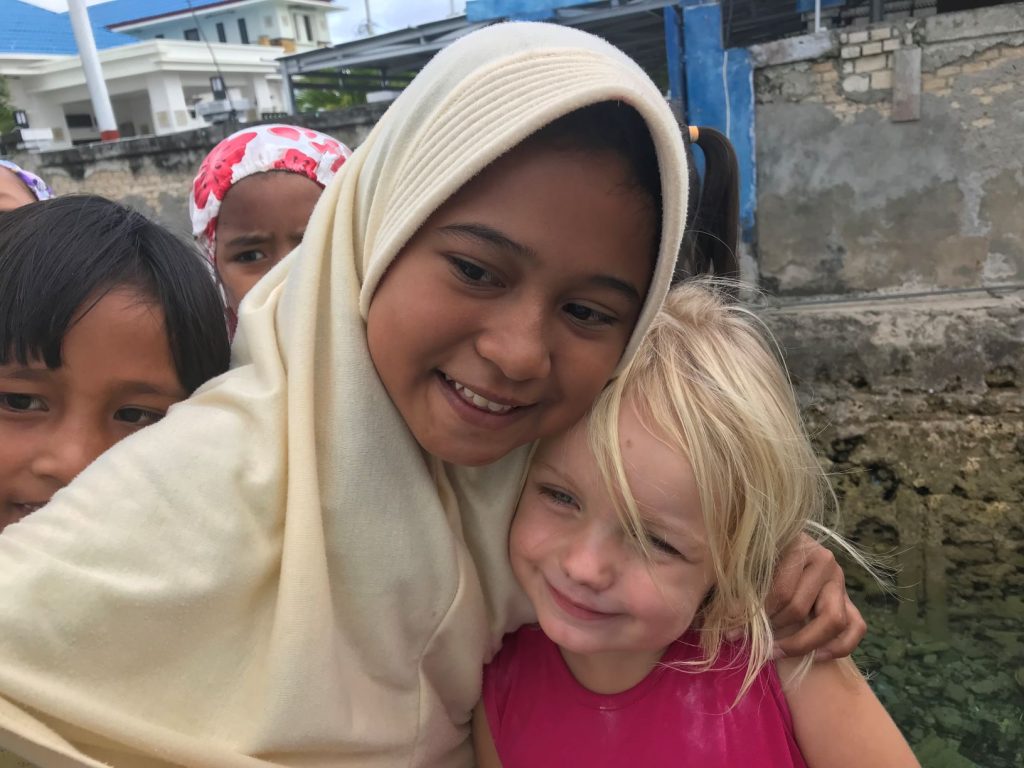 New tastes!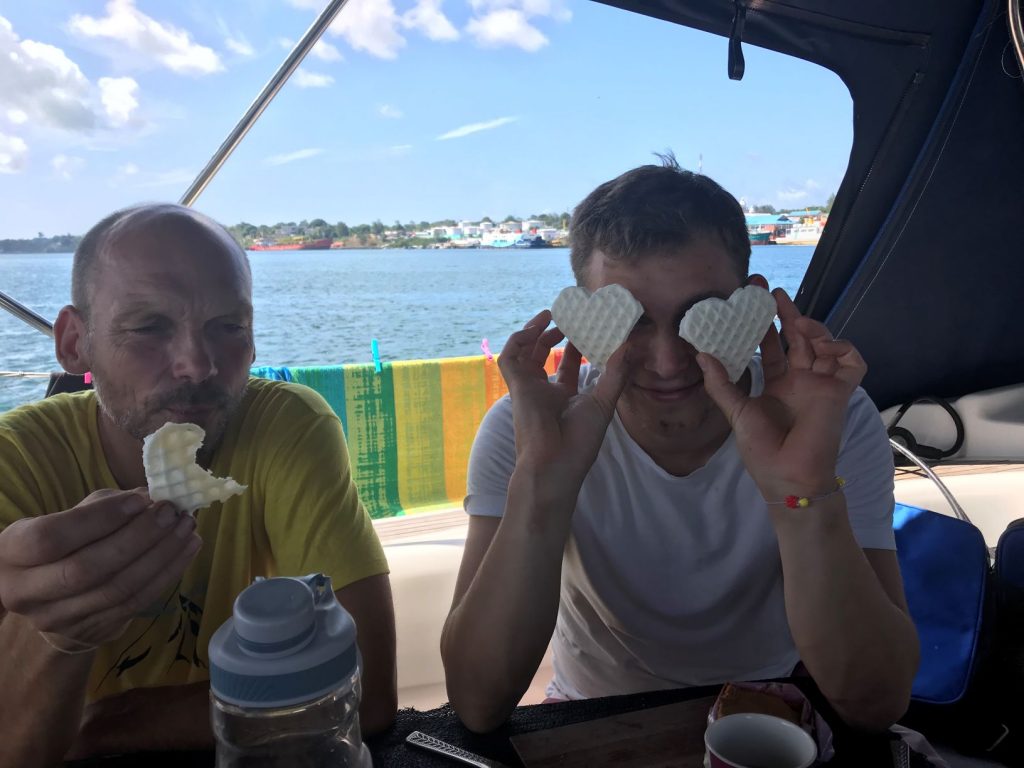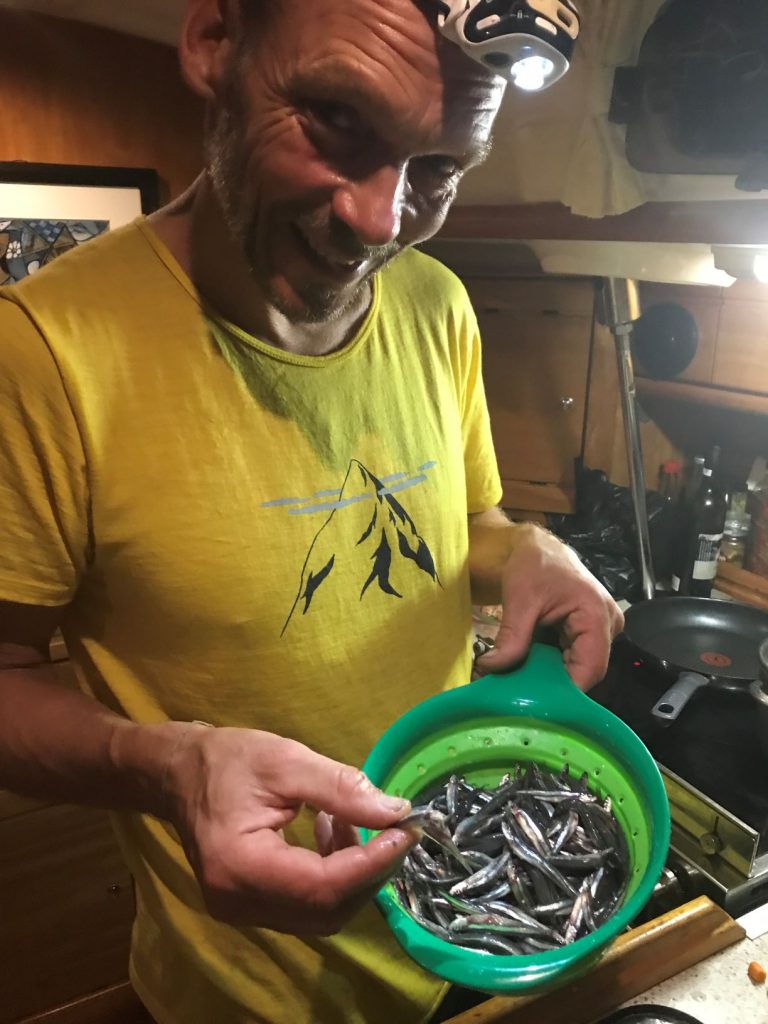 Now we sail West to find Coral gardens
So now Andreas has left us. We look forward till next time we have him on board!
And then we were 4…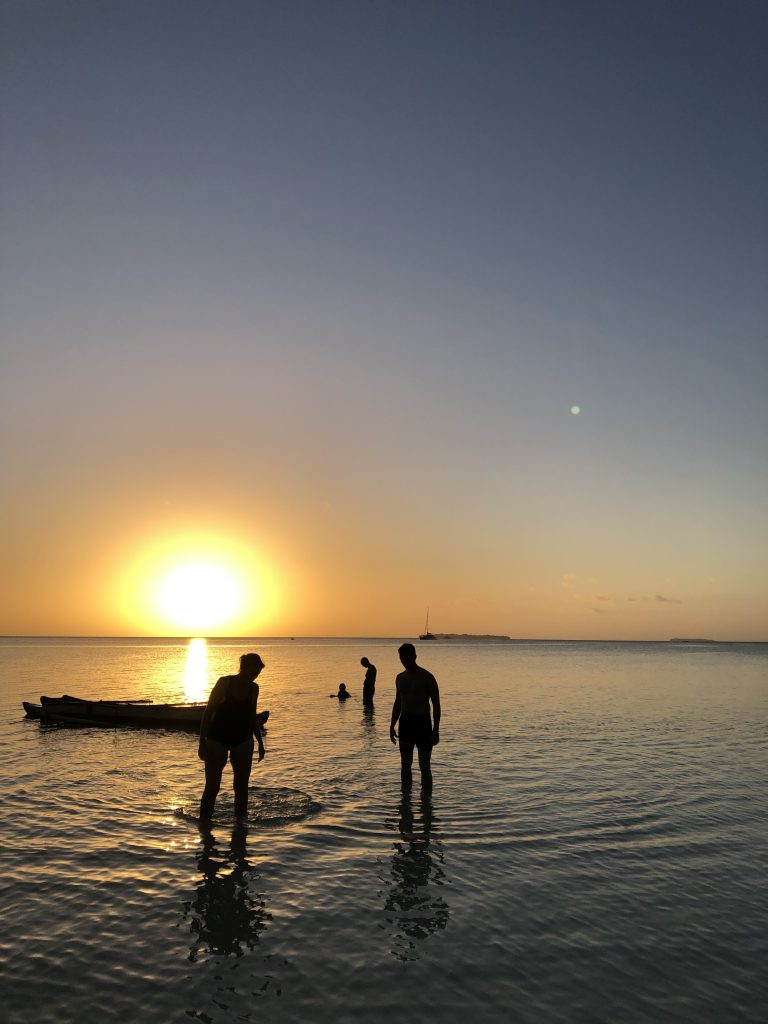 It's July 15th now and we're sailing West, expecting a 600 nm/ 4 days sail. The aim is to get some awesome dives in the reknown coral gardens of Wakatobi. After some intense days on land, we look forward to the peace and serenity of life at sea. That is, if staying clear of fishing boats and FADs (Fish Aggregating Devices) won't keep us too busy…
___________________
___________________
To sailors cruising Indonesia: Jon Pasumain is the Man to Meet in Tual!
If you're cruising to Tual, then we highly recommend contacting Jon Pasumain! (tel. +628 22 4871 3457, email pasumaijoni@gmail.com). He helped us find the places and people we would have used aged to find otherwise, or probably missed out on altogether. Jon is a person you can trust. Besides he's a really nice guy to get to know!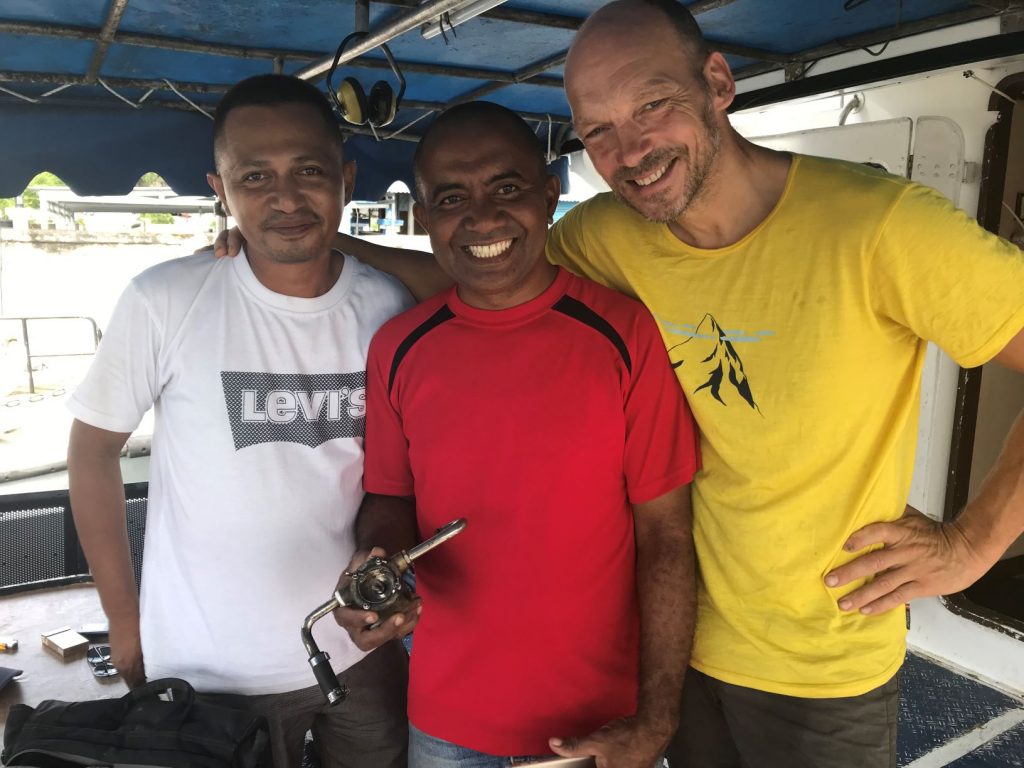 Jon fixes "anything" you need, it be transport, (clean!) diesel, laundry, driving to sights or finding the right people, such as an Official outside working hours or an accredited local mechanic. He speaks good English, making things so much easier, also giving us the opportunity to get insight in the places and people we see and meet.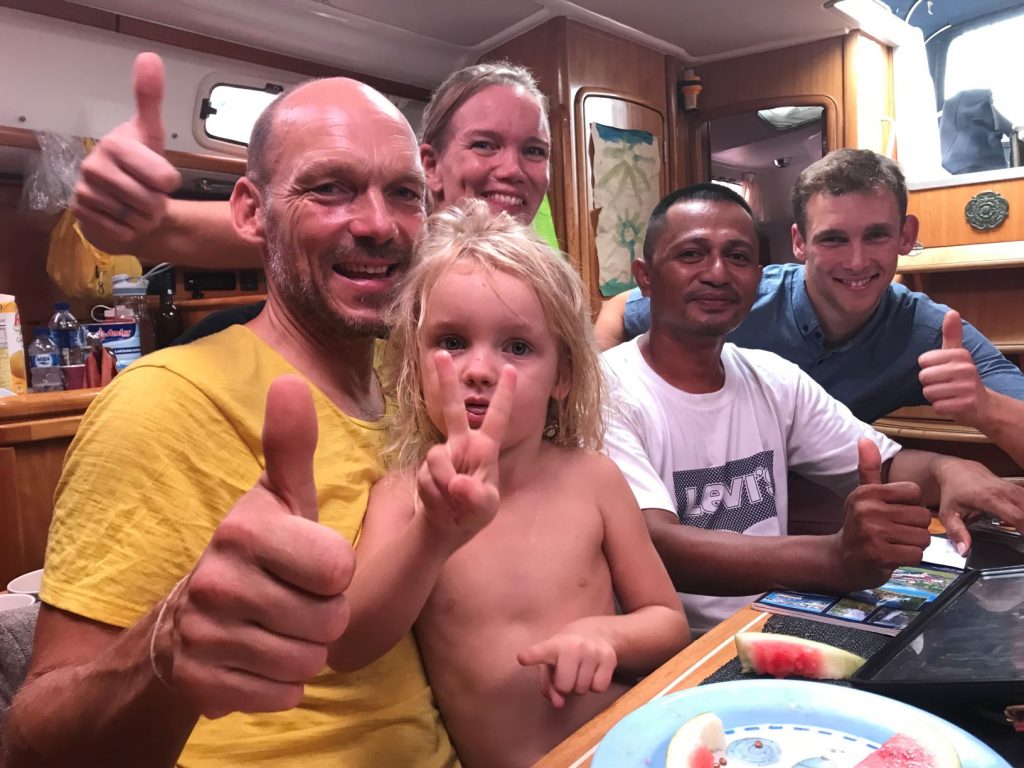 _______________
_______________
July 11th-12th, 2019:  Hello Asia!
So now we've reached a new country, and this time even a new continent for our SailingVilja voyage.
On July 11th, Vilja dropped anchor off the city of Tual in the Kei Islands in Indonesia. Our crew at the moment count five in total: Our son Even (sooooon 25) and his (and now our) friend Andreas Øverlie Svela + of course the core SailingVilja team Karen Marie, Ingrid & Jon Petter. Here are some pics from our first day in this (to us) new part of the World.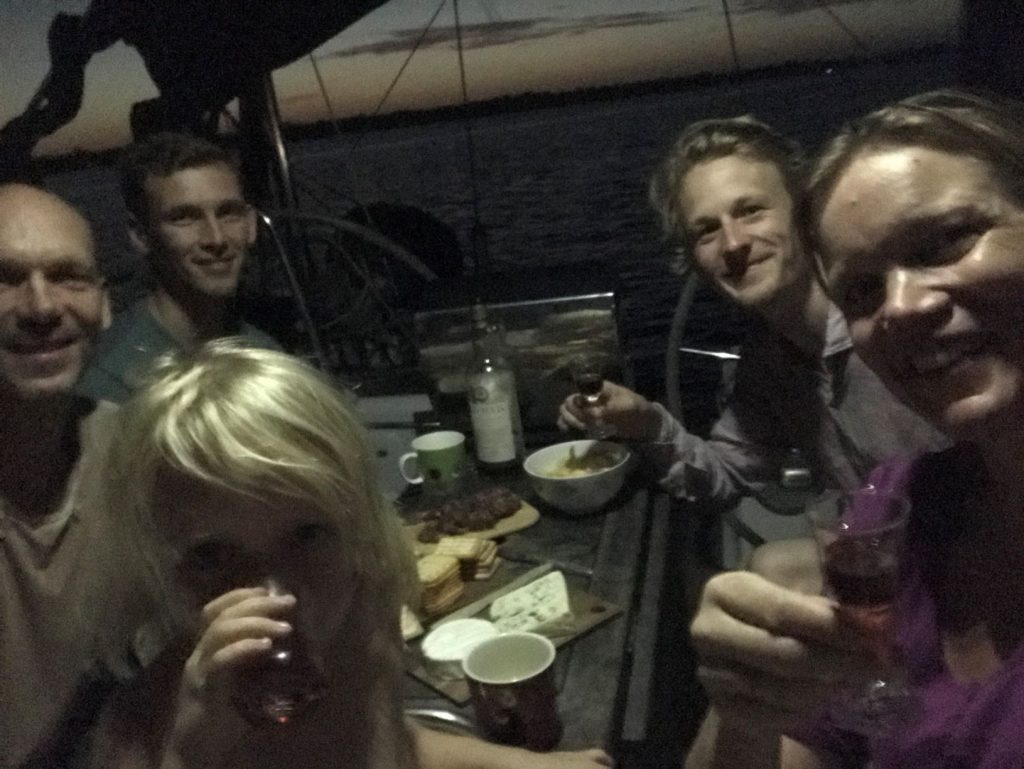 First the formalities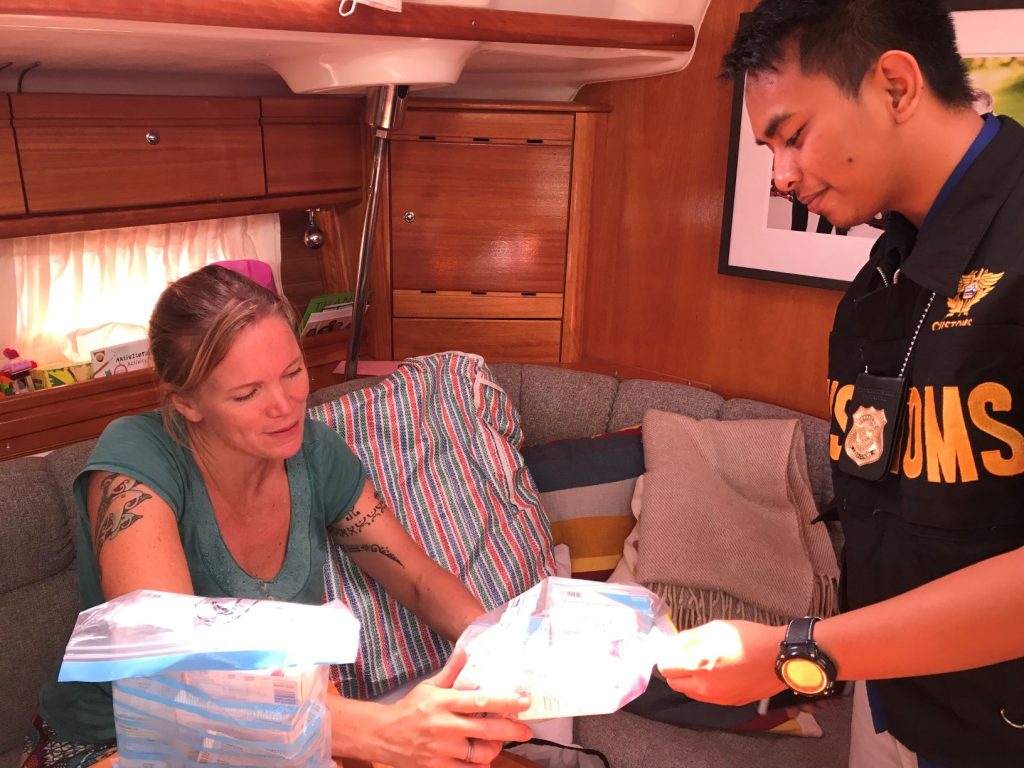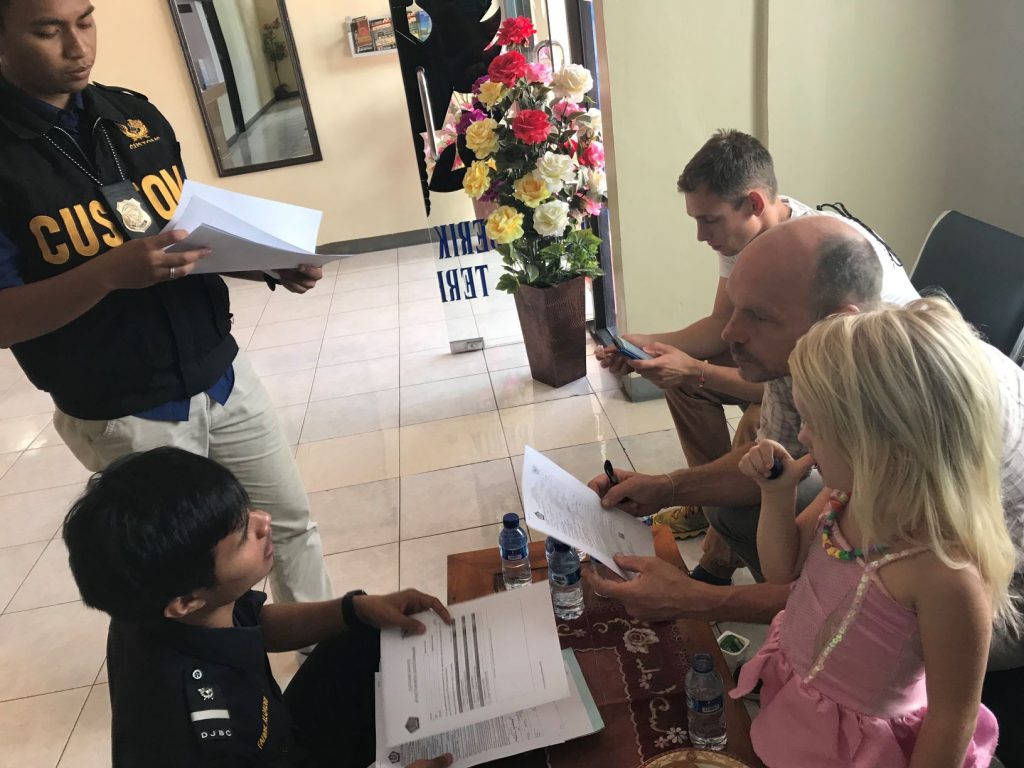 Now we have 5 weeks ahead of us in the same country. Wow, it seems a lot, doesn't it? Well, Indonesia has more than 17 500 islands. Five weeks will probably seem like a split second. But hey, we're gonna enjoy that split second to the fullest!
Then another standard procedure
The standard question is: So what broke down on this passage?!
The standard procedure is finding solutions…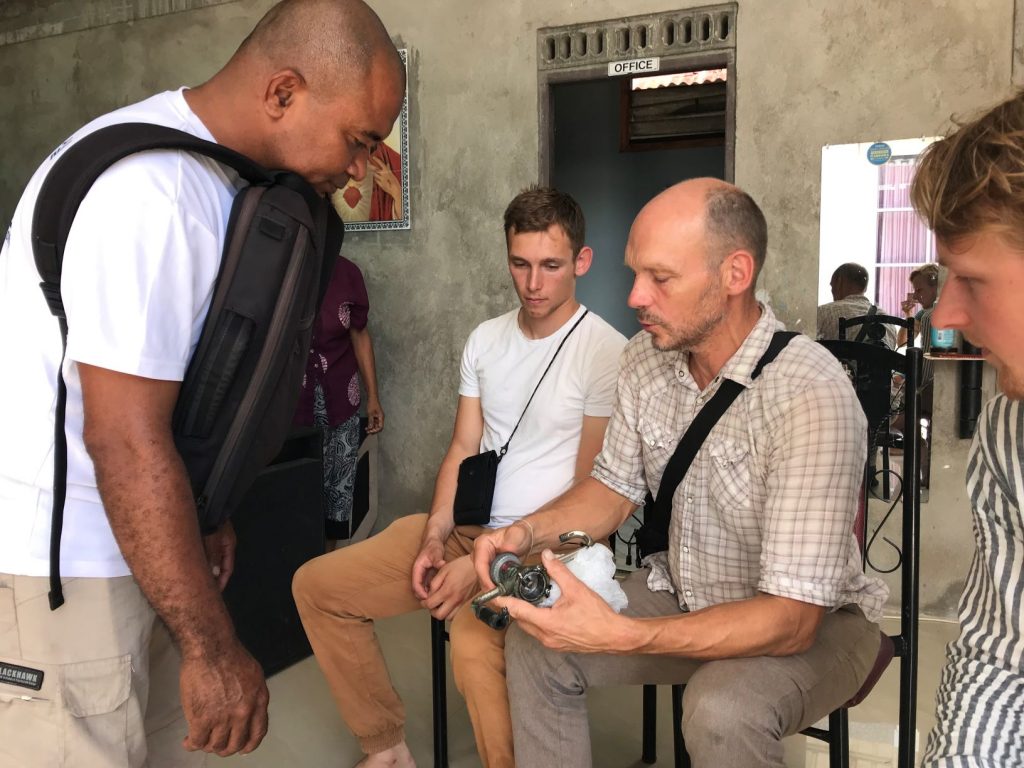 Sightseeing the Kei Islands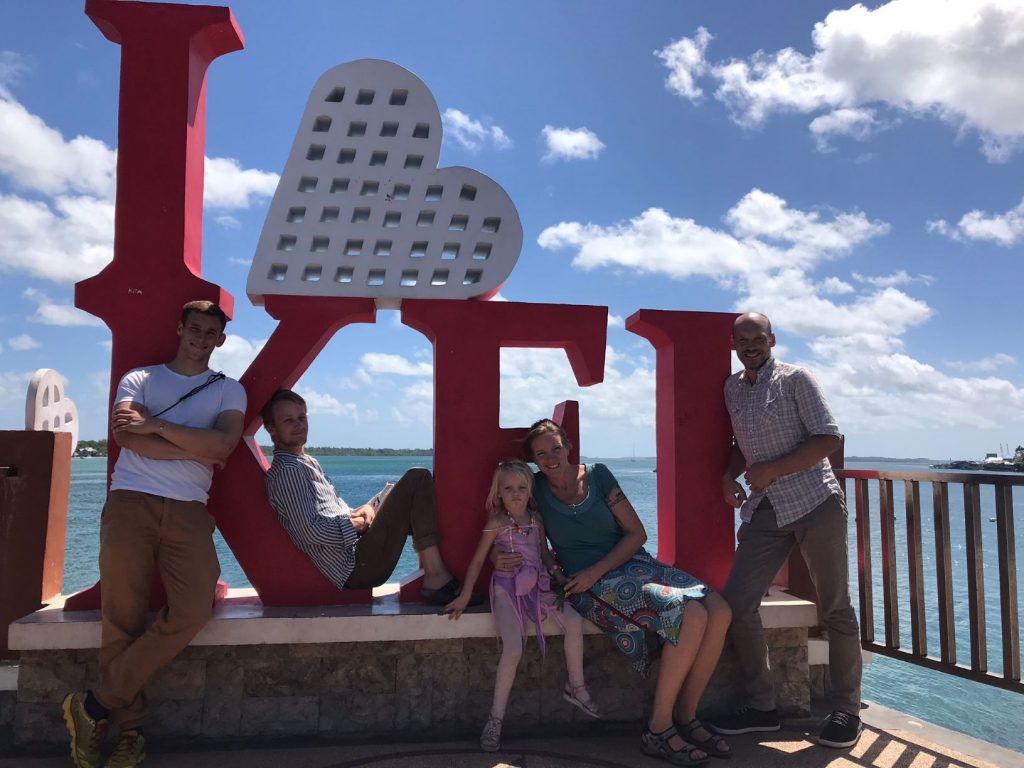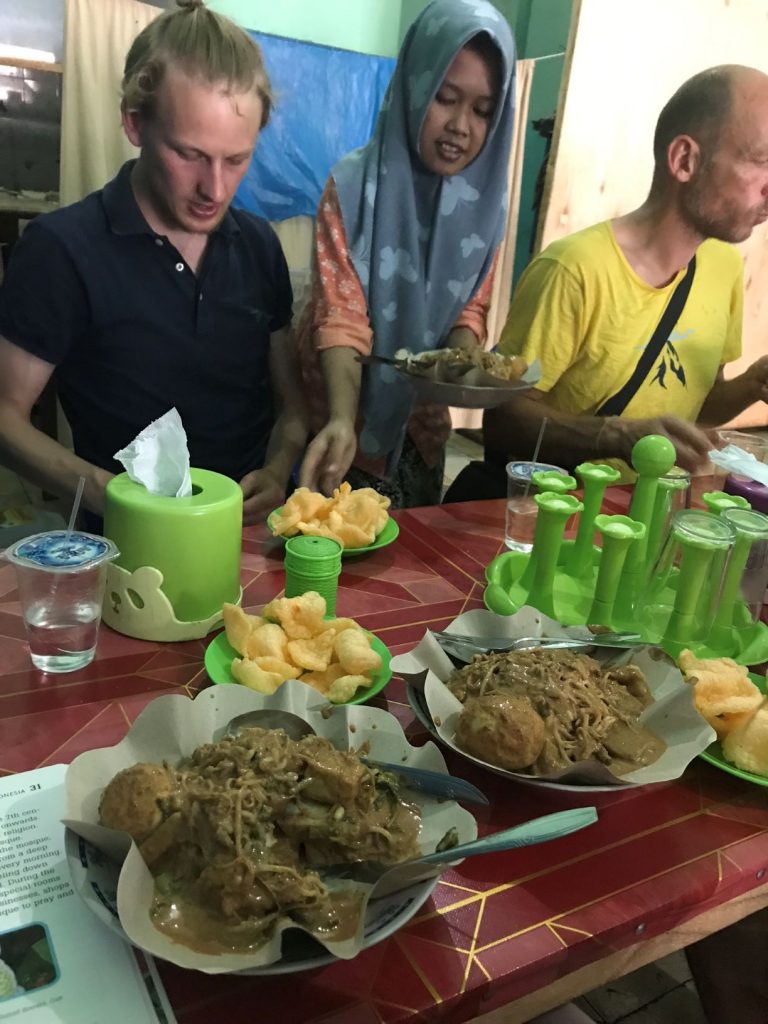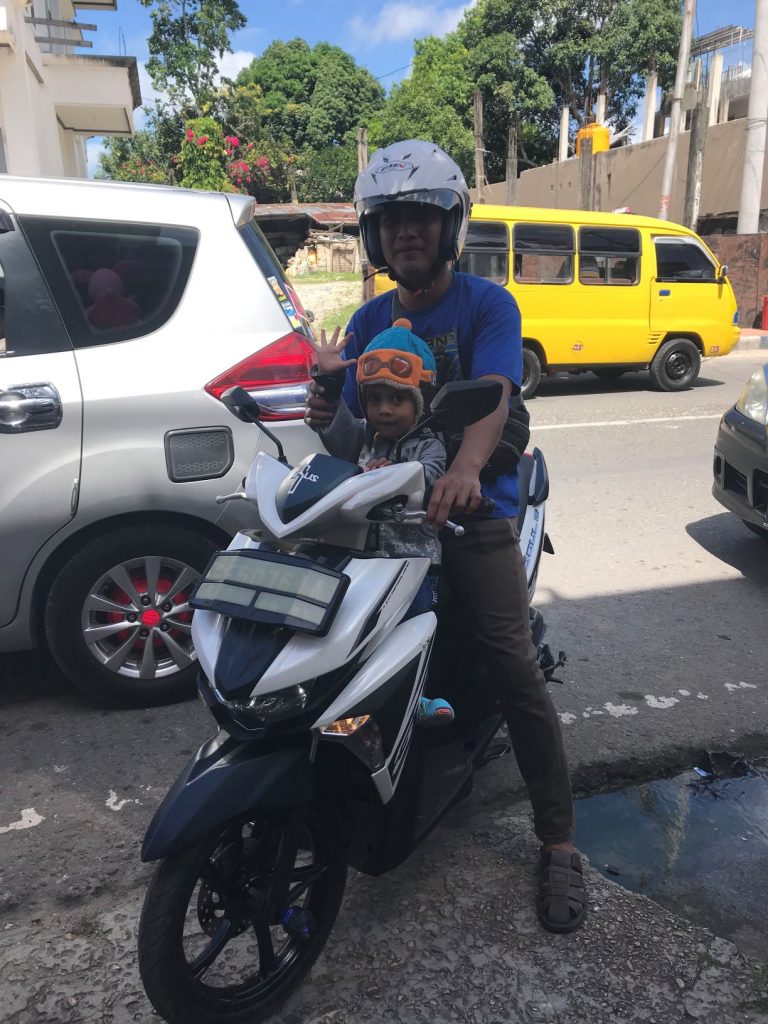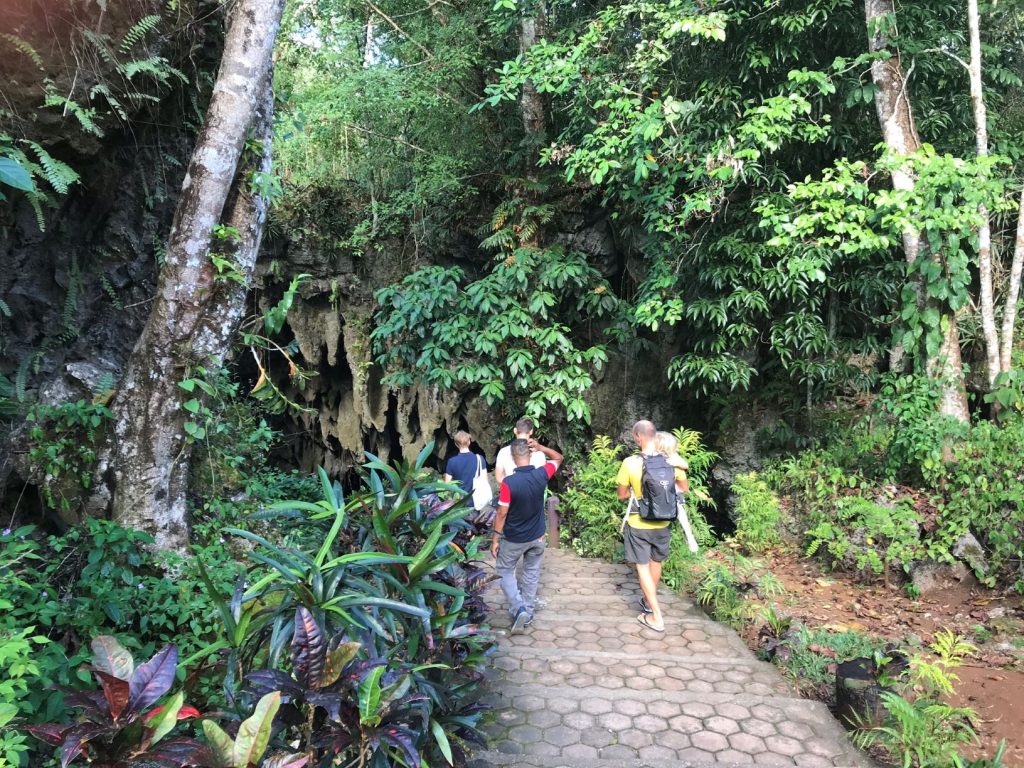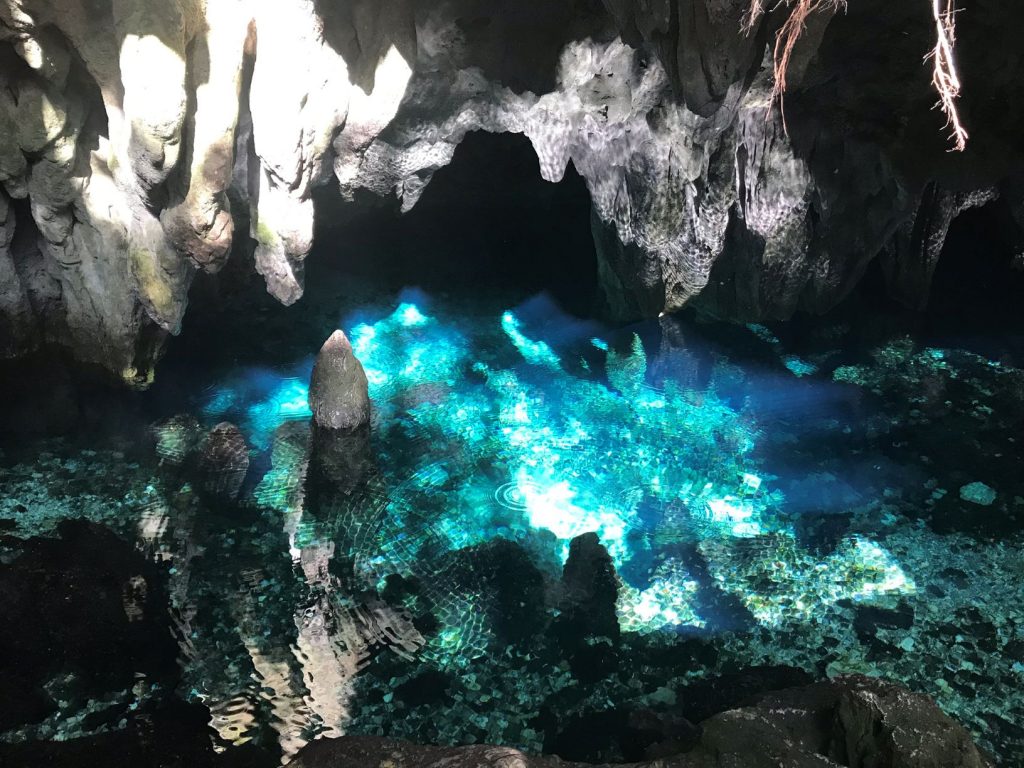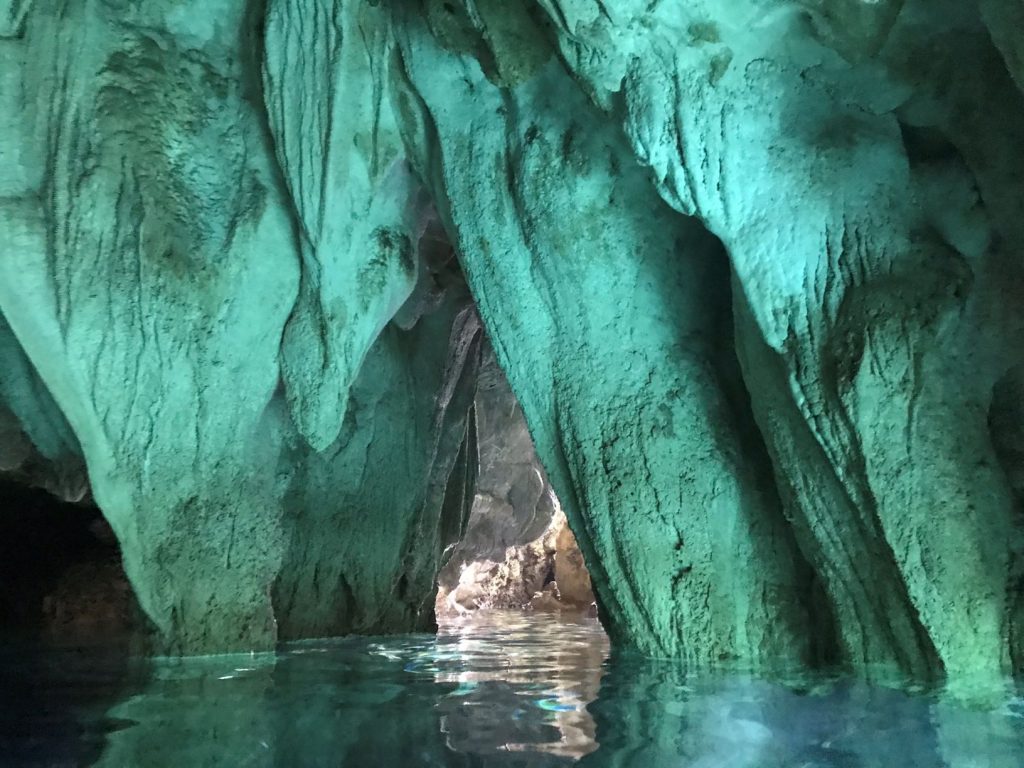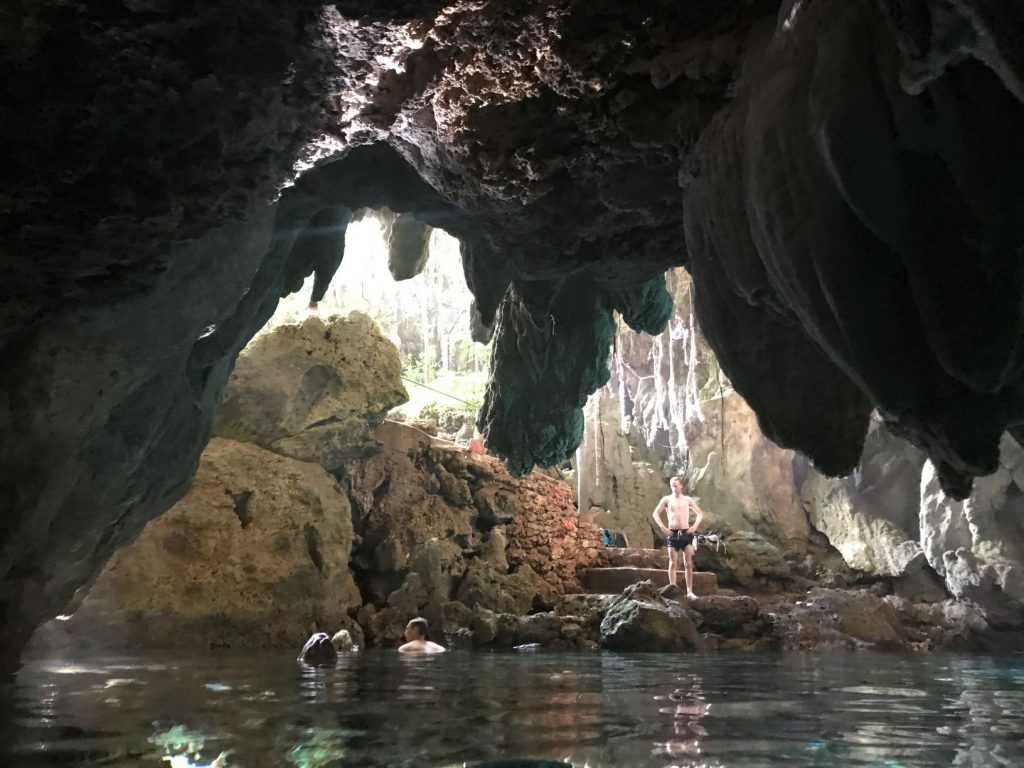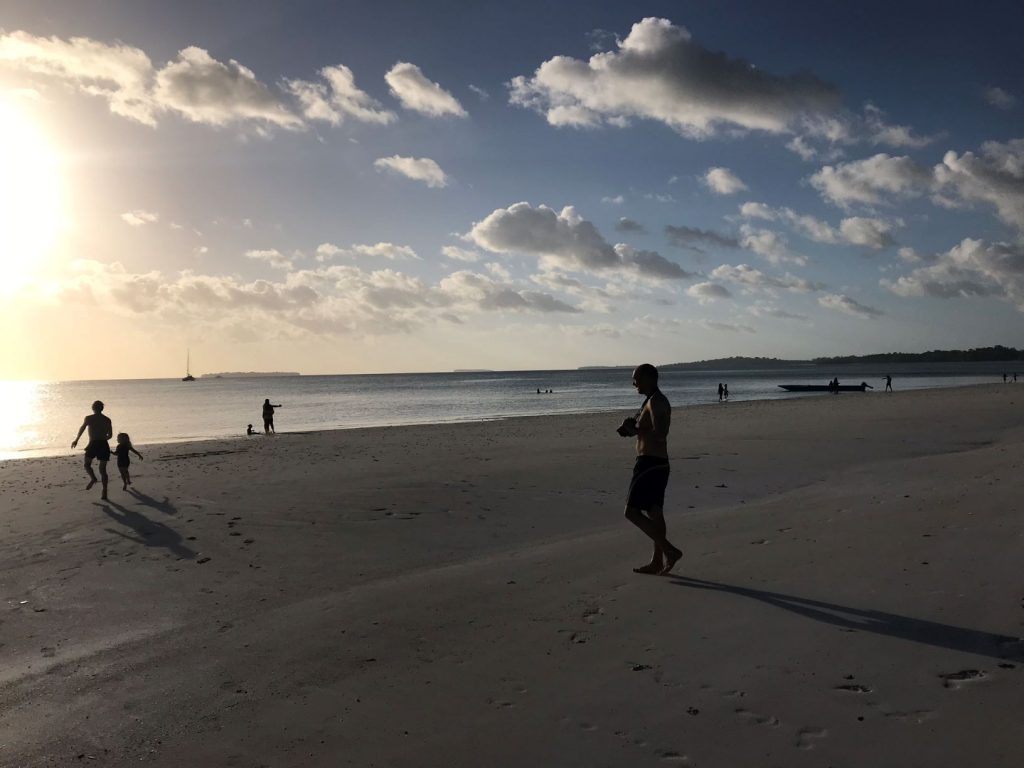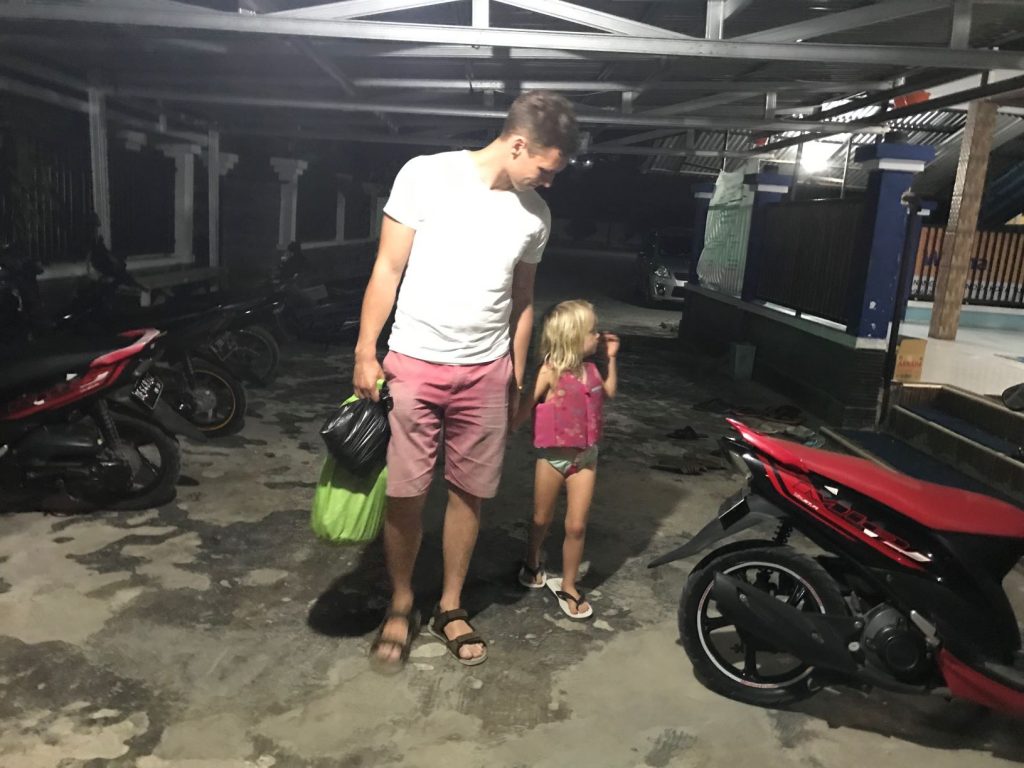 Wow, what a day!
Good night from the SailingVilja voyagers, finding our way in new waters.
________________________________________________
________________________________________________
June 12th-13th, 2019: Feeling welcome and having fun with new friends in Sola (the Banks Islands of Vanuatu)
We will write more of the places and people that has put Vanuatu possibly on the top of our list as a favorite cruising ground of our voyage so far. But now just a short, but heartfelt update:
We reached Sola on the island of Vanua Lava in Vanuatu on Wednesday morning (June 12th). Right away we felt so welcome here. And we just want to thank two families for including us in their everyday life and making our stay here in Sola very special. We feel like we have friends here that we hope to stay in touch with and meet again one fine day in the future.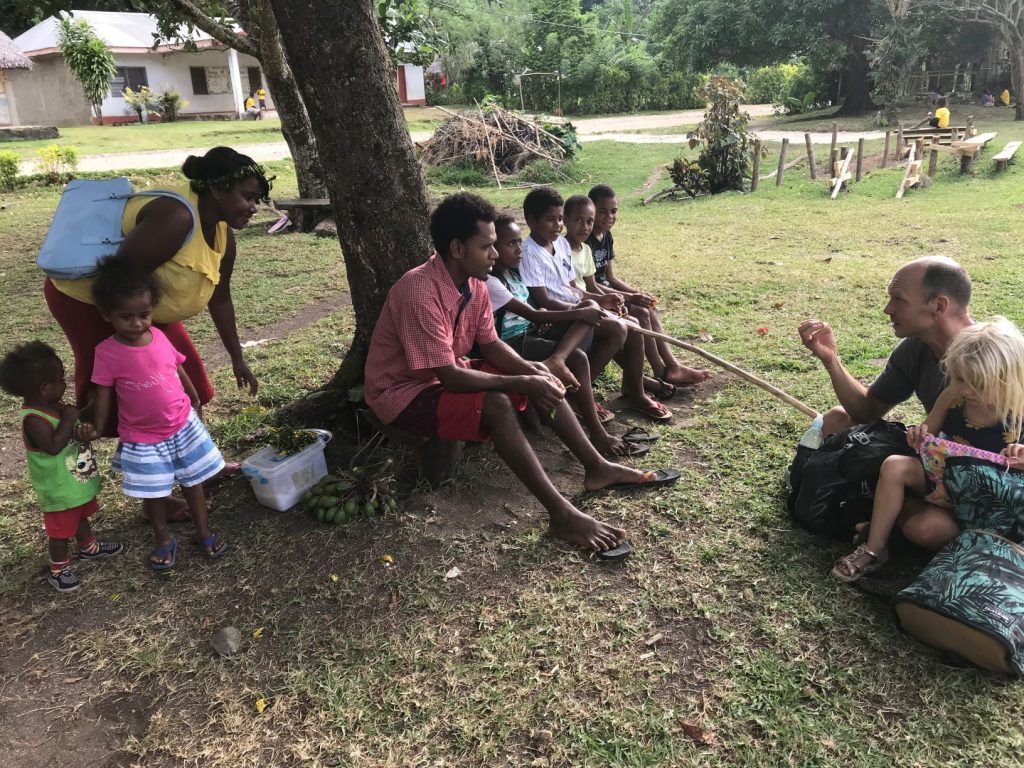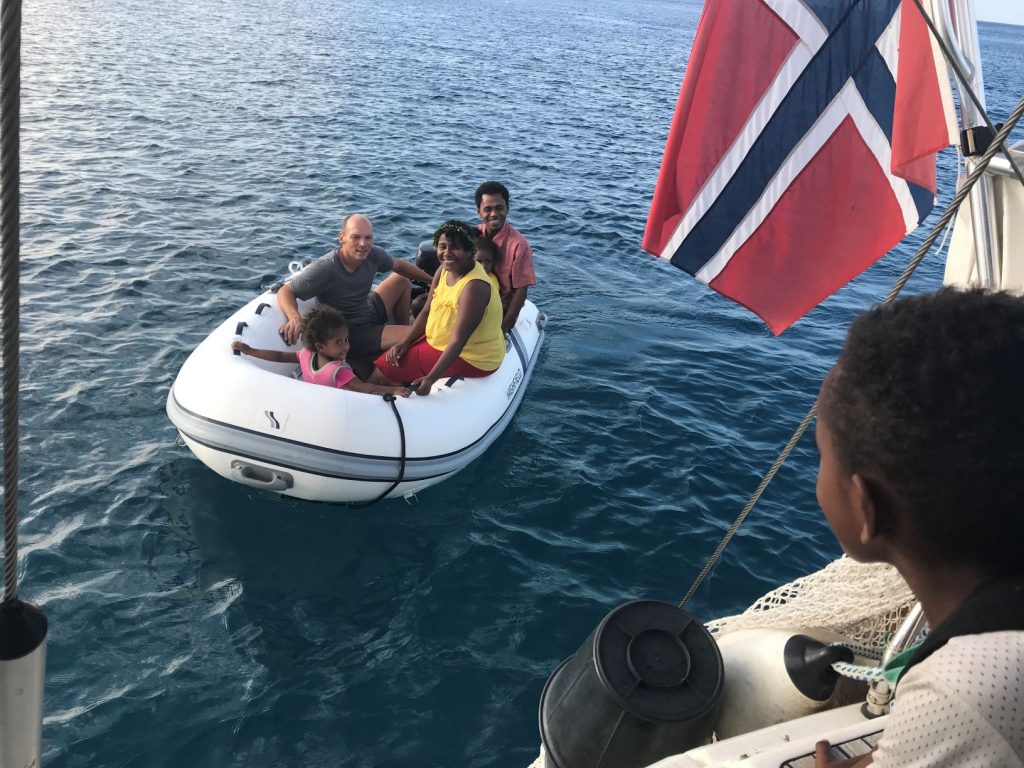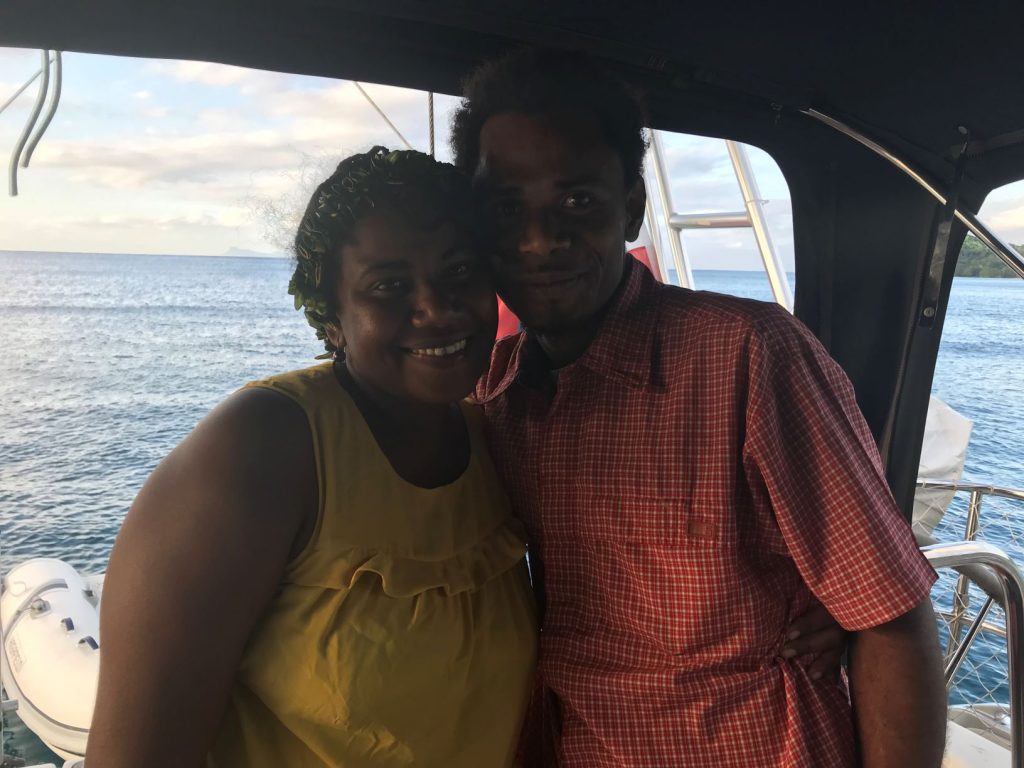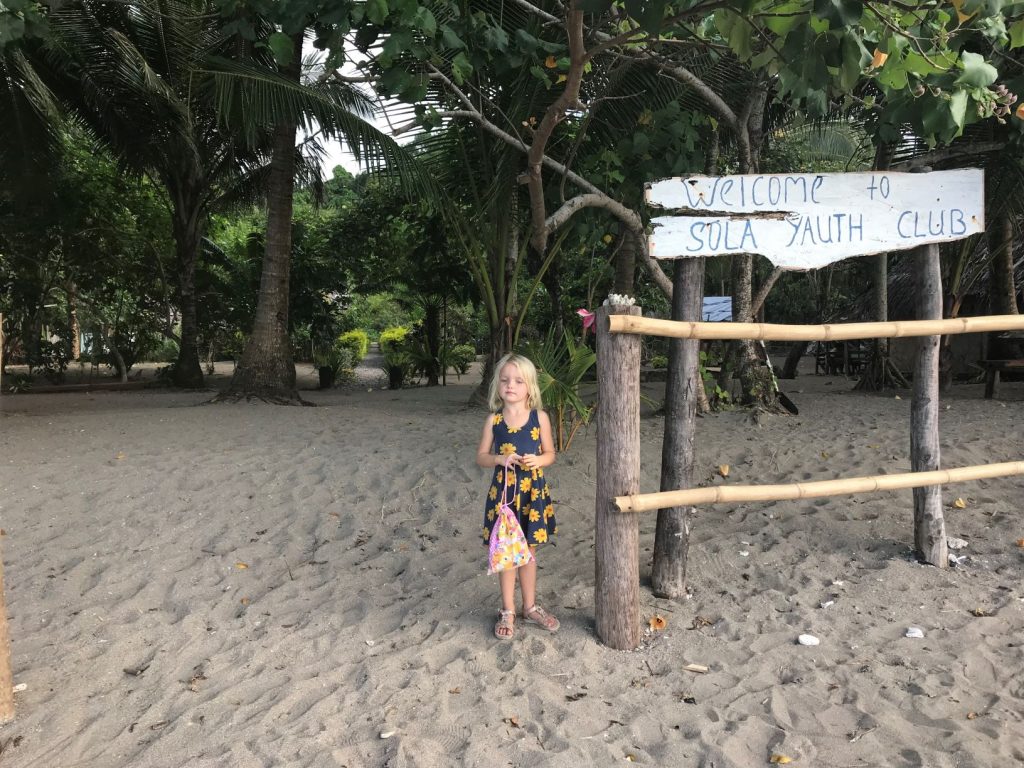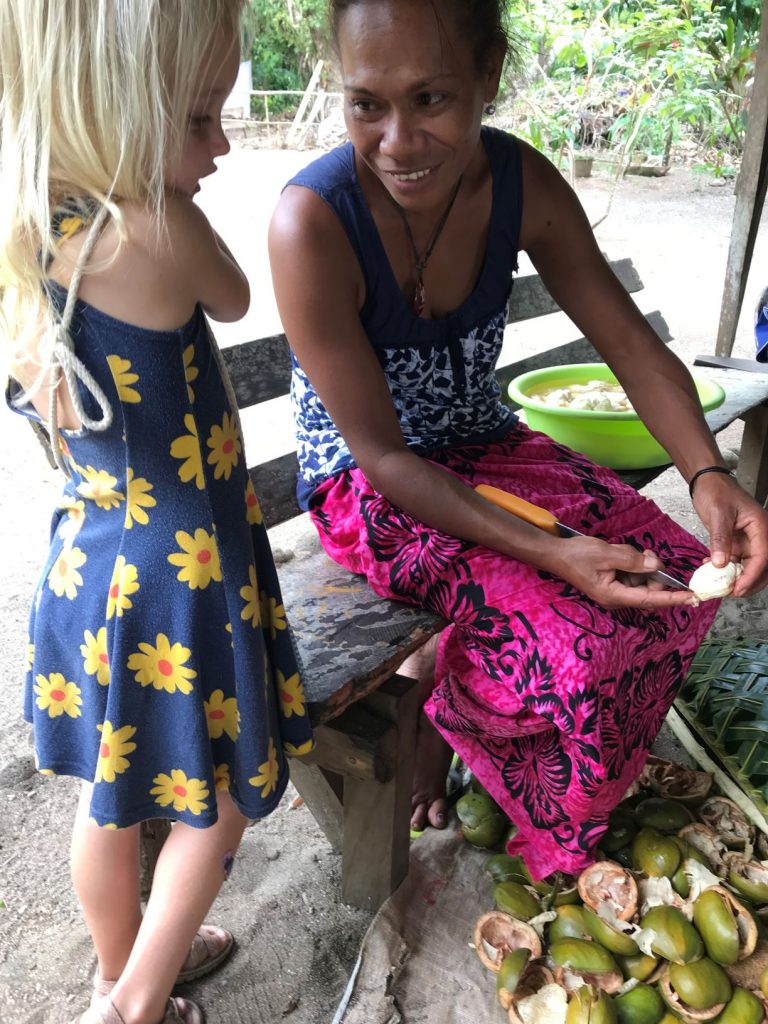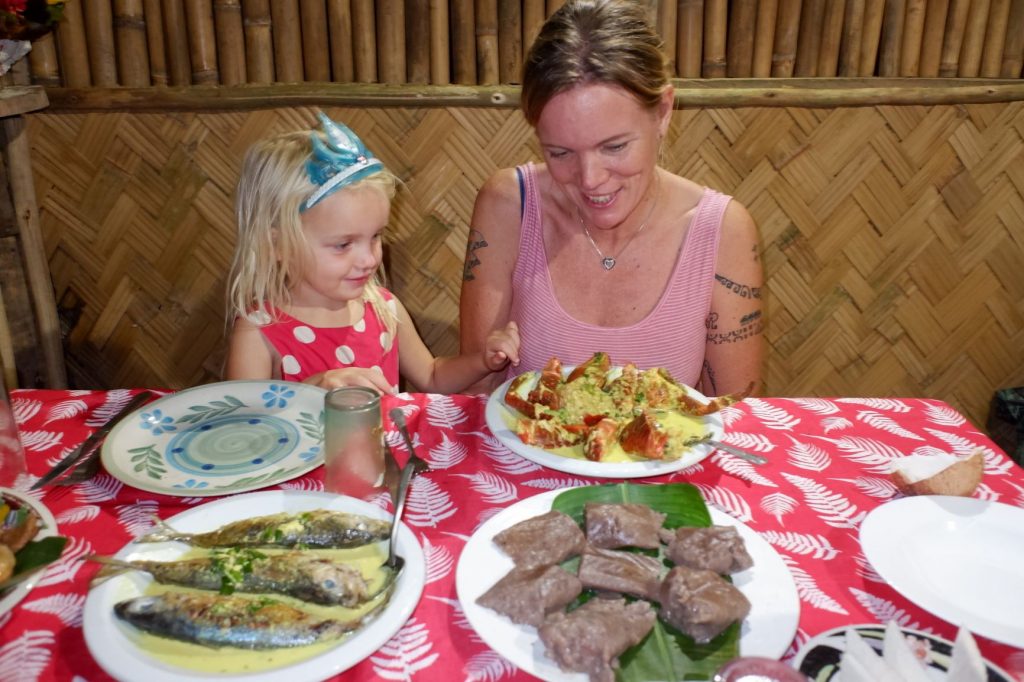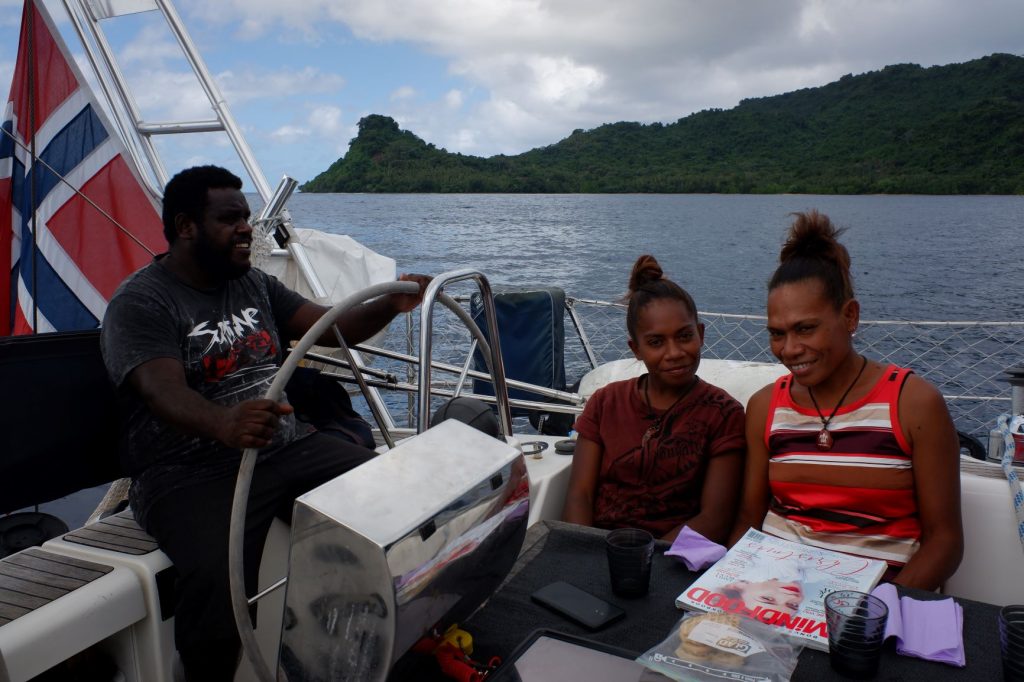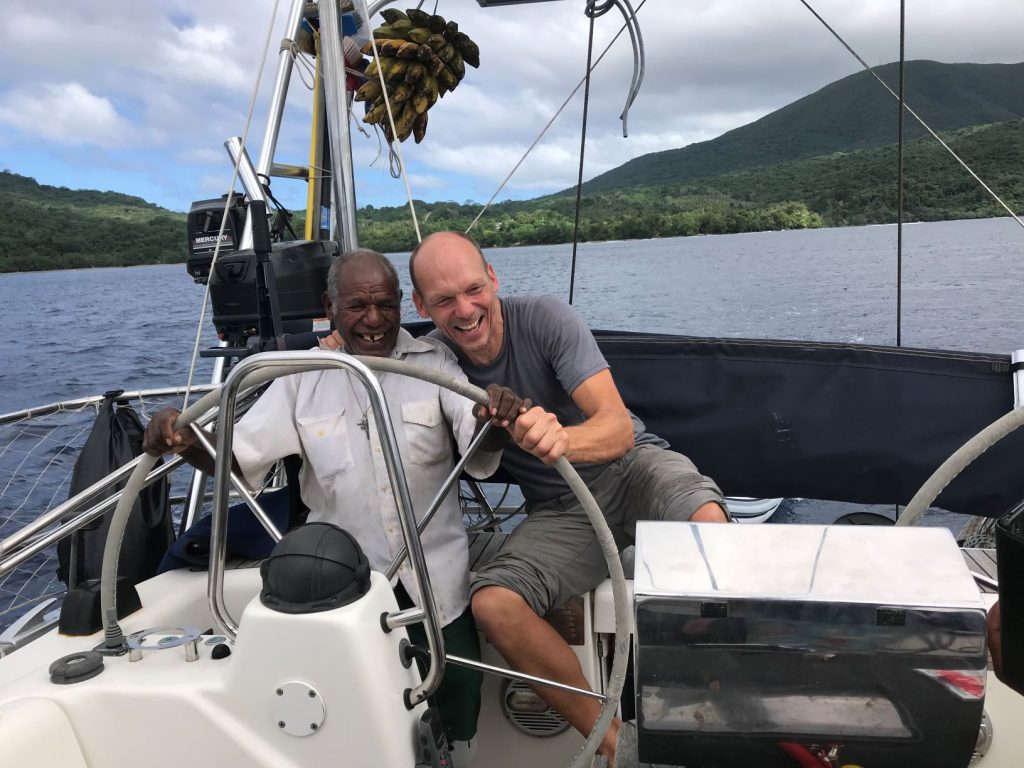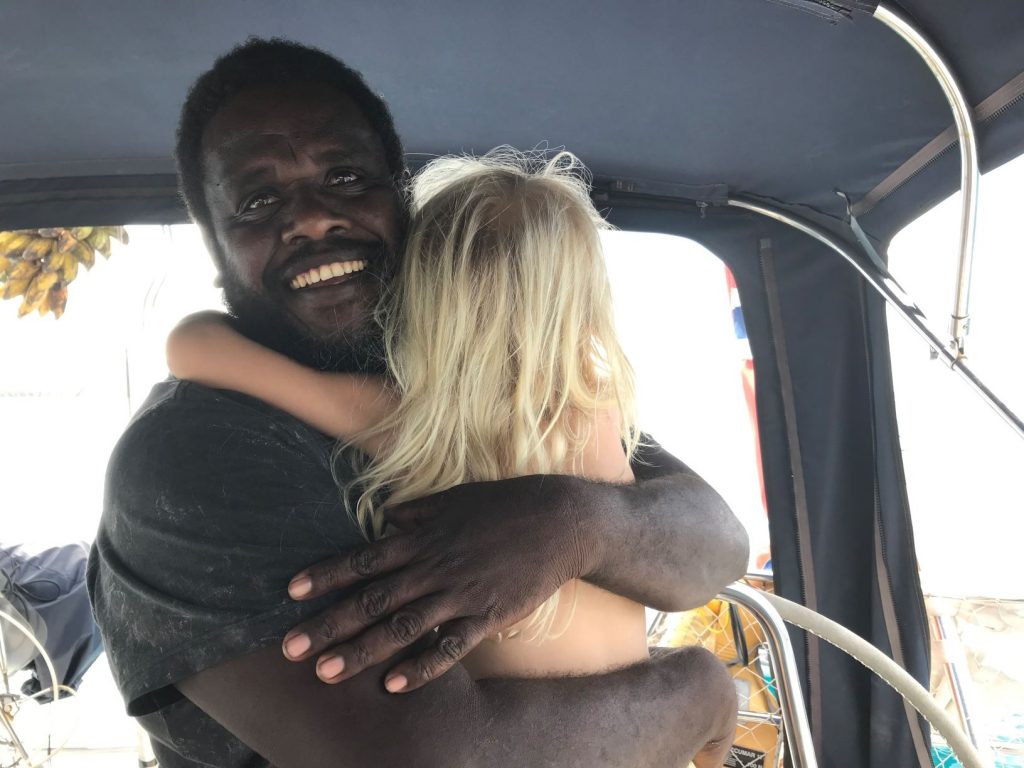 Thank you for making our stay in Sola special. We hope to see you again in the future!
March 4th – 10th, 2019: Touching our Aitutaki rescuers' home base in Masterton. (Road trip New Zealand – Part 6)
Bernard & Bianca. Superman & Wonderwoman. Vilja's Rescuers from Chaos. Also known as Louise & Scott. Remember the couple who made the impossible possible in Aitutaki?
We found them at their home base on land in Masterton.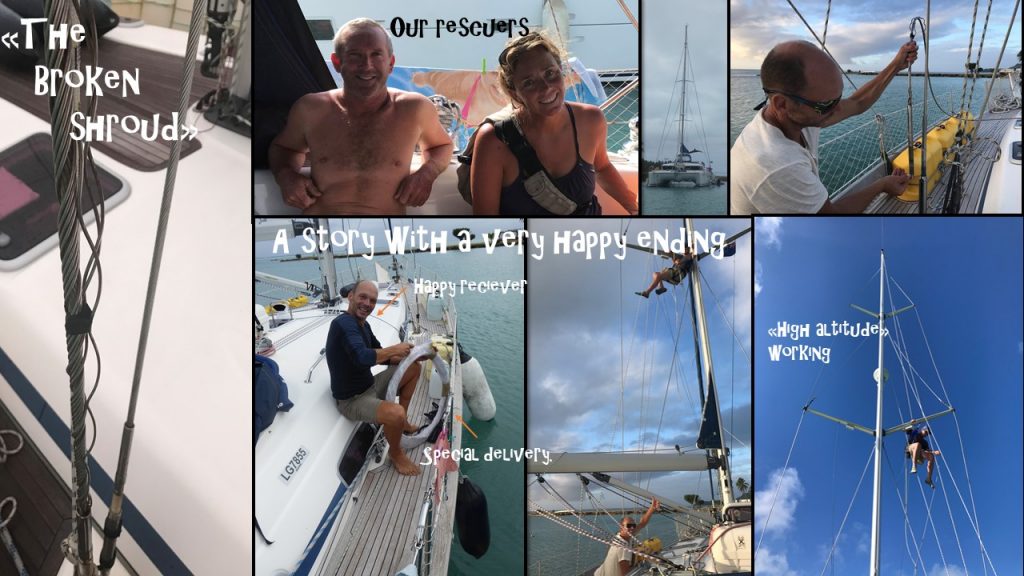 5 months ago: Vilja's port side shroud broke as we were sailing in to Aitutaki, a tiny atoll in the middle of the Pacific. It would normally take weeks and even months to get a part like this replaced, being in the middle of nowhere. Louise and Scott on board Chaos made it happen in less than 24 hours. You can read more about this incredible story in the Everyday blog if you scroll down to the headline "October 17th, 2018: Aututaki in the Cook Islands. Day #7 – Life is what happens when you're busy making plans. (And it sure is a heck of a lot better than any plan I could ever have set up!)".
Meeting up with this family that had helped us and amazed us through the course of only a couple of intense days in Aitutaki was definitely on our bucket list now that we were in their neighborhood. So we texted them, and they returned an invitation to stop by. Our intended 1-2 nights stay turned into almost a week. And we discovered that not only are these guys our SailingVilja voyage's Bernhard & Bianca; They are an incredibly generous, cool & nice family and friends!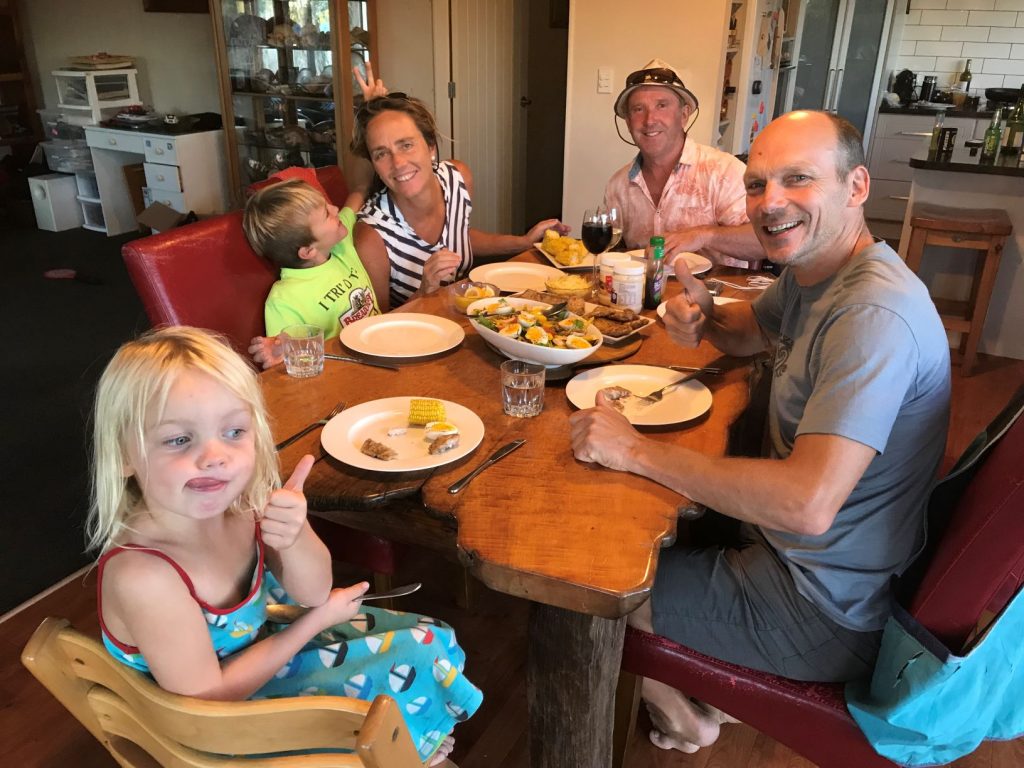 The work & skill of producing New Zealand's sweet gold; Manuka Honey
Scott & Louise run a family business where they produce LOTS of honey, or more specifically their brand "Royal Manuka Honey". Scott took JP along to check up on and move some beehives.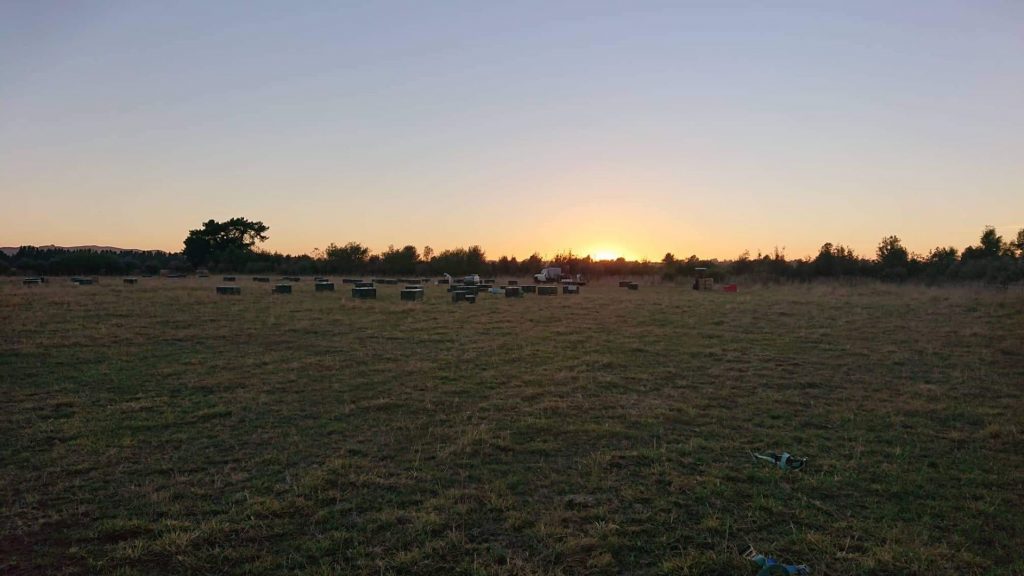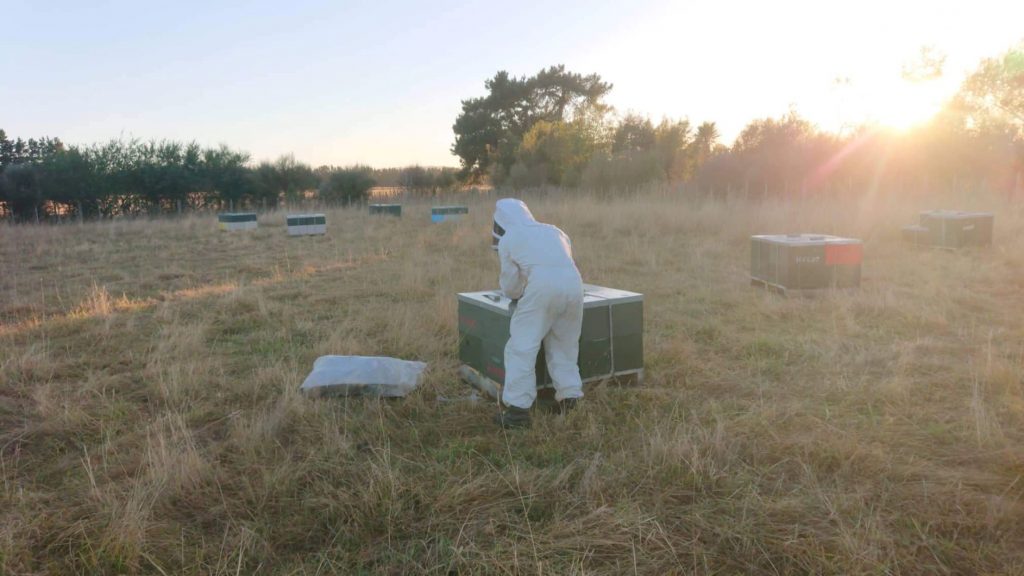 In the afternoon Karen Marie and Ingrid joined to visit the Hillcrest Honey factory, where the Royal Manuka Honey was being tapped that very day. Interesting & yum!
Waiohine Gorge – across high up & a shower down below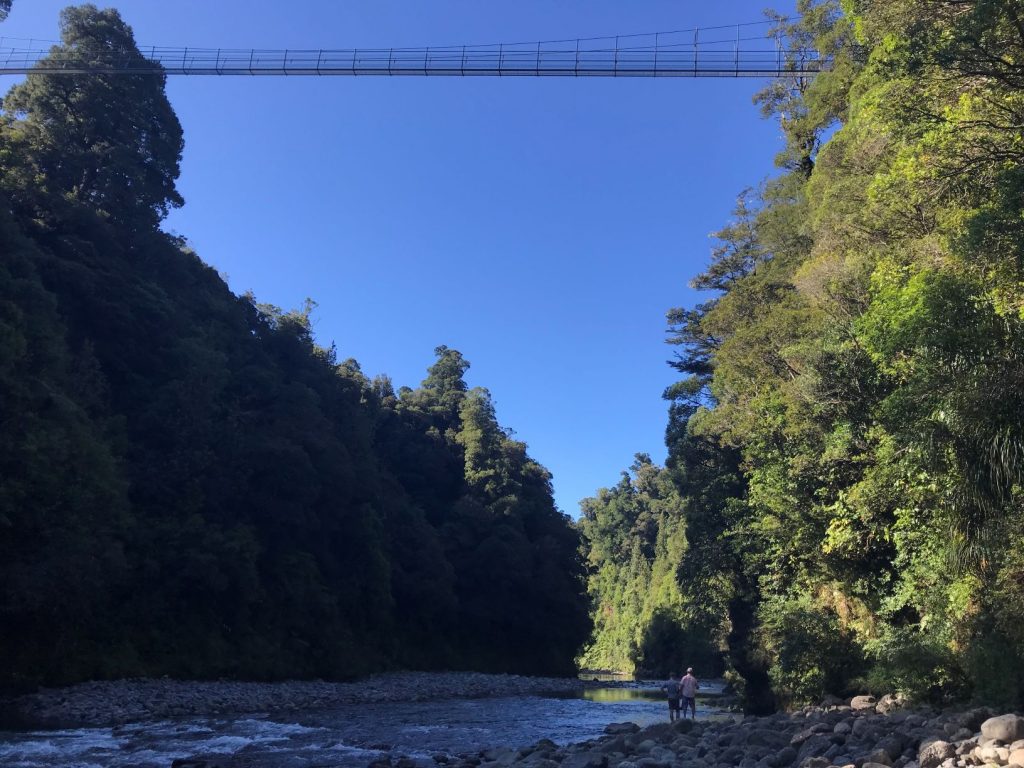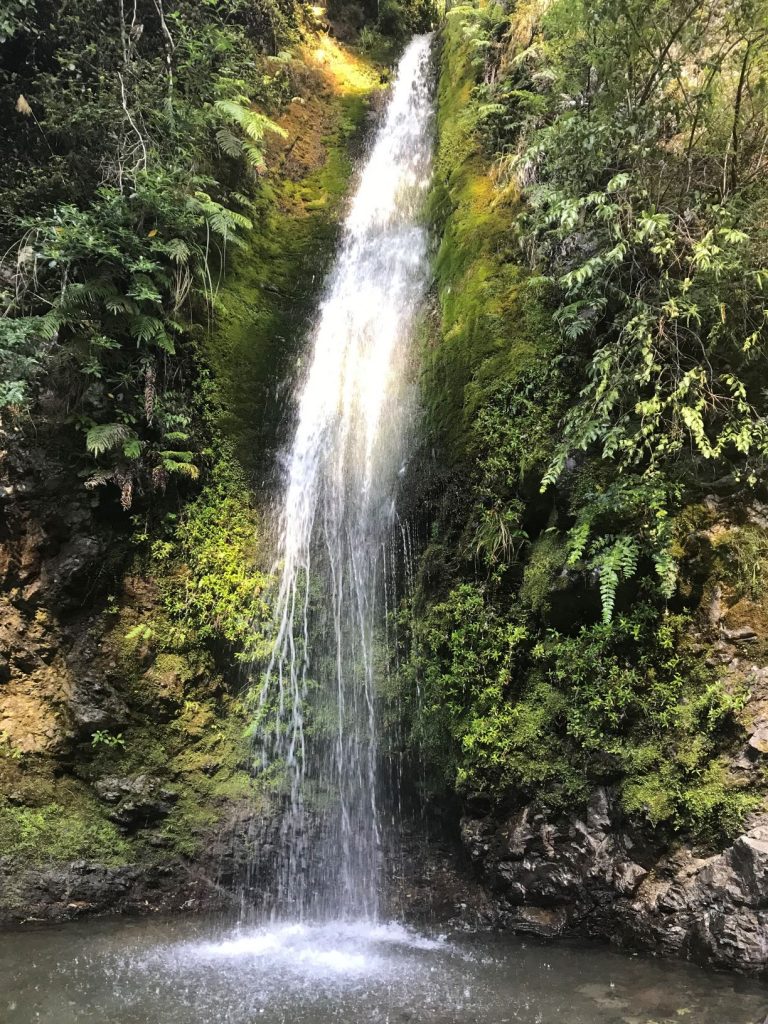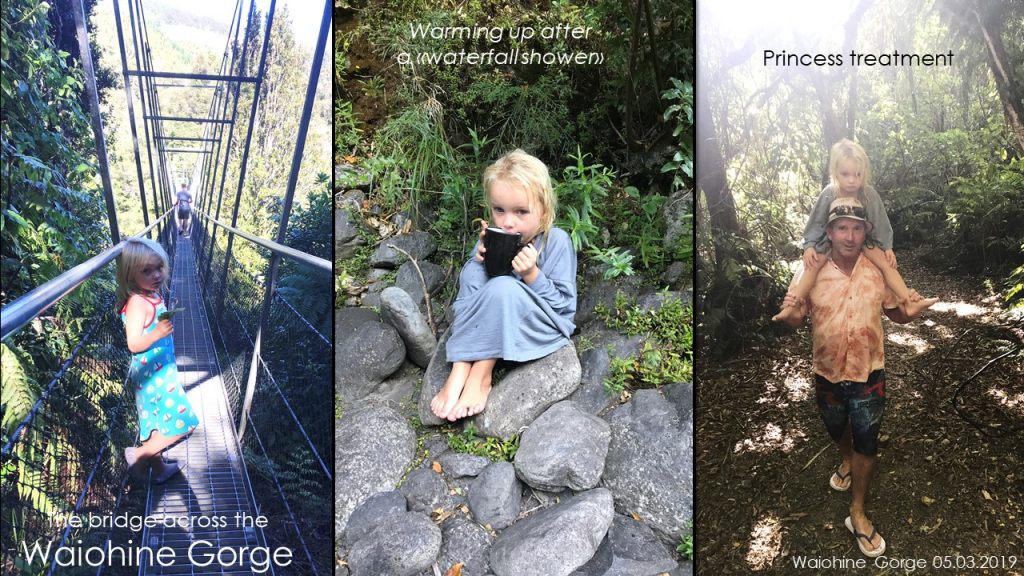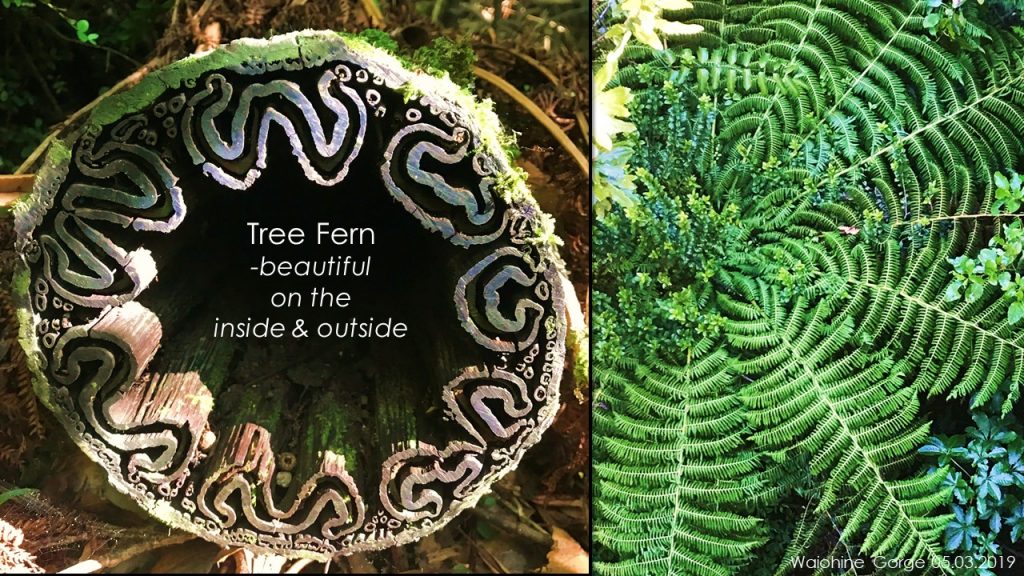 PATUNA CHASM
Louise said "Forget about Wellington. You should go visit my mother's and stepfather's farm in Patuna; walk the Patuna Chasm and spend time at their beautiful New Zealand farm. So we did. And of course, she was so right. The chasm was awesome. And so were Alison & Alan. The hospitality they showed us three Norwegian vagabonds was heartwarming, and new friendships were made.
Alison & Alan run a company; Patuna Farm Adventures. Check this out: https://www.patunafarm.co.nz Walking the chasm up- and downstream is a self-guided walk through stunning landscape and also a bit rough and adventurous. To put it this way: you're gonna get wet & and you have to leave any fear of heights at home… It's fun and it's beautiful.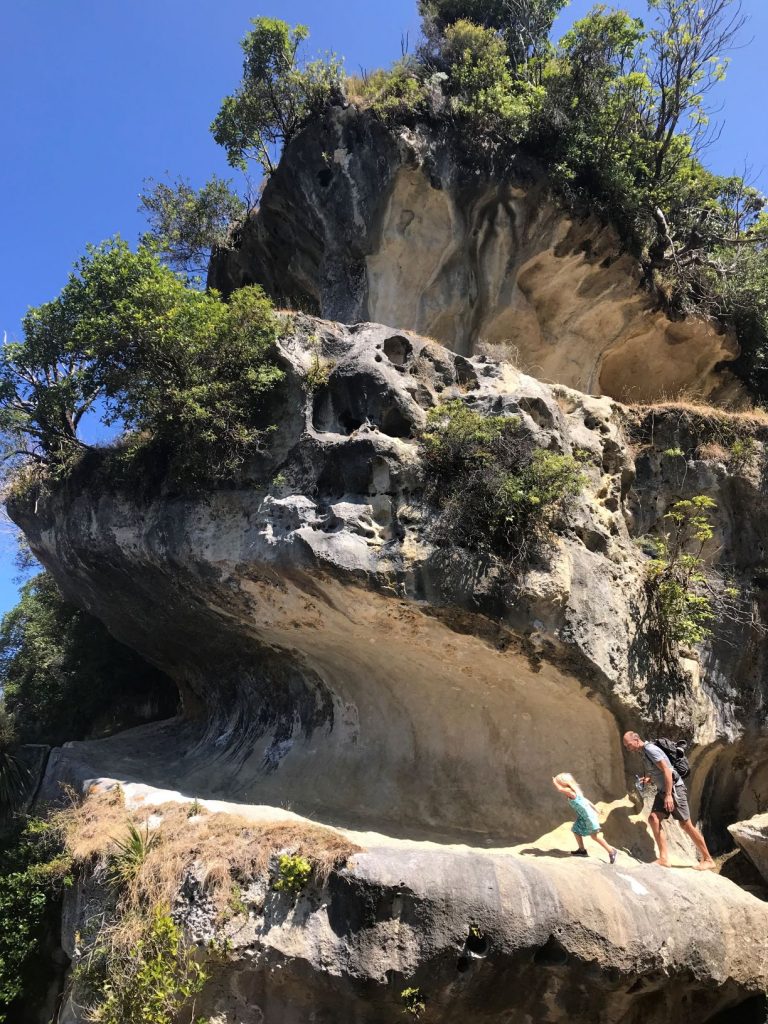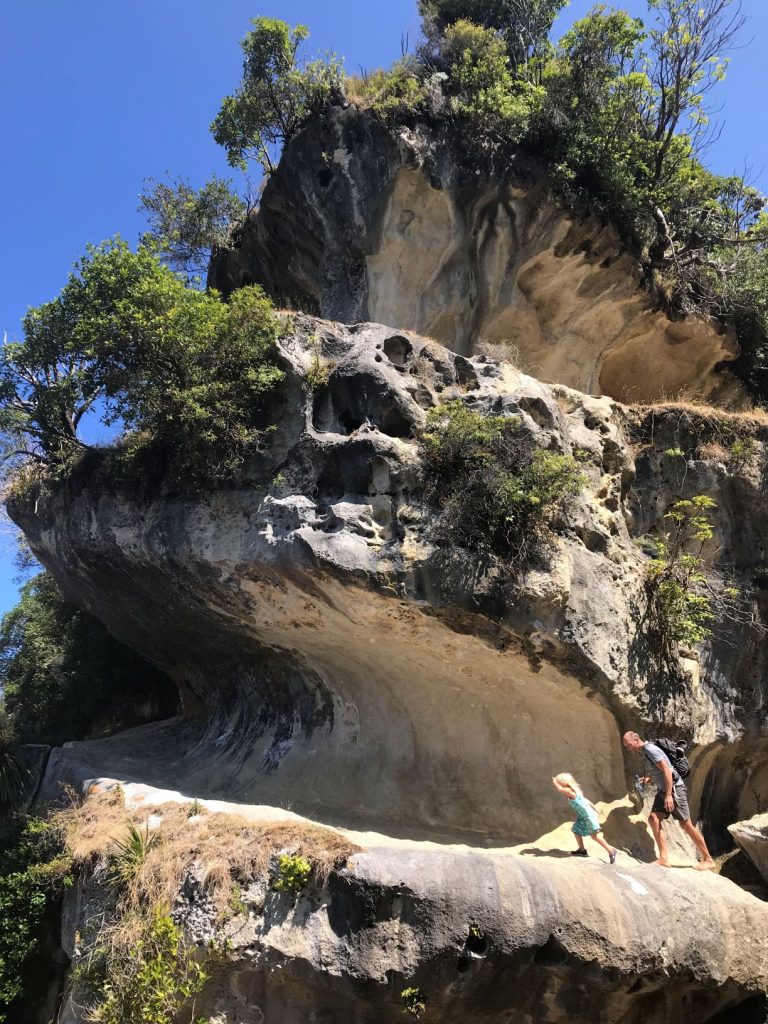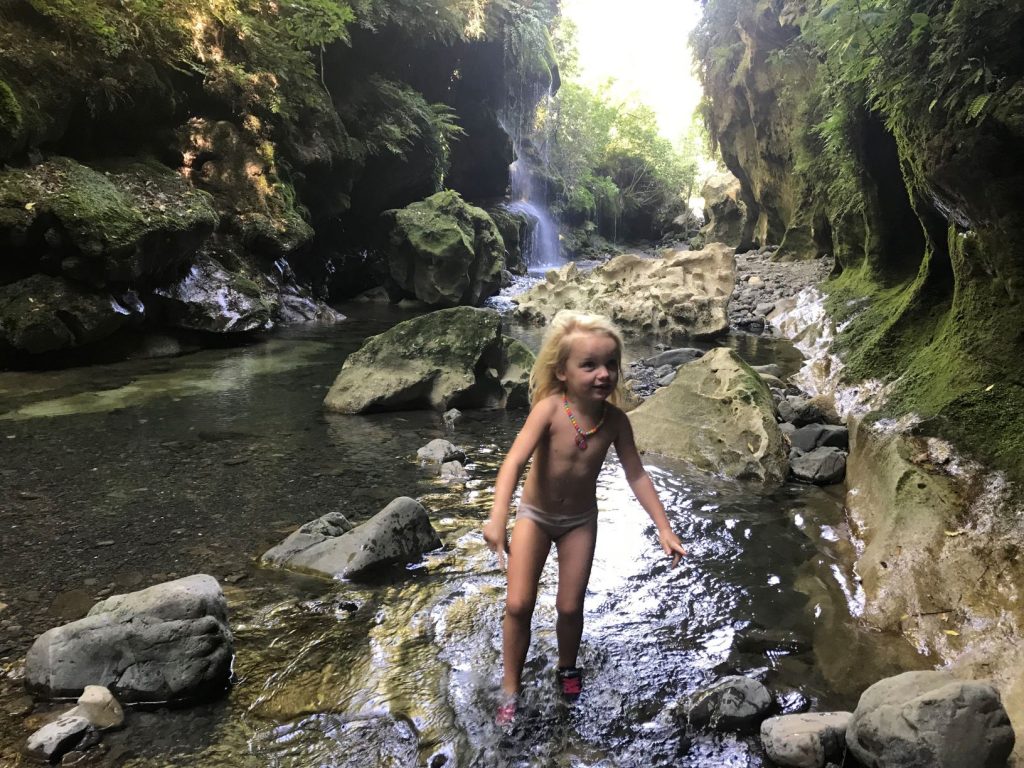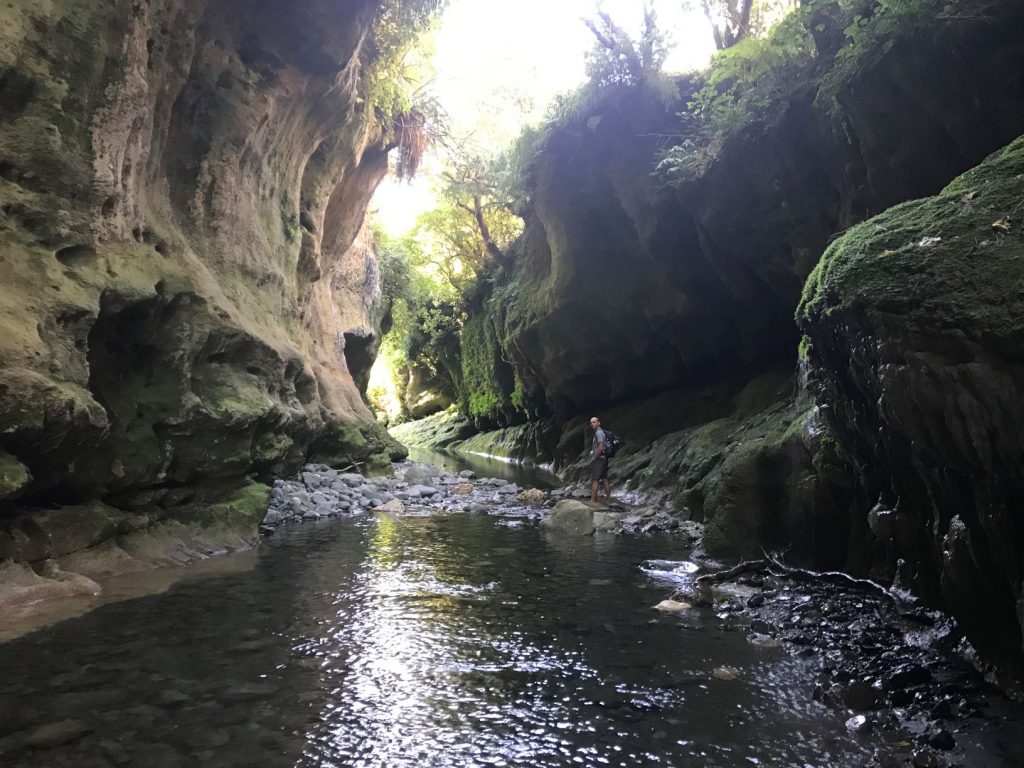 We enjoyed our stay at Alison & Alan's Patuna Farm to the fullest: In the evening Karen Marie and Ingrid enjoyed the indoor luxury of a "bubble bath spa experience" followed by Alison's delicious cooking of roasted lamb, vegetables and homebaked bread for dinner. In the meantime, Jon Petter "went into the wild" hunting for red deer with Scott & William – and they actually made a clean kill and brought home food for a feast!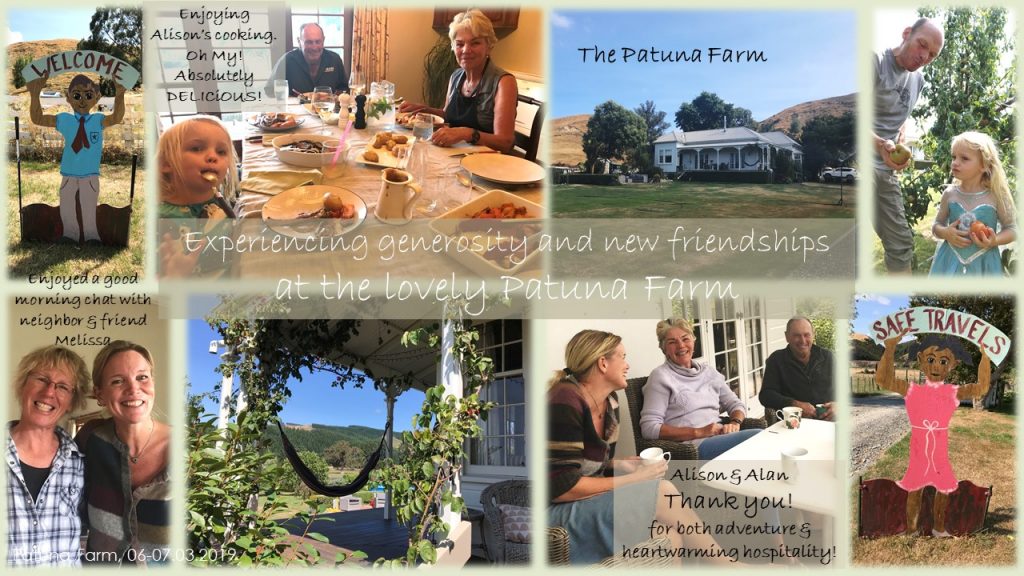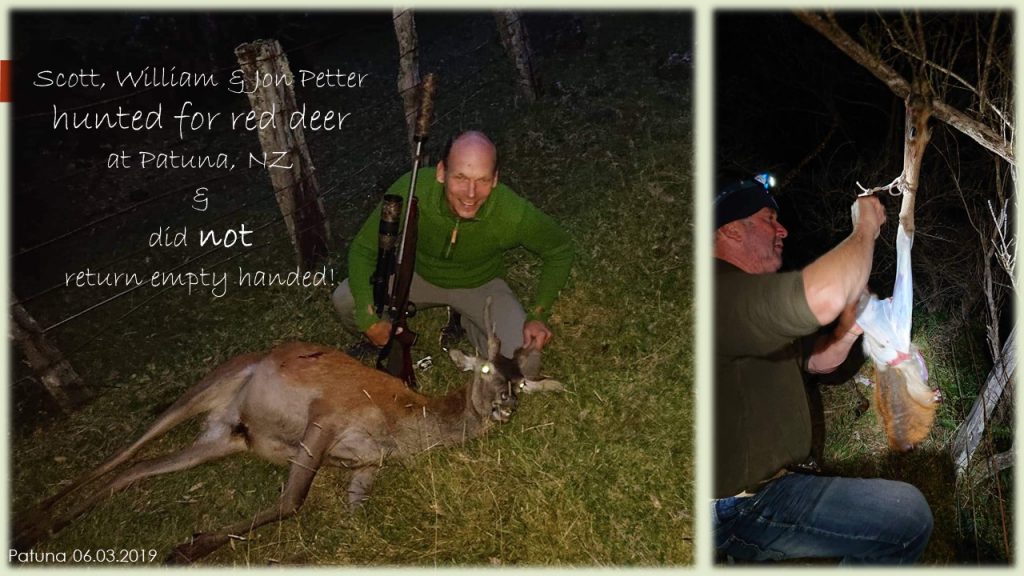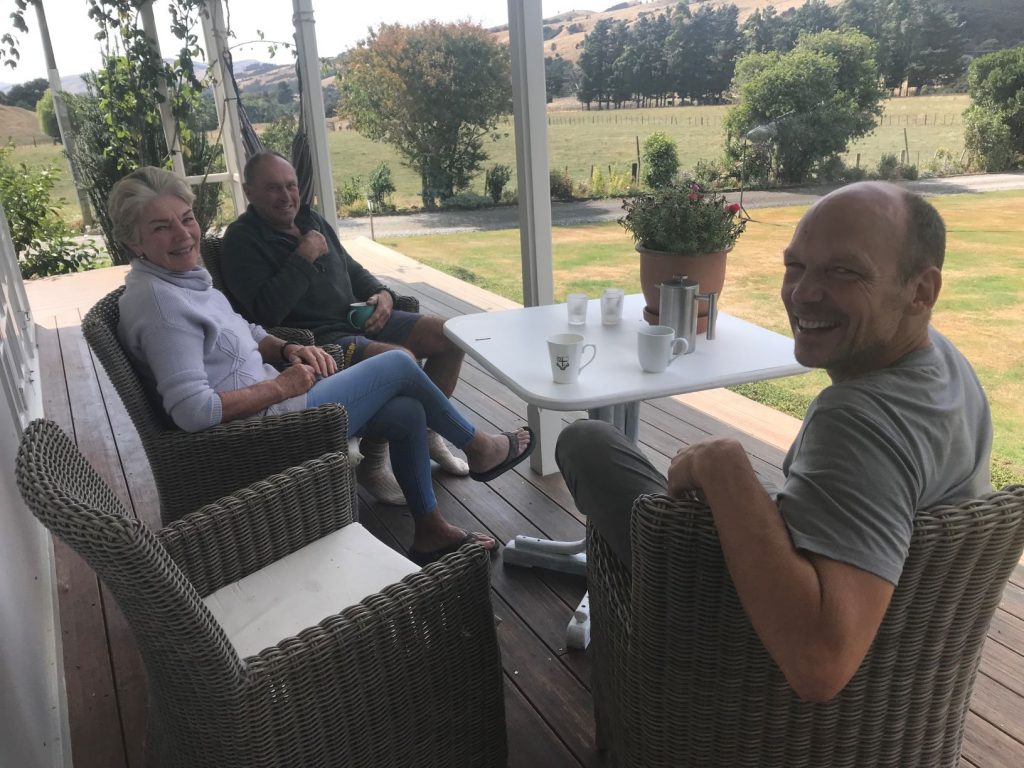 Simply "chilling" at the beach house
Louise & Scott "sent us off" to stay at their beach house at Cape Palliser. A lovely spot on Earth. We simply enjoyed having a day to ourselves in "our very own" house, with TV, good food & wine and each other.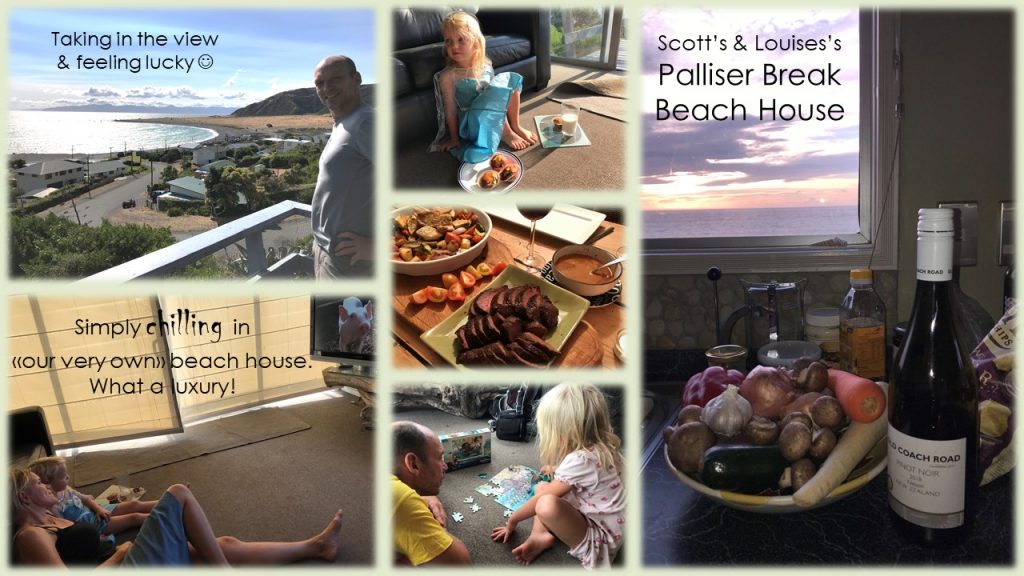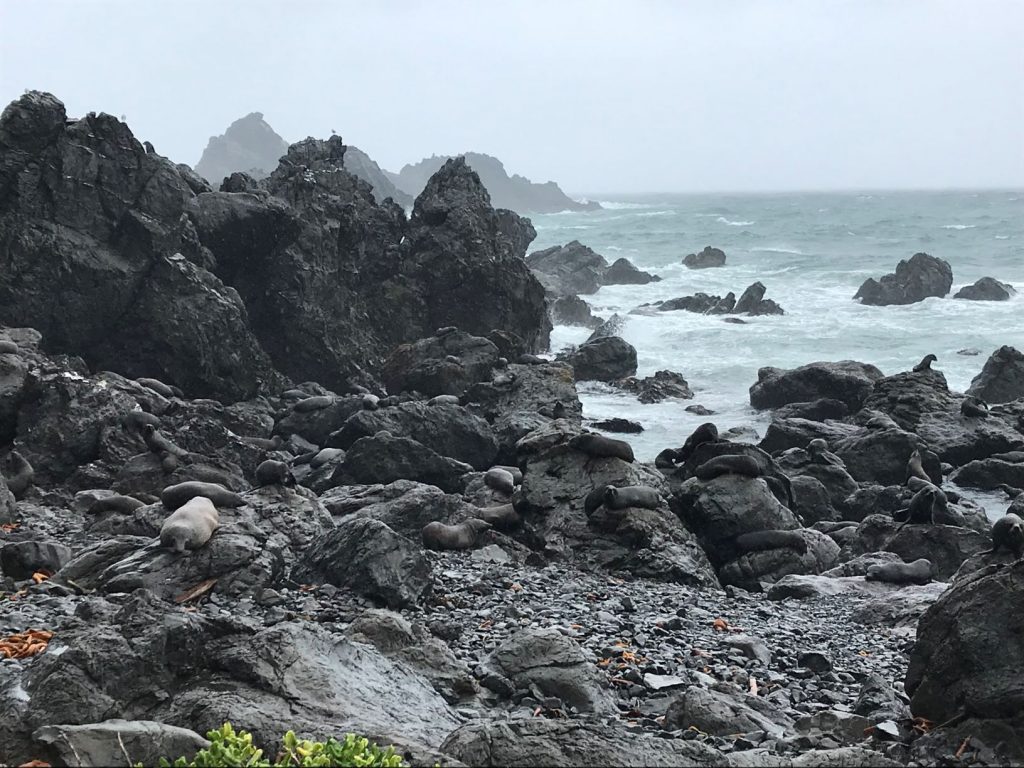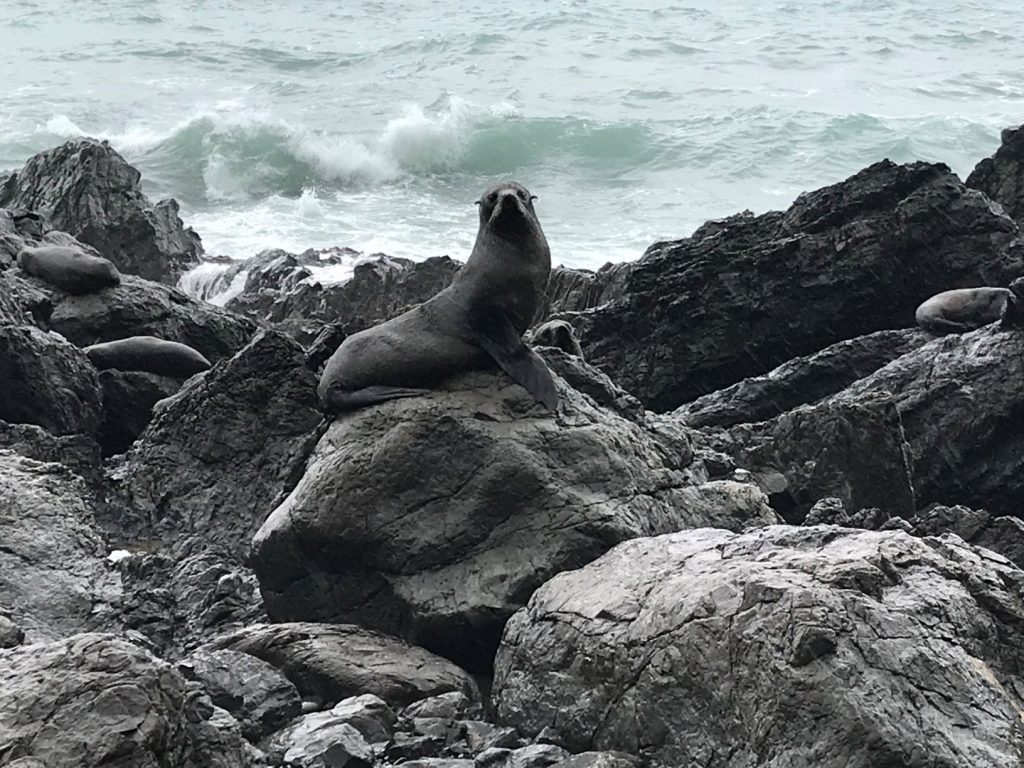 Blueberry & apple pizzas – YUM!  
The Watermill Bakery – open only for a few hours every Friday evening – serves pizzas exceeding our greatest fantasy, in ingredients and even in taste; Nutty Blue Pizza, Purple Thistle Pizza, Apple Pizza and Blueberry & Custard Pizza – all using the same pizza dough base – was not only fun, but DELICIOUS!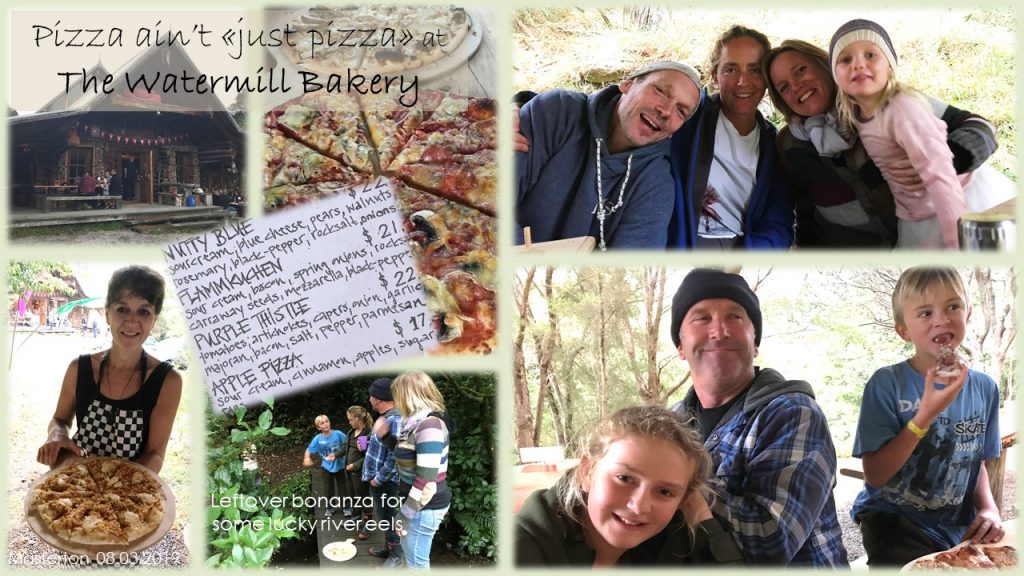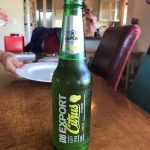 Good times at home – in a house!
It was good to have some downtime at home with our friends. And hey, when you're on a 3,5 years long journey by sailboat, staying at home in a house (!) feels pretty exotic in itself!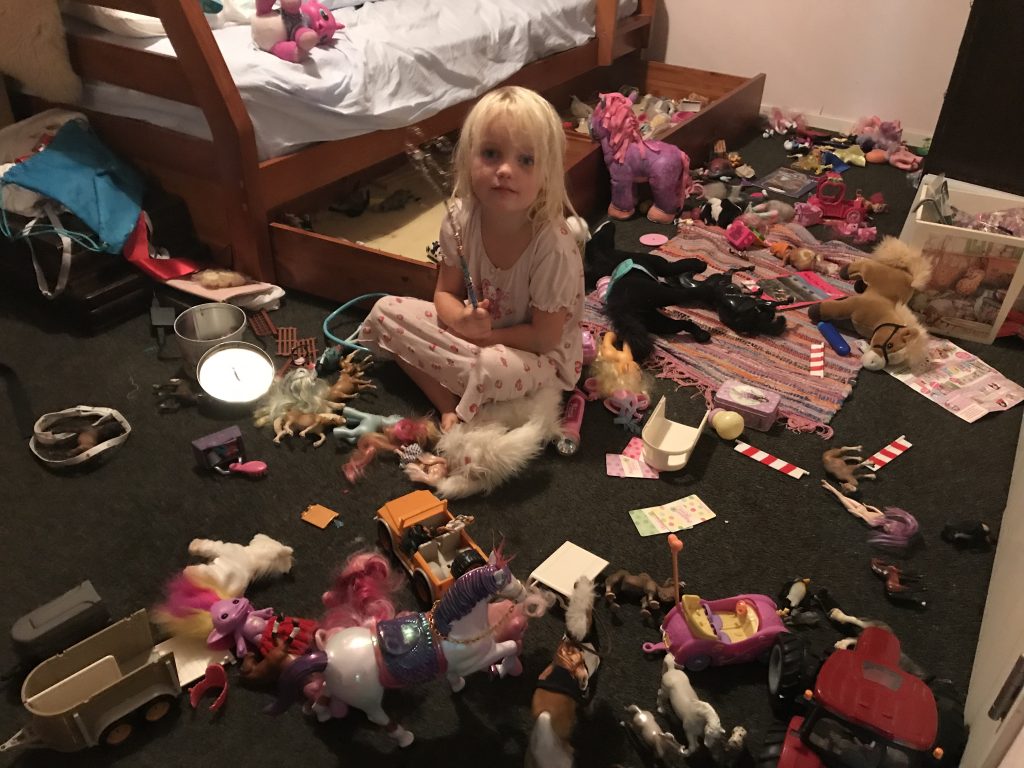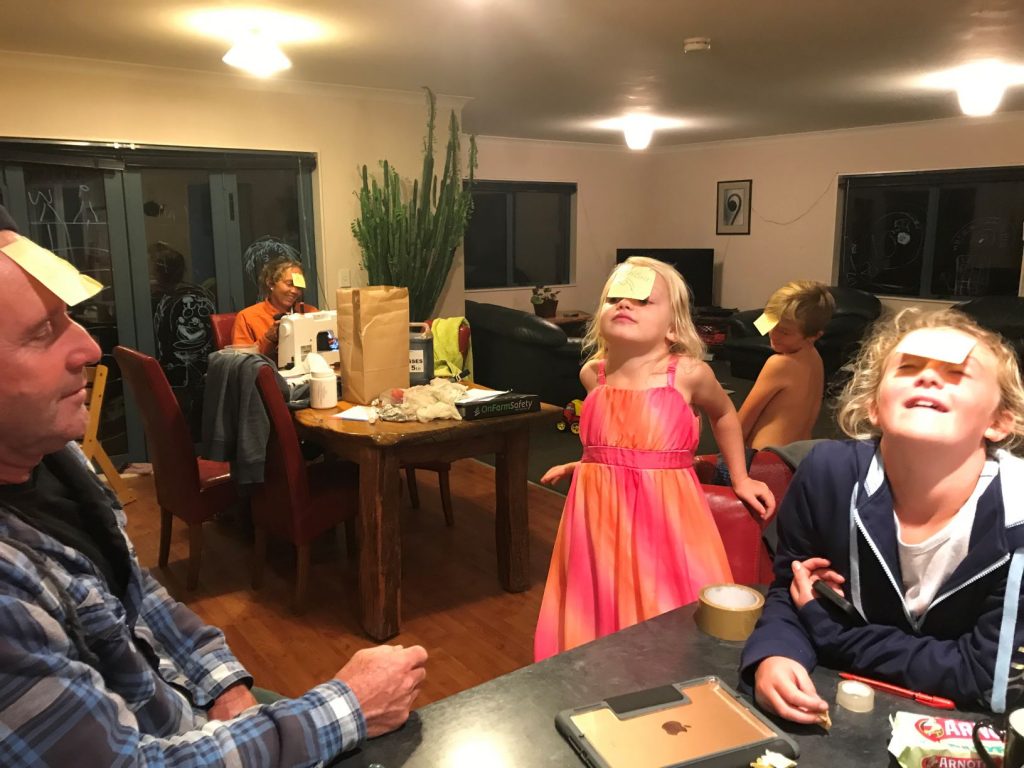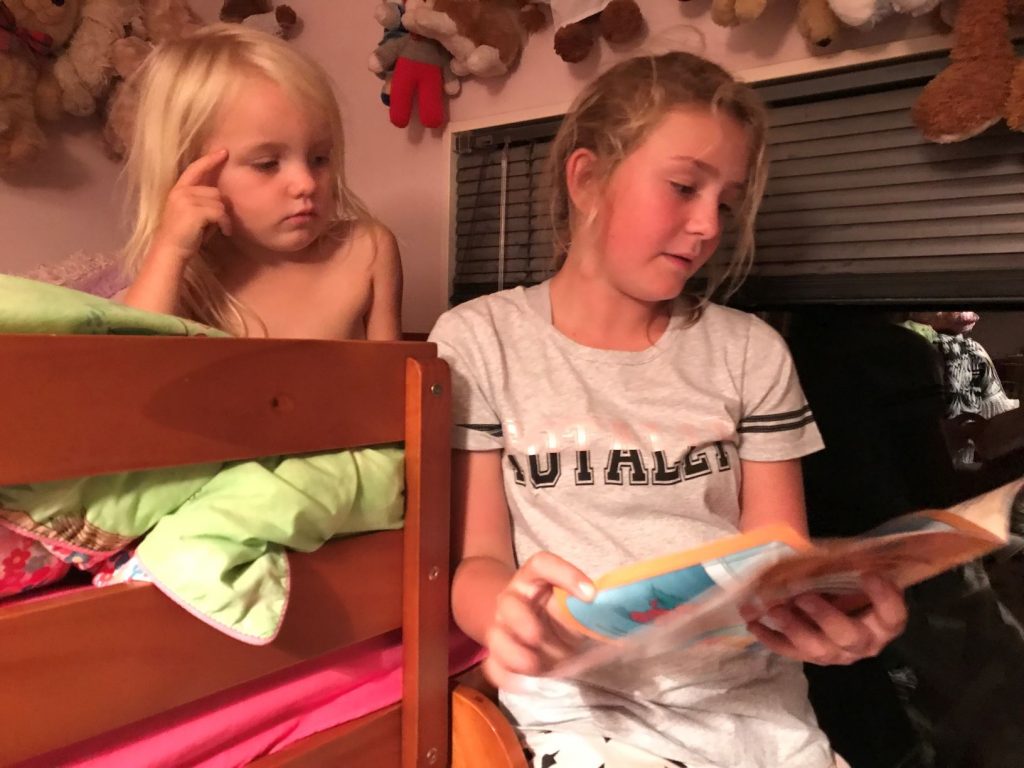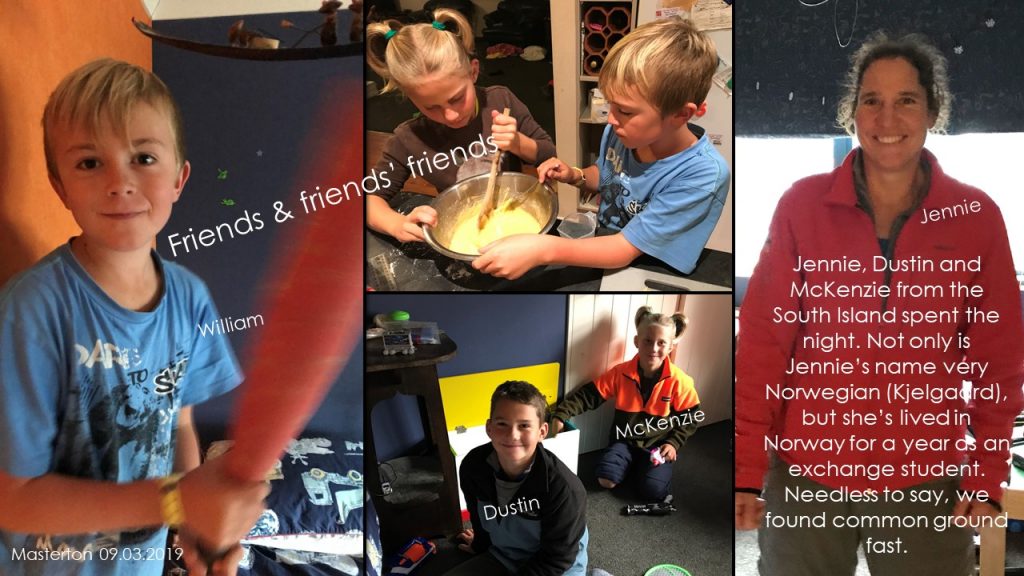 Castlepoint Beach Races
Louise & Alex are "horse people" and keen riders. They convinced us to go and experience the annual Castlepoint Beach Races. It turned out to be a really good family event, with all kinds of races; horses, ponies, kids, and even men & women (in underwear!) giving it their all. Fun at the beach. And yes, even our totally untrained eyes can see that horses are pretty magnificent creatures.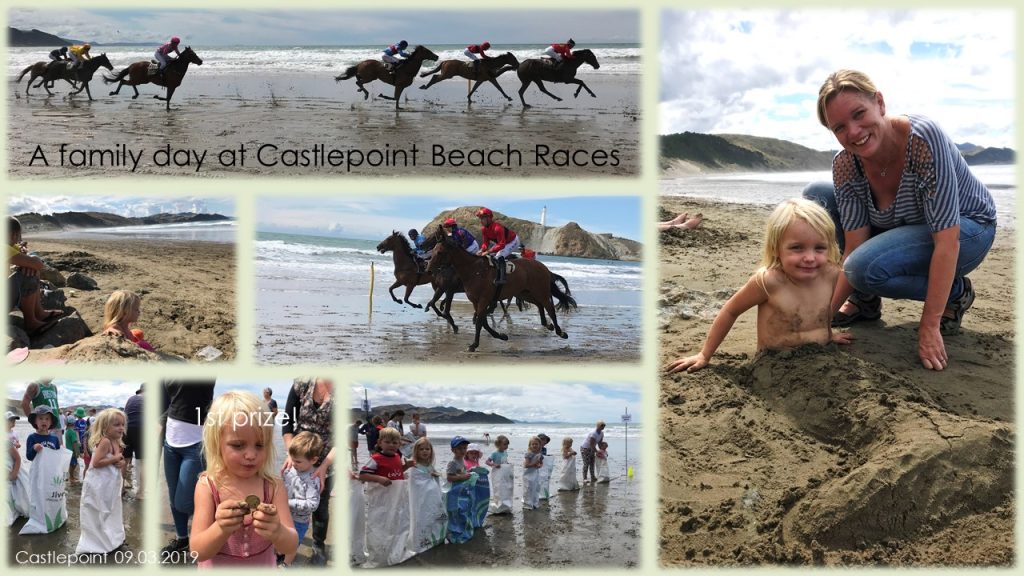 After the races we had a walk up to the picturesque Castlepoint Lighthouse.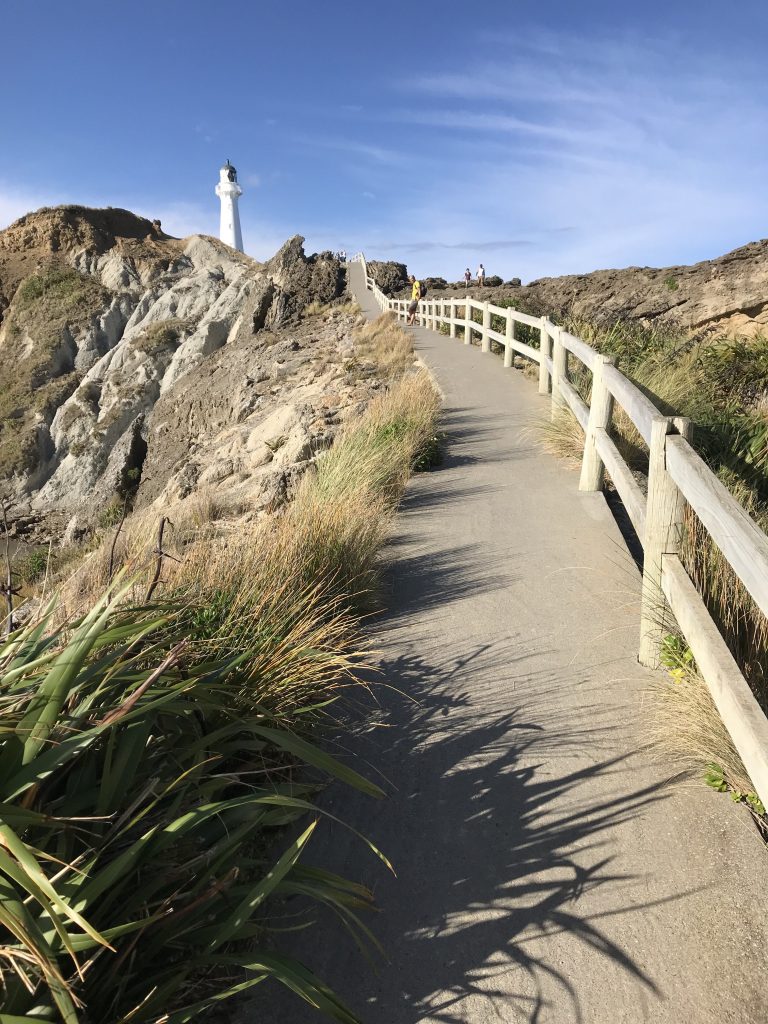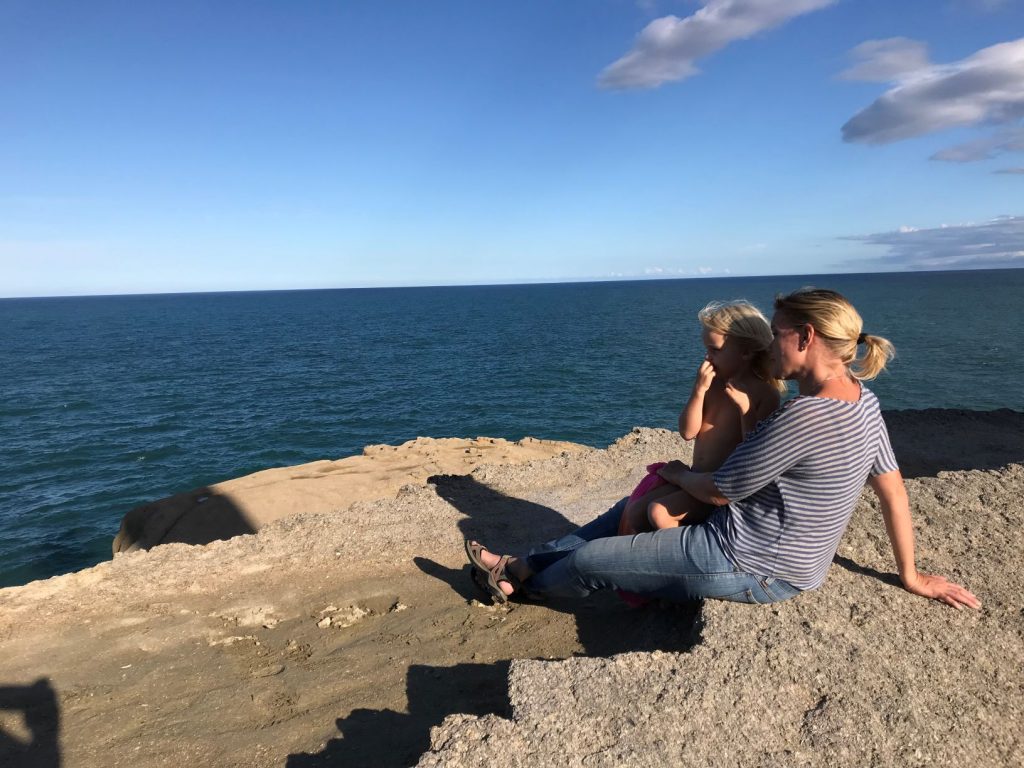 South Island next!
After six fun-filled days we said goodbye  and thank you to our friends in Masterton.
It's Sunday the 10th of March, and we have ferry tickets from Wellington to Picton (on the South Island). We'd better get going!
_______________________________________________
March 2nd-4th, 2019: Wow, what one person can make in a lifetime! (in other words: the Tawhiti Museum in Hawera.) Karen Marie runs in the XRACE. A walk on  the historical grounds of Turuturu Mokai Pa. (Road trip New Zealand – Part 5)
It's amazing what one man can make in a lifetime! Visiting the Tawhiti Museum is a testimony of such, and it's the result of only "half a lifetime".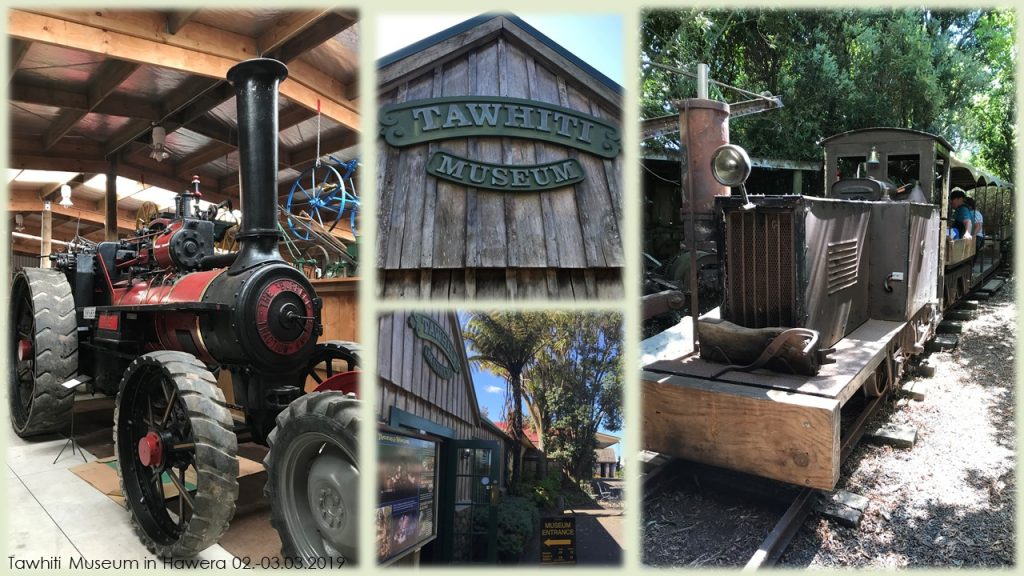 The Tawhiti Museum is a private museum which is founded, owned and created by (the still going strong) history and art teacher Nigel Ogle.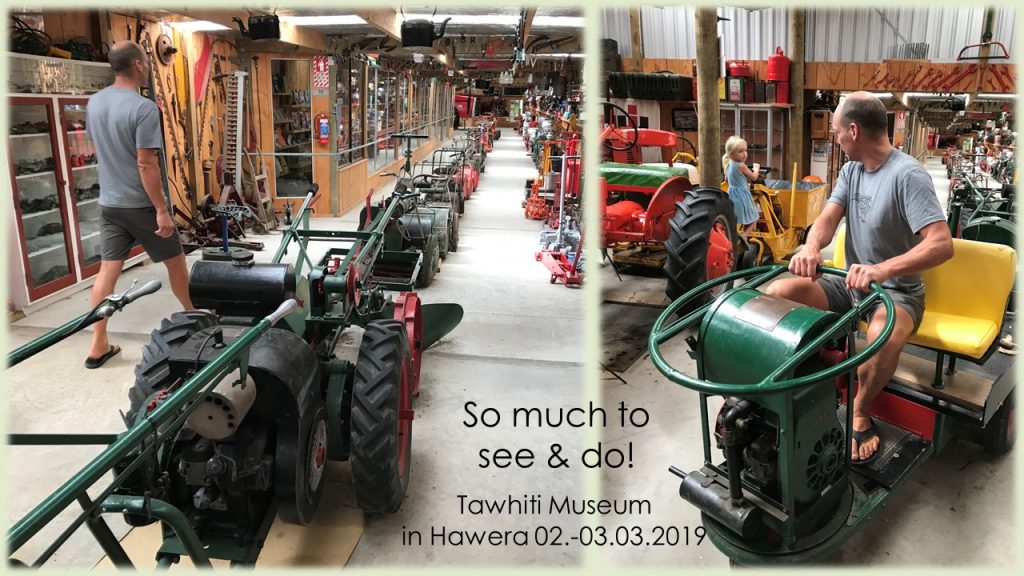 Nigel has himself created this vast collection of life-size displays and intricate small-scale dioramas that combine history and art with a skill that fascinates and amazes in equal measure.
There are thousands of individually created and handmade lifelike figures, not to mention the many more thousand old artefacts neatly sorted and displayed.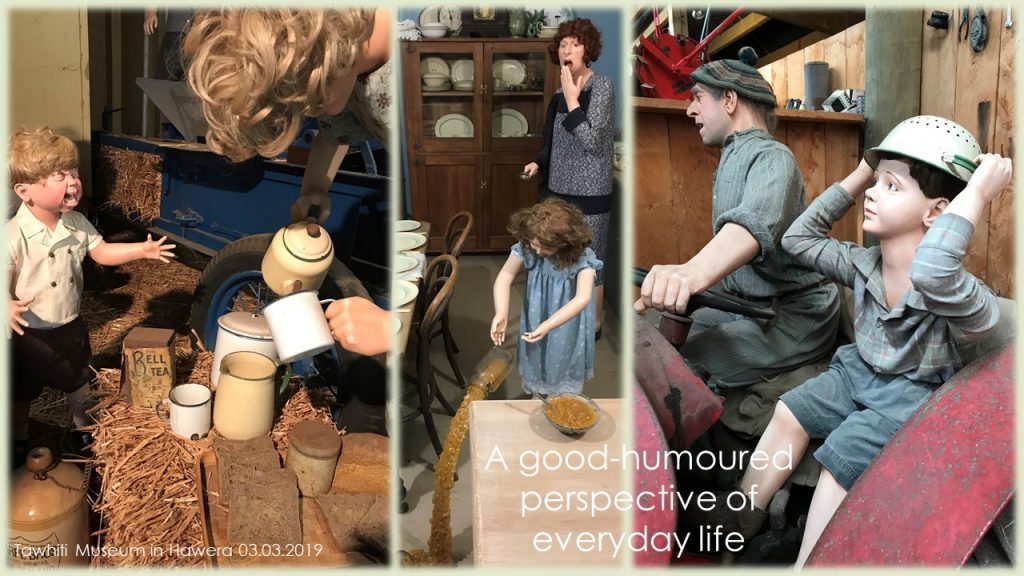 We were so enthralled by the place that we decided to stay in Hawera an extra day so we could visit again. And it was absolutely worth it. We enjoyed our second visit maybe even more than the first, which was also thanks to the staff of the Museum whom must be hand-picked for their jobs, and obviously truly loving what they do.
Thumbs up for the Tawhiti Musum in Hawera!
Karen Marie participates in her first race; the NZHL XRACE
The NZHL XRACE is an annual race and family event held nationwide in about a dozen towns in New Zealand, and also in Australia, UK and the Netherlands. By sheer coincidence we happened to be in Hawera on the day of the big event happening there. More than 1000 kids & parents signed up for the race. So did we – in the Nipper's Challenge for the 3-6 year olds – with Karen Marie heading the Vilja team.
Super fun for all of us! 😊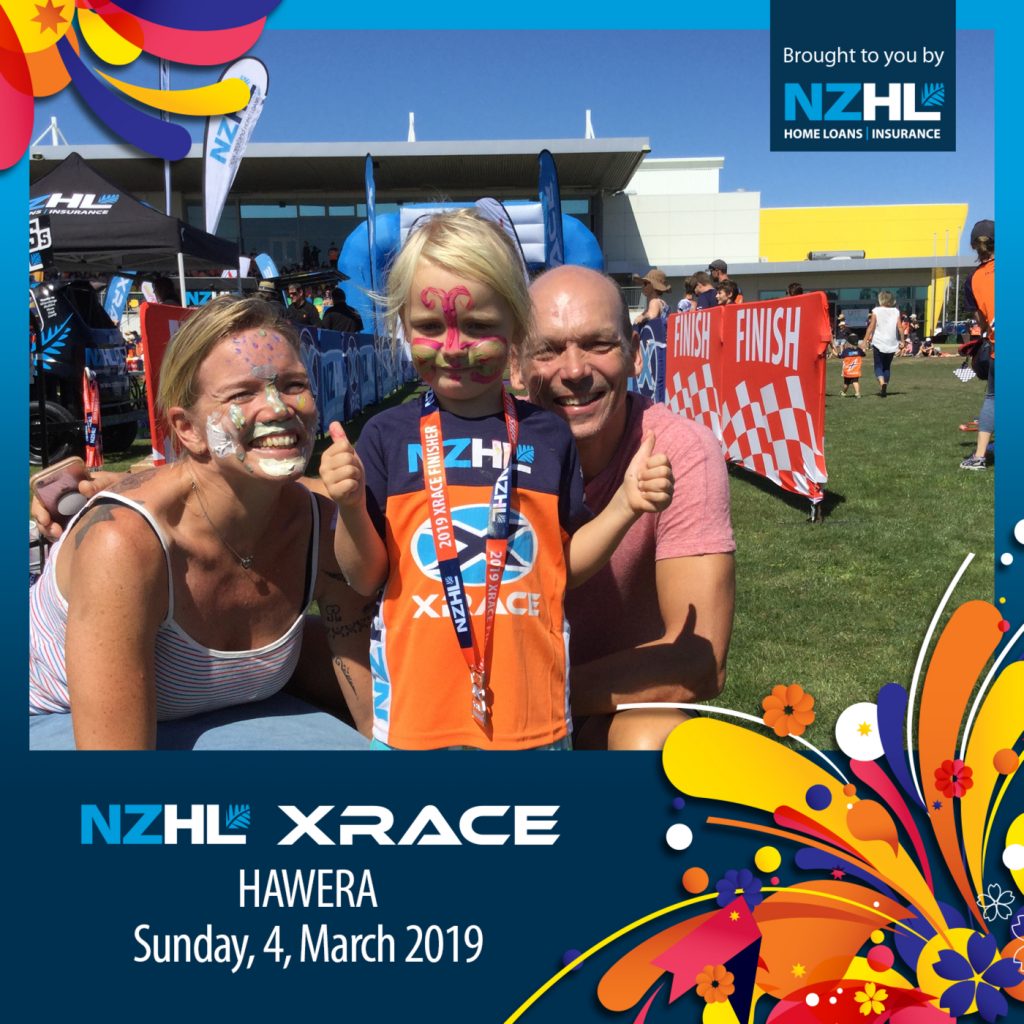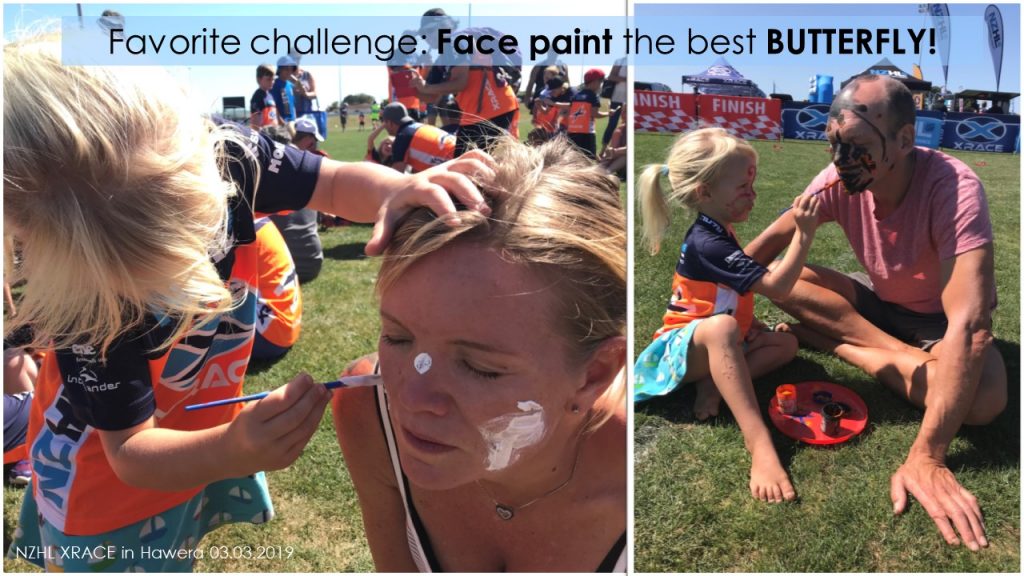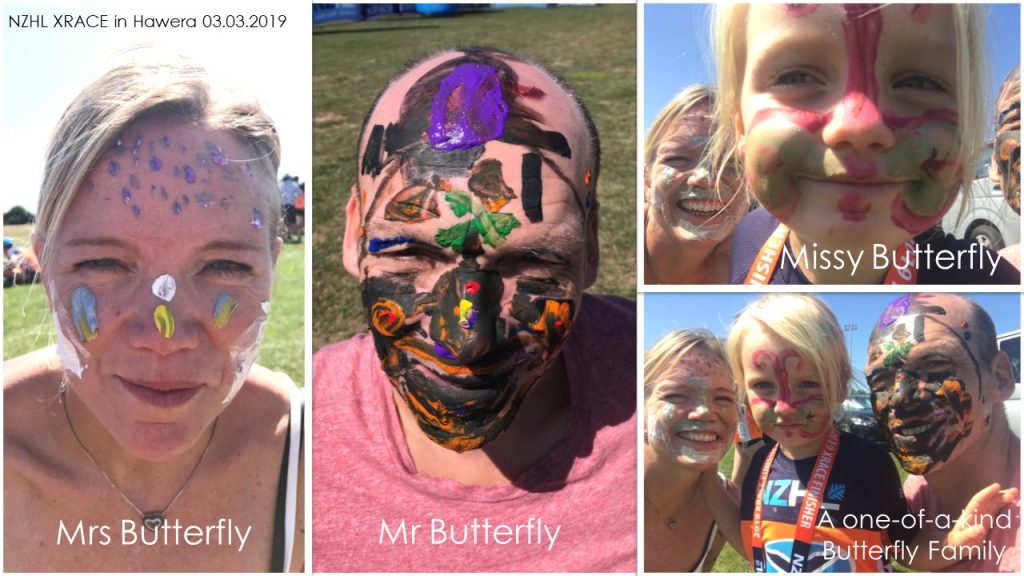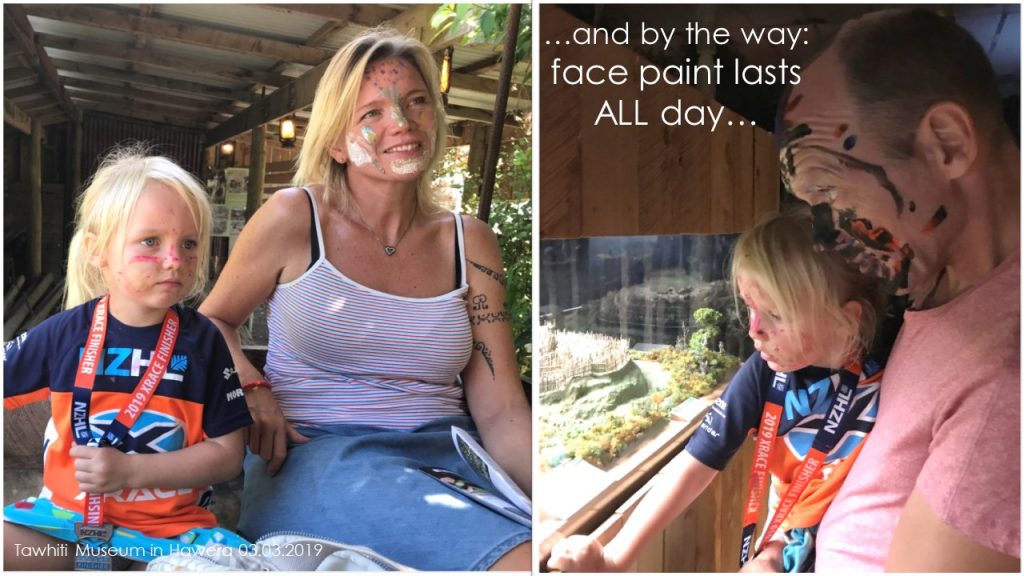 A walk amongst the remnants of a once mighty maori fortification
March 3rd turned out to be another day of great variety. After the XRACE and the Tawhiti Museum we stopped by the remnants of the Turuturu Mokai Pa, which is one of the oldest and largest pa sites in Aotearoa.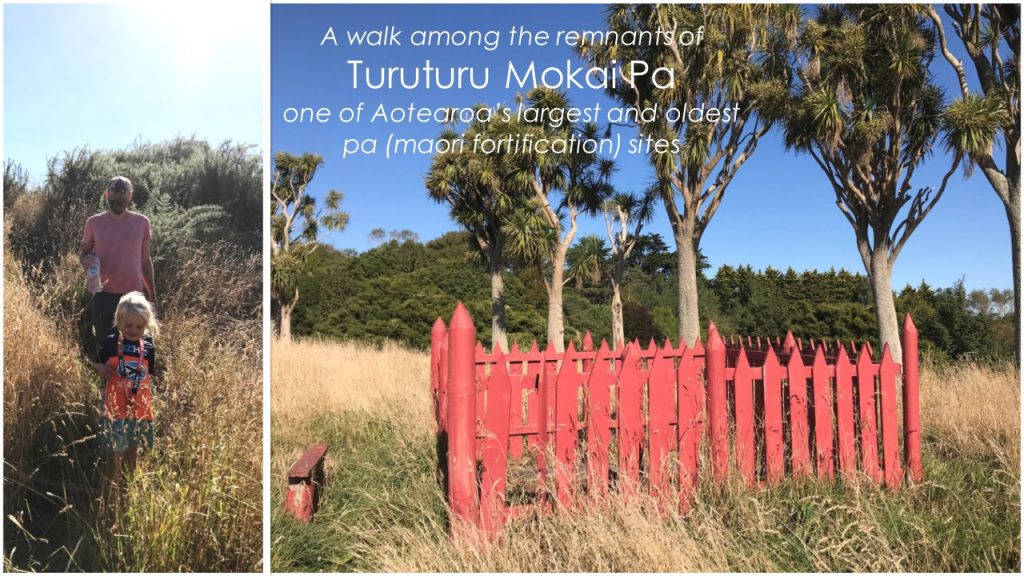 A bit sad to see how the site is overgrown and not taken care of. But still it made for a nice little walk for us. And we bore in mind that on these grounds many dramatic events have taken place here. One of which was that here the Maori, through cunning tactics, defeated British troops in the land wars of the late 19th century.
Where to next?
So now we've experienced Hawera, another of those unplanned and pleasant stops. We wonder what's up next?! We're getting near Masterton, where our friends Louise & Scott whom we met in Aitutaki live. Hmmm, wonder if they're home & up for some Vikings?!
_______________________________________________
February 28th – March 2nd, 2019: Taking in Aotearoa's (somewhat quirky) wildlife (kiwis, tuataras,…), stunning beaches (Northland's Southwest coast), cool architecture (New Plymouth) and natural beauty (Mt Taranaki). (Road trip New Zealand – Part 4)
Imagine a bird that cannot fly, with skin as tough as leather, feathers like hair, cat-like whiskers in its face and nostrils at the tip of its very long beak. Well, that's the description of a kiwi. Since the kiwis are both nocturnal and rare it's hard to spot them in the wild. We were curious of this national icon of Aotearoa, and wanted to see them and learn more. We found what we were looking for in Otorohanga Kiwi House.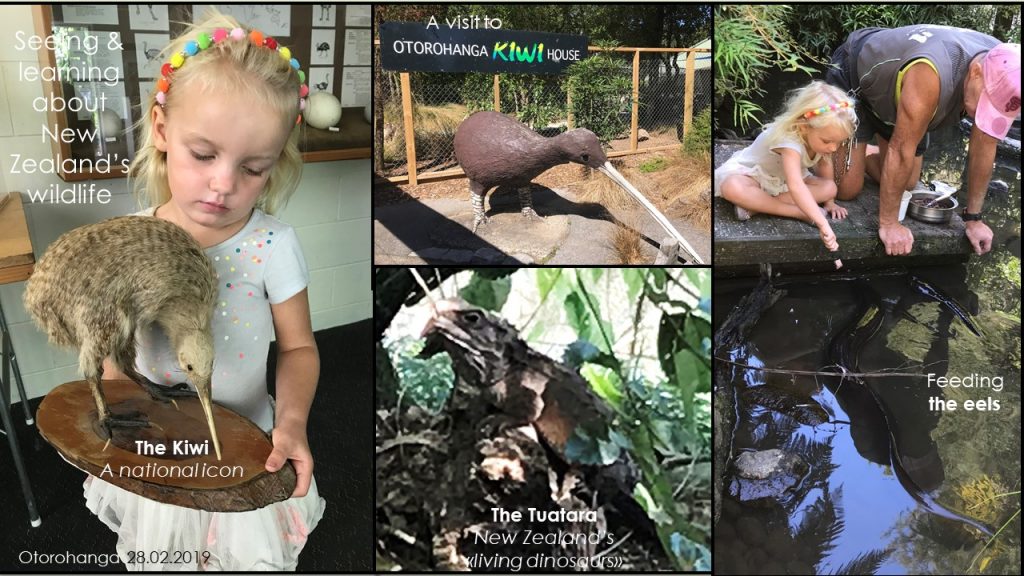 There were many more animals and birds to see at the Kiwi House. We were particularly fascinated by the tuataras and the eels. Tuataras are known as New Zealand's living dinosaurs; they've been found in New Zealand for more than 225 million years. They are long-lived (100+ years) and have three eyes! The eels of New Zealand swim all the way to Tonga to mate and have their offspring. That's a long swim, not to mention quite an impressive navigational achievement!
A beautiful beach all to ourselves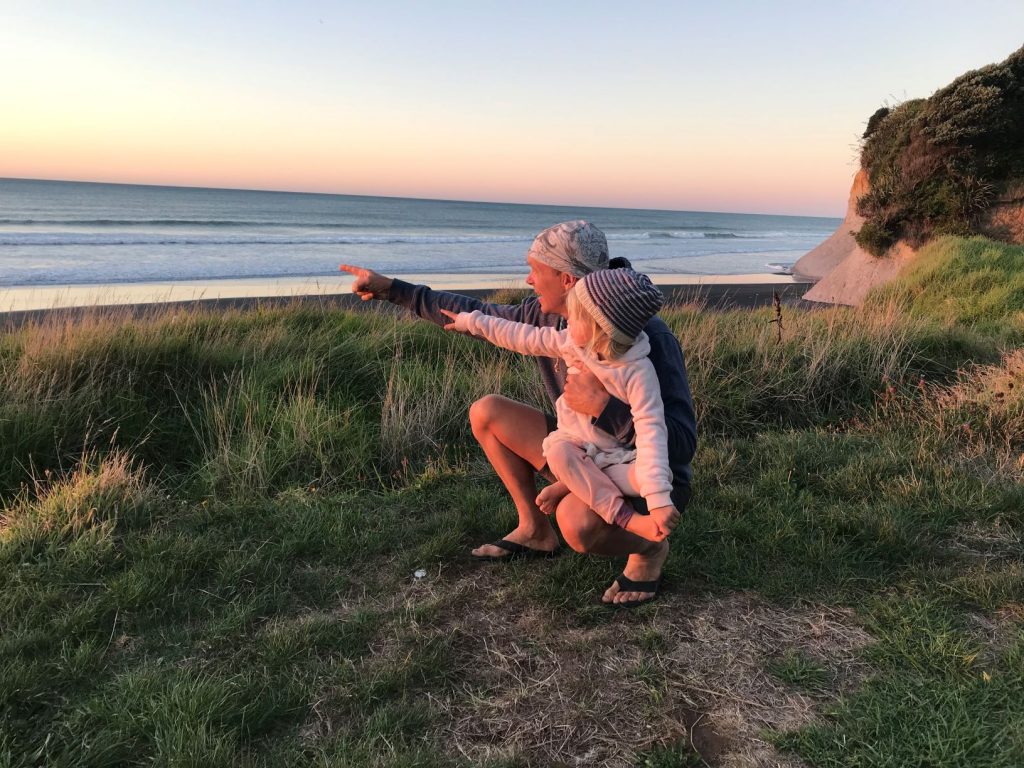 We found the most amazing spot to put up our tent along the West coast; Waitoetoe freecamping site. We had the place – and the whole beach – all to ourselves. Aaaah, beautiful!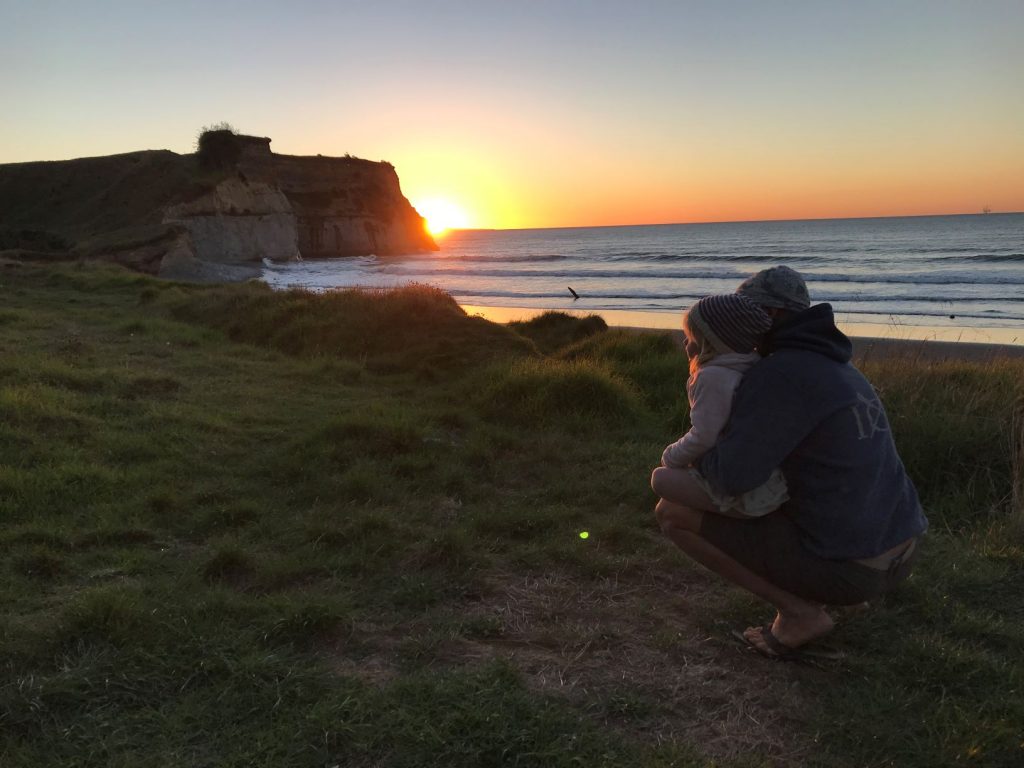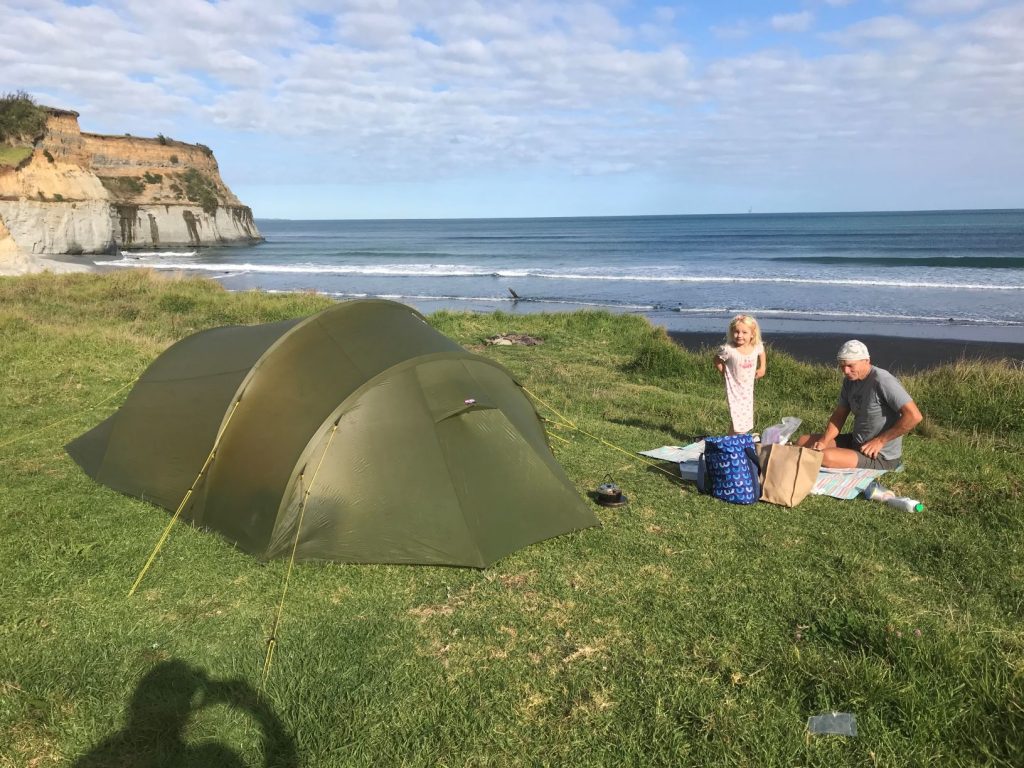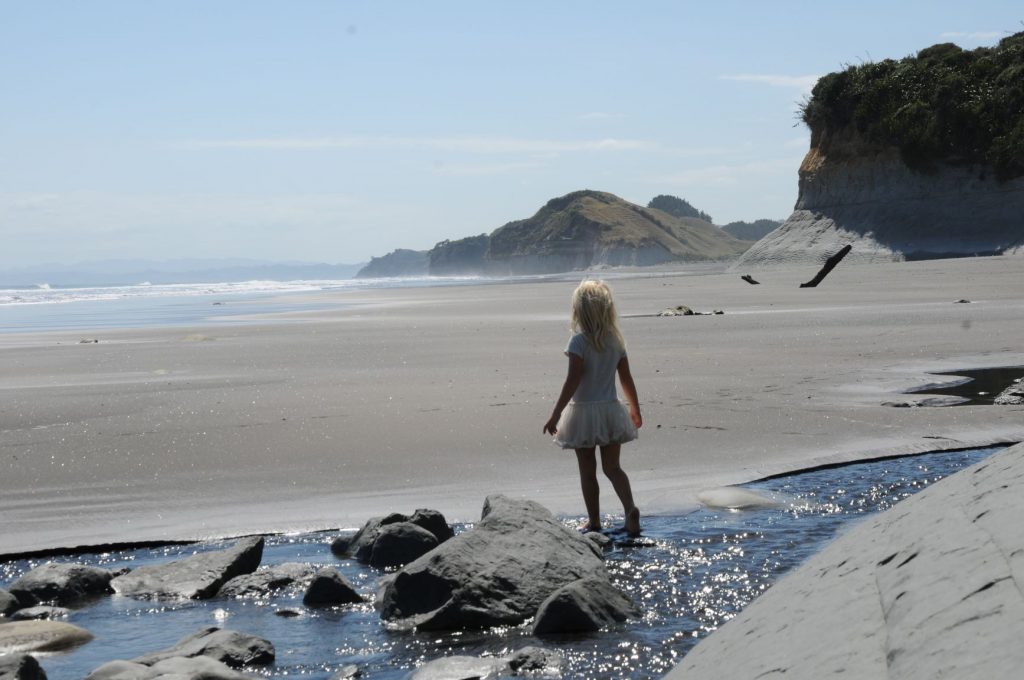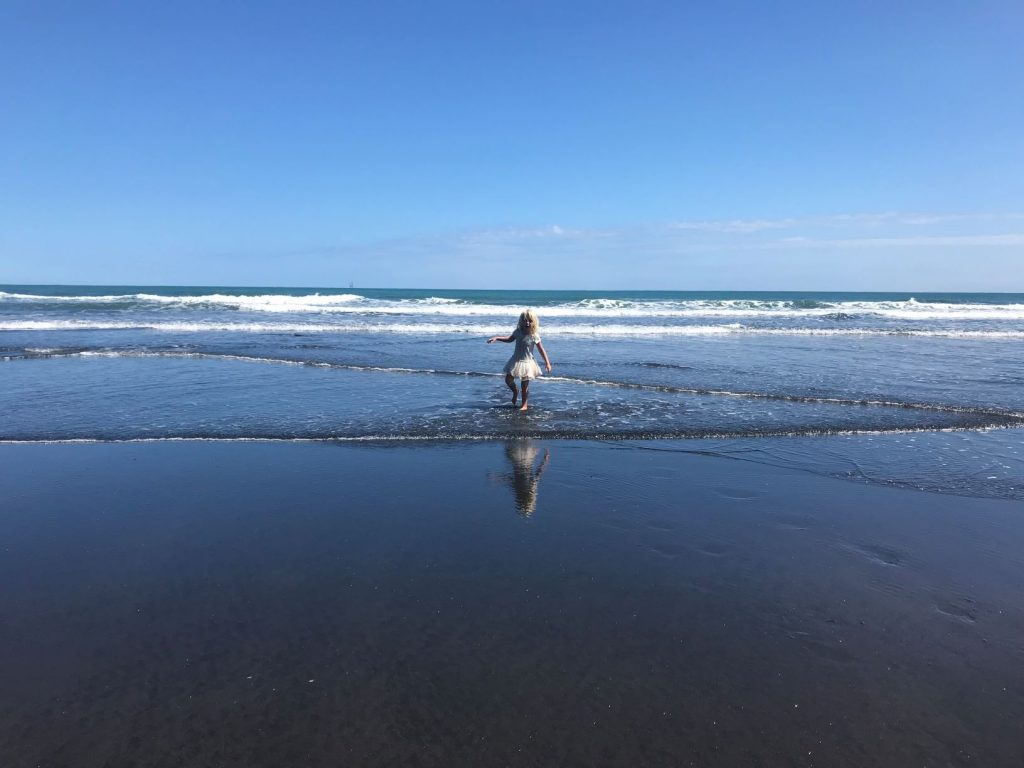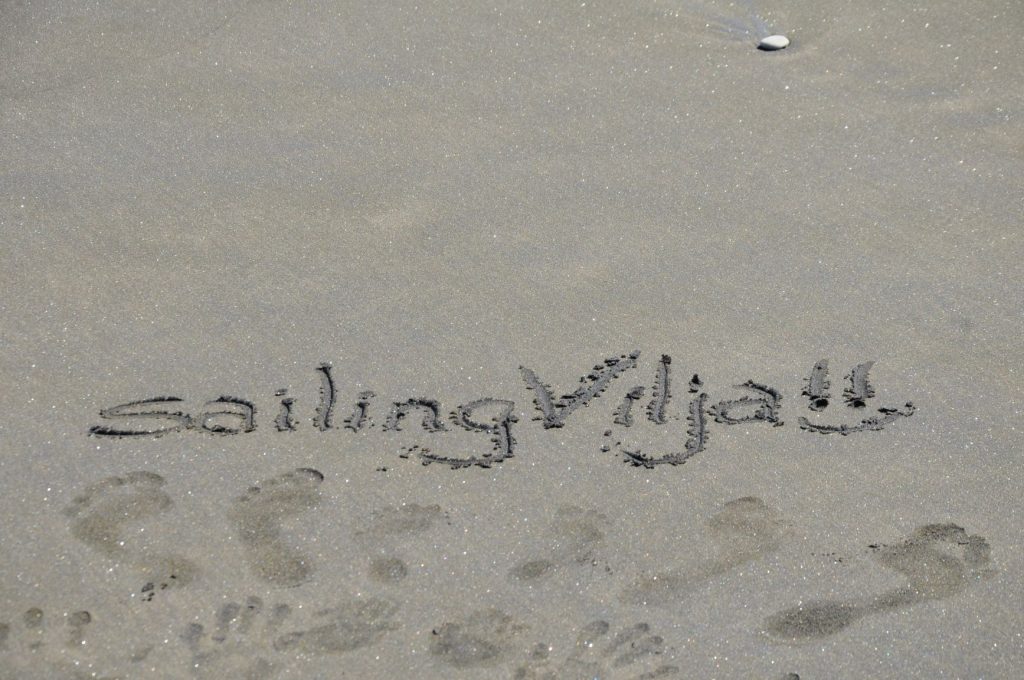 A quick stop in New Plymouth
We only stopped for a few hours in New Plymouth, since we decided to rather enjoy the beautiful weather by going tramping in the Mt. Taranaki National Park. We spent some time in the Puke Ariki Centre Museum and then had a look and walk across the Te Rewa Rewa bridge.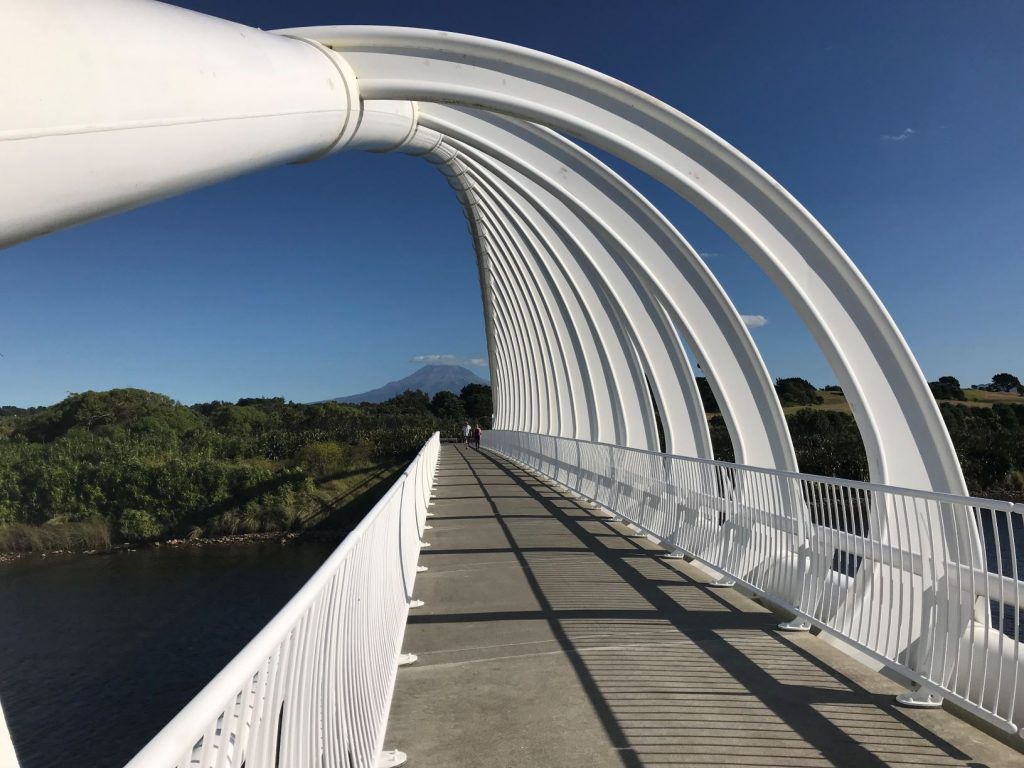 An evening walk, sleepover and morning bush walk in the Mt. Taranaki (Mt. Egmont) Natural Park.
New Zealanders love the natural beauty of their country, and we feel at home in the way they "live and use it". By that we mean that as Norwegians we enjoy sharing the culture with the Kiwis (New Zealanders) of enjoying the outdoors; whether it be camping, tramping or other.
We're hoping to go tramping in the mountains and stay at several of the DOC huts of Aotearoa. Our first one was Mt. Taranaki (2,518 metres) and the Maketawa Hut.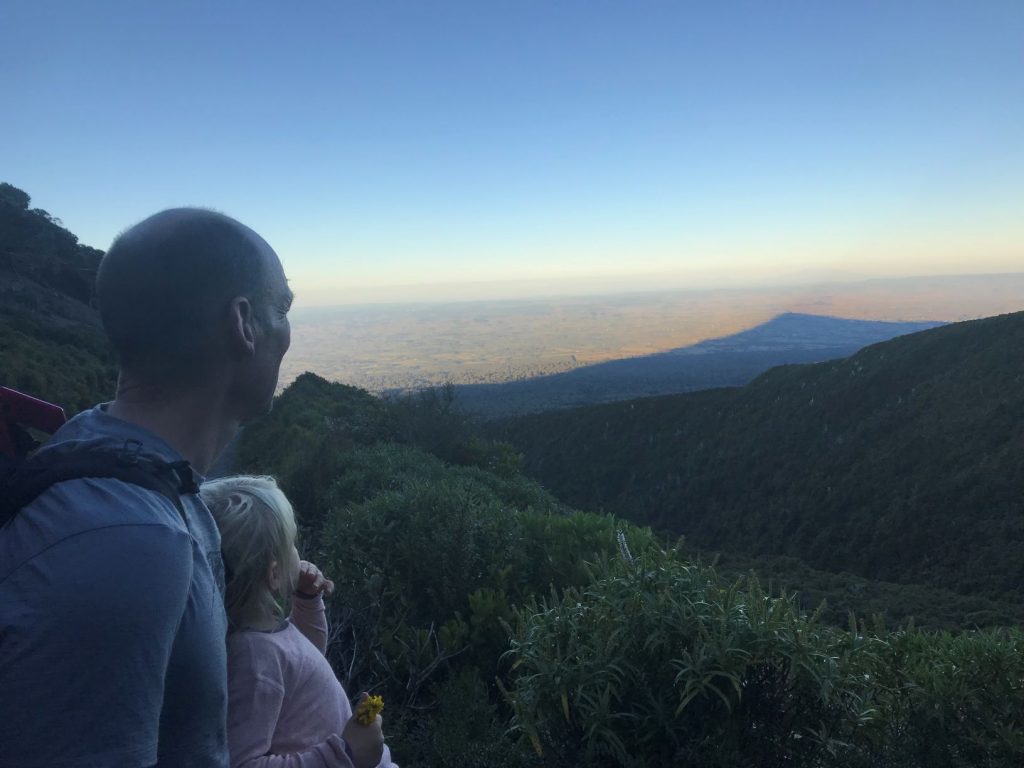 We walked a 4 km loop at the foot of the volcano with only a few hundred metres of ascent and descent. An excellent first-time experience in how the DOC tracks and huts are laid out. We had a great time. And as expected, but all the more enjoyable to experience; the stand-alone volcanic cone of Mt Taranaki is stunning!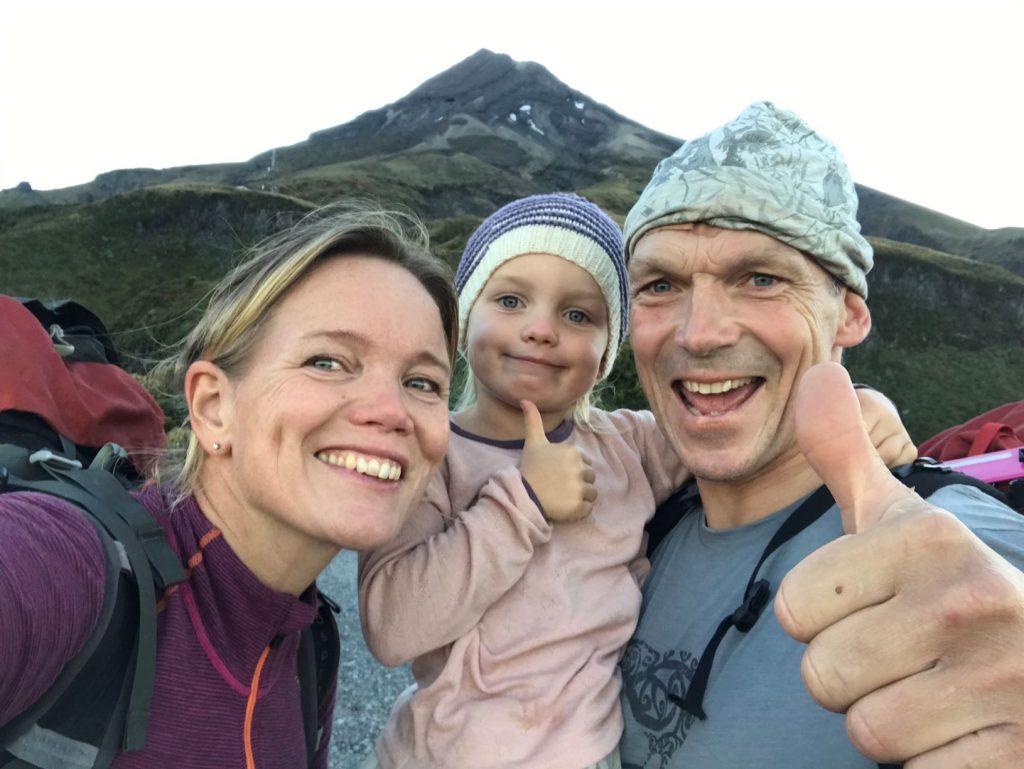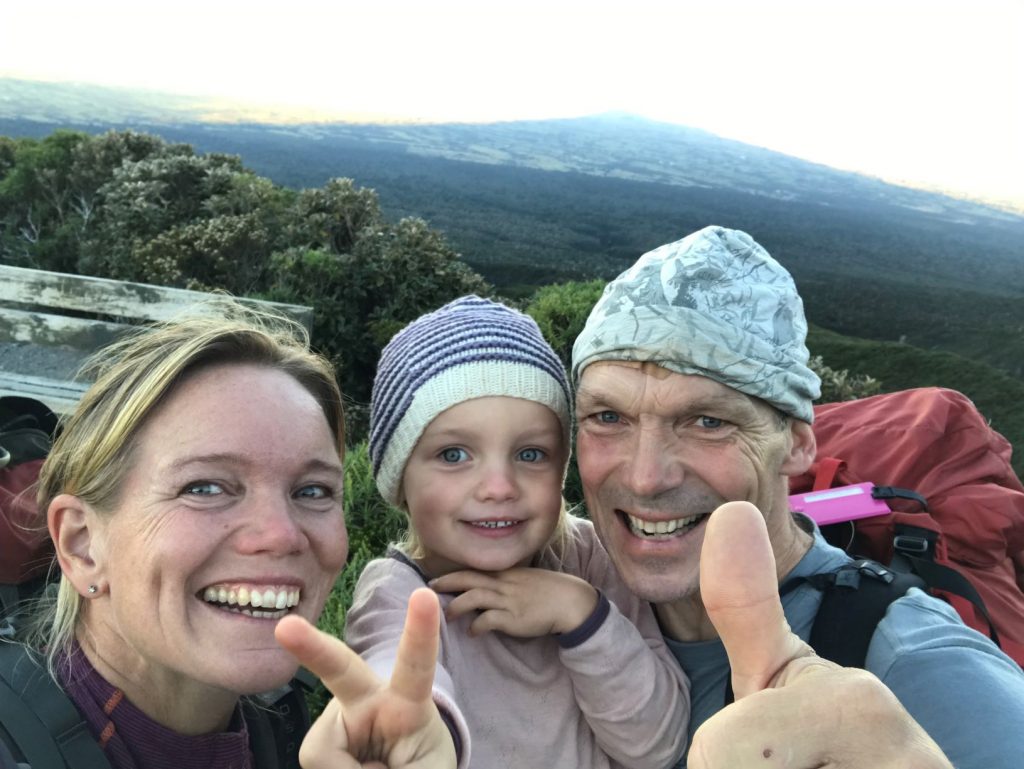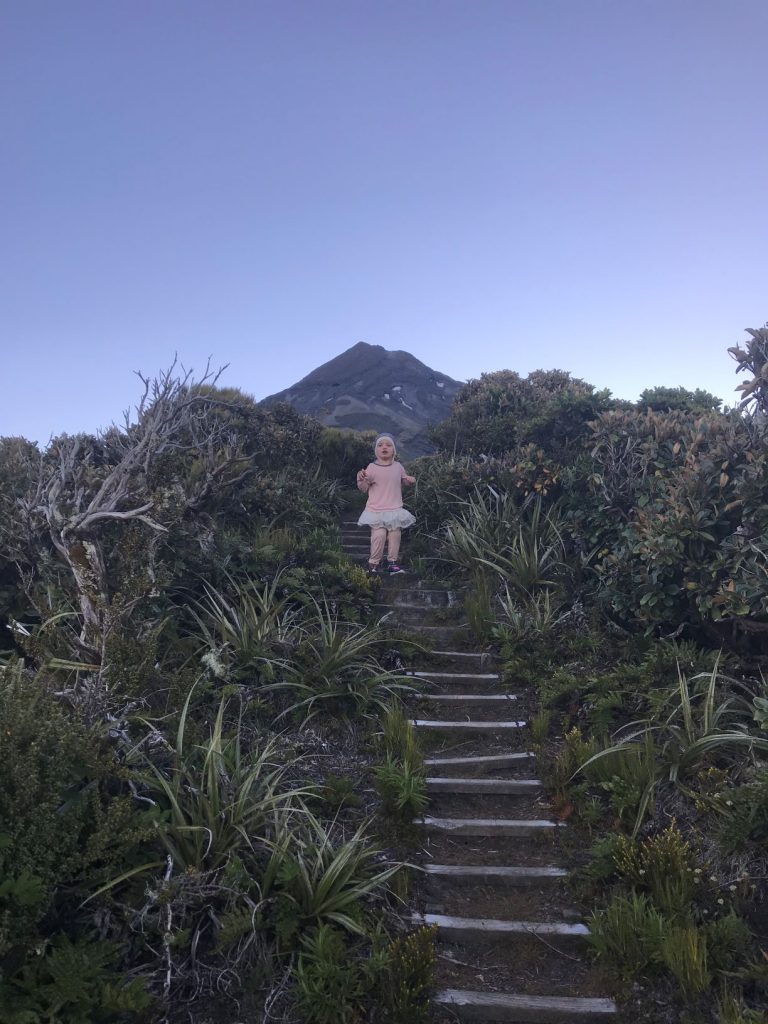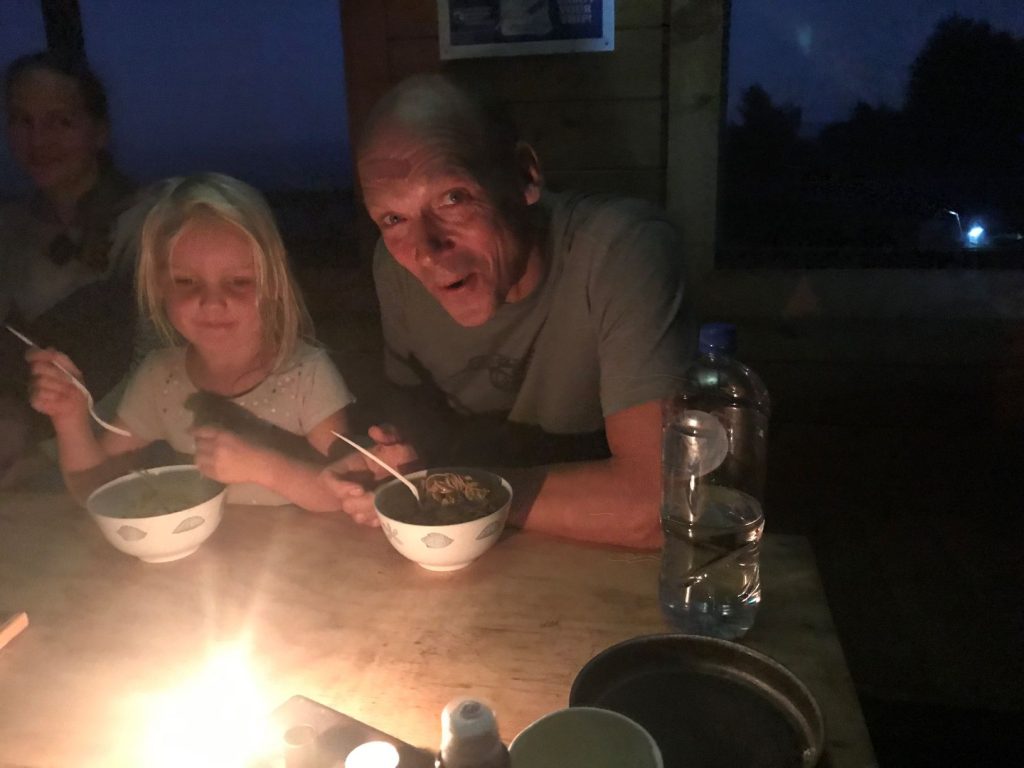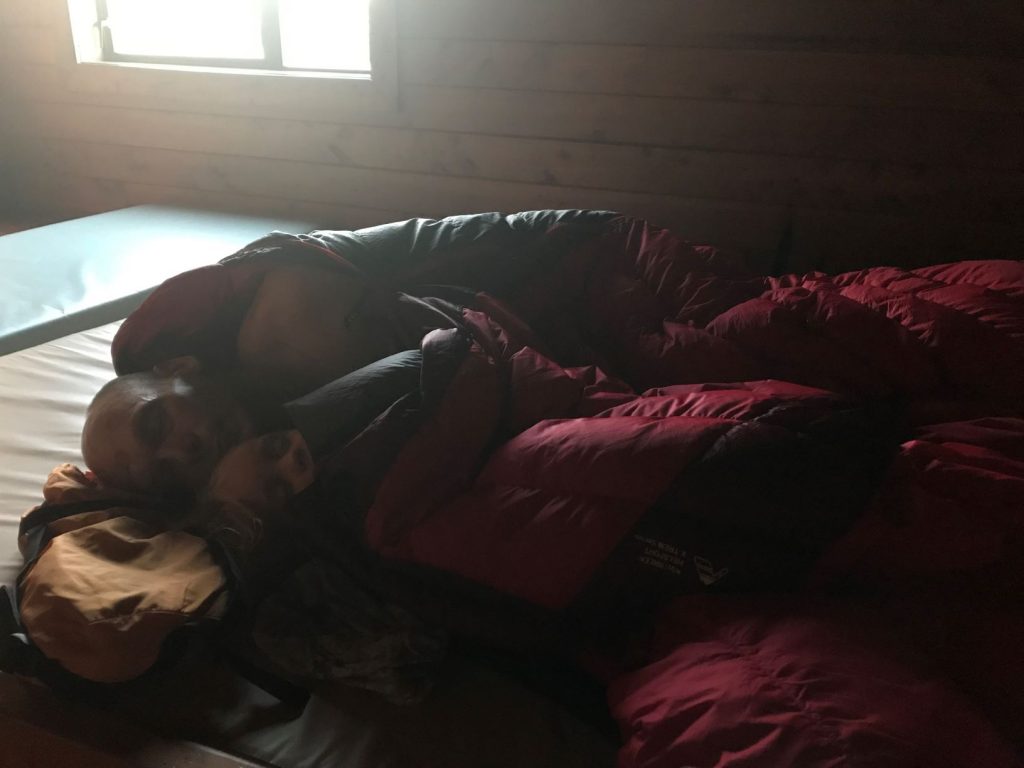 After a late breakfast we tramped the return 2 km track through the bush back to the Mt. Egmont Visitor's Centre. We sure do look forward to experiencing more mountains and tramping in the South!
But first there are some more adventures on the North Island await…
___________________________________________________________
February 27th, 2019: Does size matter? Visiting the shortest (in Hobbiton) & the tallest (Wairere Falls) of the North Island. (Road trip New Zealand – Part 3)
"Famous last words" as we pushed the "Buy" button to confirm the NZD 168 (NOK 1000) purchase of tickets for a 2 hour tour of Hobbiton: "This one's for the boys", meaning that our four son's would probably strongly question our priorities if we didn't visit the Hobbit's homestead while we were in their neighborhood.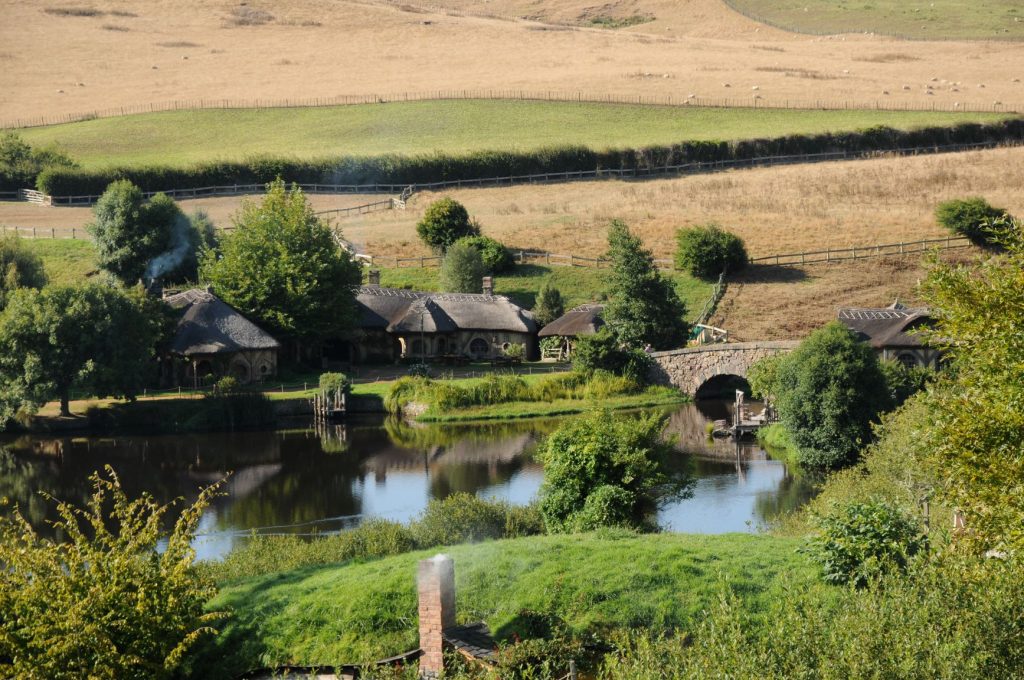 It took us 5 minutes into the tour and a mere glimpse of the double-arched bridge crossing over to the Hobbiton mill and the Green Dragon Inn, and we were all emotional and shear enthusiasm. Karen Marie was questioning what in the World was going on?! Well, so much for thinking that our interest in J.R.R. Tolkien's books and movies was primarily part of parenting…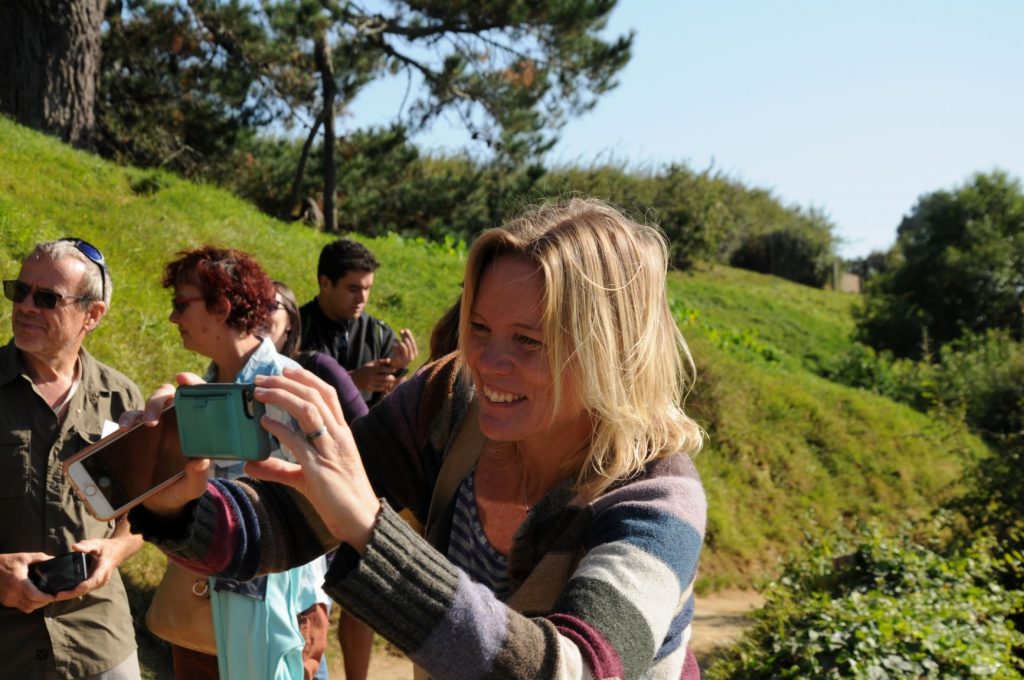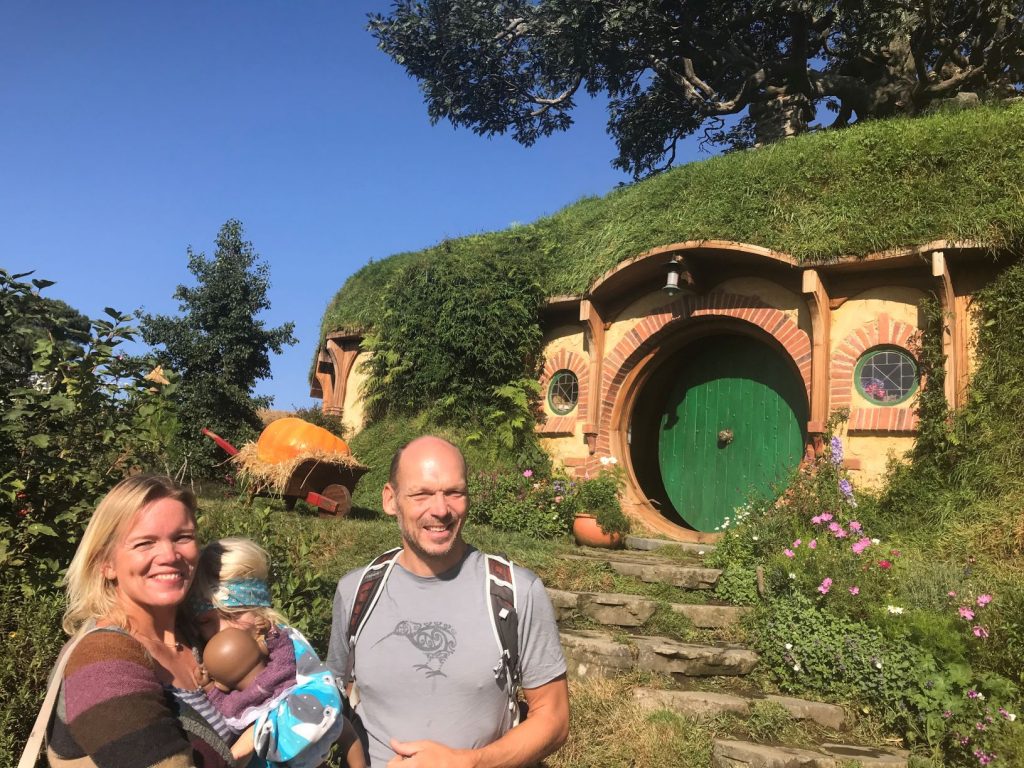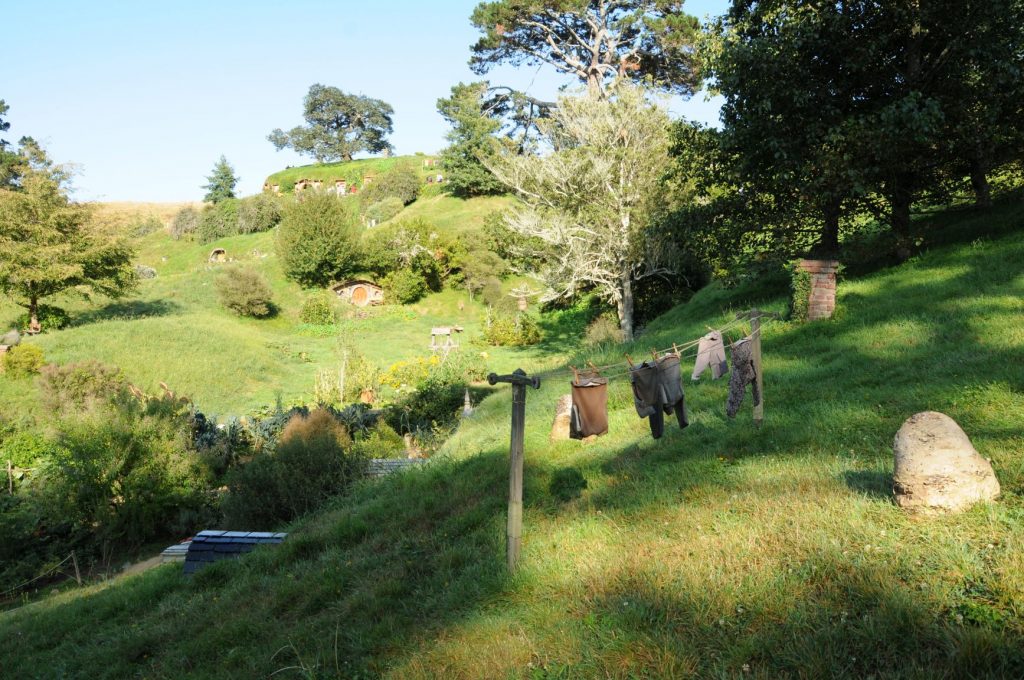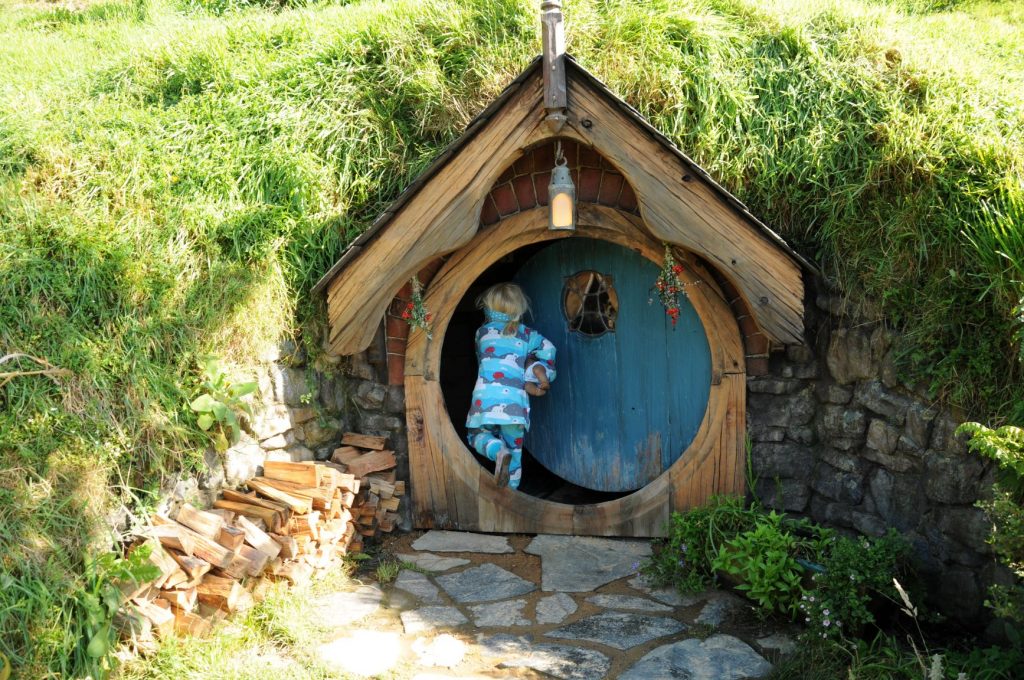 The tour consists of a 10 minute drive by bus to the location, a bit more than an hour guided walk among the many hobbit holes of the Shire, a 20 minute stop at the Green Dragon Inn for a refreshing pint, and finally the bus drive back to the starting point at The Shire's Rest. Thanks to limiting the number of visitors per tour and distributing them evenly throughout the day, the Shire never seemed TOO crowded by Men (e.g. humankind).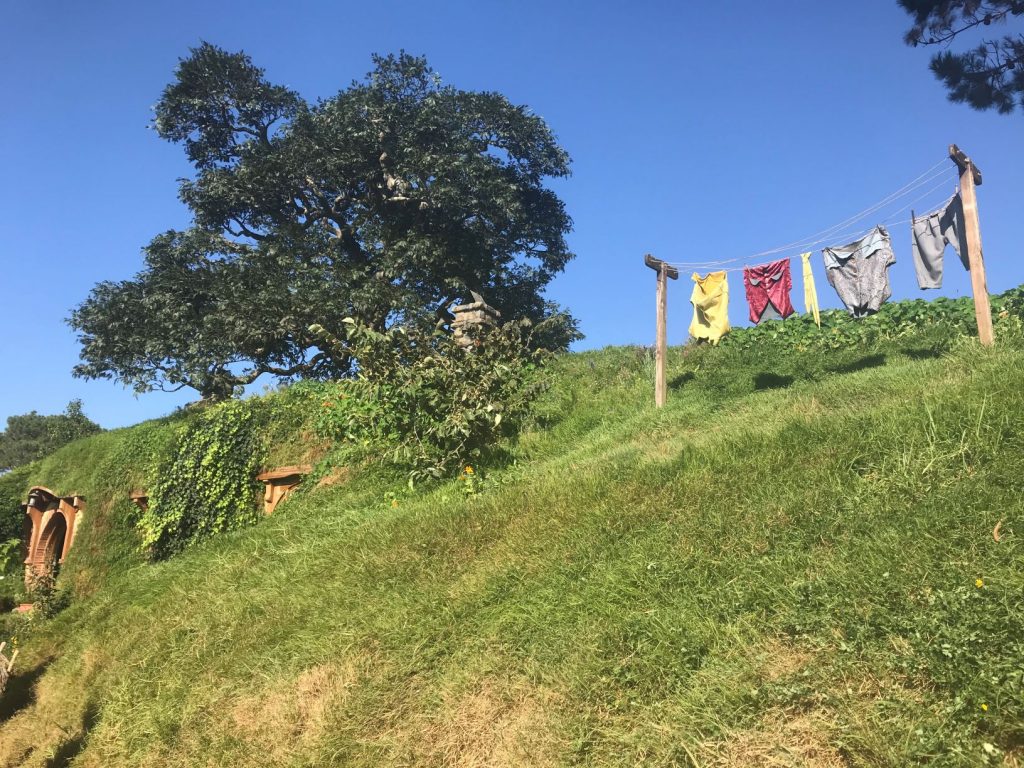 They say the devil's in the details. Well, the impressive level of details put into the making of the Shire certainly seduced us; the clothes hanging from the lines, the woodwork of the houses, the individually decorated mailboxes, the different tools and equipment, the individual gardens and flowerbeds, food and artifacts outside each hobbit hole. We truly enjoyed it!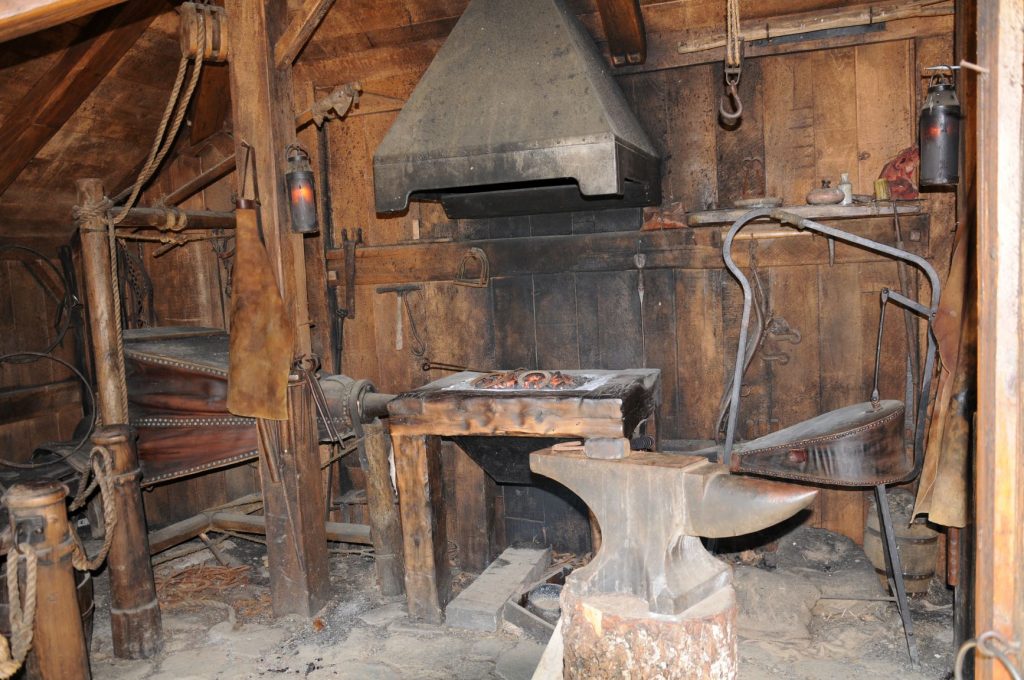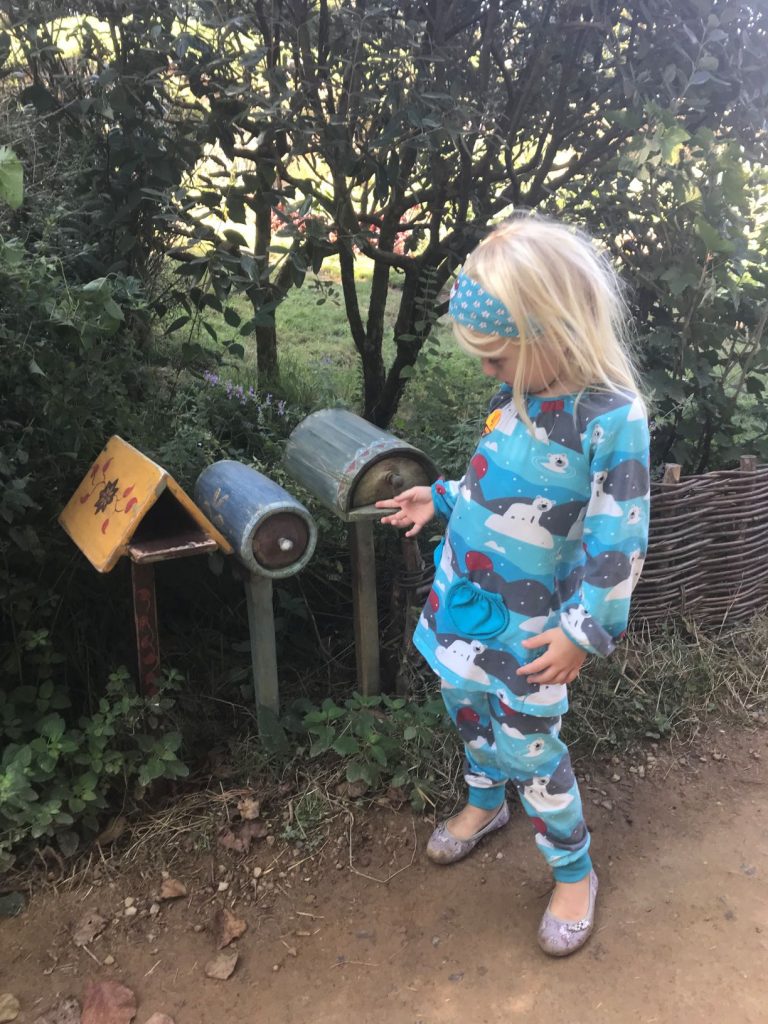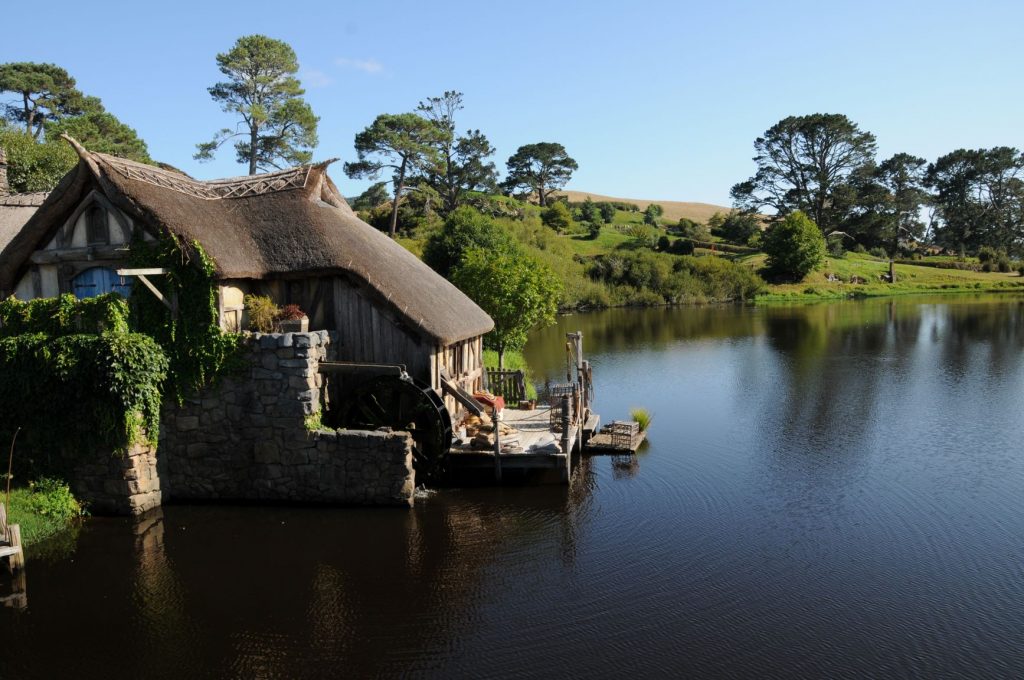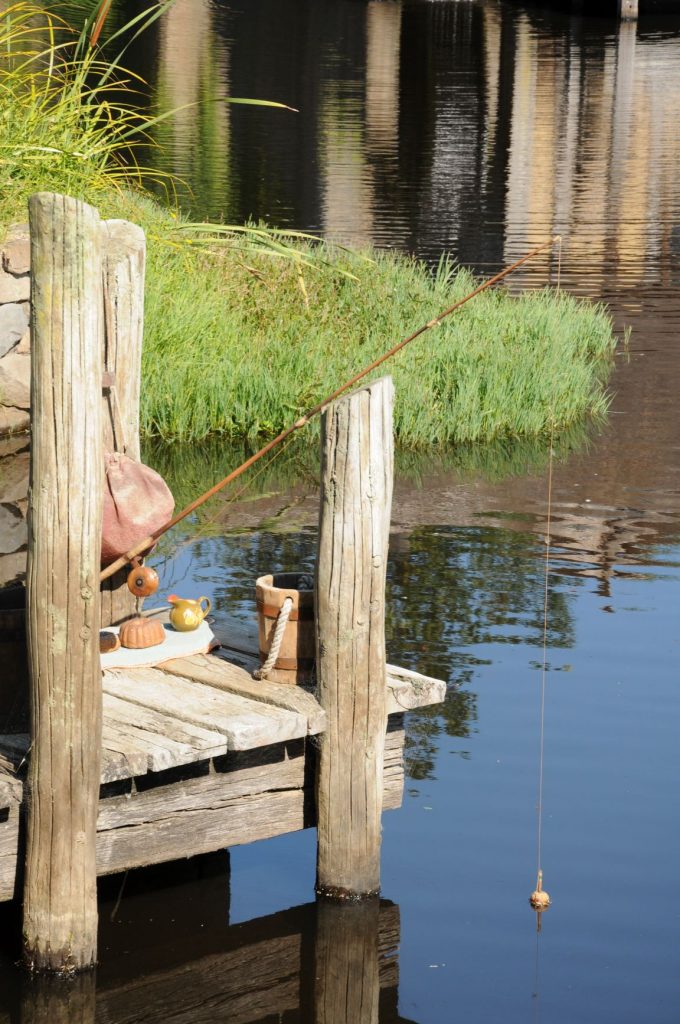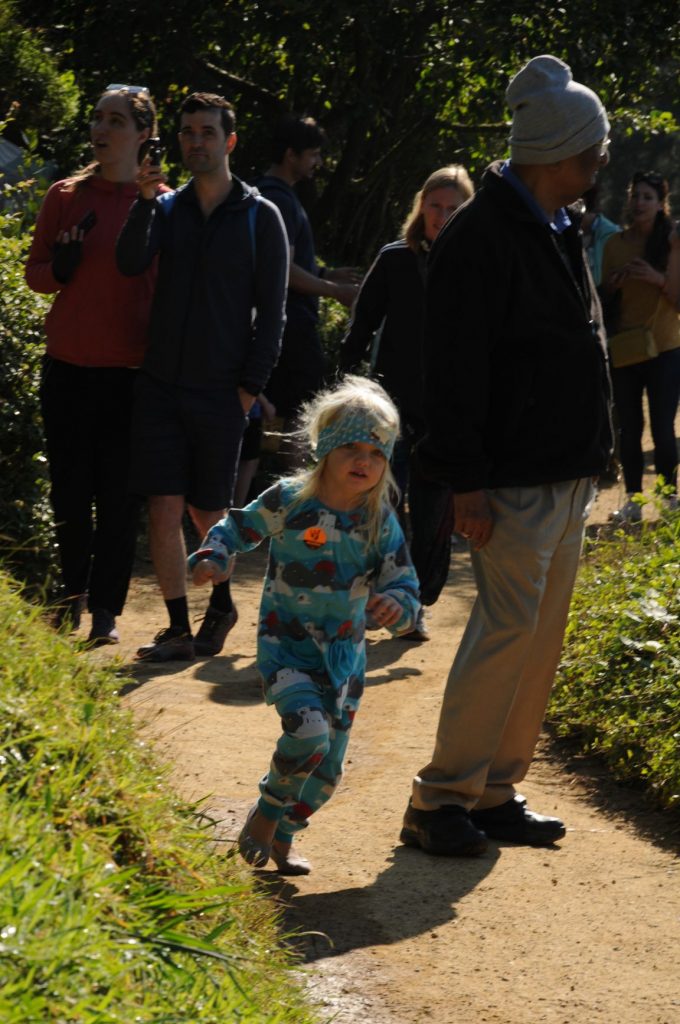 Of course we had to pick up an illustrated version of "The Hobbit" at the gift shop before we left. It's proven perfect for reading aloud on our drive since then. Too bad the film is rated PG16. I guess we'll have to wait with that one for a wee bit…
Walking the Wairere Falls Track
In the afternoon we went for a walk (5 km return) along the Wairere Falls Track to the lookout platform with a view from the base of the falls. We've many times been impressed by how well made and maintained the DOC (NZ's Department of Conservation) tracks are, this one being no exception; bridges assist with river crossings and several sets of steps lead to the top of the gorge.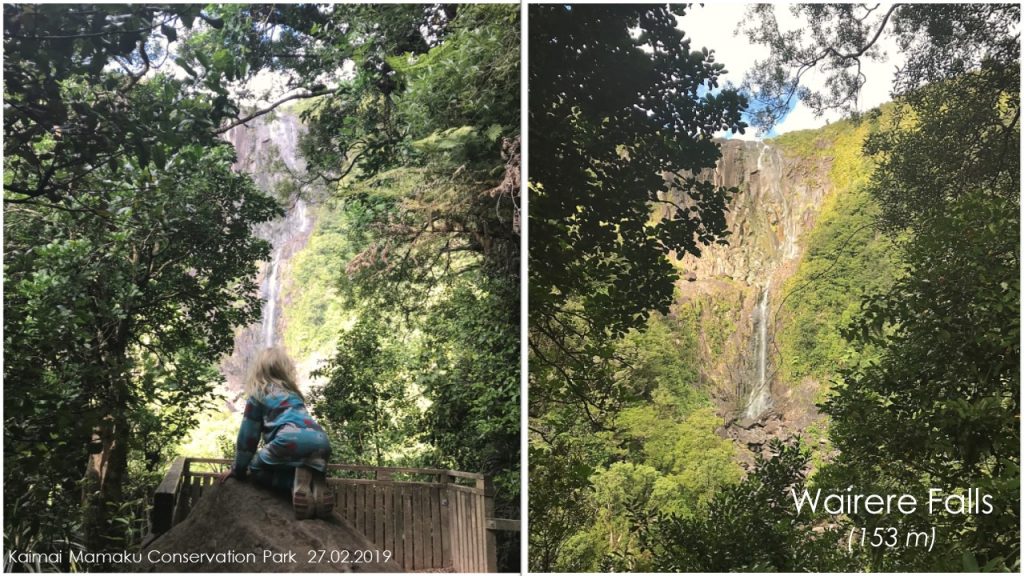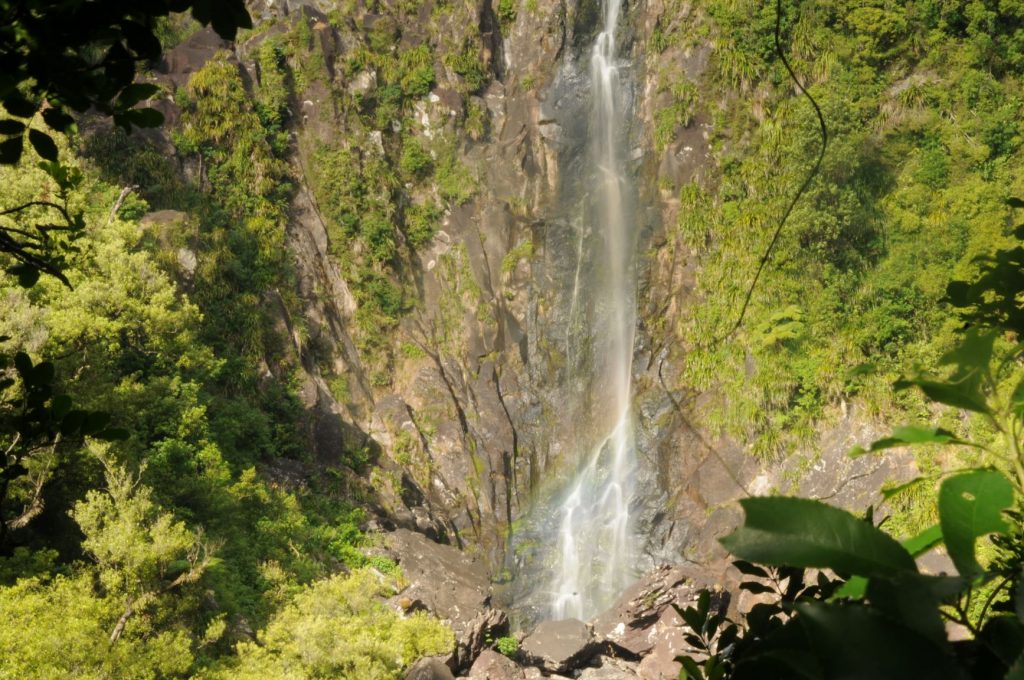 The walk proved to be a perfect way to spend the afternoon, not to mention finally use our bodies a bit after many days of lazy living.
Does size matter?
So to sum up the day and answer the initial question; Does size matter? Following today's experience the answer is no. Or if anything; the "littleness" of Hobbiton won our hearts today.
Camping life
Brocks Place turned out to be a nice place to camp. 24 NZD per night, the location (only 2 km from Hobbiton), ok facilities and a stunning view of the hills and valley of Matamata made it a good deal.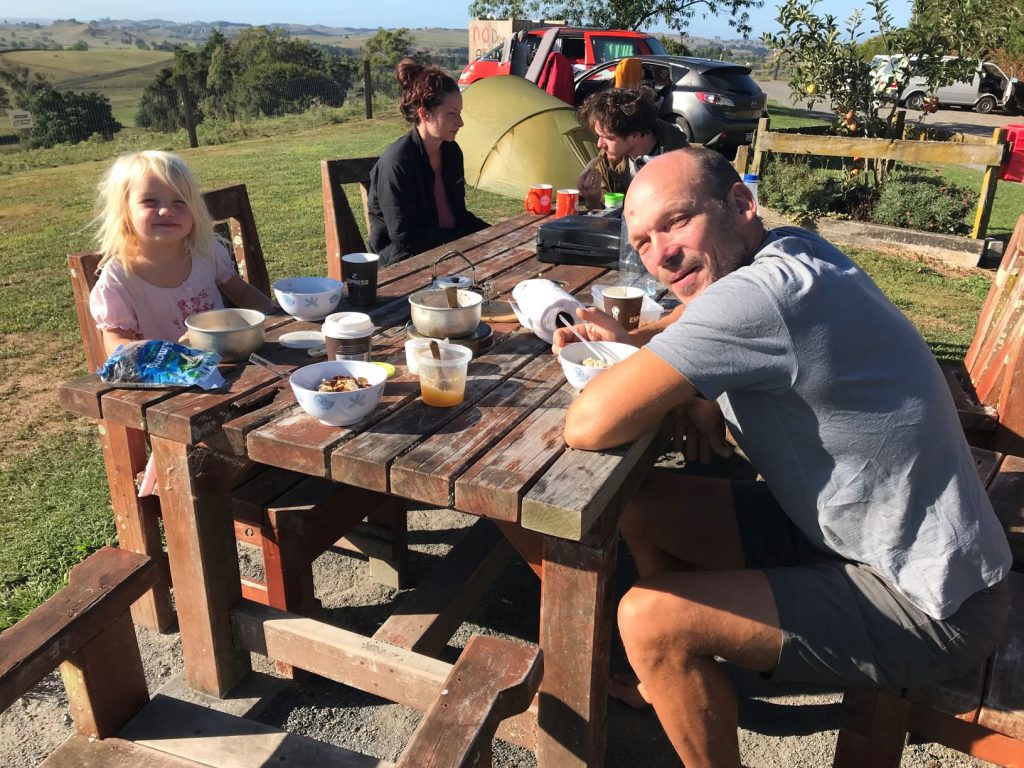 Where are we going next? Well that remains to see. We'll have to stop the car before the intersection below the farm and make up our minds. There are so many tempting options and opportunities…
__________________________________________
February 25th-26th, 2019: Personal delivery of mail from Galapagos to an Auckland home. A visit to the maori Kingitanga's "marae". A closer look at National Geographic's 50 most awesome photographs. (Road trip New Zealand – Part 2 – Auckland to Matamata)
So we're off! First stop was a very special delivery of mail to an address in Massey, Auckland. We visited Floreana Island in Galapagos on July 2nd, 2018. Following the tradition of the island's postal system (see fact sheet below), we picked up a postcard there that was addressed to a certain Sam & Mike in Auckland. 'Cos hey, we were heading for New Zealand, though by sailboat…
Now – nearly 8 months and more than 6000 nautical miles later, we were finally in Auckland, ready to deliver the card in person.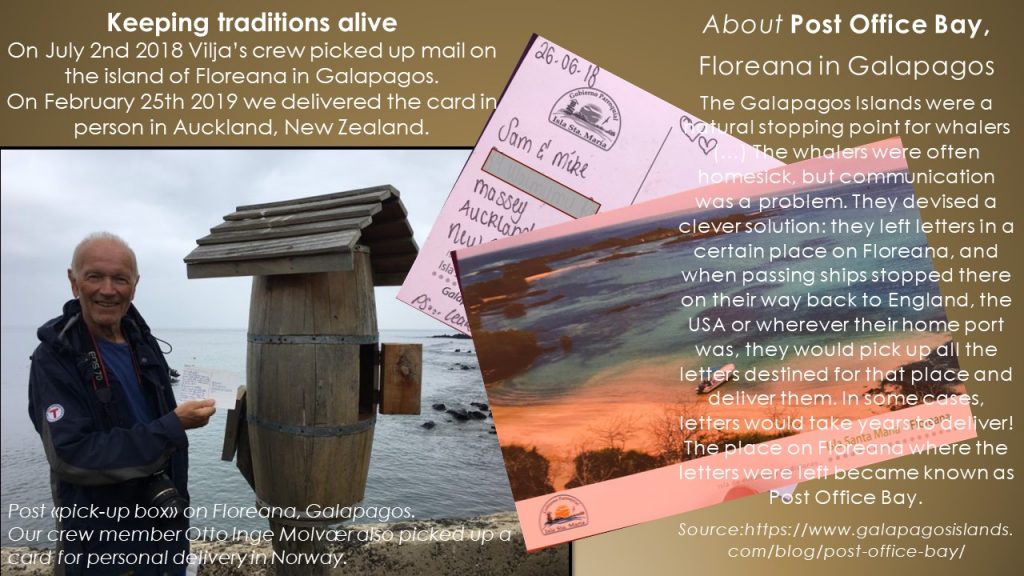 So there was nobody home. A bit of a bummer… Oh well, we'll try stopping by on the way back North. We left the postcard in their mailbox, though, so: Mission accomplished!
Camping in New Zealand – lesson 1
 We left Auckland in late afternoon, so our aim for the evening was to get out of town and find a place to put up our tent before dark.
The first thing we had to figure out though were the rules for tenting in New Zealand. In Norway you're allowed to put up a tent pretty much anywhere, at least if you're "in the wild". Here it's prohibited to tent outside designated camping grounds with toilet facilities. Considering the large amount of tourists –many of them backpackers – that travel around in New Zealand, it's an understandable rule. So we've downloadad some excellent Apps; "CamperMate" and "Rankers Camping NZ", which have so far proven to be excellent tools in helping us find camping areas.
CamperMate showed the way to freedom camping at Te Kauwhata Domain. Simple, but good. We enjoyed the simplicity of tenting life again. Favourite moments; snuggling up with Karen Marie in the sleeping bag before ready for a night's rest. And the sound and scent of brewing coffee in the early morning hours on the gas cooker. Mmmmm….
A visit to the Maori Kingitanga's «Turangawaewae Marea»
I'm totally encaptured by the history of the very special woman Te Puea Herangi; her person, life, and work for the maori rights, as written in her biography written by Michael King. (See fact sheet below.) She initiated the establishment of a marae (a communal or sacred place that serves religious and social purposes according to Maori culture and traditions) at Turangawaewae in the Waikato district.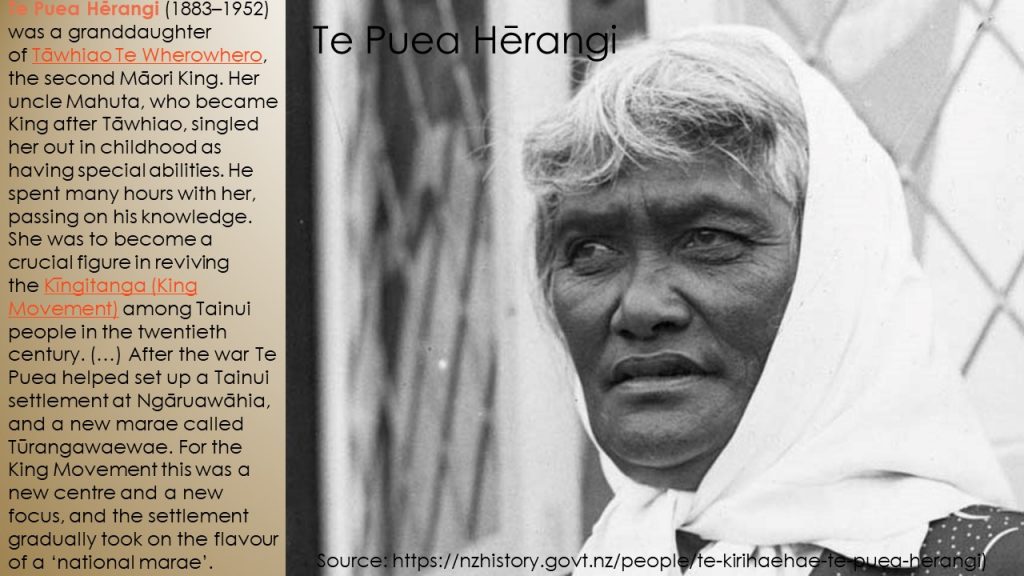 We were driving very near this location. The marae is not open to tourists. Ingrid's wish was to simply stop and see if there was anything to be seen? And there was! We met a friendly woman named Vinny Kingi who works with administration at the marae. She let us in and told us more of the history and use of the marae and the story of Te Puea and the Kingitanga.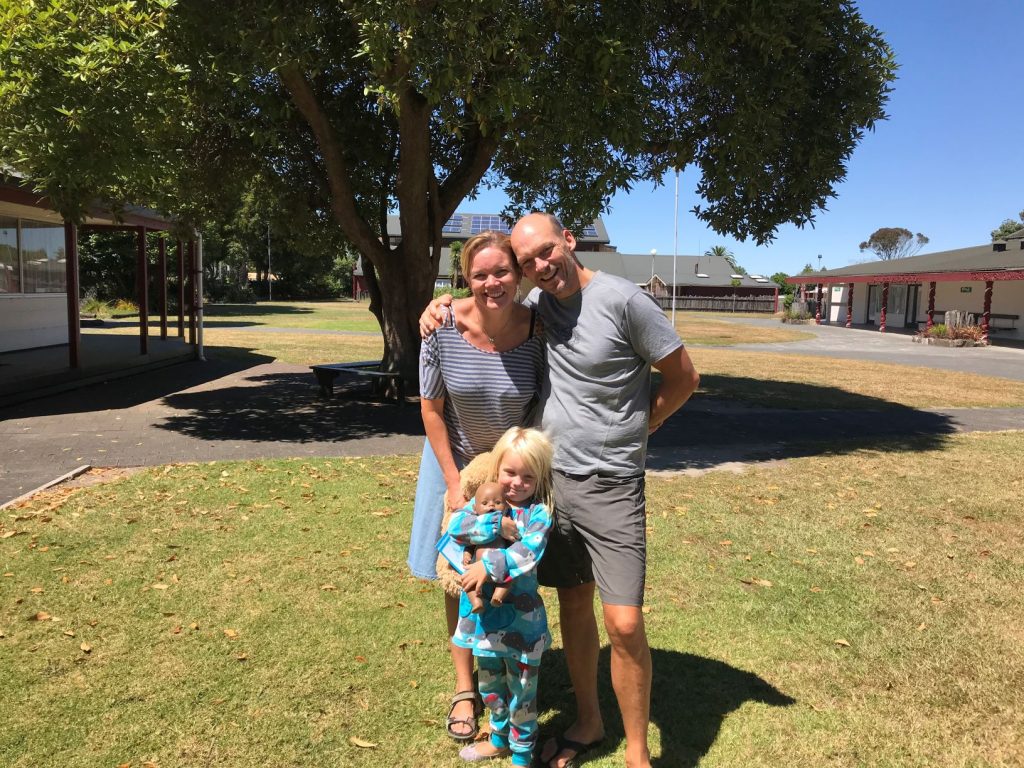 Ingrid was so happy to see the marae and be at the actual place of events that are described in the book "Te Peua" by Michael King. The history of Aotearoa/ New Zealand and its people continues to interest and fascinate us. Thank you, Vinny, for letting us in to the marae and taking the time to show us around and tell us some of the many stories. It was truly interesting and meant a lot to us.
Fantastic photos, learning and fun at the Waikato Museum
Next stop was the Waikato Museum. An excellent museum, with a diversity of things to see & learn.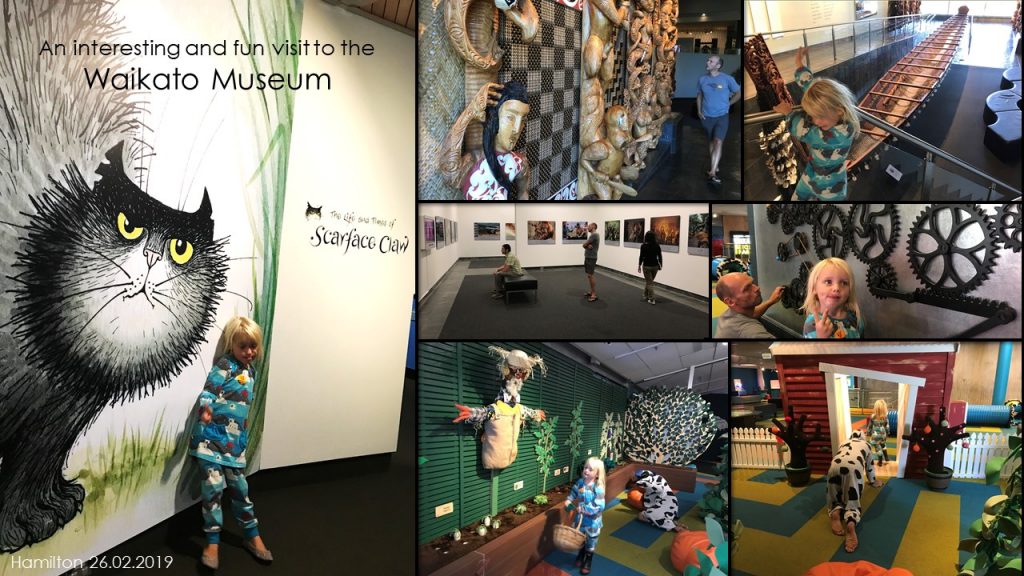 Tenting with a view of the landscape of the hobbits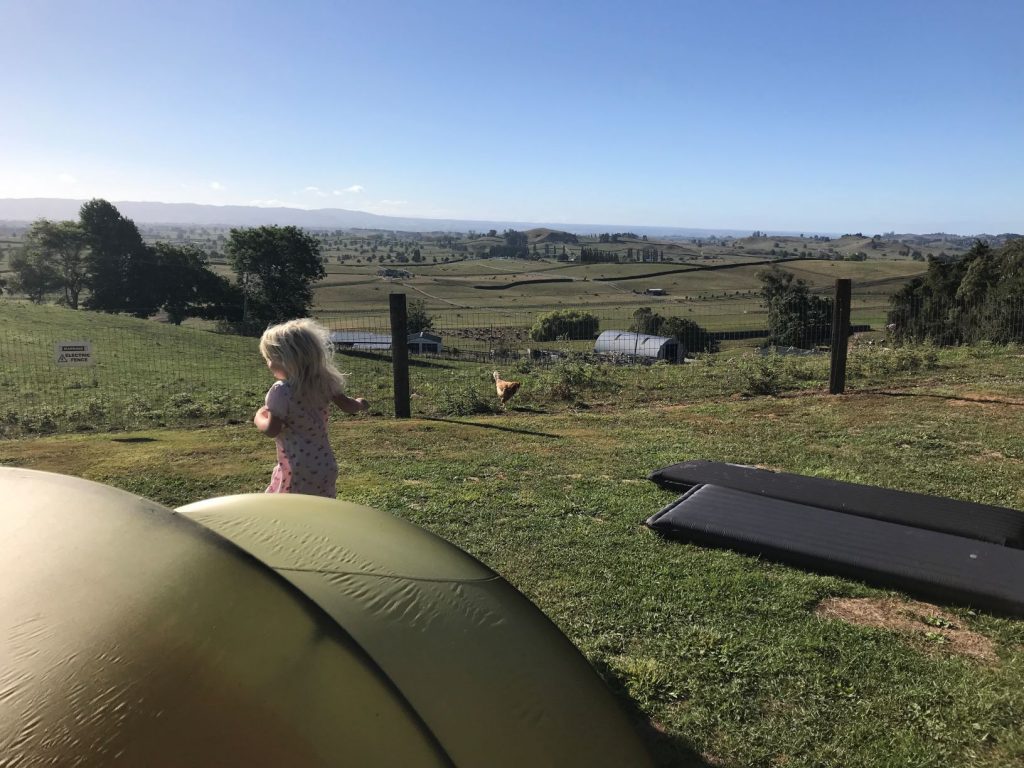 ____________________________________________________________
February 21st-25th, 2019:  First stop Auckland. Our roadtrip begins! (Roadtrip New Zealand – Part 1)
The Sailingvilja crew has hit the road! We've started out on a roadtrip by car, aiming to explore the North and South Island, and maybe even the southernmost Stewart Island, if we get that far? Meanwhile Vilja is safely on a mooring in Opua having a well-deserved time-out from her SailingVilja family.
First; here are some facts & numbers of the country itself; New Zealand, or Aotearoa which is its name in Maori. We include the equivalent facts about Norway, just to put it in "our perspective".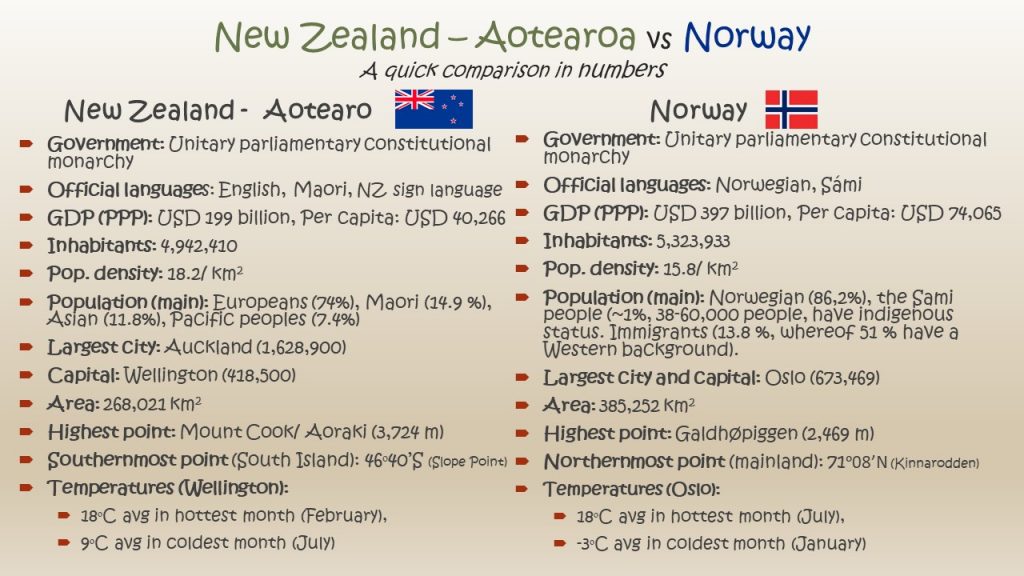 So as you can see, there are obvious similarities, but also some obvious differences. From our Norwegian perspective being in New Zealand sometimes gives us a feeling of being home, e.g. the informal "down to earth" way of being, the convenience of "Western standard", the culture of being outdoors tramping in the forest or mountains and doing outdoor activities, etc. Other times this country feels truly exotic, like the "odd" trees and huge ferns that grow in the forests, the wildlife with unfamiliar bird sounds and the eternal sound of cicadas, the maori history and culture, the volcanic landscape and soil. We can't wait to explore this country further!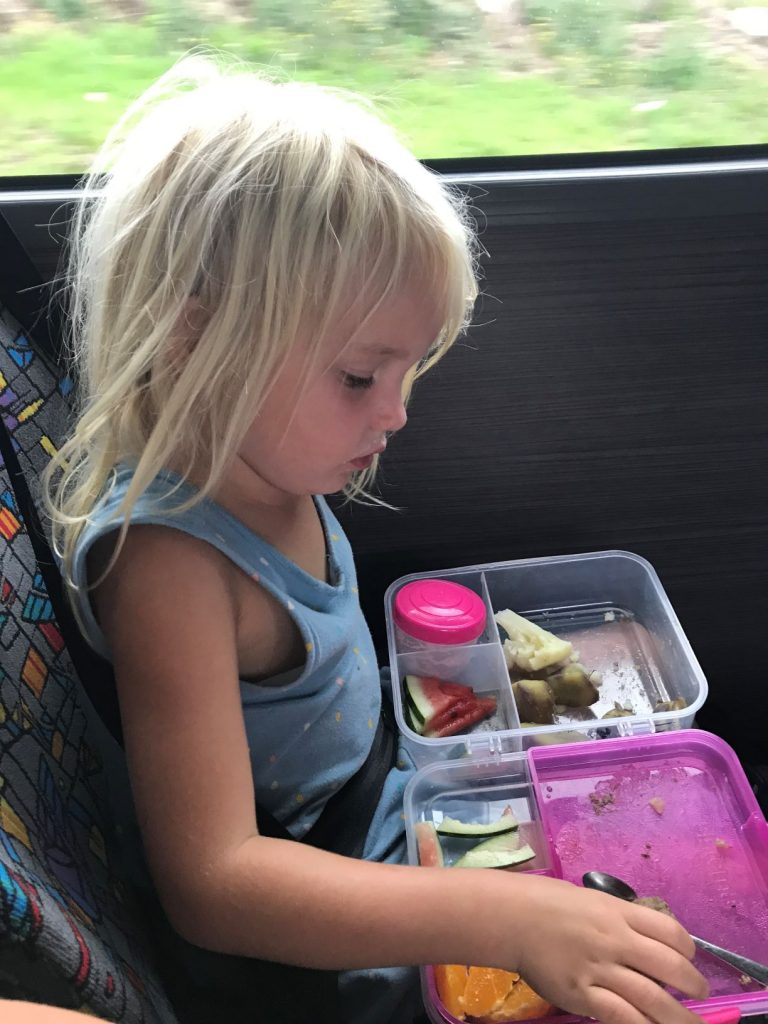 4 days of getting absolutely spoilt in Auckland
So what's in Auckland? Never mind the city; the single most important answer to us is: FRIENDS! We made friends with a family on the H-pier in the Bay of Islands Marina over Christmas and New Years; Pip, Russ & Dan. We shared some very interesting talks and real good laughs over the weeks we were "neighbors" there. 😊 Anyway, this family are not only nice people, they're incredibly generous. Of course we felt lucky when big chunks of fresh and smoked blue marlin came to our table thanks to our neighbors' fishing skills. And being invited to visit them in Auckland was something we looked forward to. The way they made us feel like we were at home when we arrived – even though they themselves were away on business – is not something "normal"; it's special, and we know it. Not to mention – and this says it all really – they gave us the INCREDIBLY generous gift to lend us their car for our whole roadtrip!!!
So this is where we were heading now; to Auckland to pick up our very nice Mazda 3. And at the same time meet Dan (19) and Russ' Uncle Rob, who were at home in Auckland.
Uncle Rob (or Robert) picked us up at the bus stop, and we headed home.  We were happy to find that Robert is just as nice as the rest of the family we already knew. And an unexpected gift for us was his skills as a chef. We enjoyed gourmet dinners every single evening.  All we can say is Wow! and Thank you!
Friday 22/2: Fun & learning at the Kelly Tarlton's Aquarium
We arrived on a Thursday. On Friday Dan and Robert took us to the Kelly Tarlton's Aquarium. Great fun & fascinating.
Saturday 23/2: Catching up with Meeghan, our mermaid friend from Aitutaki
On Saturday we met up with our mermaid friend from Aitutaki; Meeghan, who is home in Aoteroa to visit friends and family. SO nice to meet this warmhearted cool mermaid again, whom was one of the people who made our stay in Aitutaki so special. Meeghan was staying at a friend's house, which gave us the unexpected opportunity for Karen Marie to play with a little playmate and her dream barbie house.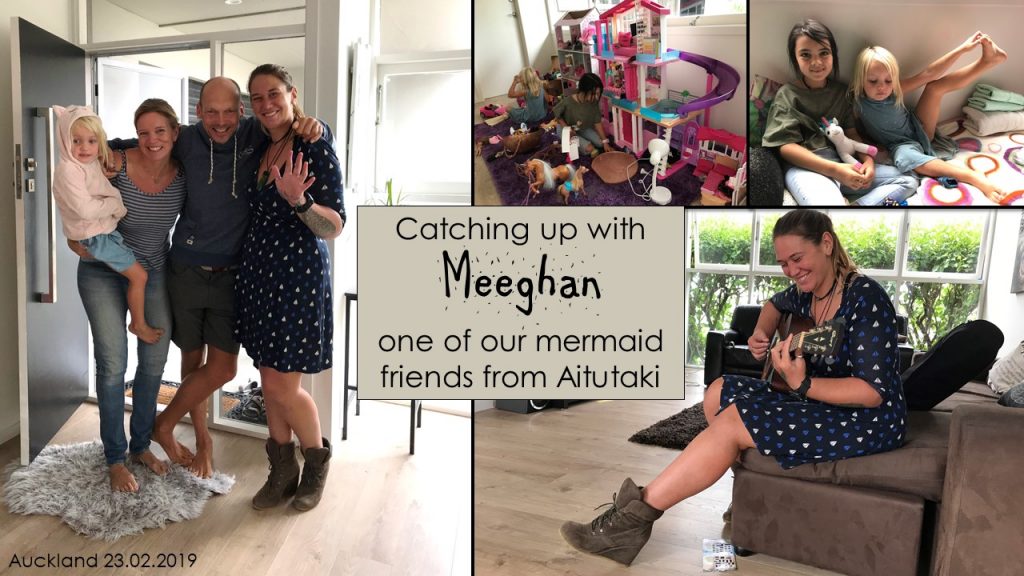 Now we're crossing our fingers that we'll see her again on Vilja for a sail and some diving before we leave New Zealand. By the way, Meeghan's heading back to Aitutaki in a while to work with a project on planting new corals to preserve the coral reefs. Interesting to hear about how they make the coral growth accelerate by using special techniques. We wish her good luck with that important job to save the coral reefs of Aitutaki.
Sunday Feb 24th: A visit to the Honorary Norwegian Consul of Auckland
On Sunday Feb 24th we met the Honorary Norwegian Consul for Auckland, Captain John Robinson, to apply for renewal of Karen Marie's passport. Seldom have we met a person who manages to combine in such an excellent way professionality and respect for the office he holds, with friendliness and helpfulness. Thanks to his solution-oriented approach, we found answers to a number of small and not-so-small issues regarding all three of the family's passports, e.g. Jon Petter's milk-soaked passport to mention one of them…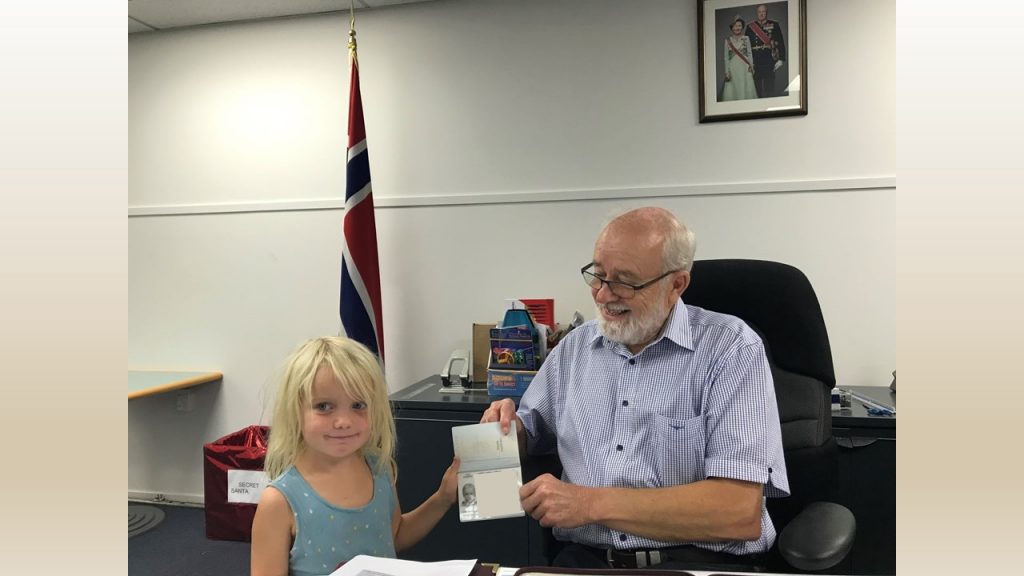 Monday Feb 25th: Off we go, heading South!
Monday arrived, and we were finally ready to start our roadtrip. We're leaving the comfort of Pip, Russ & Dan's lovely home and Uncle Robs delicious cooking. But we're also looking forward to the camping and tent life ahead of us, not to mention exploring the North and South Islands. And we already really like our very nice Mazda 3. No offence, Vilja! 😉
__________________________________________________
January 7th, 2019: Happy New Year 2019! Celebrating with new friends in Bay of Islands, New Zealand.
Happy New Year to our family and friends in Norway and around the World!
Our New Year's celebration was unplanned, and all the more full of unexpected and good events. We even made new friends. What a gift. It reminds us of how lucky and happy we are to be on this journey, and how reality is so much better than our imagination can comprehend!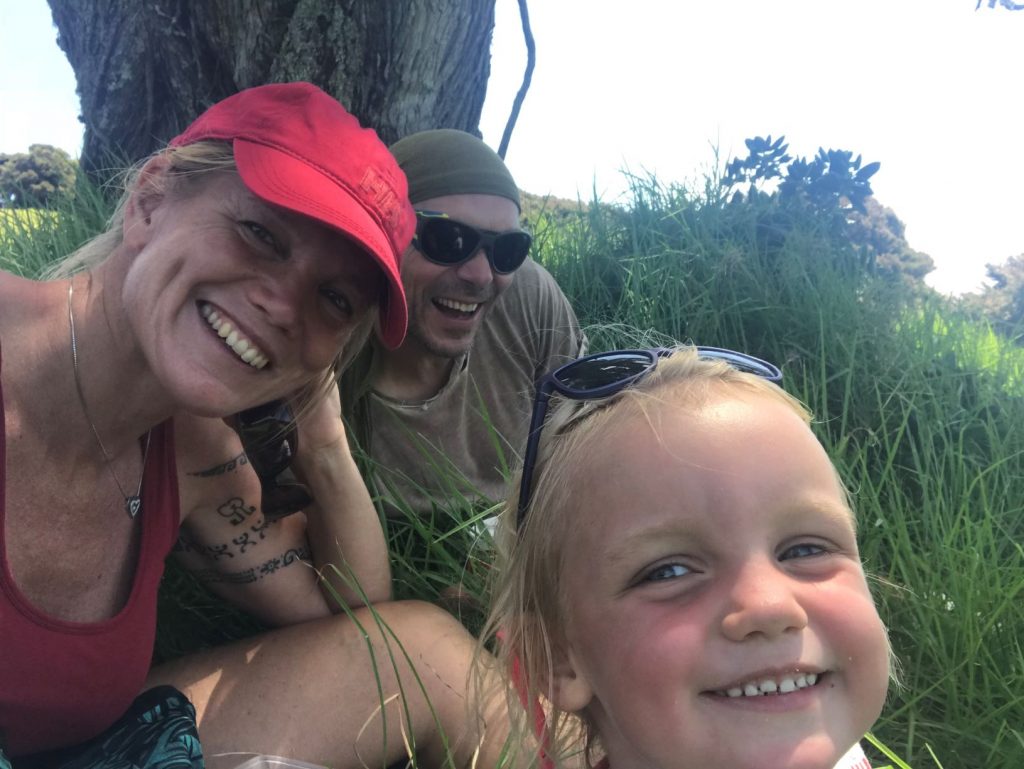 We are in the Bay of Islands, in the NE of New Zealand. Our only initial idea for New Years was to find a good spot to drop our anchor and look at the fireworks on land from the waterside.
So first we found the people…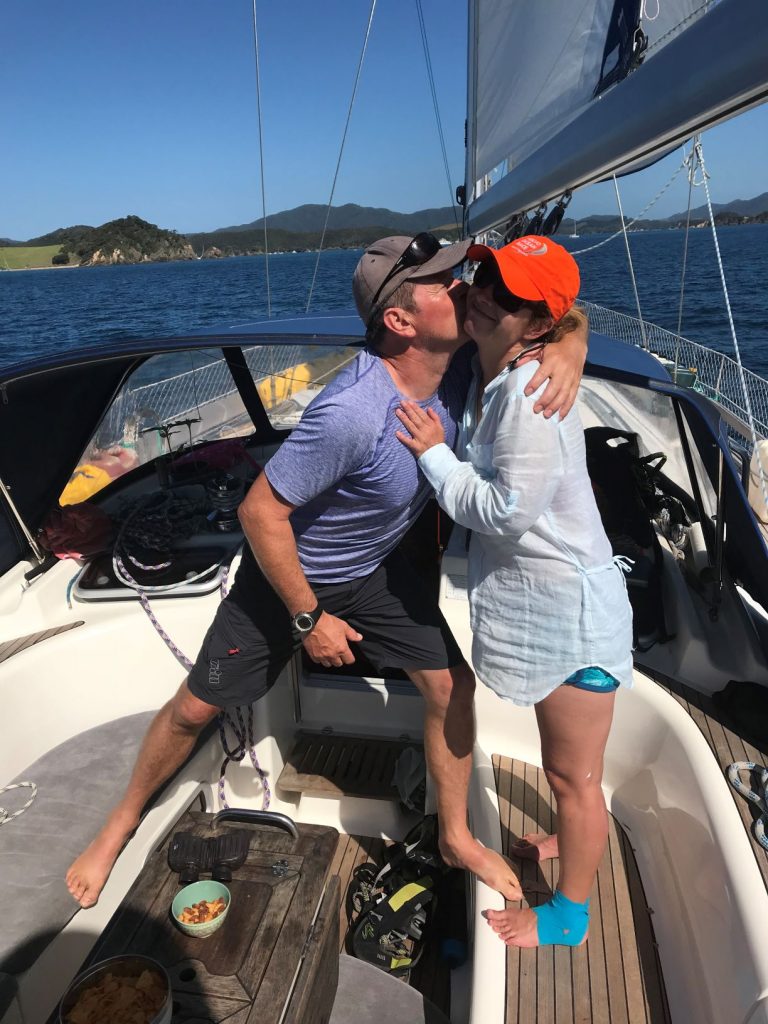 Then we met a very nice couple; Sandra and Jonny at the Yacht Club right before Christmas here in Opua. Sandra is originally from Germany and Jonny from England, but have lived in NZ the past 6 years. When we sent them an sms asking if they wanted to join us for the sail, they phoned us back instantly and said YES! Our gut feeling about the two was correct; we had a really good time together and 3 days turned into 5 before they had to return to their home near Auckland.
—then we found the place…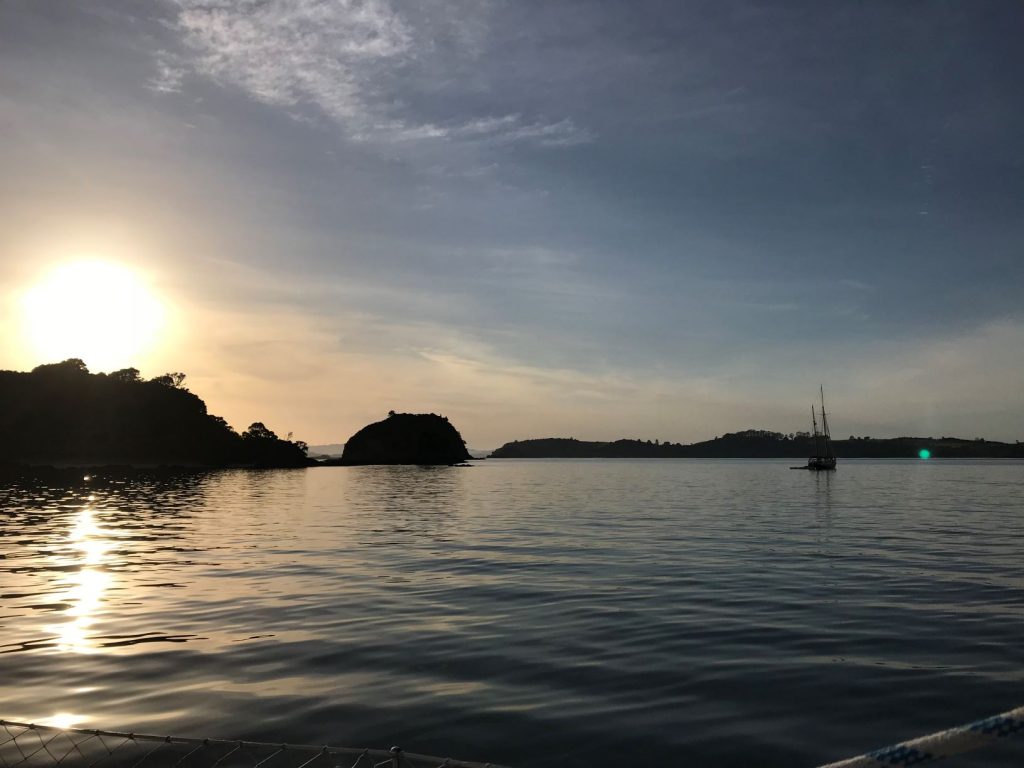 …then we found a whole party of people!…
And would you believe it? Of the very few people we know here in the district of BOI it turned out that we actually knew the couples on two of the only handful of boats that were anchored in the Wairoa Bay. Well, truth be told we didn't really "know" them; We had just briefly met them before at the market in Russell, when Kerri had face painted Karen Marie and told us about being a liveaboard, and then introduced us to another sailing couple; Babs and Jon. We liked them all instantly, but parted with no plan. Until now, when we by coincidence bumped into each other here.
Being as you know "The lucky ones", we were invited to join them in their New Year's celebration on the beach. Isn't it amazing how things just seem to always work out!? Perfect!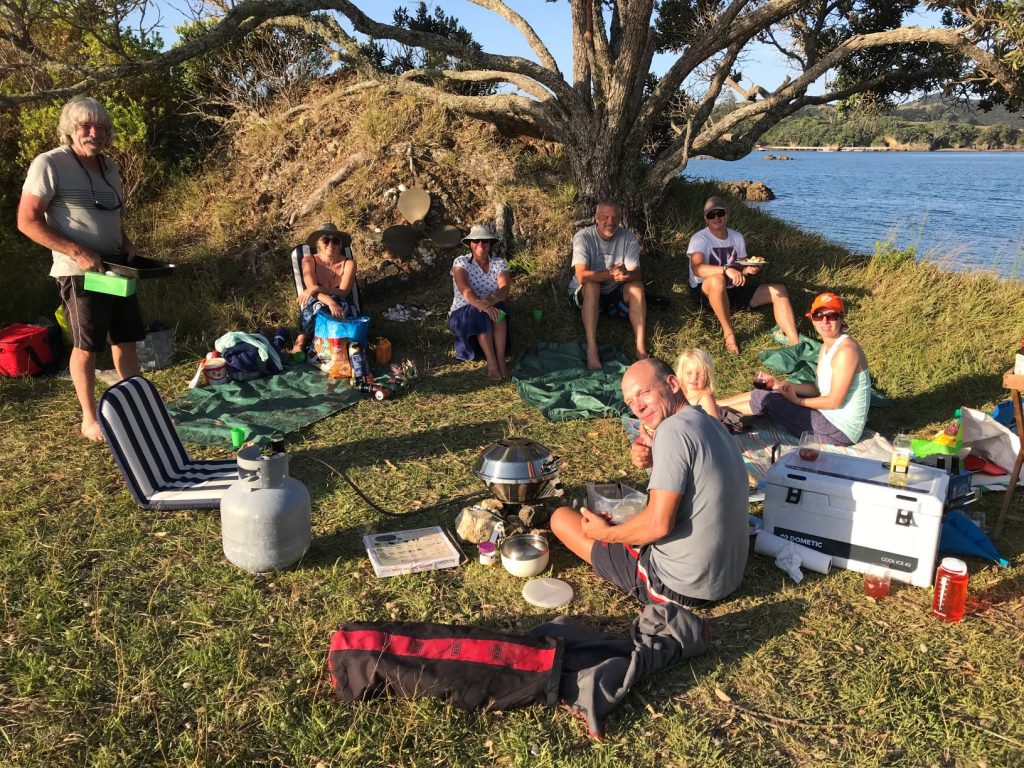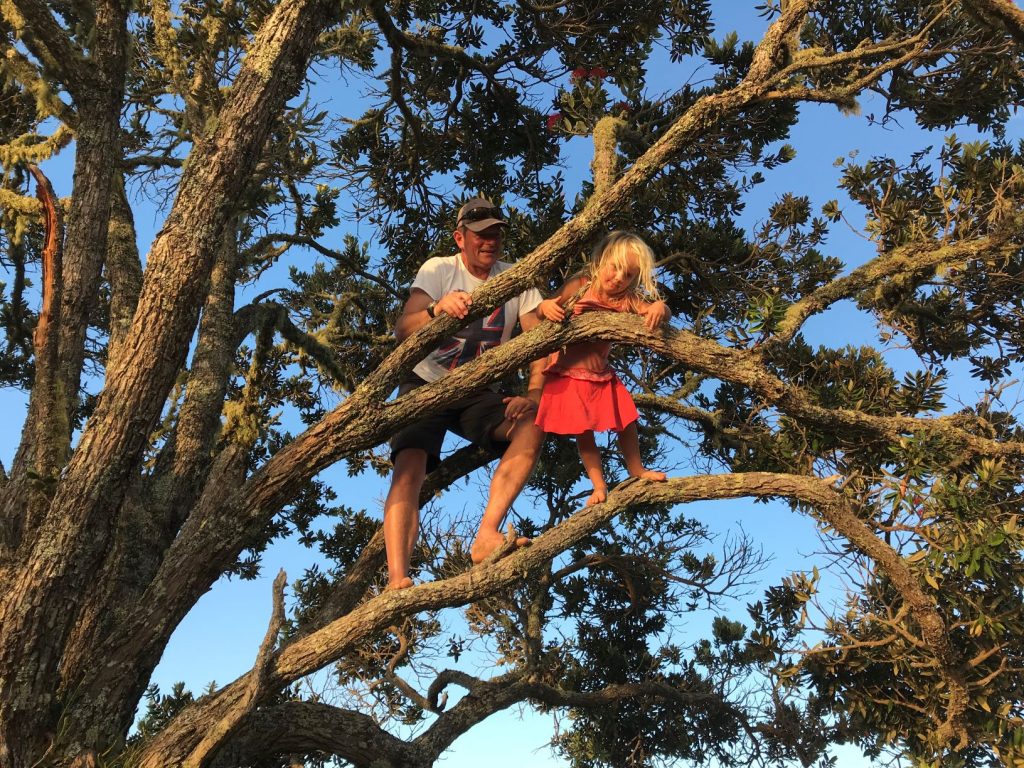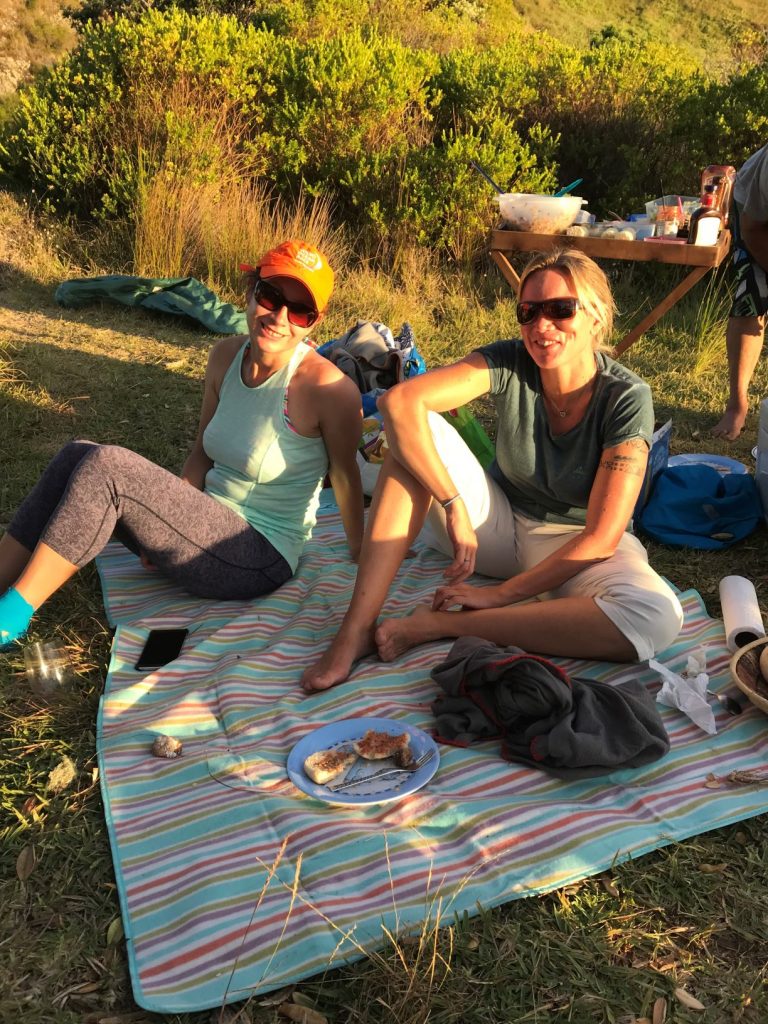 …and then we put 2018 behind and welcomed 2019!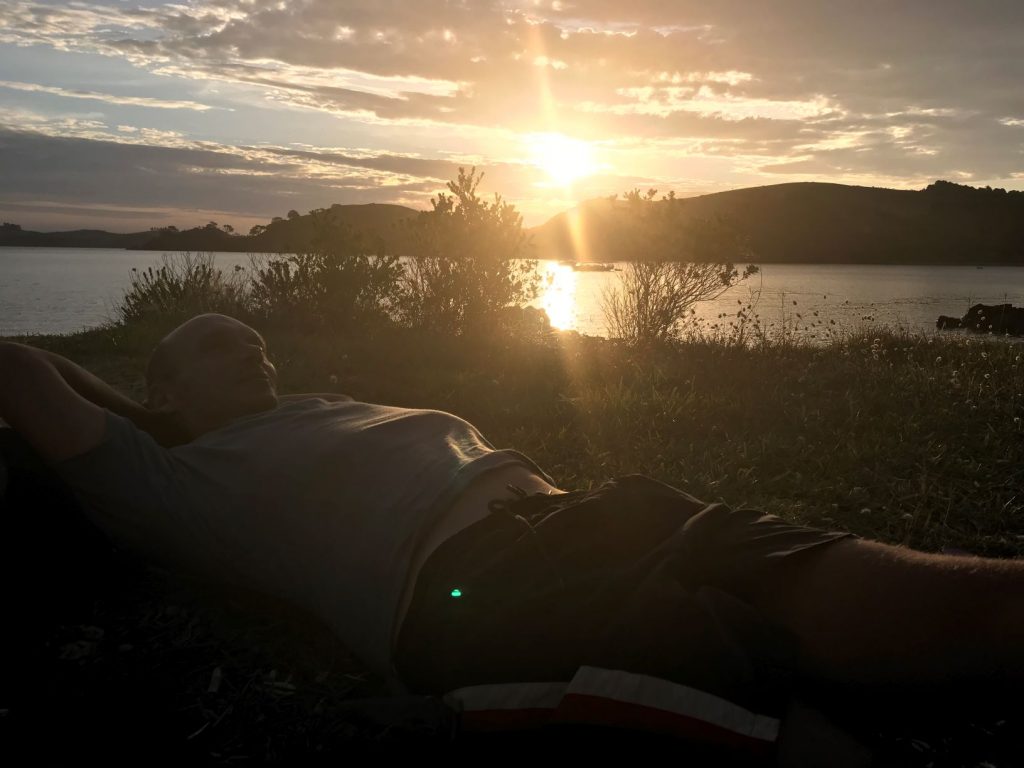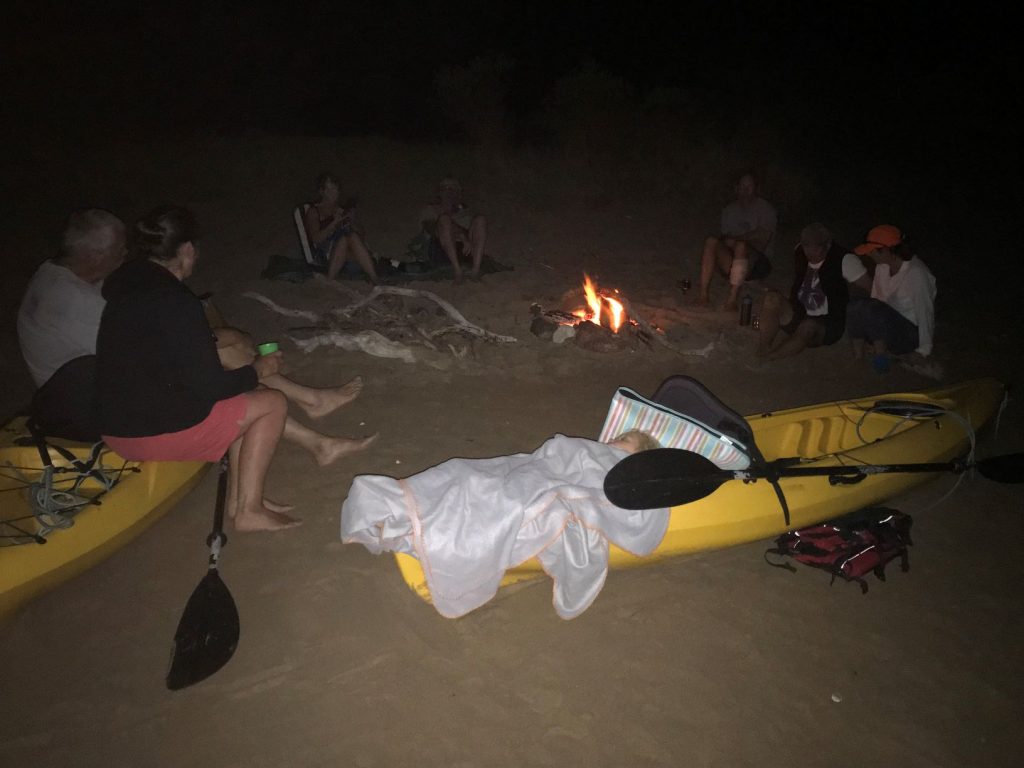 2019's looking good so far!
So now we're into 2019. We look foreward to discovering what it will hold!?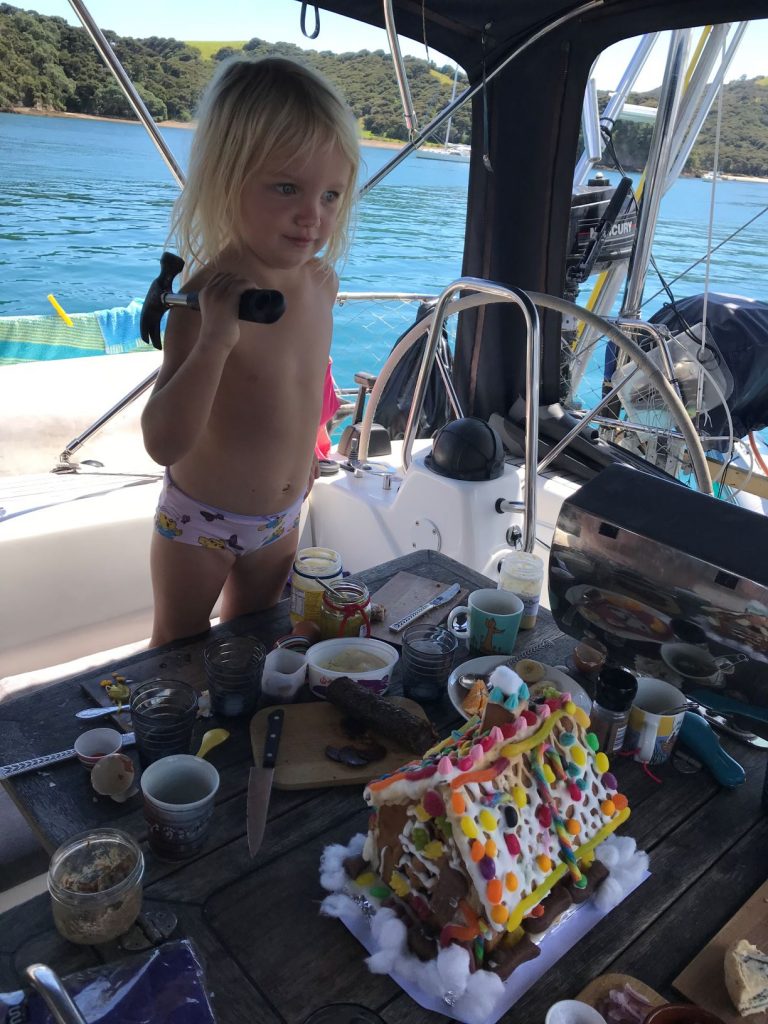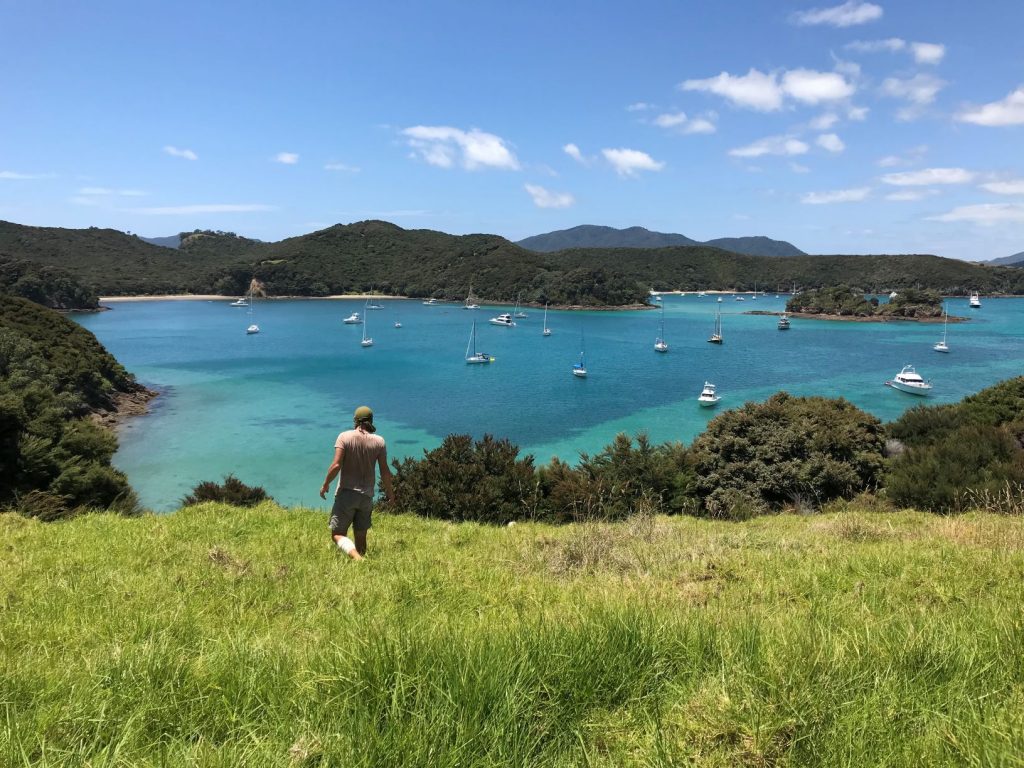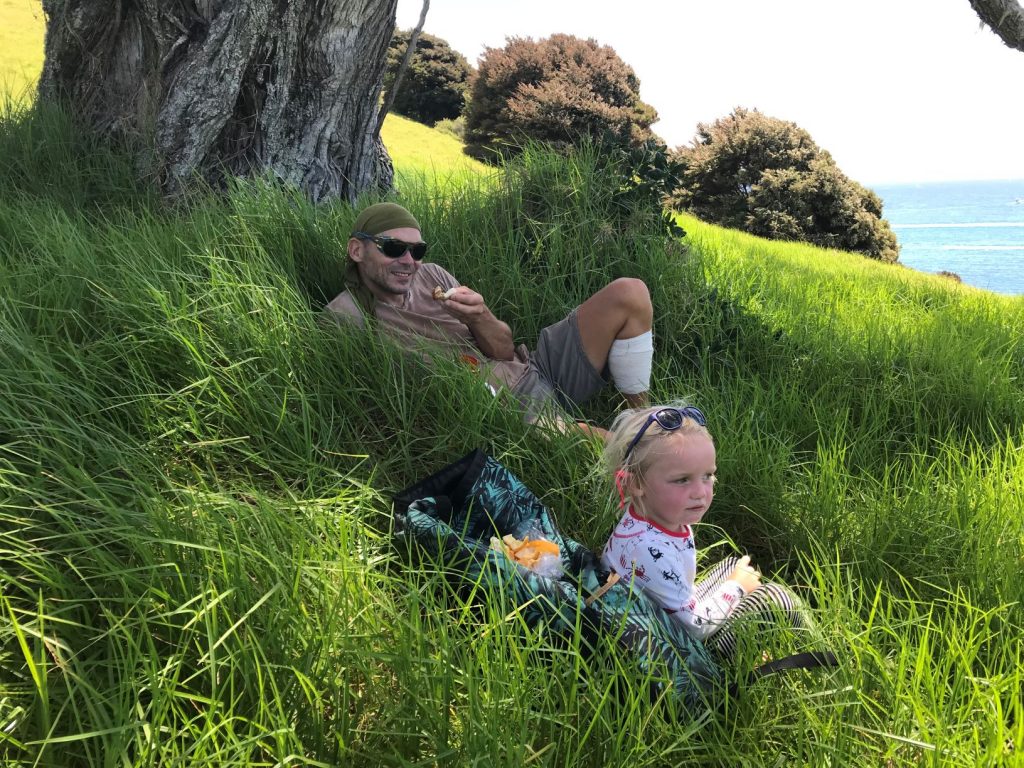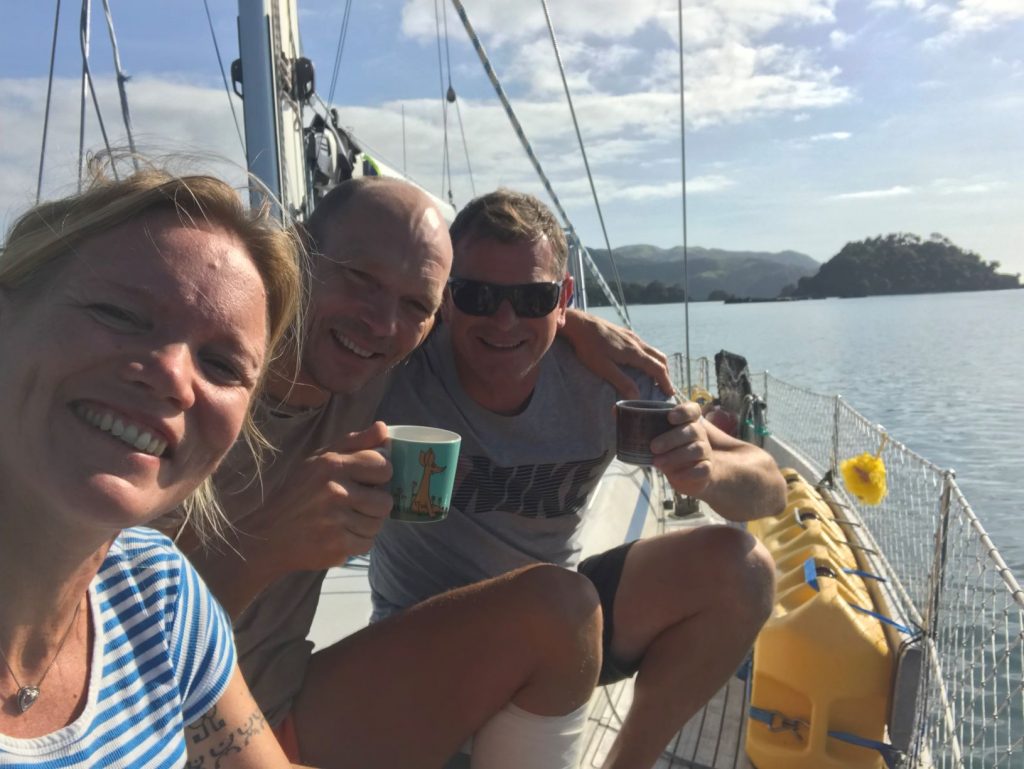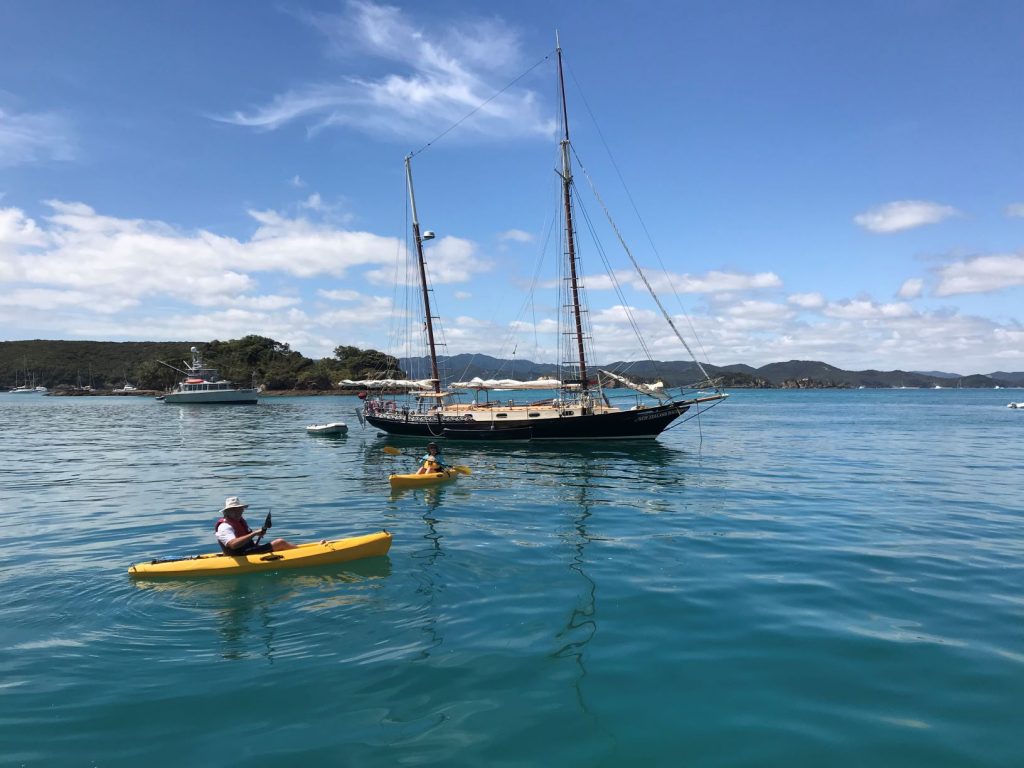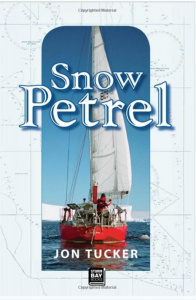 Babs and Jon invited us over for a movie night on board. We watched the movie about when their son Ben Tucker sailed on his sailboat "Snow Petrel" from Tasmania to Antarctica with his youngest brother Matt and dad Jon as crew. An amazing journey to learn more about, and such a special experience for us to watch it together with Jon and Babs, who are both so much part of this story. (Ps. Jon wrote a book about the journey; "Snow Petrel – A Father-Son voyage to the windiest place in the world", available on Amazon)
Babs and Jon are the kind of people we just long to have more time with. We feel so much in common, and so interested in getting to know them and their stories better. We've already met up with them once again since we returned to the marina, and are looking foreward till next time!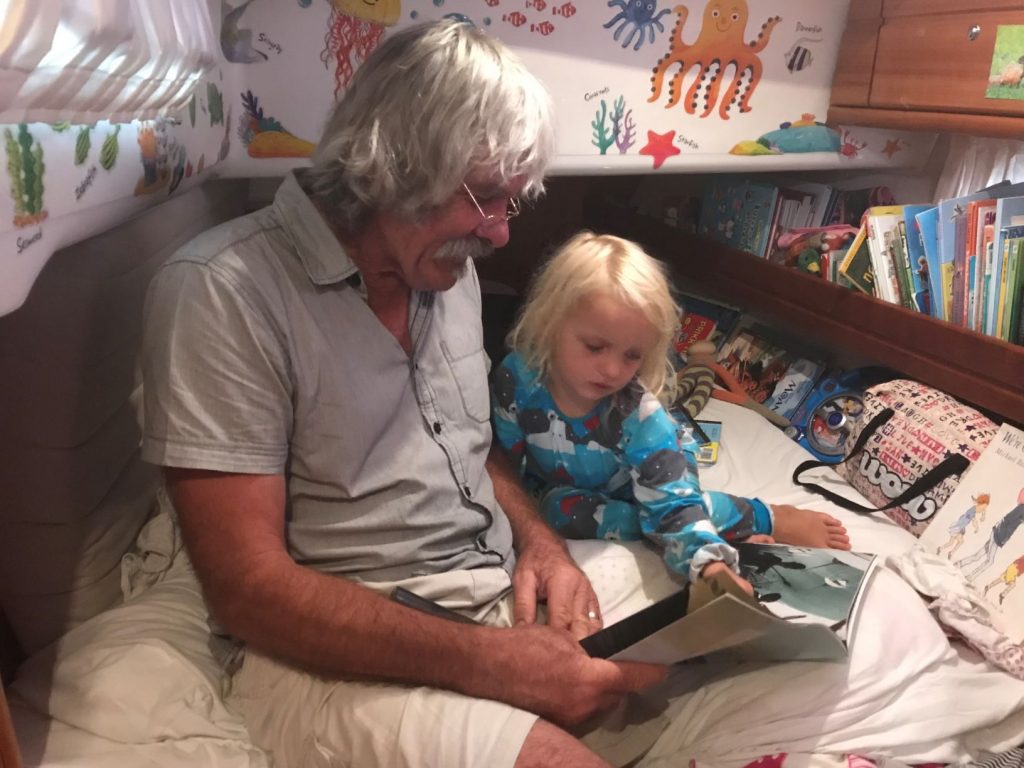 2 new crew members qualified for our (very green) crew t-shirts!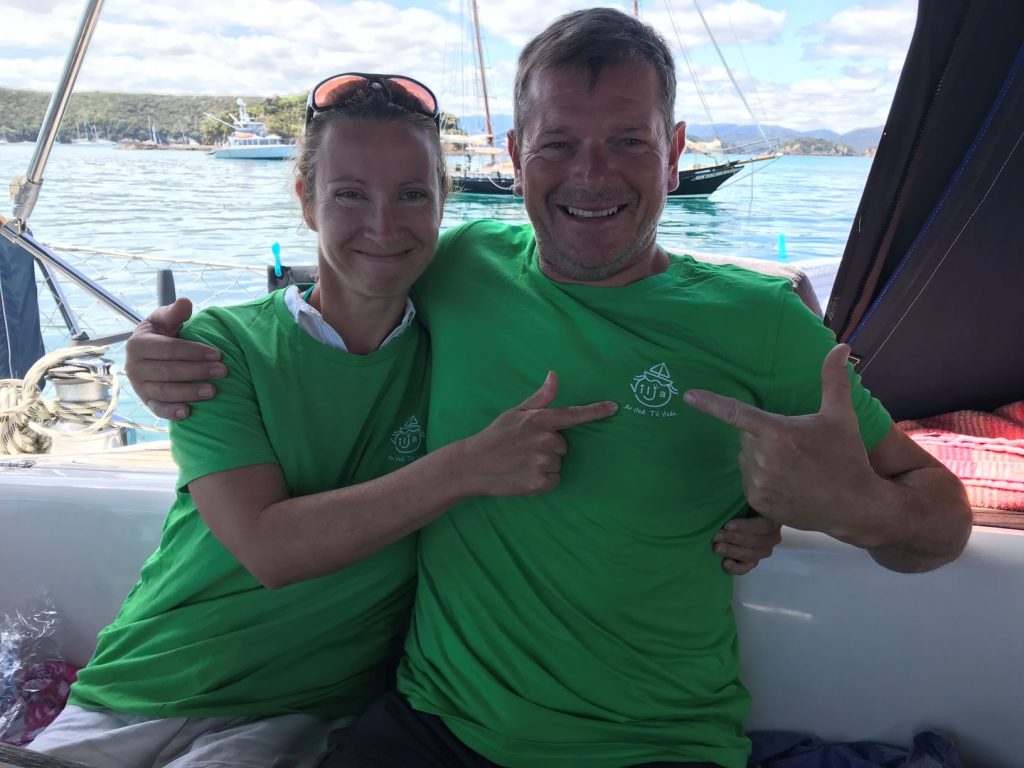 Thank you for sailing with us, Sandra & Jonny, and for all the good talks, fun, food and hot coffee!
Vilja's out of the water, and ready for some "spa treatment"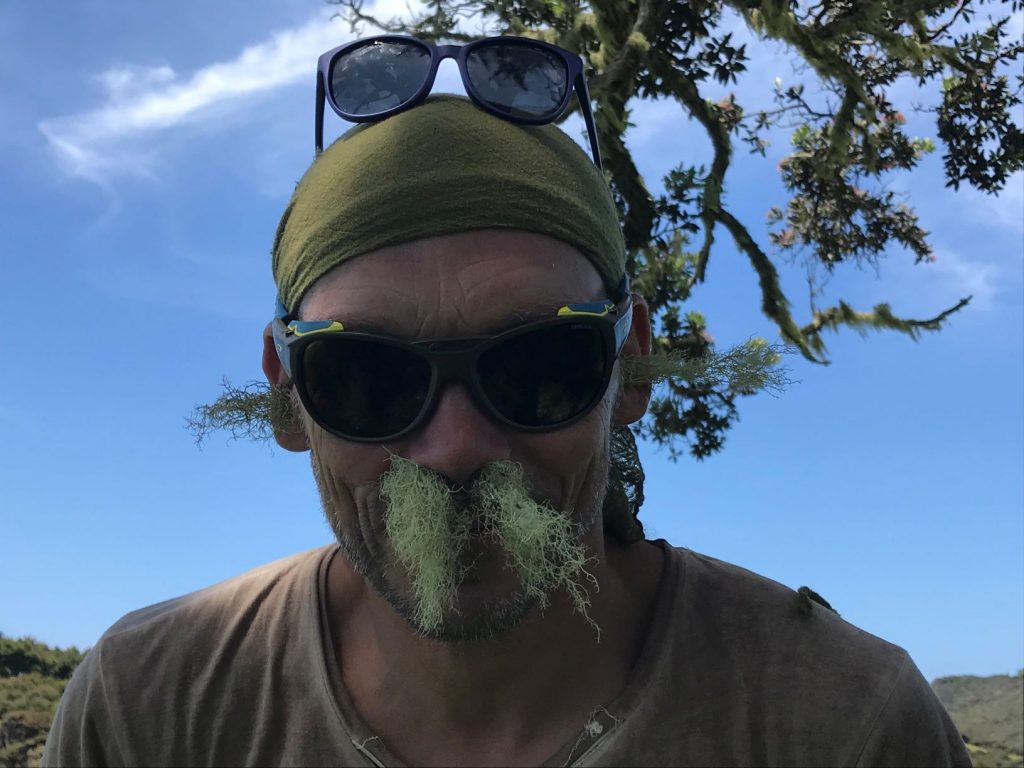 So now we're back in the marina, and our lazy days are over for a while. Vilja was hauled out of the water today. She'll stay on the hard for a week getting her regular and well deserved "spa treatment" with rubbing, anti-fowling, polishing, etc. plus some "specials", like changing the rigging and strengthening the sails.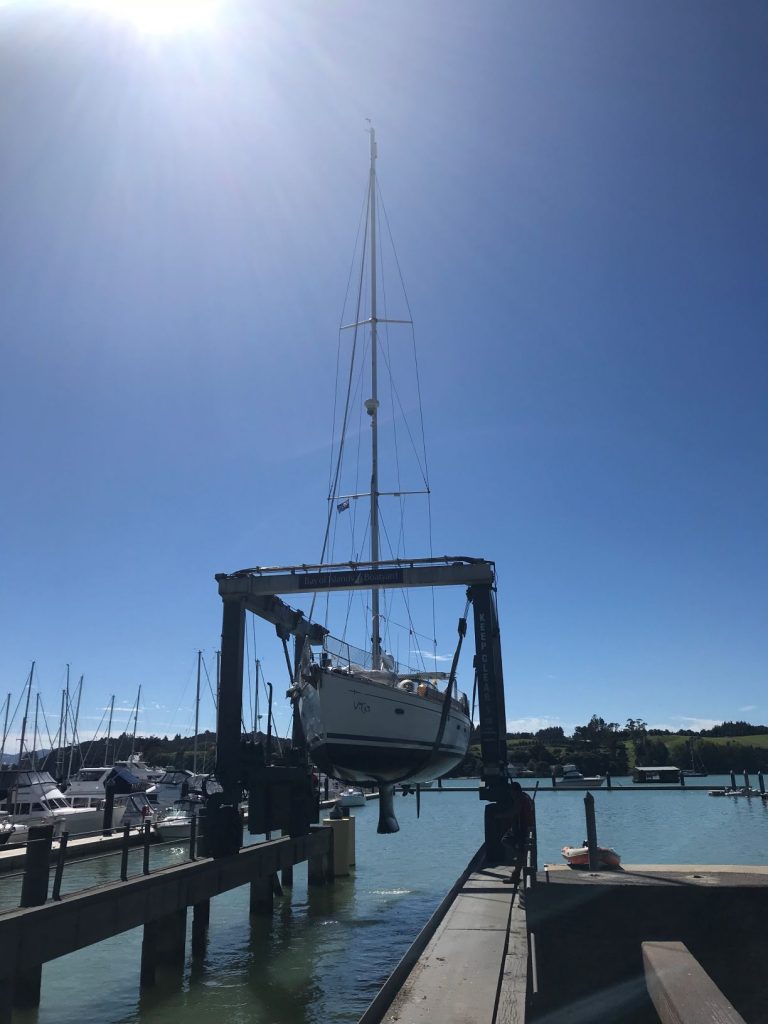 ____________________
November 21st, 2018: Bye for now & see you again soon, Opua! A taste of island hopping (Roberton Island) in the Bay of Islands on our way to work(!).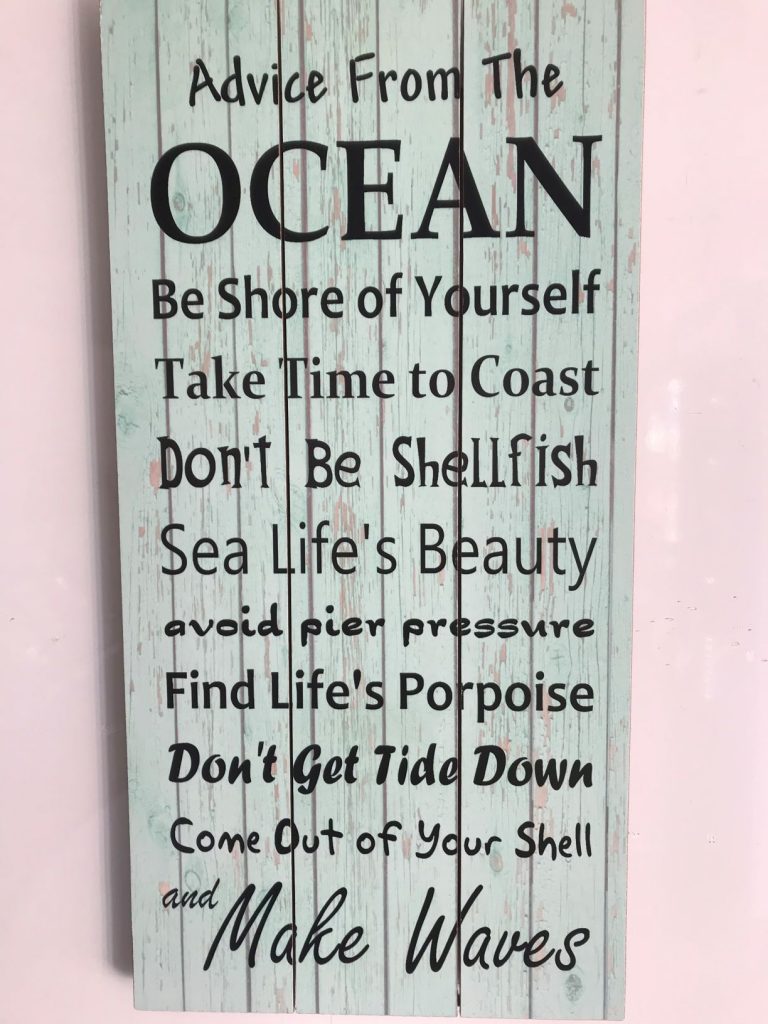 We stayed 6 days in Opua after arriving in New Zealand. OMG, how simple life seems here; Getting to land simply by stepping down onto the pontoon, connecting to electricity and water on land (meaning warm water and long showers, to mention one of many perks), having decent internet, chandleries (boat shops) and a boatyard offering most any equipment or assistance we need for the boat, a food store with familiar food, everything spoken and written in English, just to name some examples. We loved life on the Pacific Islands, but can't deny that having access to most everything feels very ok for a change. 😉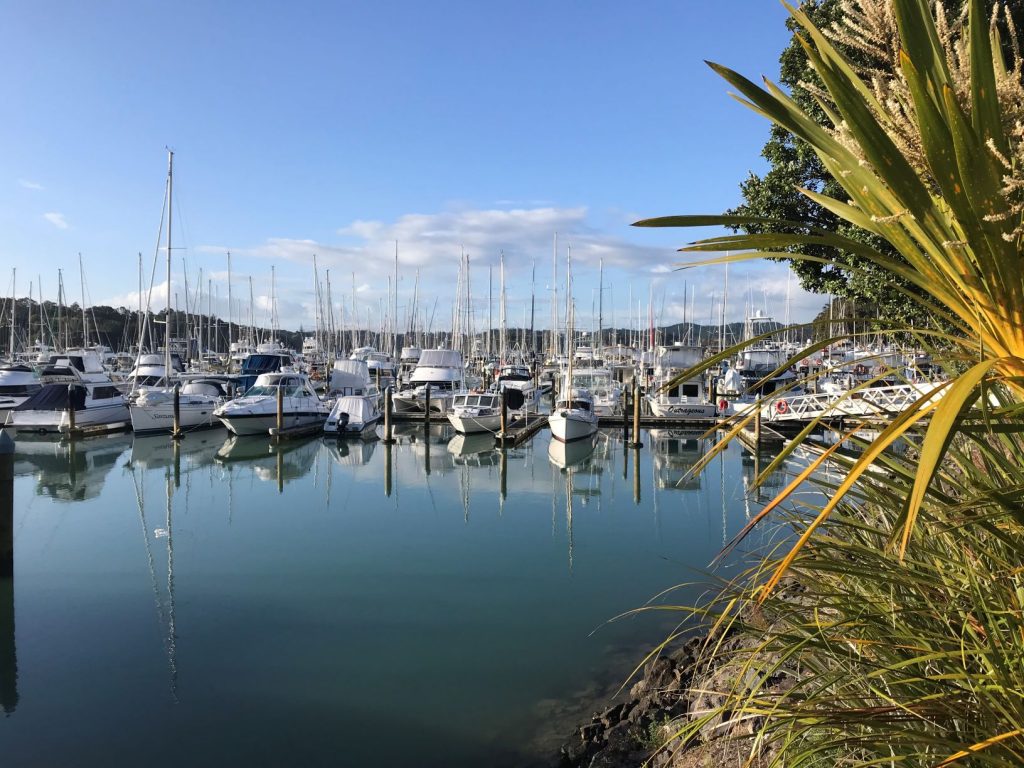 We are by the way frrreeezing cold! 14ᵒC at night made us get out our winter down duvets. Spending nearly a year in a tropical climate has temporarily screwed up our inner thermostat. Good that summer's just around the corner!
Another shroud broke
Another shroud snapped after we arrived in Opua. This worries us, since this is the second one that gives in in a month (the first one snapped in Aitutaki of the Cook Islands). We've now decided to have the whole rigging (in Norwegian: "den stående riggen") renewed, and have booked time to take the boat up on the hard in Opua in January. Possibly we'll spend Christmas here(?).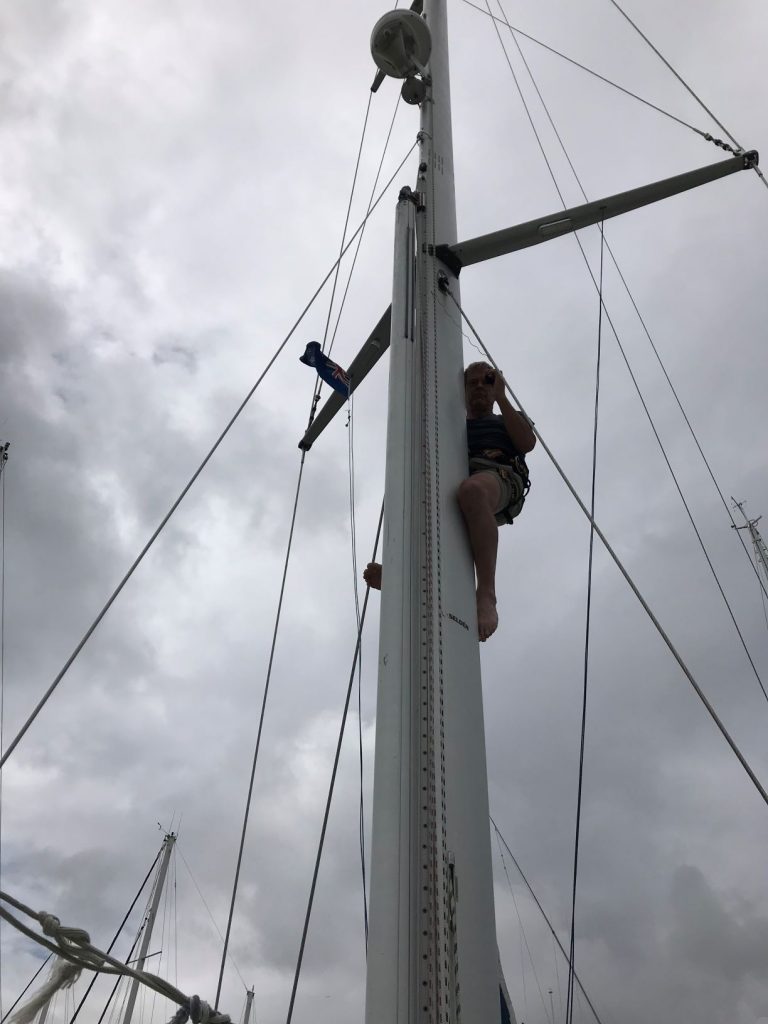 But until then, the one broken shroud had to be replaced. This delayed our departure, but we're glad to have it done. And the extra time gave us the opportunity to get to know some more fantastic long-distance sailing families. We hope to see them again – in New Zealand or somewhere out on the Seven Seas.
Now we're on our way to work!
On Tuesday we finally were on our way to work(!). Work?! Yes, we're heading for the Great Barrier Island, where a family is expecting us to come this week to start a 3 week "Workaway" commitment we've signed up for. We've really looked forward to this ever since we contacted them half a year ago, so now we are anxious to get there and begin!
A taste of island hopping in the Bay of Islands
The Bay of Islands is known to be one of the absolute best cruising grounds in New Zealand. We're taking the time to get a taste of it on our way South. We left on Wednesday, and only sailed a few nautical miles out to Roberton Island (Motuarohia) before we dropped the anchor.  It turned out to be a great spot to spend the night!
The island has an interesting history; Captain Cook was the first European who set his foot here in 1769, and the encounter with the 300 Maori that lived on the island at the time was dramatic but without bloodshed. The same can unfortunately not be said of what happened seventysomething years later, when the widow and children of John Roberton, the first European owner of the island, were tragically killed with an axe by a Maori chief's son who sought revenge for having been abused by a farm worker (whom he also killed). The murderer was hanged. This was the first hanging in New Zealand, and made a clear statement that British law had replaced the Maori tradition of utu.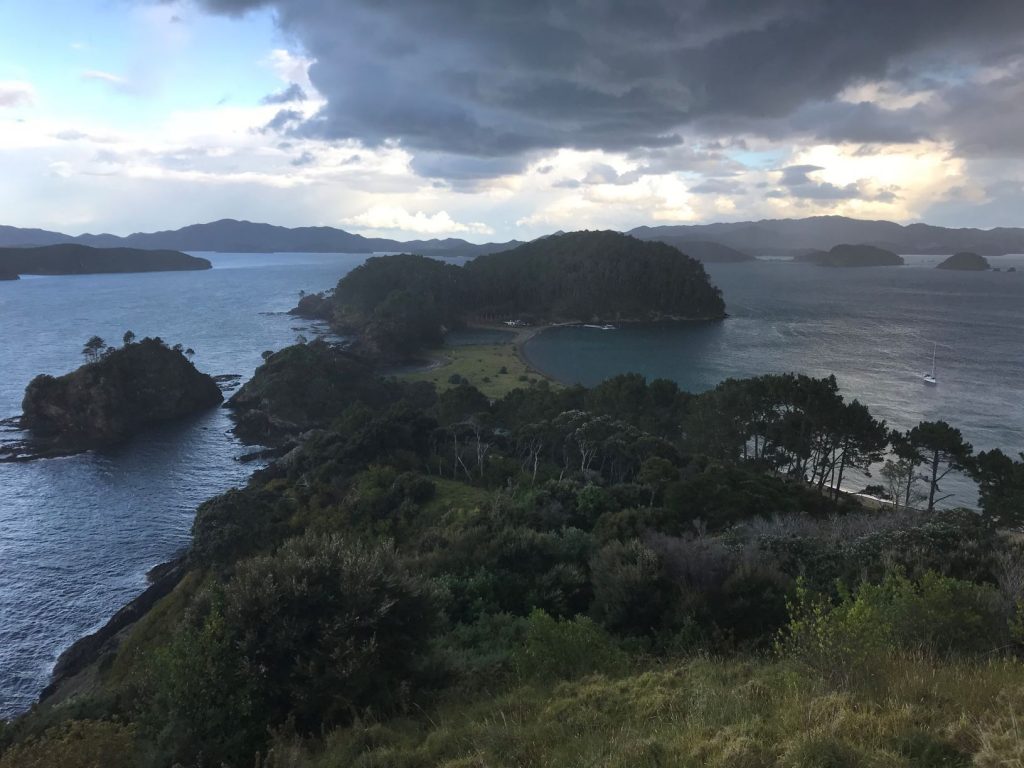 Apart from the island's dark and dramatic story from the past, the Roberton Island is a beautiful little island with a lagoon, and rock formations and caves that make you want to explore. So explore we did, although following the tracks…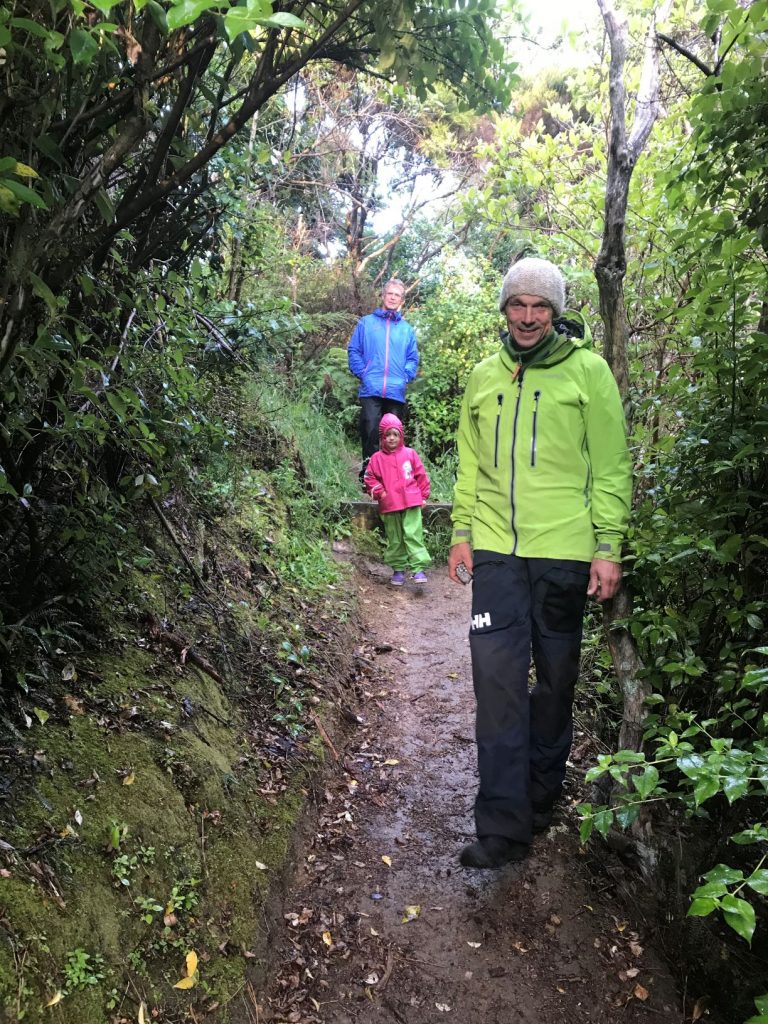 Sailing South
Today (Wednesday 21st) we sailed South along the East coast of the Northern Island. Our destination for the night: Tutukaka Bay. Audun was in charge of the sailing (and some motoring) all the way, allowing the rest of us to do other things we had set our minds to. It's good to be lazy!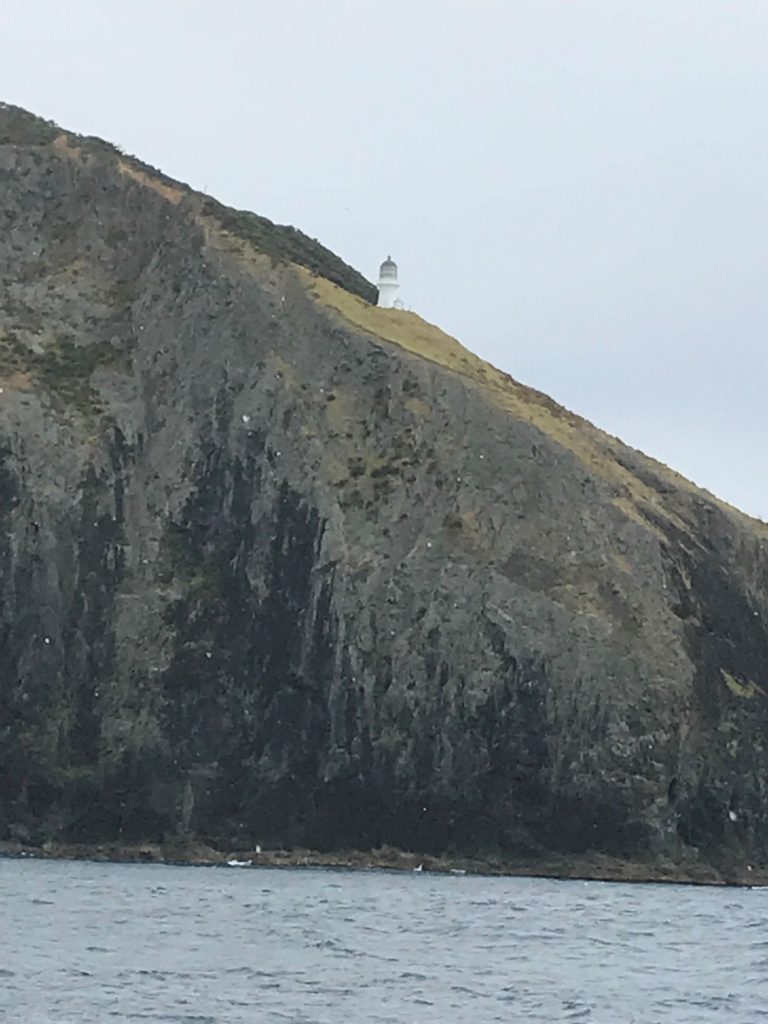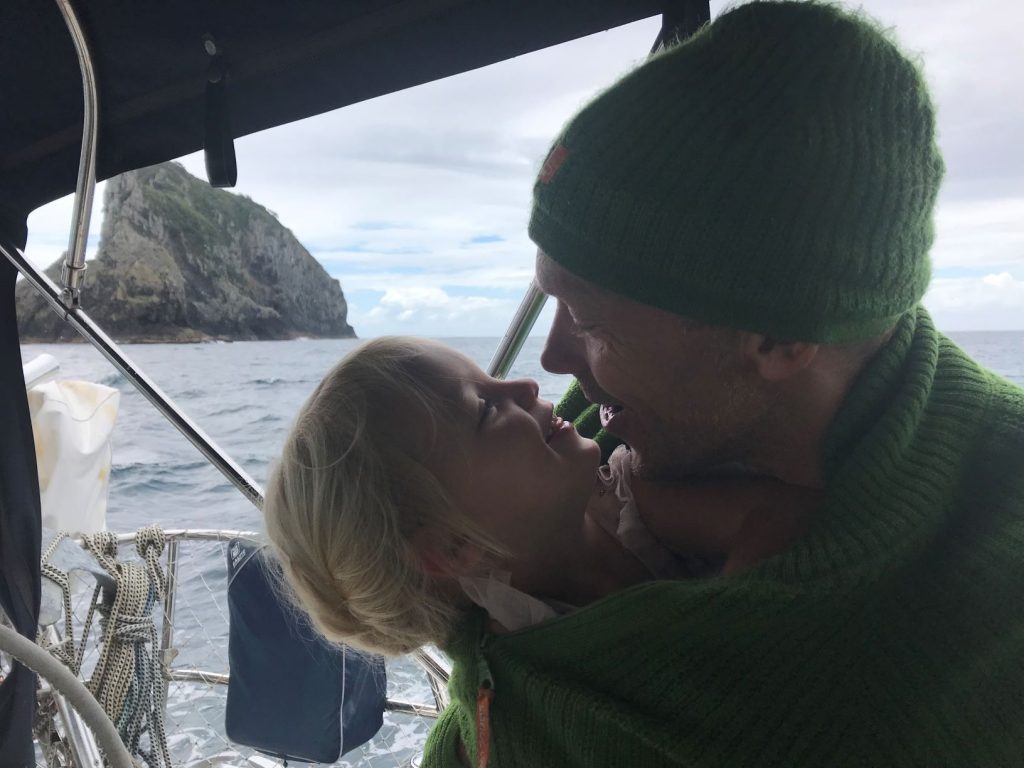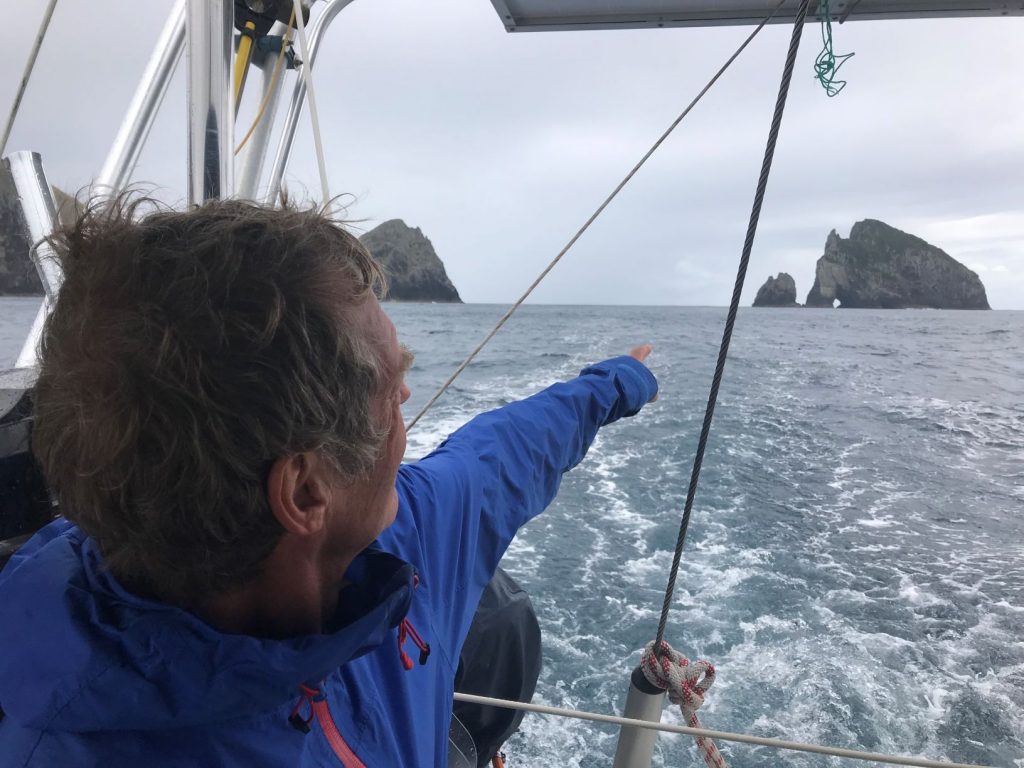 We've now dropped our anchor in Tutukaka Bay. It feels a bit surreal that we are only one day's sail away from our destination for the upcoming 3,5 weeks; the Great Barrier Island. It seemed so incredibly far away and long till when we first applied for a job there 6 months back. But now we are practically there. Awesome! 😊
__________________
November 14th, 2018: WE'VE REACHED NEW ZEALAND!!!
On Wednesday November 14th, 2018 at 00:30 pm Vilja arrived in Port Opua, New Zealand. There were four happy sailors who put their feet on solid Kiwi ground: Karen Marie, Jon Petter, Audun Sødal and myself (Ingrid). A milestone has been achieved. To us this is a BIG one.
Just to give you an idea of the lengths and time that have been put into this, we give you some numbers.
OUR SAILING VOYAGE IN NUMBERS
We've sailed for 16 months now, covering a total distance of 18,039 nautical miles. It turns out that we were halfway from Norway to New Zealand (in distance) when we transited the Panama Canal. But we used more than twice the time to sail the first half.
On June 14th we left Balbao in Panama, thereby starting our Pacific Ocean passage. In exactly 5 months we have sailed 9,124 nautical miles. This has taken us 1,481 hours in pure sailing, i.e. the equivalent to 62 full 24-hour days. So to put it this way; 2/5 of the time that Vilja has had her hull in the Pacific Ocean (so far) she's been "free" and doing what she does best: sailing! The other 3/5 she's had her anchor dug into the seabed (or actually 6 of the nights she was moored to a buoy and 5 nights in a marina berthing). That's if you count hours. But of course, we haven't spent "62 days straight" at sea. We've split our sail into 17 stretches. On average we've been "night sailing" half of all nights (80 nights) and been "at land" the other half (73 nights).
For me (Ingrid) personally it was San Cristóbal (Galapagos), Mo'orea (French Polynesia) and Aitutaki (Cook Islands) that put the deepest imprint in my mind and memory. I will tell more of these tales if I find inspiration and time to write AND the internet connection that allows me to post it while I'm here in NZ.
THE VALUE OF SHARING VILJA AND OUR LIFE WITH FRIENDS
We've shared our sailing passage across the Pacific Ocean with special friends and family. Otto Inge Molvær shared with us the milestone of "crossing continents" transiting the Panama Canal. He sailed with us (from Martinique) to Galapagos. Our son Anders and friends Ingrid Bouwer Utne and her son Jonas Utne Skogdalen spent adventurous days with us in Galapagos. Brynhild Reitan shared the unexpected adventures of "the lost motor" and all that came with it in San Cristóbal (Galapagos), and then sailed with us over the longest single stretch so far: 3,000 nautical miles from Galapagos to Marquesas. Then we spent 2,5 weeks from the Marquesas islands to Mo'orea with a new friend in our lives; Sophie from Berlin. And finally, there's Audun:
These last two months and 3,000 nautical miles from Tahiti we've sailed together with our friend Audun from Trondheim. We've enjoyed and are impressed by how he's gone wholeheartedly into our SailingVilja life, whether it be; the adventure of travelling to and in distant and exotic places; the long-distance sailing life including the unexpected challenges and turn of events that tend to occur; and most of all the everyday life and all the ups and downs of three individuals aged 4-52 years old who are themselves exploring the World and Life itself. One thing's for sure: Audun's made sure that there's been more music and play than ever on board Vilja these last couple of months. We feel lucky to get to know him the way this voyage has made possible, and thereby having it confirmed tenfold that he is an incredible person and a very good friend!
THE VALUE OF LONG-DISTANCE SAILING
Long-distance sailing is in our blood now. We love the long stretches. We feel they give us the time we really need to digest the flow of impressions from all that we experience on land. These impressions and all the thoughts that follow in their wake need time to sink in and find their natural place in our consciousness and memory. And also, the sailing gives us time alone to each other and ourselves. Not to mention, it gives us time to enjoy the fun and adventure of sailing on the big ocean!
I DIDN'T SEE THIS COMING
If anybody 10 years back had suggested to me (Ingrid) that I would be spending years of my life sailing in the future, I think my response would've been simply: "Why?!"  Let me remind you (and myself): I spent the first 40 years of my life without feeling the least bit of interest for sailing. I lived in the harbor town of Trondheim for more than 20 years before I actually set my foot in the harbor for the first time. Why? Because then I couldn't care less about the sea. Urban life was my everyday life. If I needed to find peace of mind, I looked away from the water, and towards the mountains.
Well, that's history. I'm a long-distance sailor now. Life is full of unexpected turns. For me this is definitely one of them. And hey, considering that the oceans cover 71 percent of the Earth's surface, my World has extensively increased over the last few years. That feels pretty cool!
STILL ONE MORE YEAR IN THE PACIFIC OCEAN
And back to our Pacific Ocean passage: We wish we had more time to explore life on land on the hundreds of islands we've passed and the few places we've been. But we're so thankful for the time and experiences we actually have had. Also, we intend to sail back up to the Oceanic islands next Spring (2019) and spend a few months there before we head on westwards.
And hey, let's not forget that we ARE on a Pacific island as we speak: New Zealand. We're more than excited about actually having 5 months ahead of us to explore one of the countries we've been wanting to visit all our lives. So here we are & here we go!
________________________
October 17th, 2018: Aututaki in the Cook Islands. Day #7 – Life is what happens when you're busy making plans. (And it sure is a heck of a lot better than any plan I could ever have set up!)
Our sailing plan said: One (1) night in Aitutaki.
Reality said: Yeah right…
We've been here 7 nights now, and won't be leaving anytime soon.
Why? What happened?
The Universal answer is of course: LIFE. "Life is what happens when you're busy making plans."
The more non-philosophical facts are: The shroud on Vilja's port side broke (in Norwegian: "vantet" som holder opp masta på babord side røk nærmest tvert av). There was no drama, other than the unavoidable moment of despair: OMG – what happens now? We're in the middle of no-where. Aututaki – we probably would never even have heard of this island if it hadn't been the nearest check-in point for visiting the island Palmerston, which was our actual goal of all of the Cook Islands.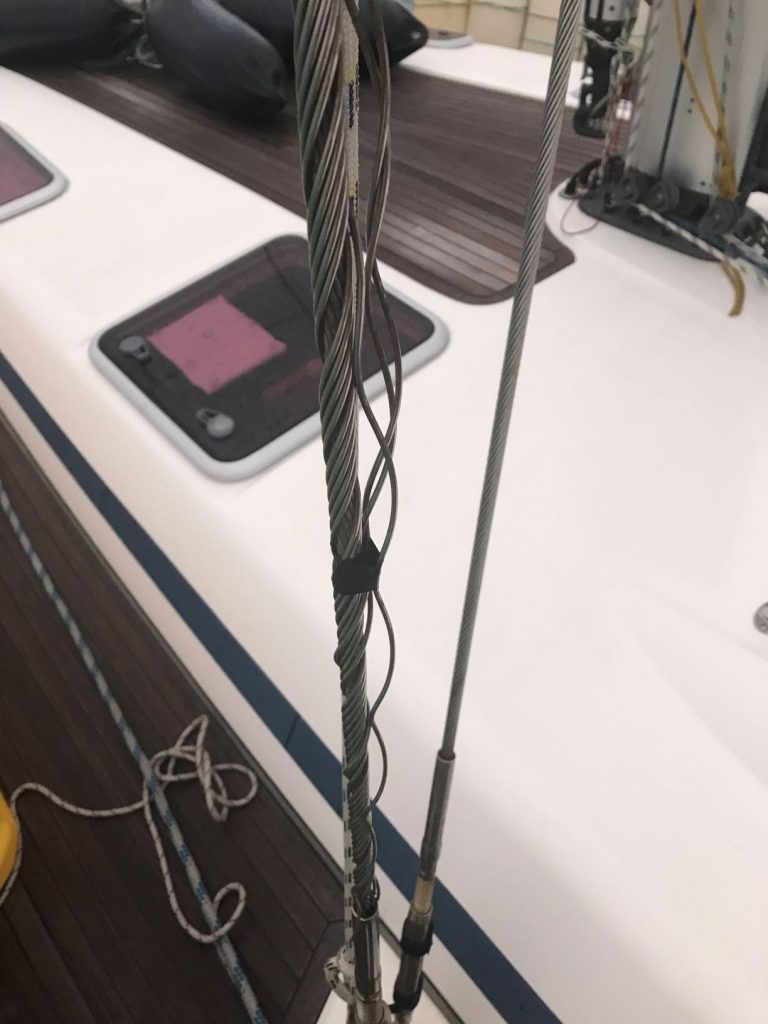 So there we were last Wednesday (the 10th) at the break of day, outside the reef of an island of 1200 inhabitants in the middle of the Pacific (read: in the middle of nowhere) with a broken shroud. On top of it all our pilot warned us that the pass in through the reef is only 1.6 meters deep. Our draught is 1.9 meters. A local fisherman passed by. He assured us that the pass is 2 meters deep. We decided to make a go for it.
The pass IS only 1.6 meters deep. For a moment we were stuck on a sand bank. Our bow thruster was put to the test. A slight swell lifts the keel up from the sand bank for a moment, enough to let Vilja glide on into the lagoon. We're in! (Will we get out again?!)
Then we met this family (see picture below):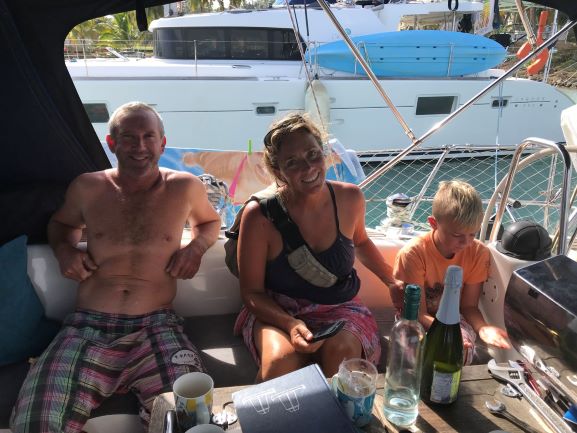 Long story short: Thanks entirely to this uniquely SUPER family on board the catamaran Chaos we had 2 new shrouds custom made in Auckland, New Zealand and delivered to us in person within 36 hours after we sailed into the Vaipae harbor of Aitutaki!!! In theory this should not be possible – but they made it happen!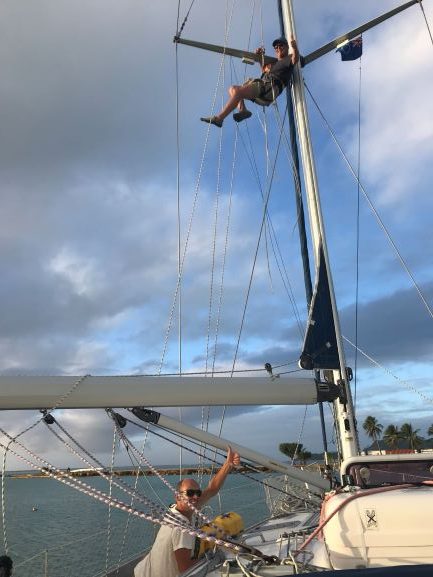 Audun & Jon Petter went right to work, and by Saturday Vilja was ready to sail again. But alas – the moon is a harsh mistress… and now we are our further sail is in her hands. We can not get out through the pass until full moon (and hopefully the also the weather and surge) "max'es up" the high tide.
But you know what? It turns out that Aitutaki is one of the most beautiful spots on Earth, with also the friendliest people possible. We have come to terms with our fate, and embraced the idea of being tourists and making the most out of our time here on Aitutaki.
Karen Marie is enrolled in pre-school at Araura Primary School, and is the proud owner of her life's first and very own school note book and actual homework.  We've also been guests at the 90th birthday celebration of the Cook Island Girl Guides (girl scouts). We've toured the island with wonderful Maria at the Boat Shed. And every morning we walk the few steps over to Dive Aitutaki, where Brooke, Meegan and the entire staff make us feel that Aitutaki is the best place to be right now. (Not to mention, they make GREAT coffee that kick-starts our days.)
So now we DON'T WANT to go anywhere just yet.
We'll put out more pictures if the internet connection allows it (which it may not… It's reaaallly slow…).  But for now, you'll just have to take our word for it: Aitutaki must be one of the best places in the World to be stuck!
_________
FRIDAY OCTOBER 5th 2018: HIGHLIGHTS from our 5 WEEKS in FRENCH POLYNESIA (posted in Bora Bora before departure for the Cook Islands)
So we ended up staying 5 weeks in French Polynesia. 5 weeks here is like rushing through Heaven! We could've spent a lifetime here, and still had incomprehensably much to explore. 118 inhabited islands and many many more small, uninhabited or deserted ones. Some volcanic, some simply made up of corals and sand. Only 3.500 sq.km of solid ground sprinkled out as islands across the SW Pacific across an area of 2,5 million sq km.
To simplify it a bit, the islands can be grouped into the following: The Marquesas Islands (of which we visited two: Fatu Hiva and Nuku Hiva), the Tuamoto Atolls (of which we visited two: Tahanea and Fakarava), Tahiti and the Society Islands (of which we visited Tahiti, Mo'orea, Ra'iatea, Taha'a and Bora Bora), The Australs and the Gambier Archipelago (none of which we even came close to). We loved all the places we visited. We want more time here. But at the same time sense tells ut that we'll never be «finished» here anyway. Instead we hope to return one day.
Some favorites from the last 5 weeks:
The Polynesian People. The hospitality and giving nature of the Polynesian people that surprised us, warmed our hearts and inspired us time and time again.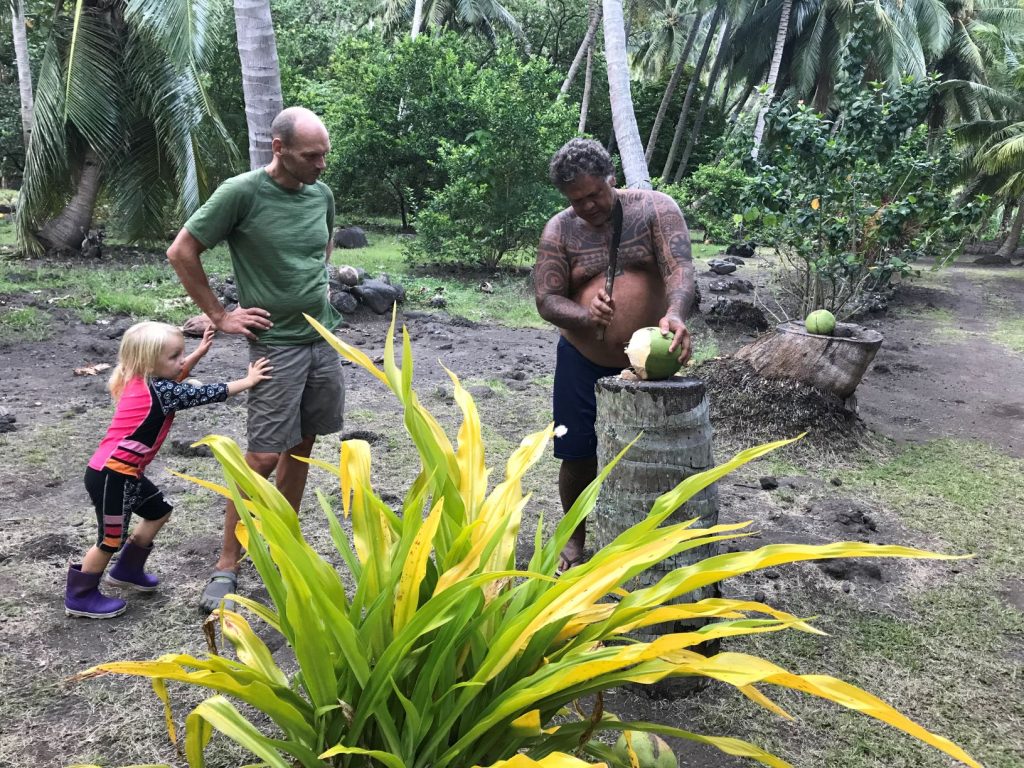 The beauty of the Polynesian islands. Exploring uninhabited atolls, coral beaches, picking coconuts right off the tree, snorkeling among corals full of countless colorful small and big fish and even some pretty big (though harmless) sharks, feeding large sting rays from our bare hands, swimming with dolphins, whales and turtles.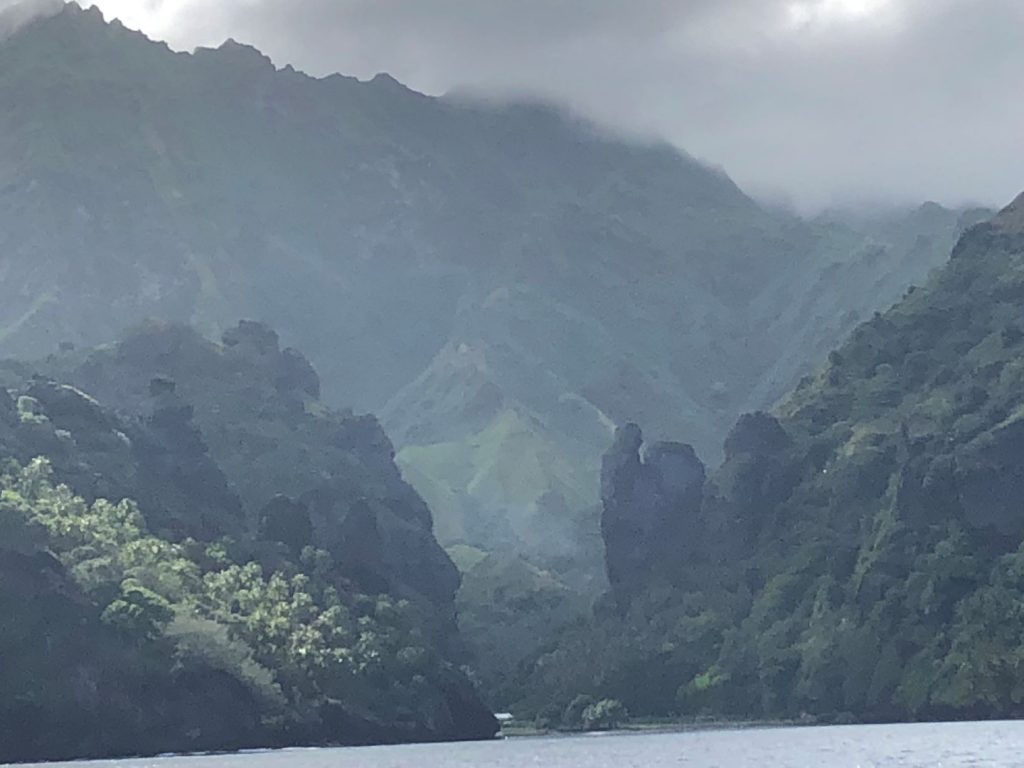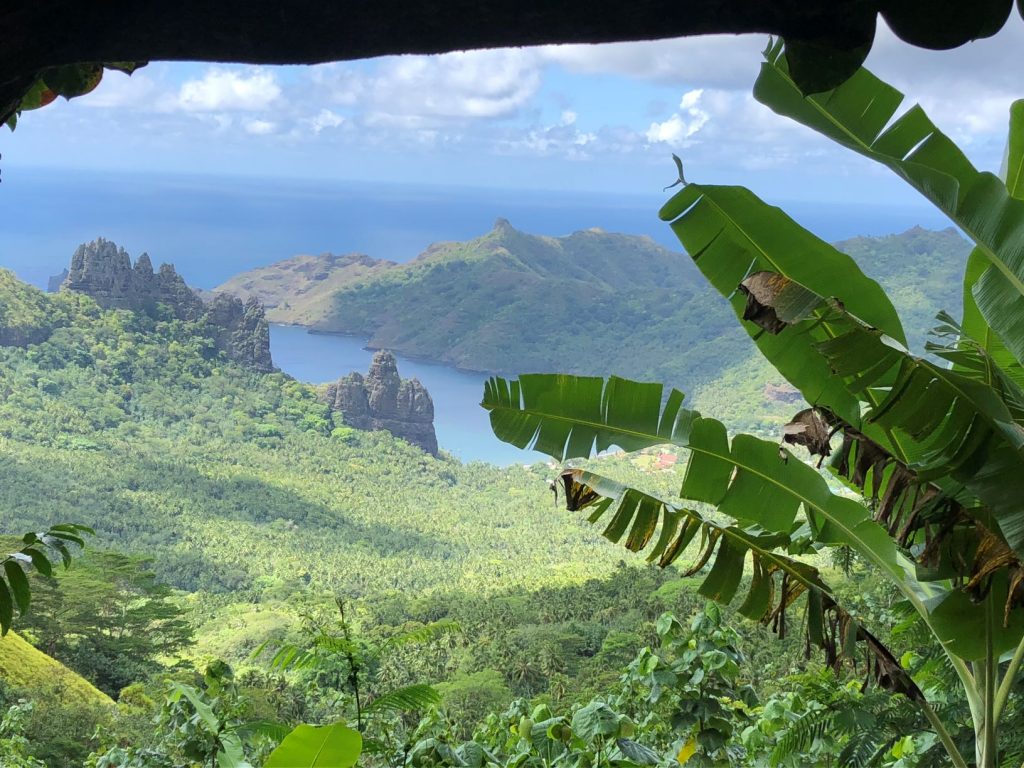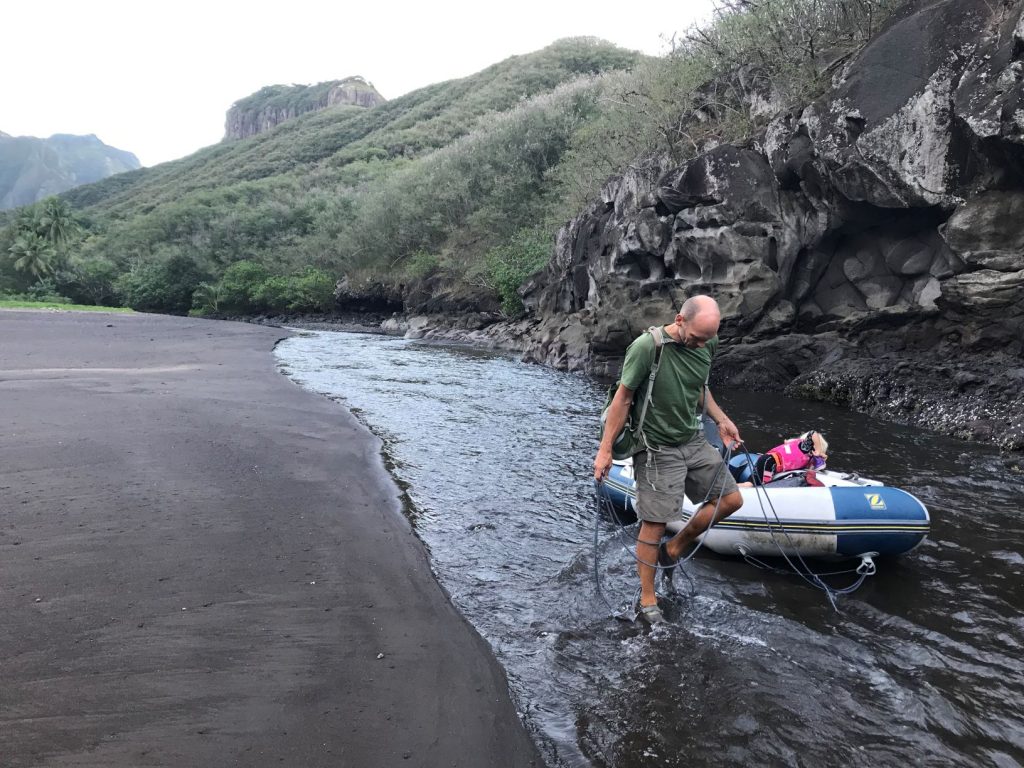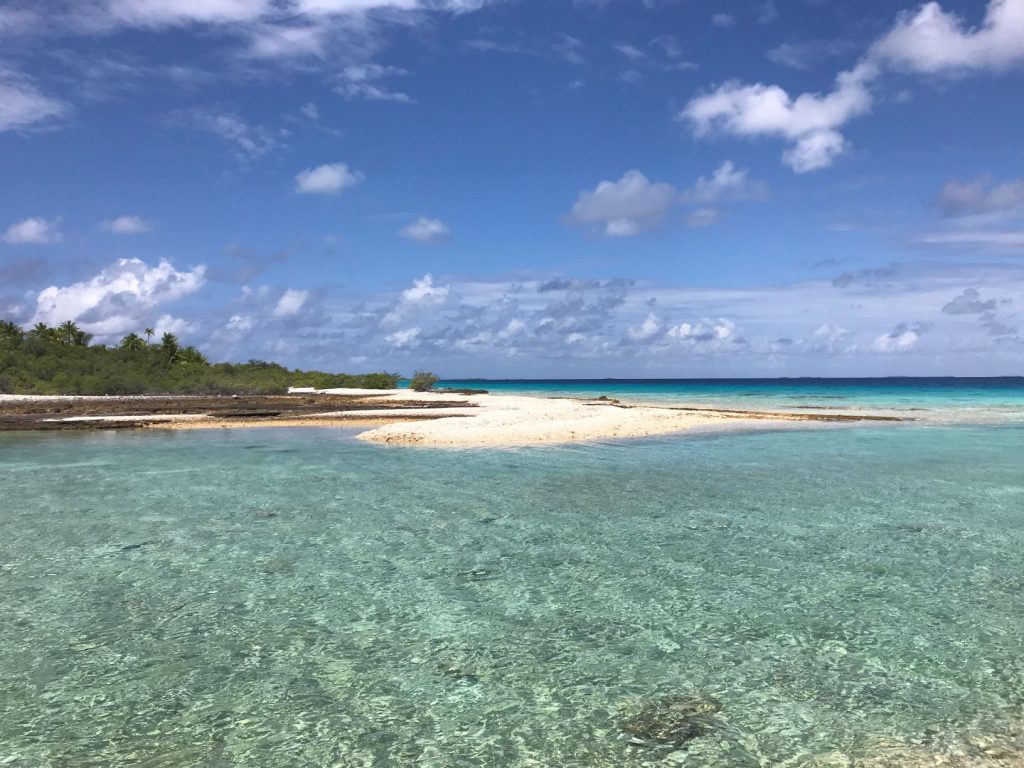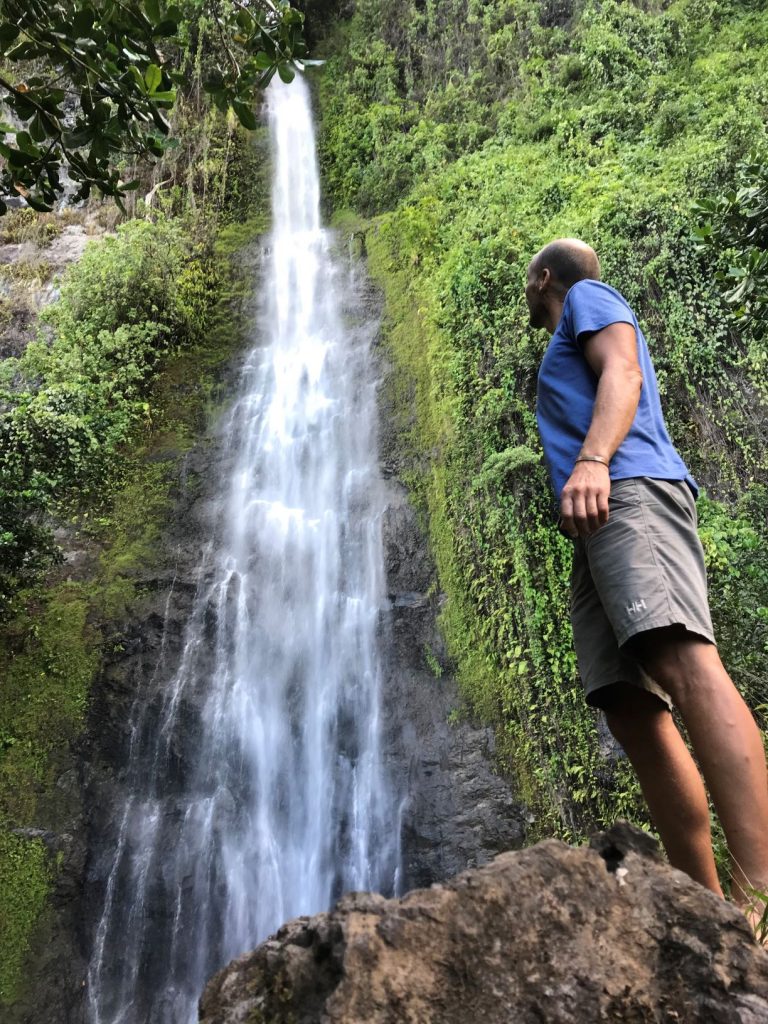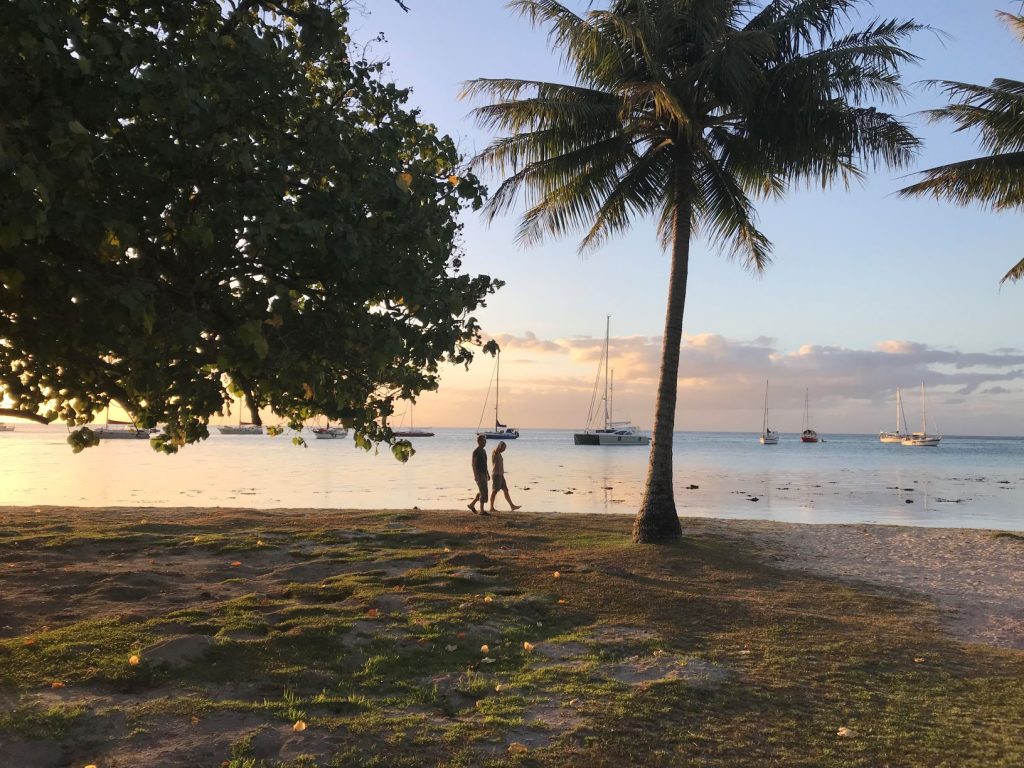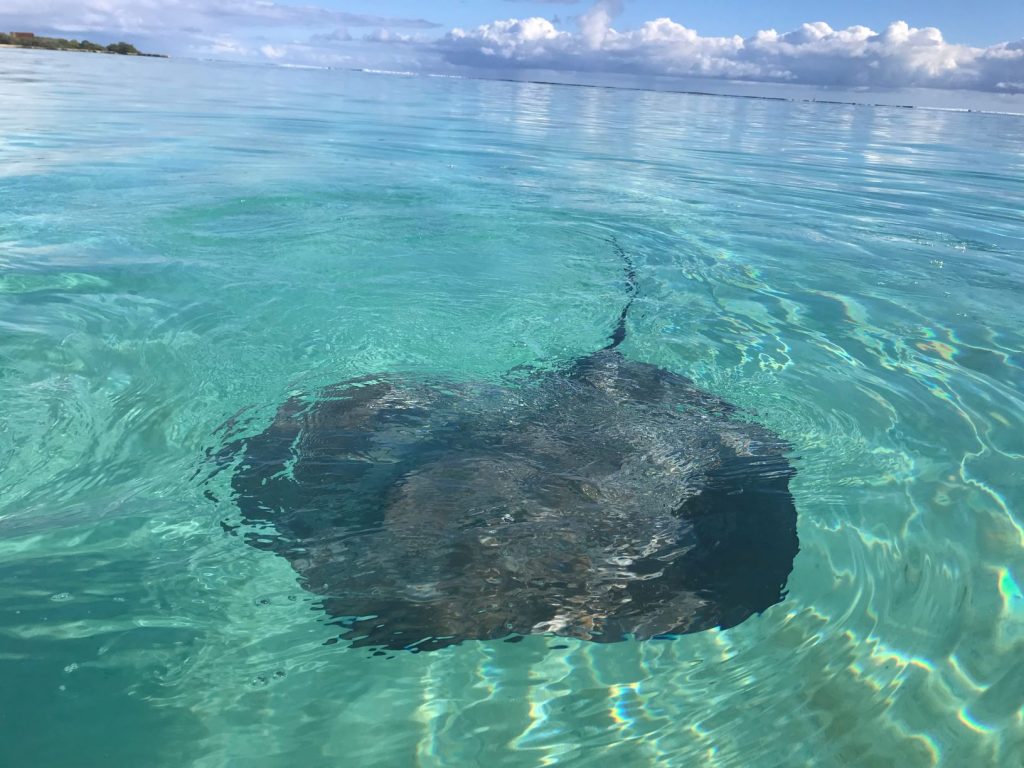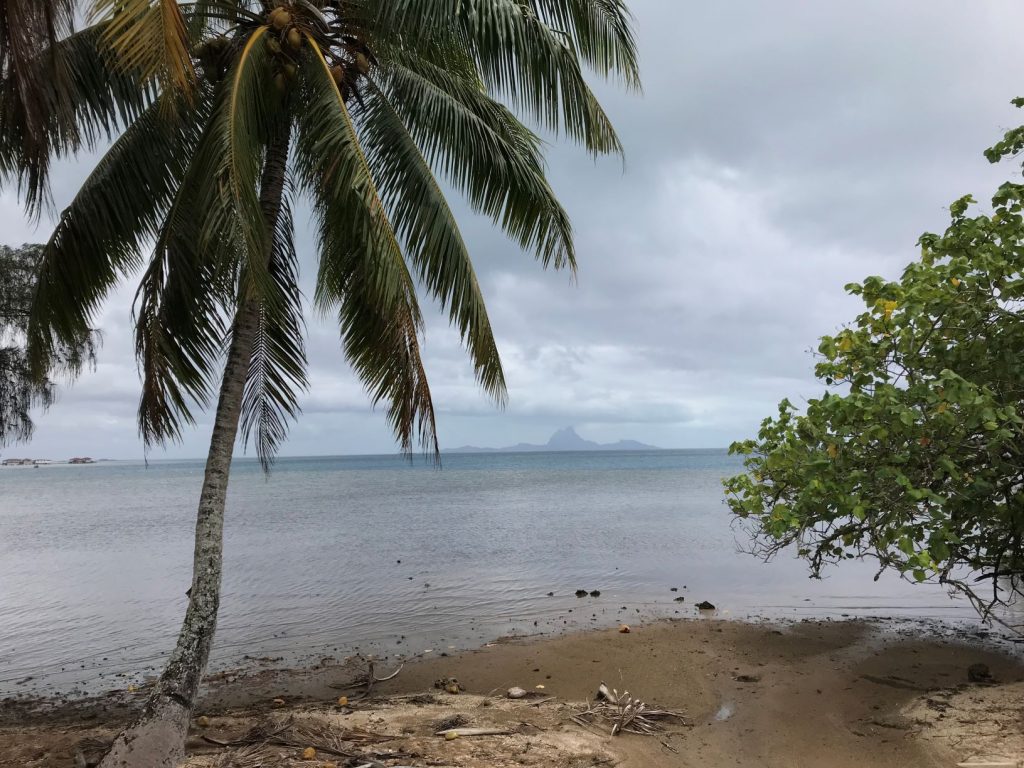 The ancient culture, and the old and newer history of French Polynesia. Awe-inspiring, dramatic, proud (eg. The history of Polynesian voyaging at sea, parallell but still different from our own history of the Viking era in Norway), and unfortunately also at some points sad and repulsive (eg. France's nuclear test bombing in the Tuamotos that went on in the 60's, 70's and 80's).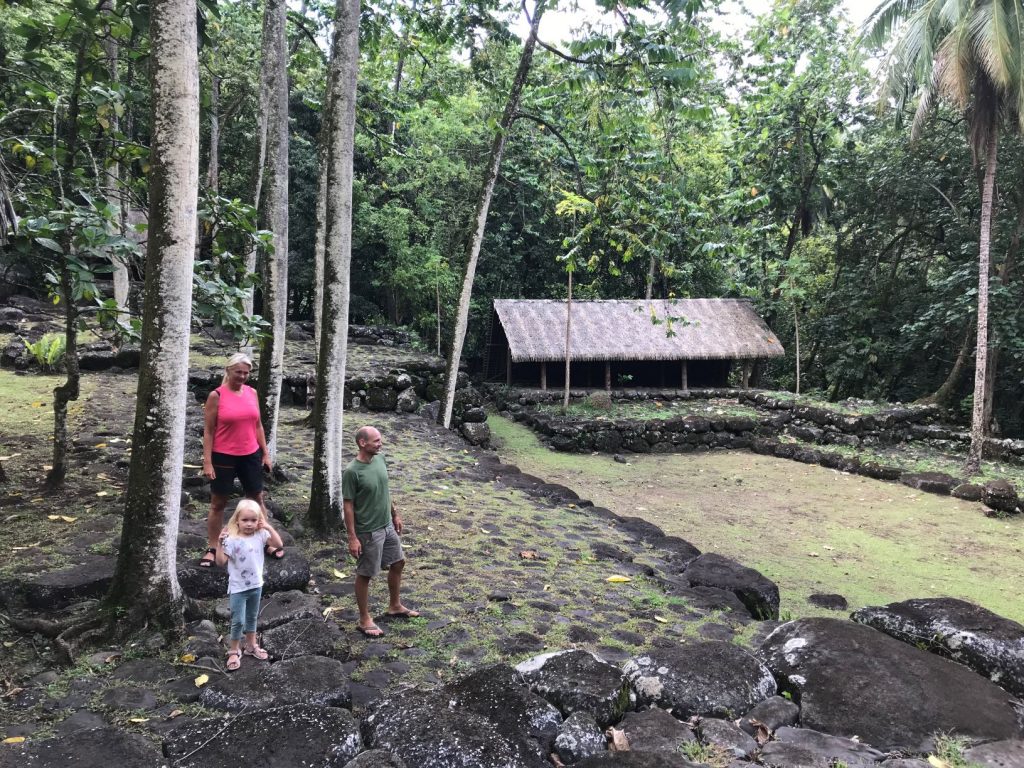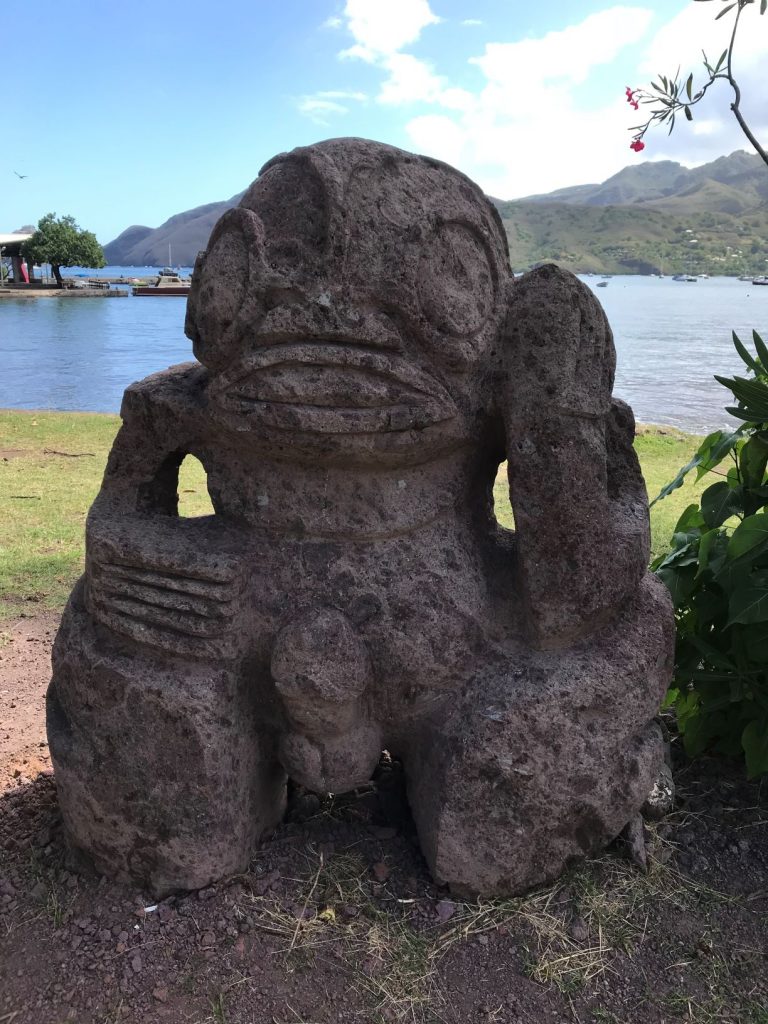 The art and culture of Polynesian tattoos. So different than the European style. And so dense in symbolism and meaning. This was a topic for many a talk both among Vilja's crew and with Polynesian tattoo artists and locals we met who were «covered in art». The Slungaard Myklebust Family takes their personal piece of this art with them in their lives forever (just wait and see!).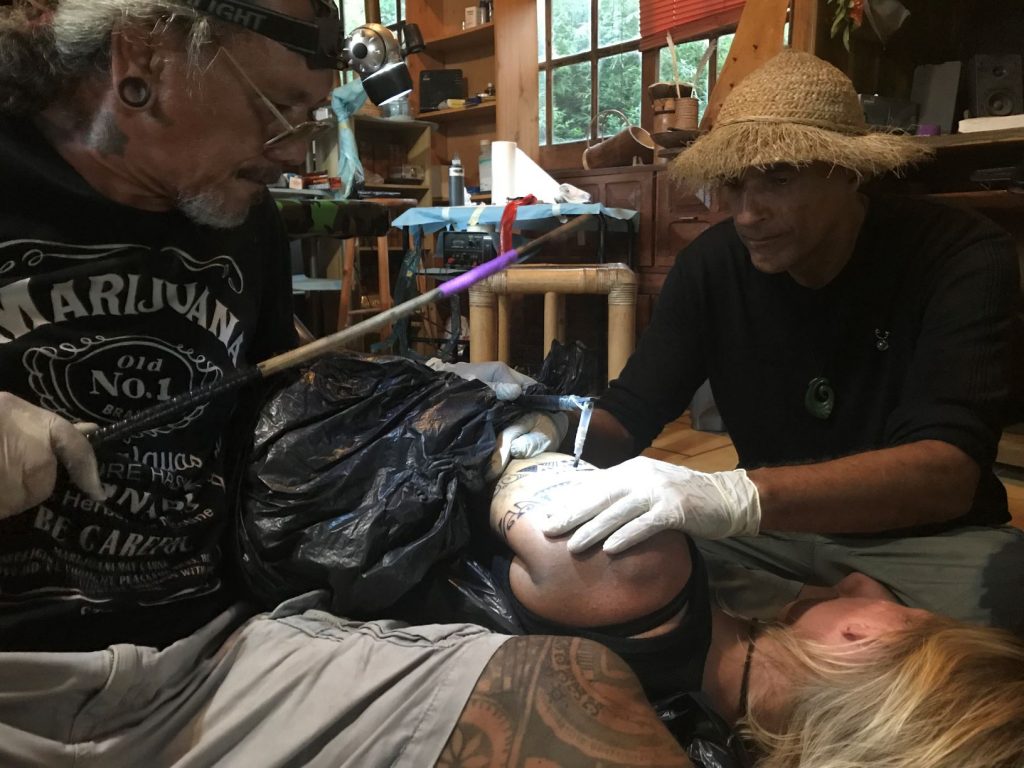 Meeting the other long-distance sailors – both young and old – that tend to gather here at this time of year. Some will sail on like us to New Zealand or Australia for the tropical storm season, but most of those we met plan to spend the coming half year exploring the most northern or southern islands of this country, safely outside the tropical storm belt.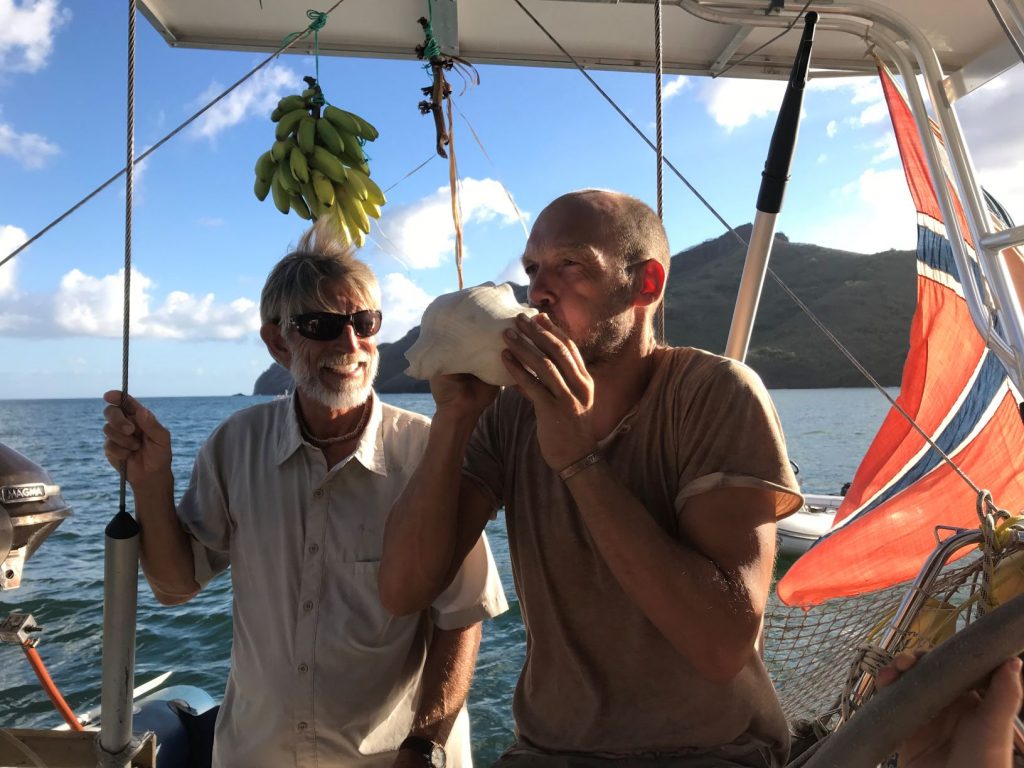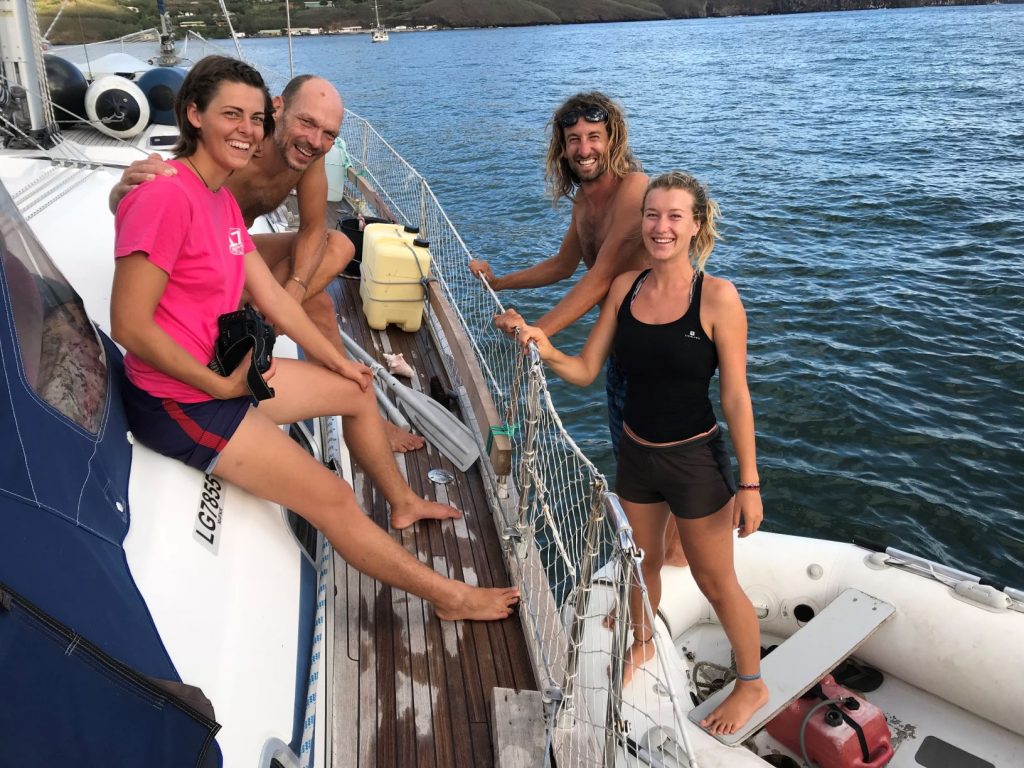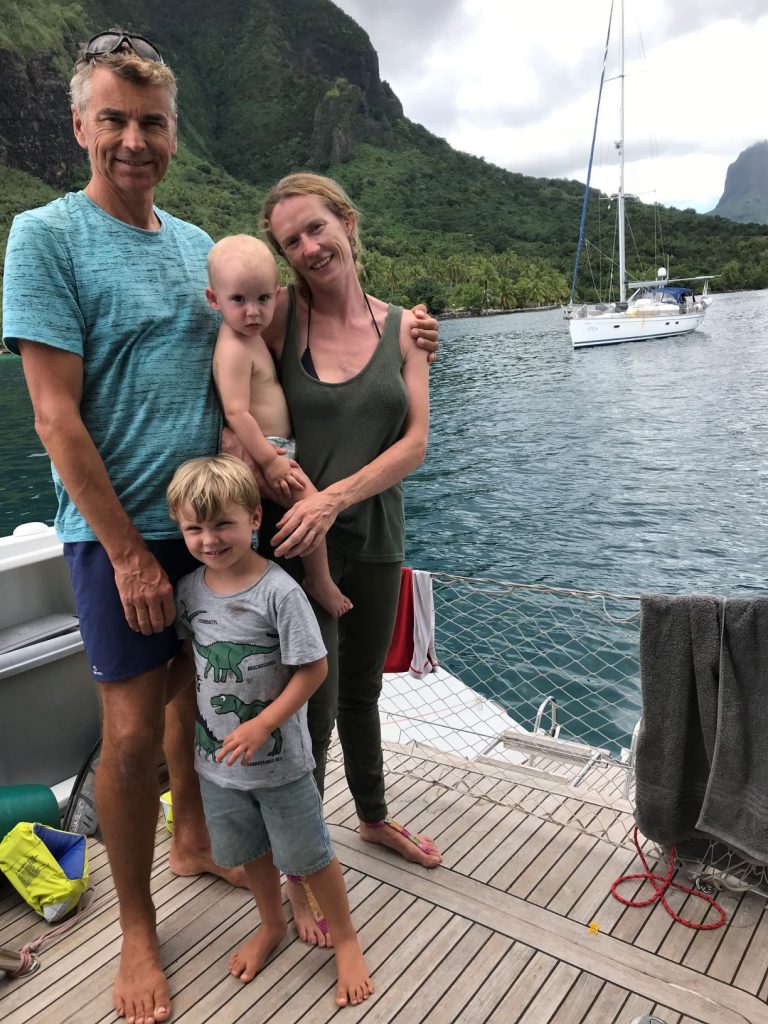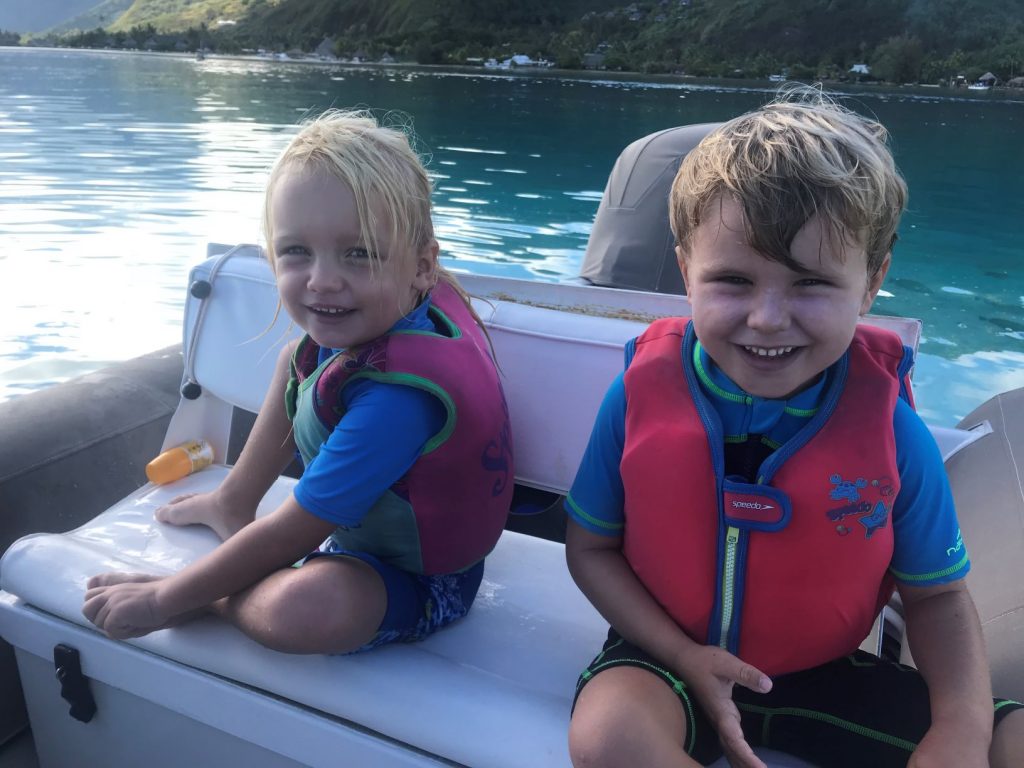 Our visiting crew:
Brynhild – our friend from Trondheim who crossed the Pacific with us and whom we got to share the joy of accomplishment after three weeks of continuous sail across the Pacific and the first taste of (to us) «new land» during a week together in the Marquesas.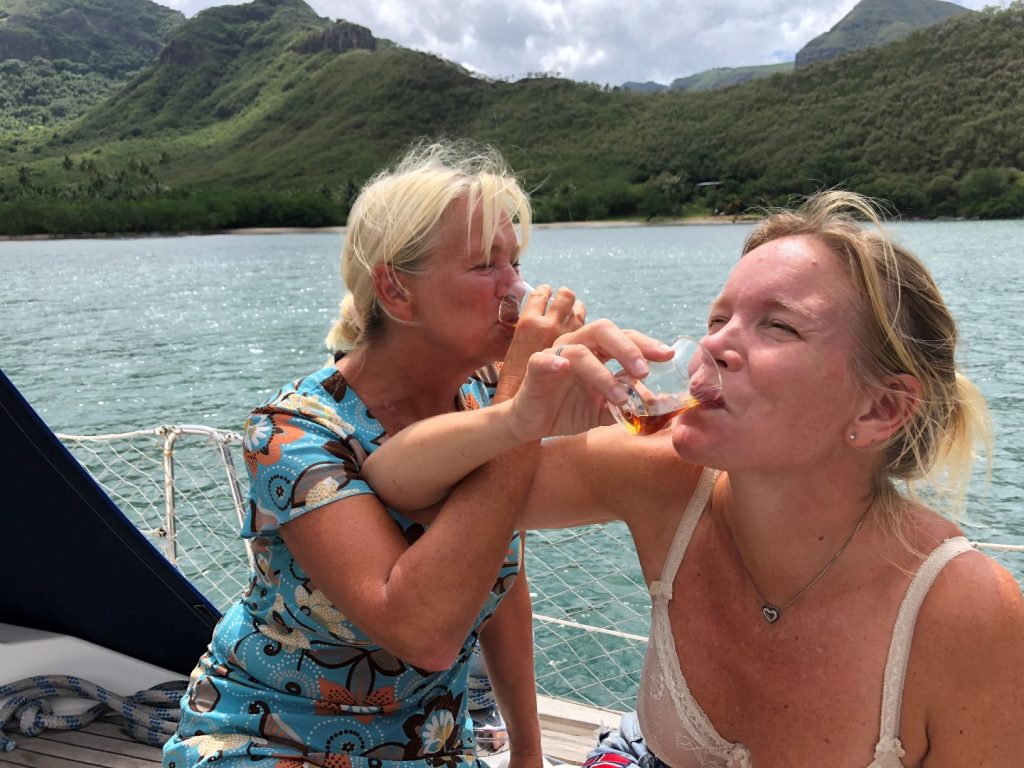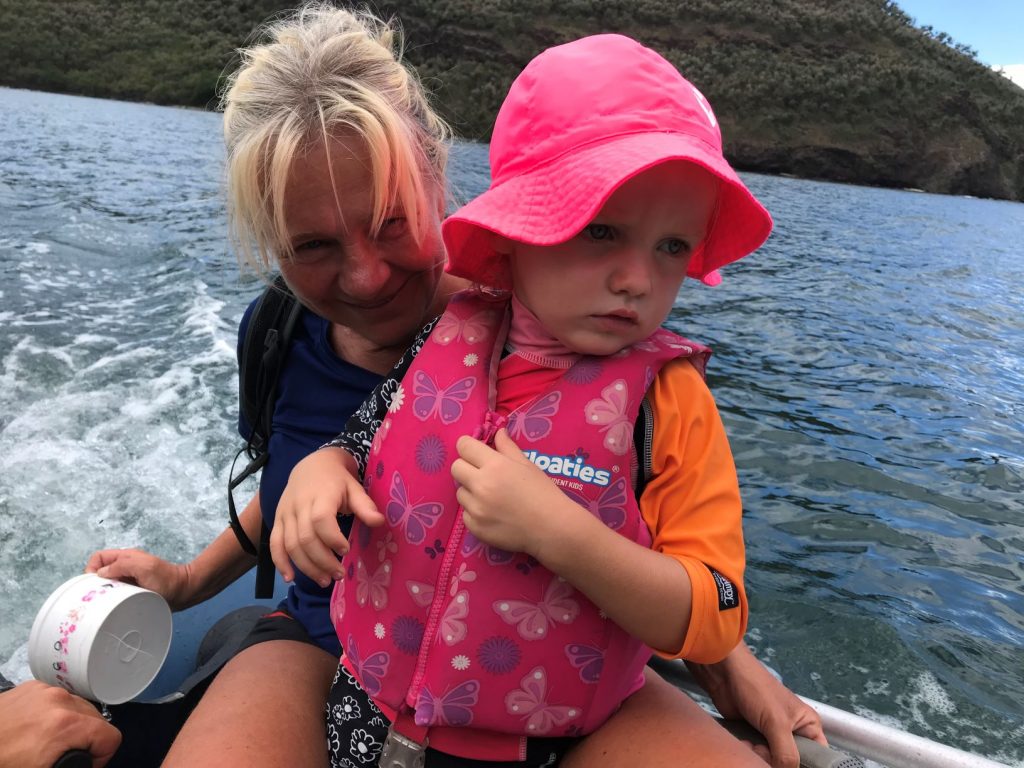 Audun – also our friend from Trondheim who arrived in Tahiti and is joining us all the way to New Zealand. Since he arrived the boat has been transformed into a mix of giggles, philosophy, play, live music and much more.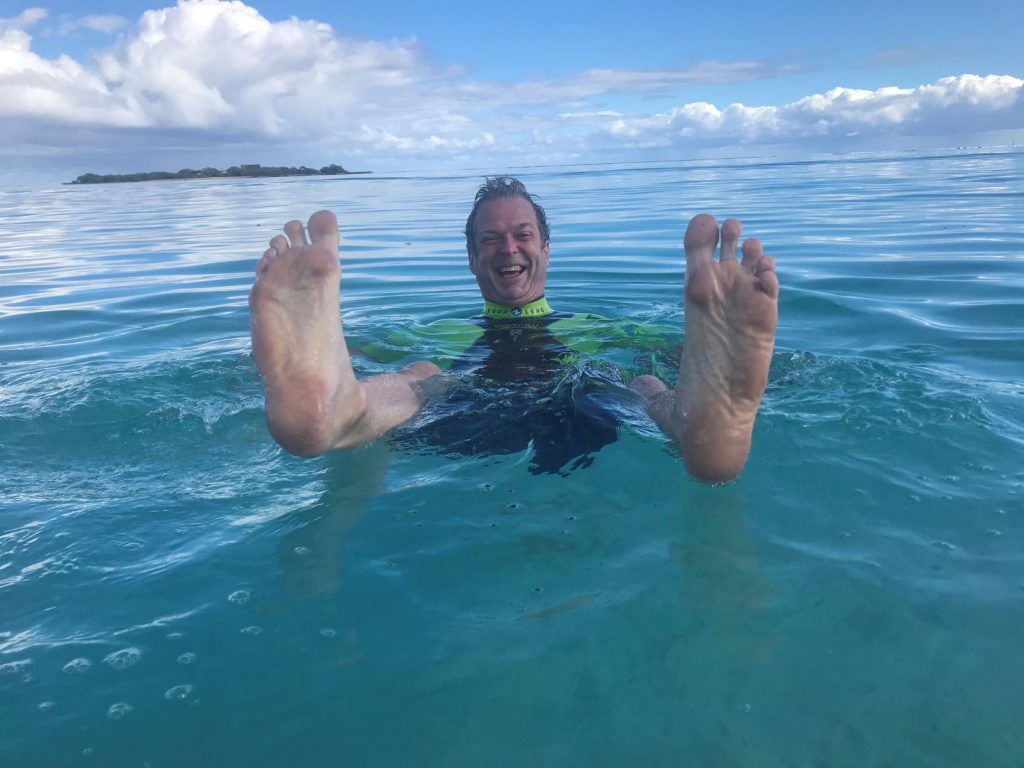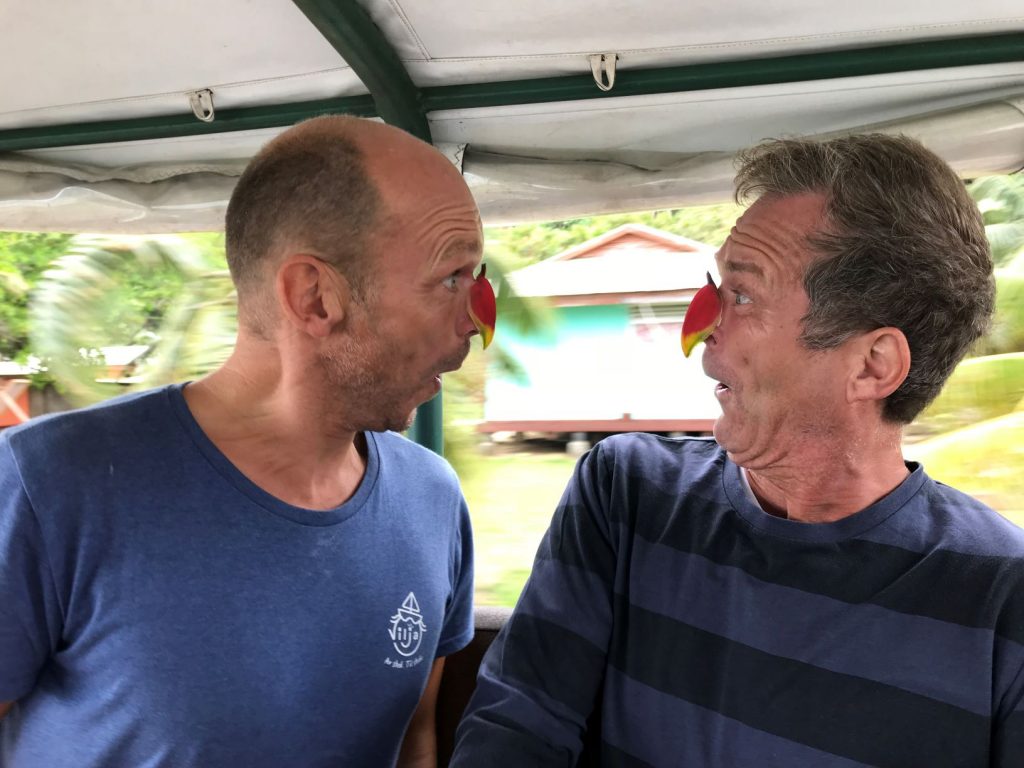 Sophie – a very special young woman whom we briefly met in Galapagos and by the unexpected turn of events ended up sailing with us for 2,5 weeks from the Marquesas to Mo'orea. She made an imprint in our hearts – and on Ingrid's skin(!) – forever.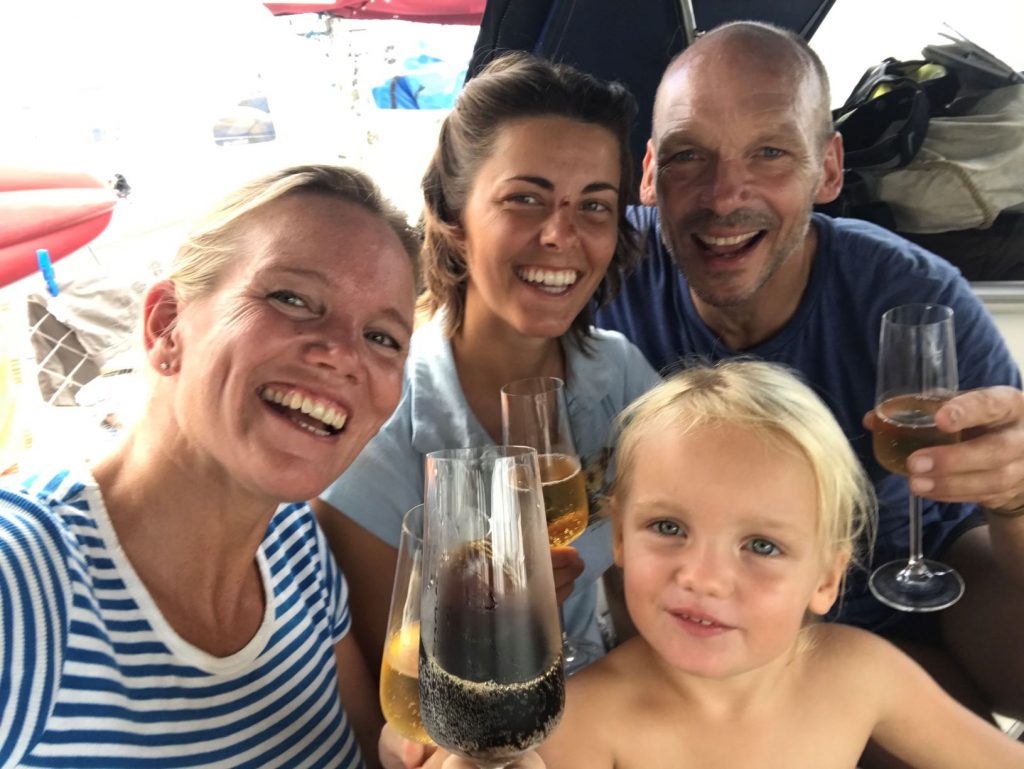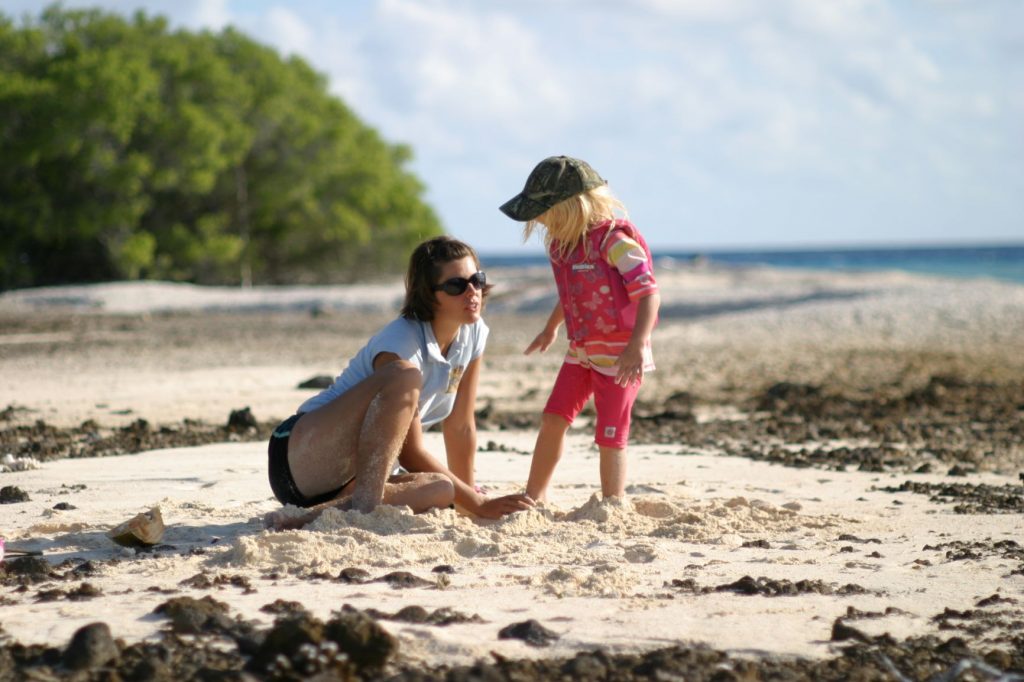 And last, but not least: the time and precious moments the three of us – the «core crew members» of Vilja – share on our voyage.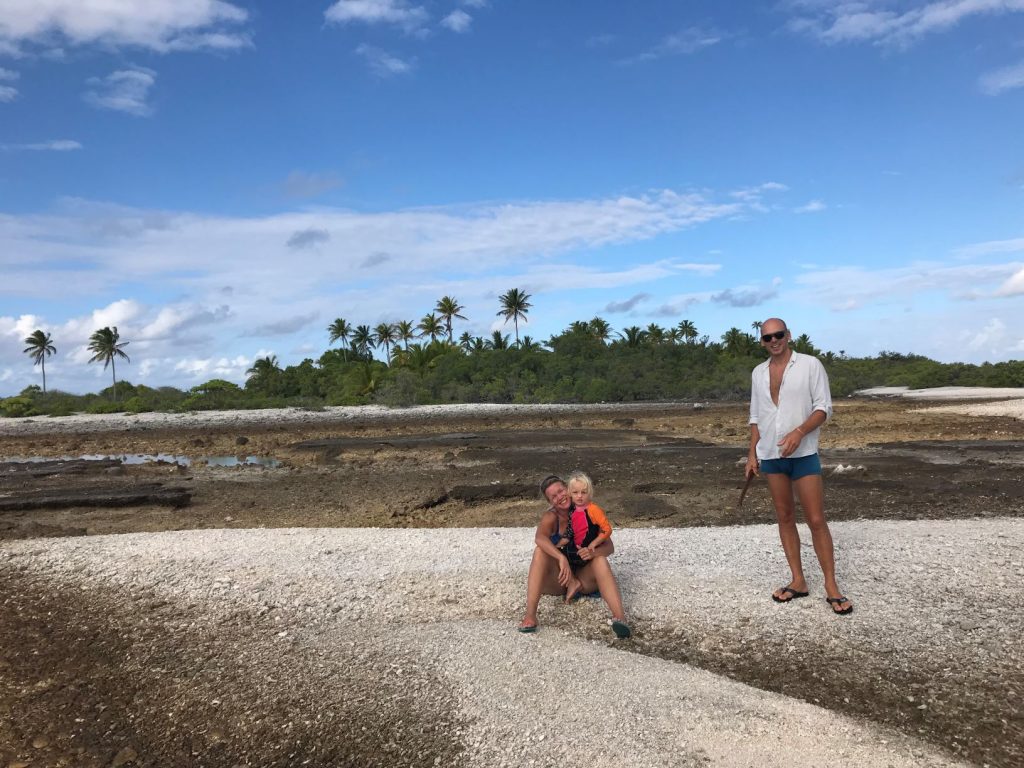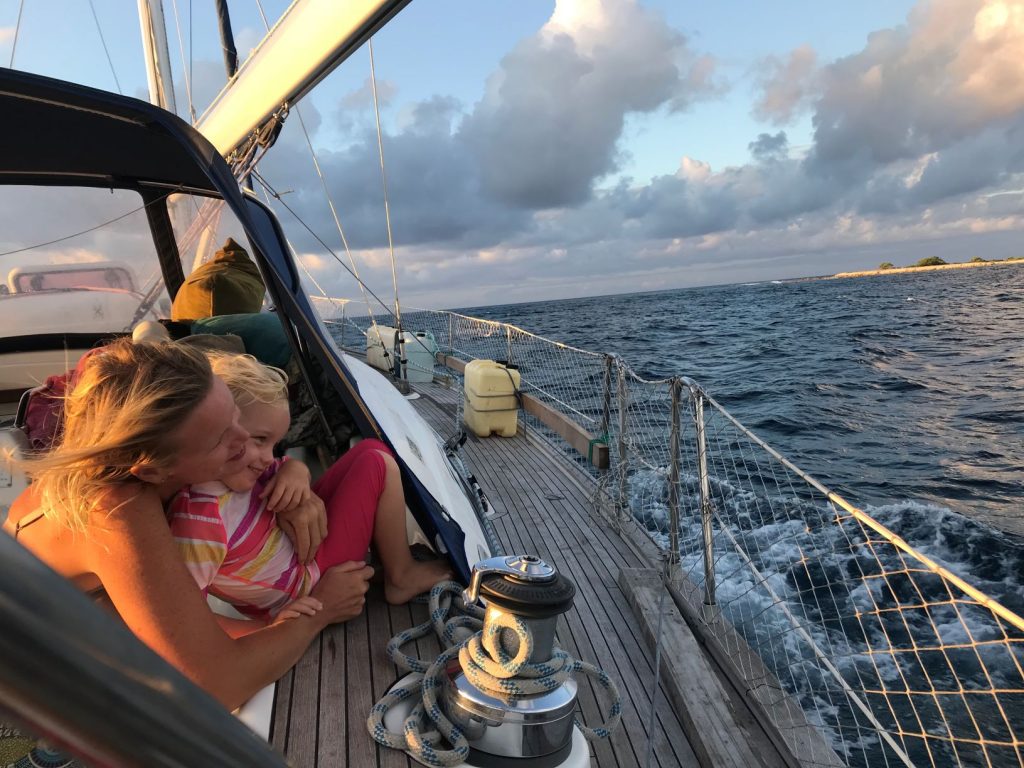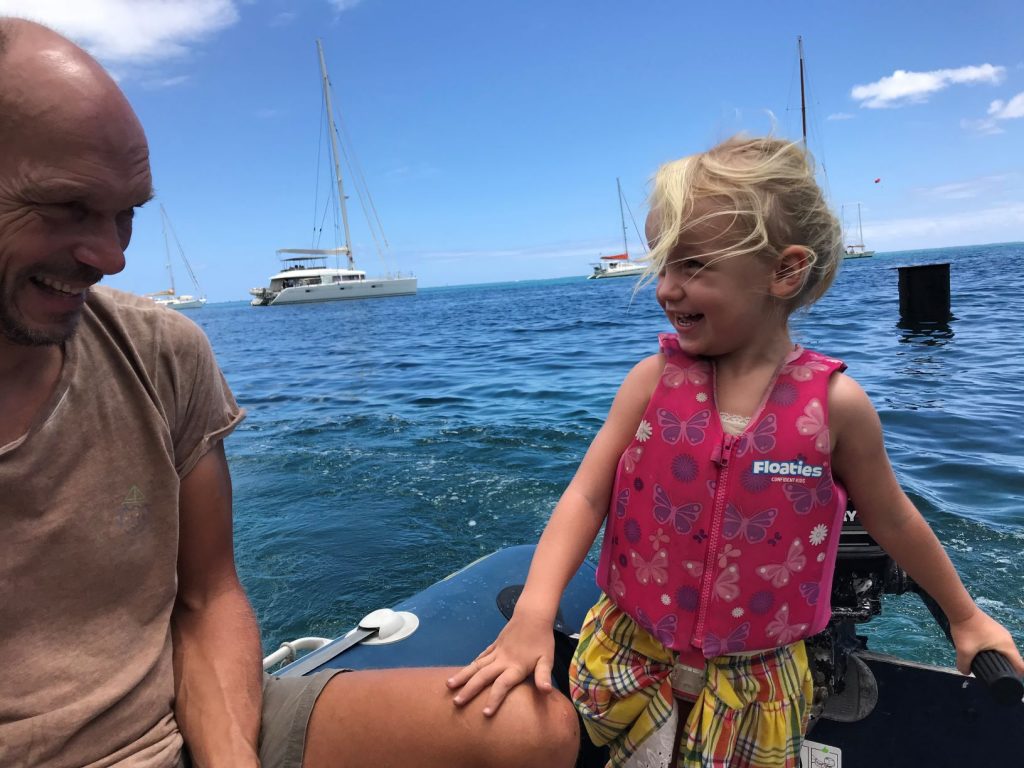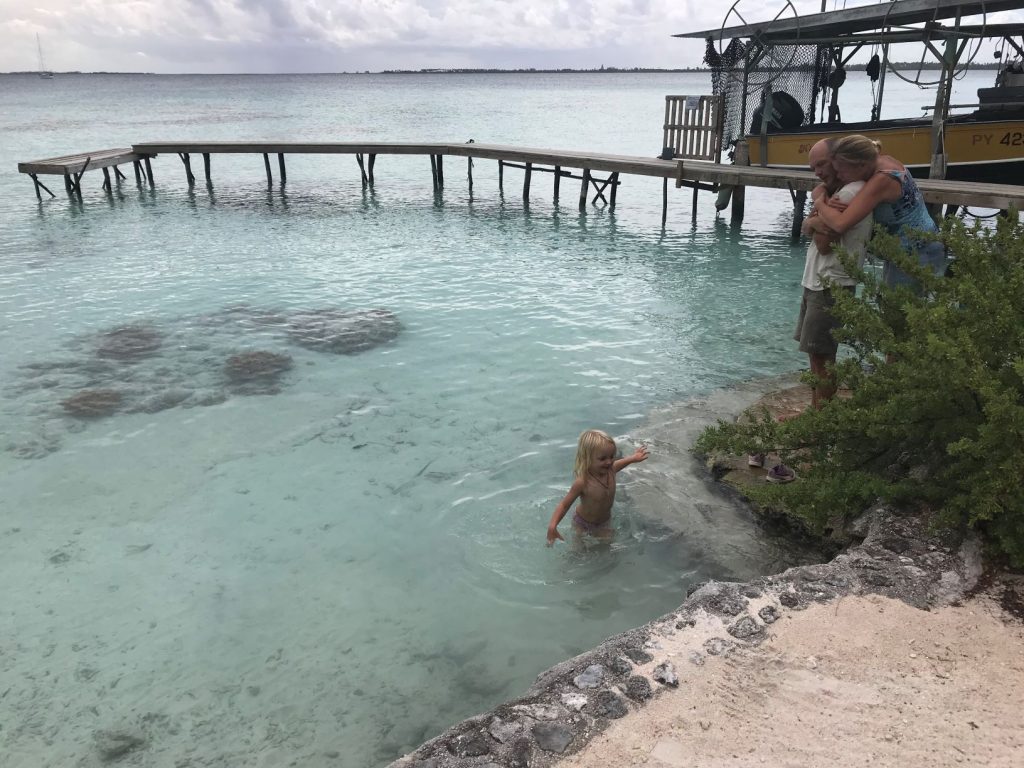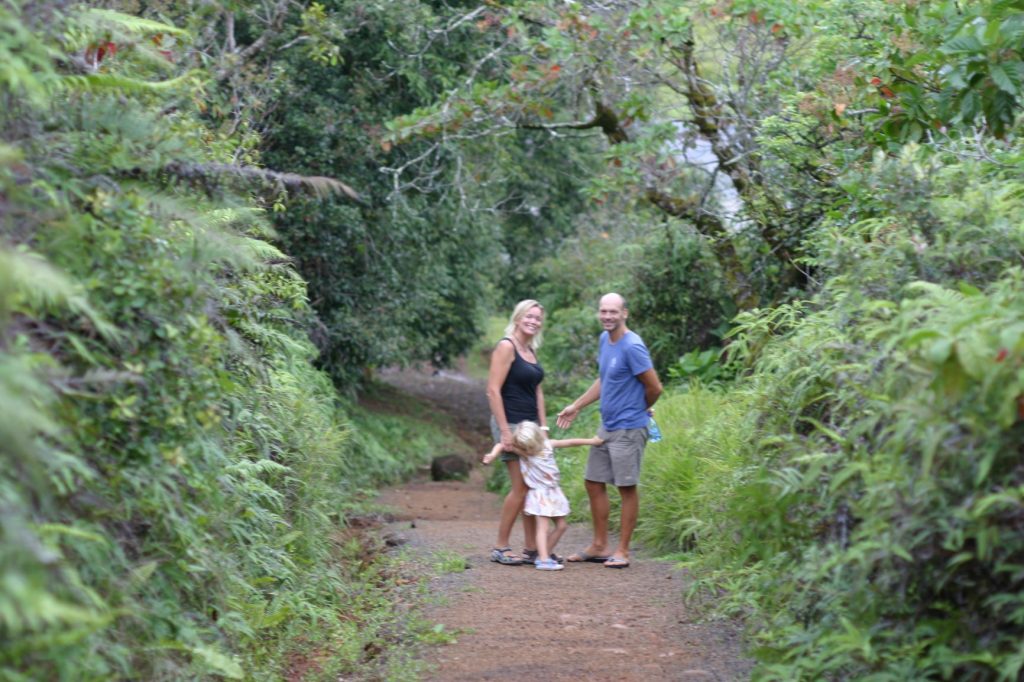 And now what?!
We are currently 4 crew members on board: Jon Petter, Ingrid & Karen Marie (of course), and also Audun Sødal our friend from Trondheim. Audun arrived in Pape'ete on Tahiti on September 21st, and will sail with us all the way to New Zealand. Our boat is filled with lots of laughter, play, everyday philosophy, live music (piano and guitar) and mere curiosity and appreciation of both the little and big things in life.
So here we go! Next planned stops are two of the Cook Islands; first the island of Aitutaki (360 nm westwards) and then Palmerston Island (another 200 nm northwest). We've been granted special permission to stop at the latter, and we hope that weather allows us to drop our anchor there. Time will tell. Now we look forward to the sail that will take us there.
Bon voyage!
_________________
Tuesday September 11th, 2018. A quick update from the Marquesas Islands, French Polynesia
We've arrived in French Polynesia, after 22 days at sea and 3,043 nautical miles from Galapagos.
The sail was unforgettable – in a good way! And we're Grateful.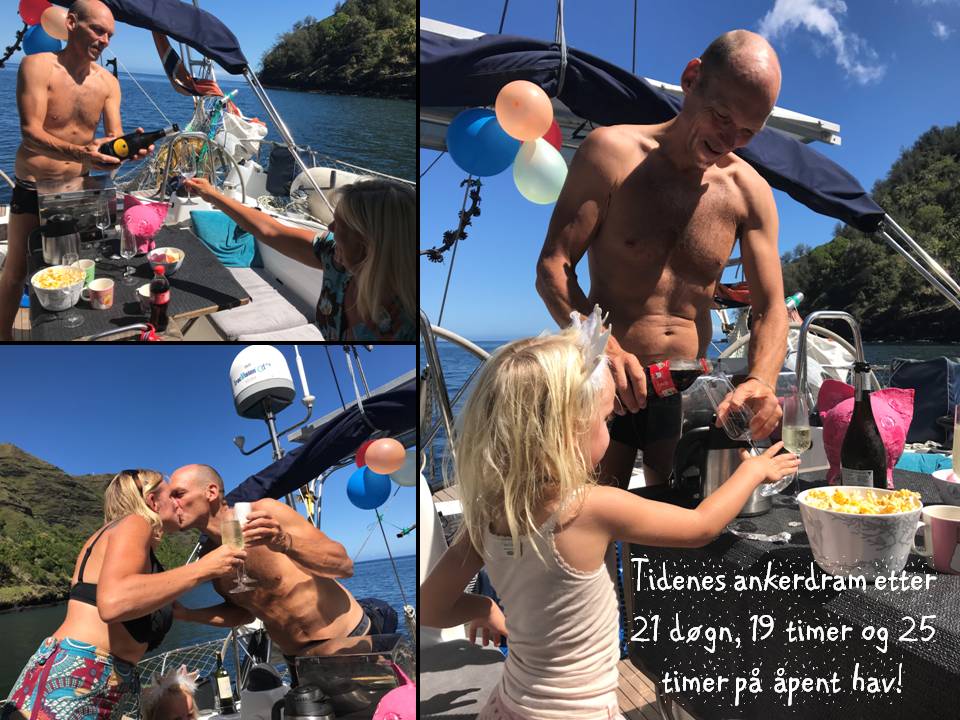 We've now spent 11 days on the Marquesian Islands of Fatu Hiva and Nuku Hiva. Truth be told, we've fallen in love with the islands with their beautiful landscape and warm-hearted people. We'd love to stay longer, but must sail on in order to reach New Zealand before the tropical storm season sets in in November.
The Tuamoto Atolls are 5 days sail away, and we plan to stay a few days there before we head on to Tahiti.
See you!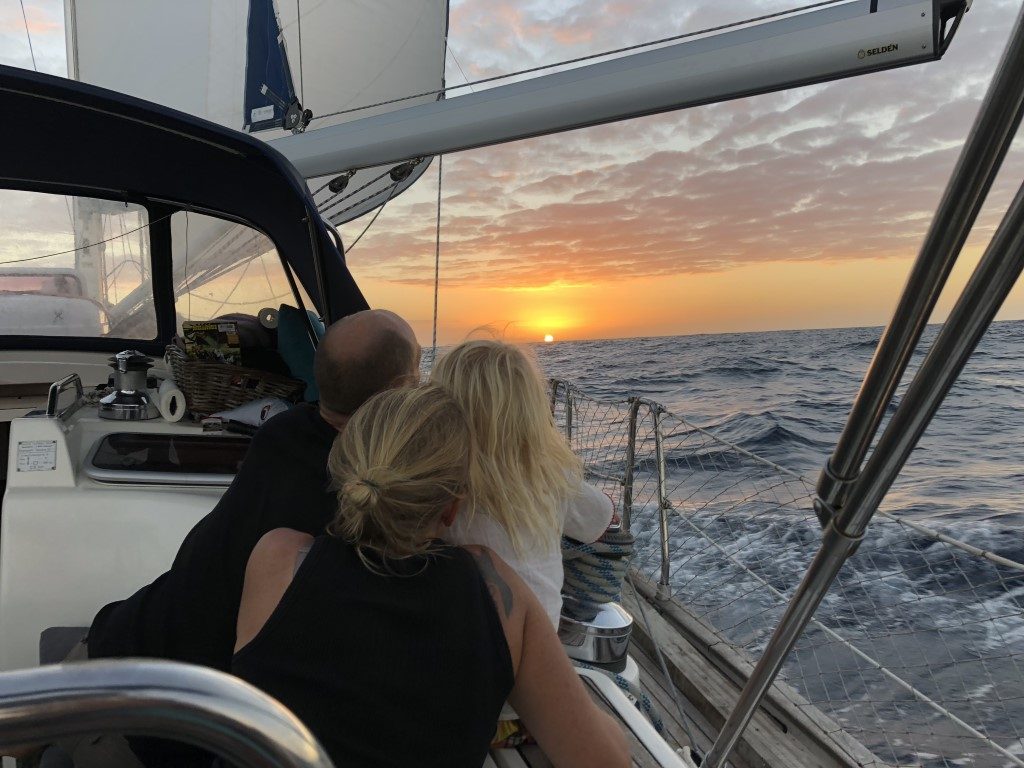 _____________
WEDNESDAY 08.08.2018: SAN CRISTÓBAL, GALAPAGOS
Vilja and crew have gone sailing!
Departure from San Cristóbal, Galapagos on August 8th at 3 pm
Destination: The Marquesas Islands
Distance: 3000 nautical miles
Current position: Somewhere in the Pacific Ocean…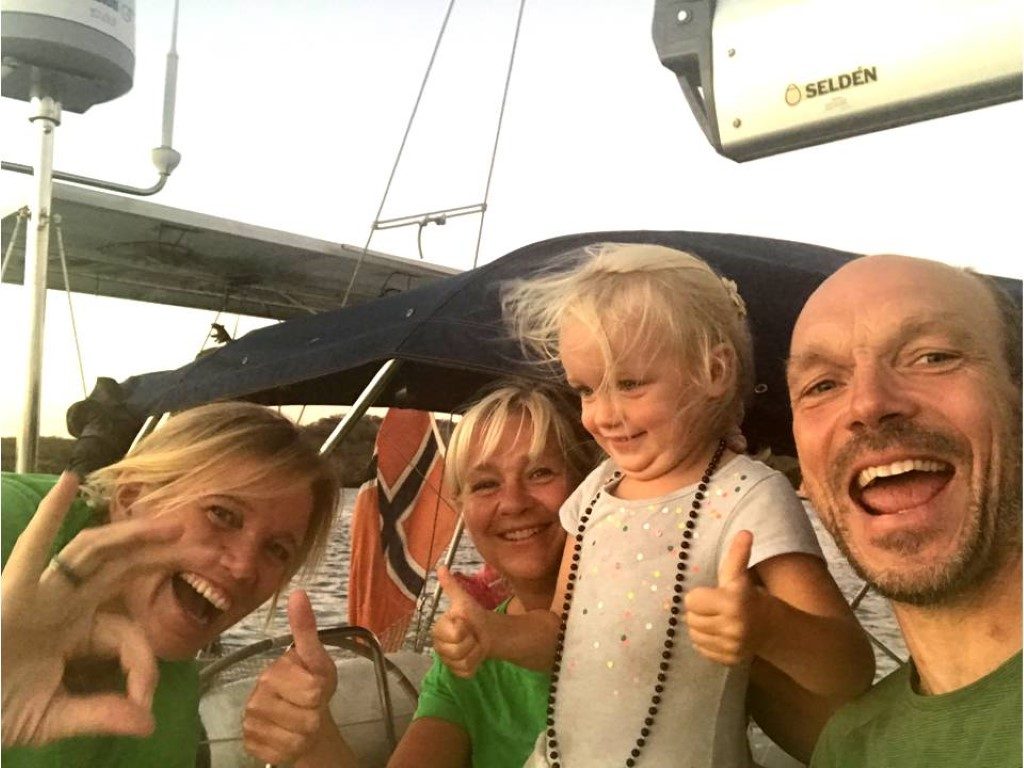 Our last swim around Vilja before departure from Galapagos gave us this:
Our stay here in Galapagos has been unforgettable, in so many ways. No doubt these last 6 and half weeks will be a highly valued chapter in our Sailingvilja voyage.
Thank you, Galapagos!
MONDAY 06.08.2018: SAN CRISTÓBAL, GALAPAGOS
Key words: Final preparations before departure. Saying goodbye to friends.
We're soon ready to sail, hopefully already tomorrow. We're anxious to go, but – as strange as it may sound – we're also feeling a bit sad to leave San Cristóbal. I guess it's human nature; growing roots when you stay somewhere for a long time. We've been in Galapagos for 6 weeks now, and in San Cristobal for more than 4 of these. We're starting to feel at home. We've gotten friends for life. We appreciate having sea lions for company when we swim by the boat. We're gonna miss this place!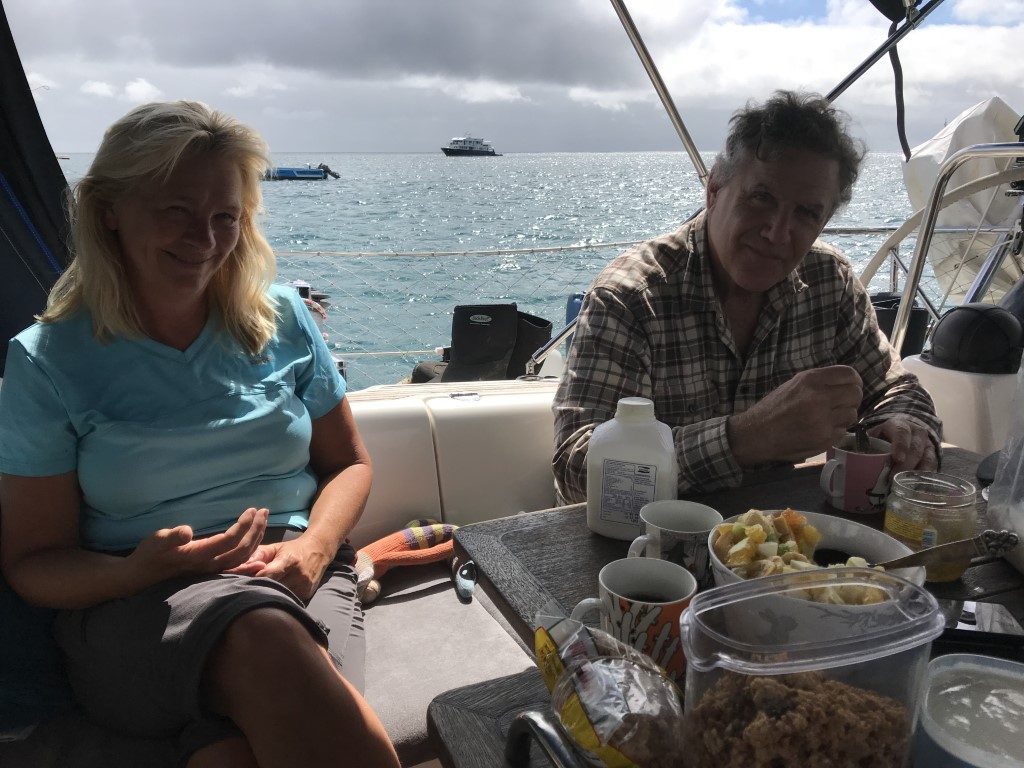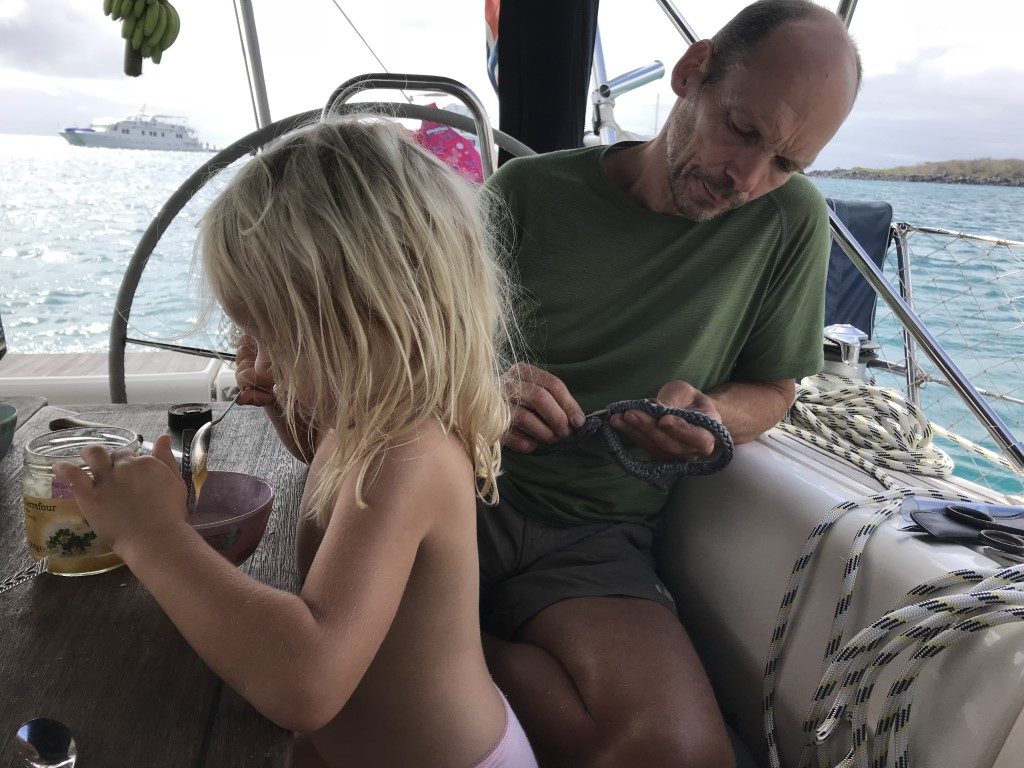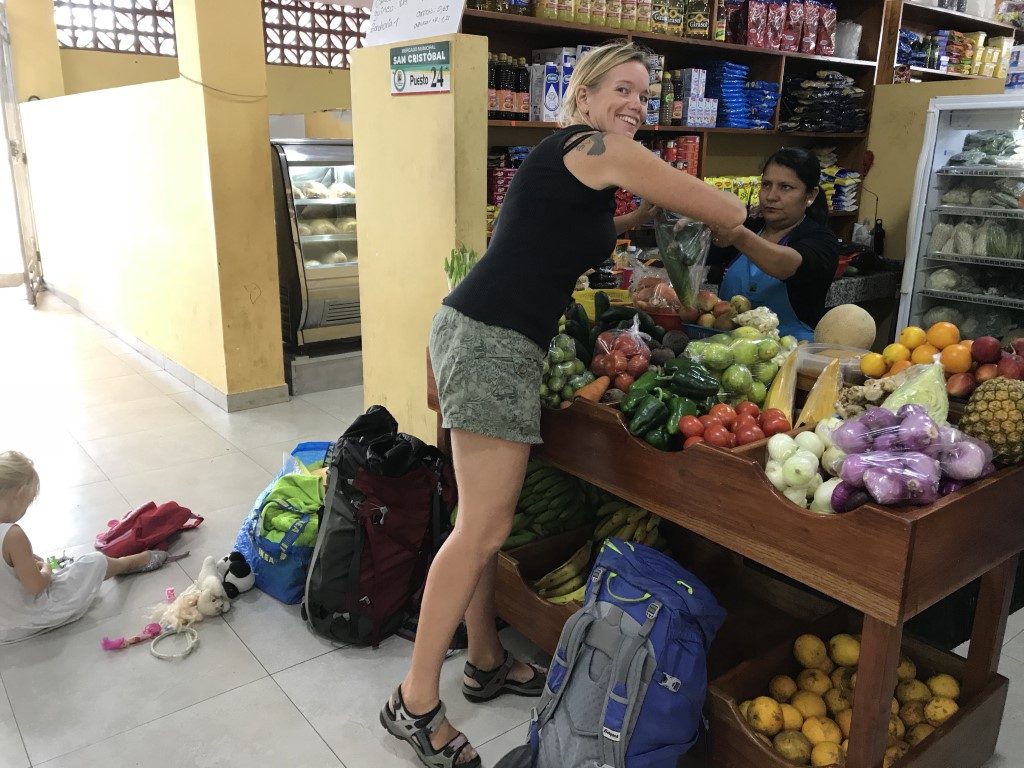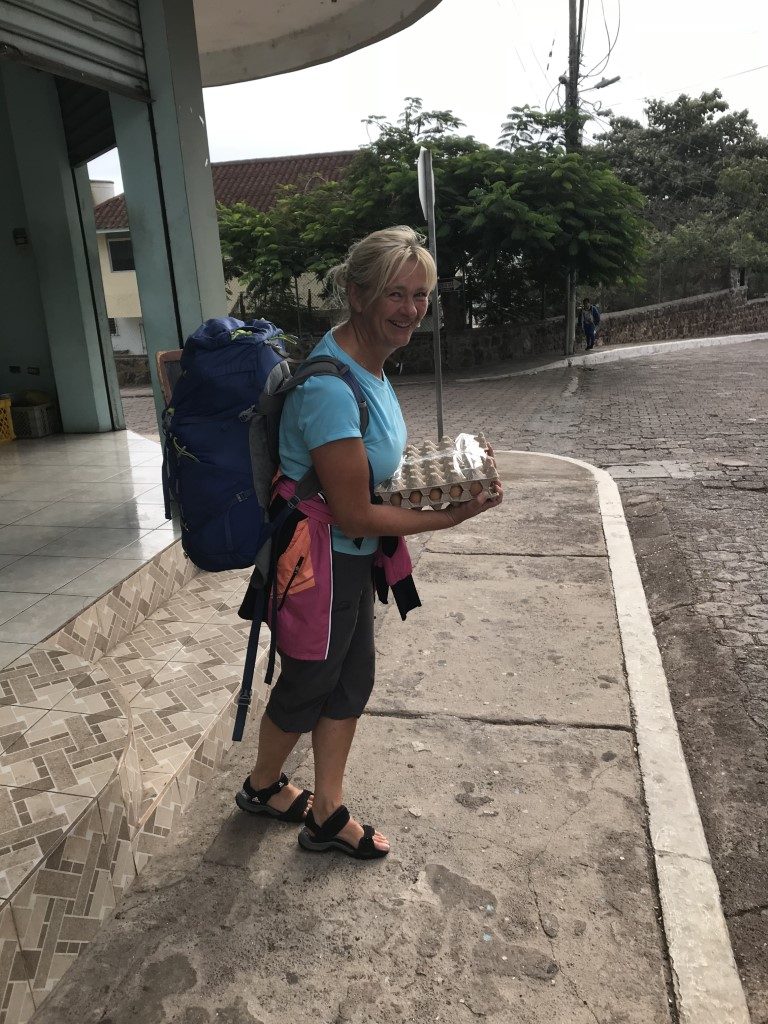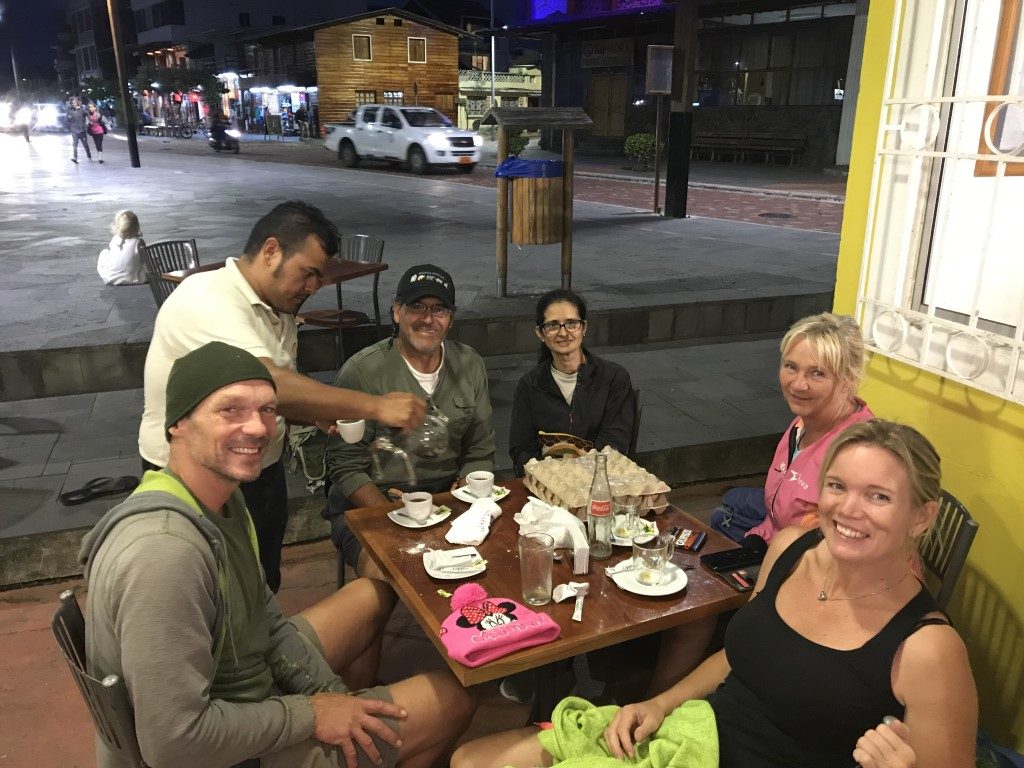 ____________________________________
__________________________________________
SUNDAY 05.08.2018: SAN CRISTÓBAL, GALAPAGOS
Key words: Manual furling system installed. New generator on board – where the h… do we put it?! But the genuine highlight of the day: Spending the day with the Savalla family at their farm "Finca Don Eudoro" in El Progreso.
The morning on board started with the technical stuff – two achievements & one new headache:
Achievement #1: The mechanical roller furling system is installed and (nearly) ready to use! We can hardly believe it, but the fact is that WE ARE NEARLY READY TO SAIL!!!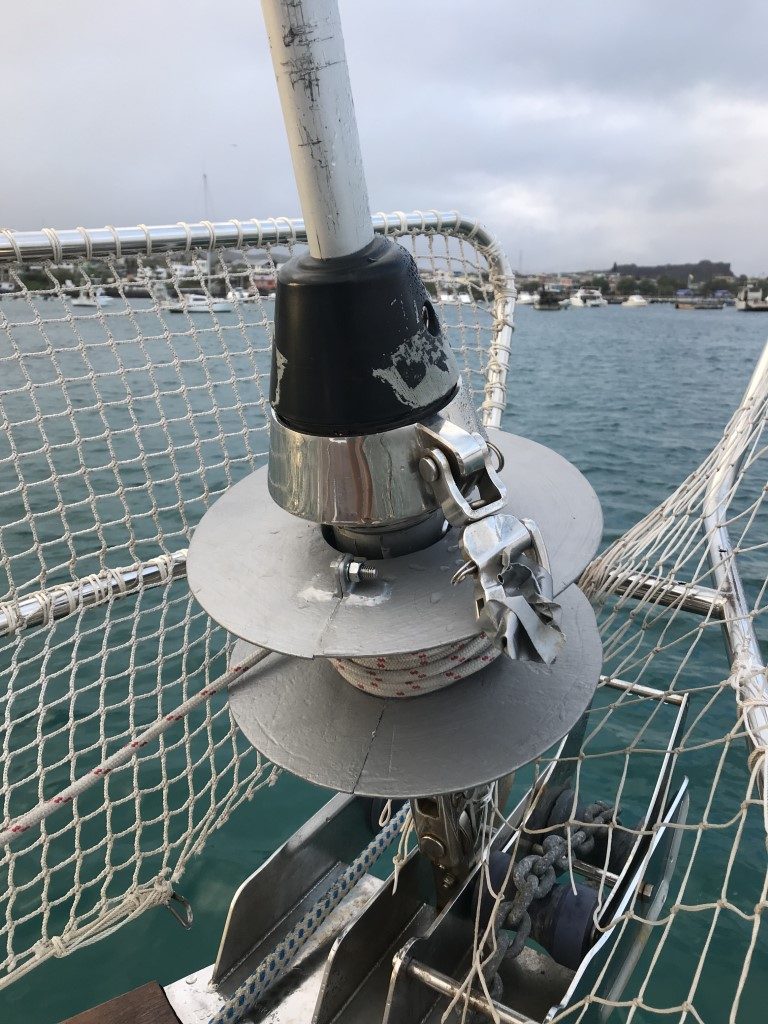 Achievement #2: We've bought a new generator. It FINALLY arrived yesterday by ship from the mainland. Why a new one, you ask? Well, our Fischer Panda broke down at Isabela three weeks ago. No spare parts are to be found here. Without a generator we wouldn't have enough electricity for the fridge, electric stove nor using the autopilot 24-7. Meaning; it would have a great impact on our 3 weeks and 3000 nm Pacific crossing. So: We have bought a 2,5 kW portable generator as a temporary solution until we get to New Zealand. To save some money we chose the "local brand" KISA. We hope it'll be ticking for at least the remaining sail across the Pacific.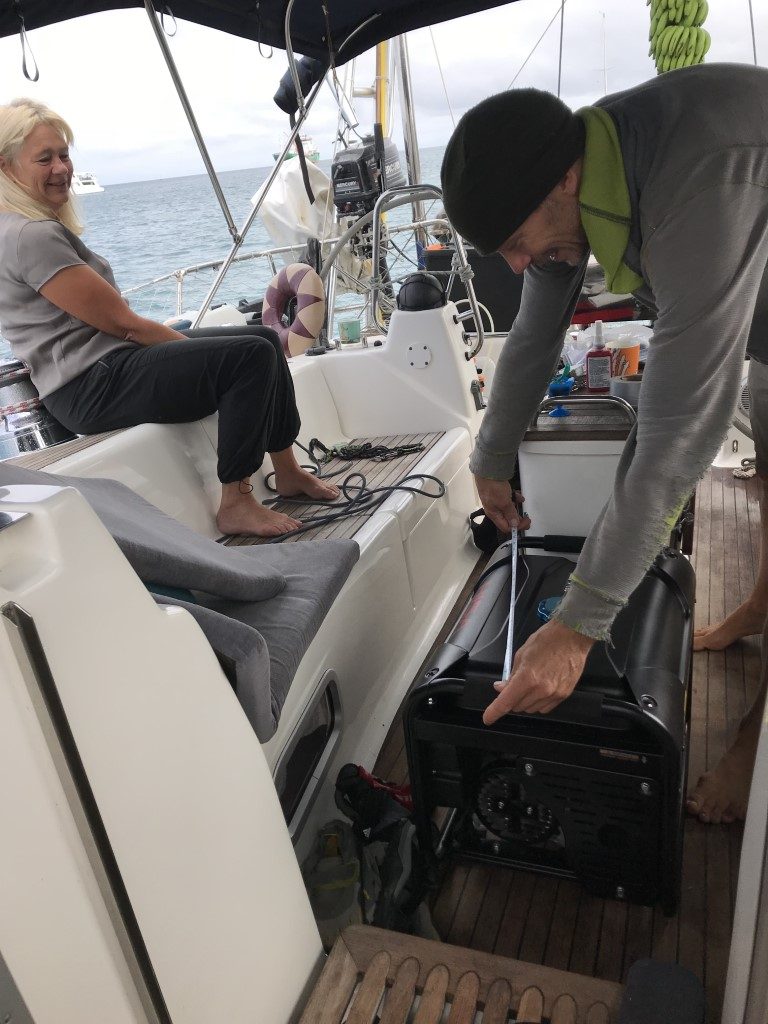 New headache: BUT – where the heck do we stow this monster? It has to be outside, but can't take salt water spray. And it's heavy – 45 kg! Jon Petter faces a new phase of problem solving… ;-p
Now enough about that. Today was actually another wonderful day! Yes, we know wonderful is a big word, but it's the right one. Wonderful and full of wonders!
We spent the day at the Zapalla family's farm Finca Don Eudoro in El Progreso. Words can't begin to describe the experience and atmosphere. We are aware every minute of the time we spend with this family that what we're experiencing right now is unique.
Here are some of the many memorable moments from our day.
Thank you!
________________________________________
________________________________________
SATURDAY 04.08.2018: SAN CRISTÓBAL, GALAPAGOS
Key words: Friends & play! Because: It's time to get ready to sail! All the more important to treasure the last moments building friendship and memories, to take with us into the future.
It's Saturday. We're hoping to sail on Tuesday at the latest. We probably OUGHT TO be doing the last practical preparations like tidying up the boat, stocking up the last goods, etc. But life on board Vilja right now is much more than that: We've been here so long we're starting to "settle". We've met friends. We enjoy San Cristóbal. We're going to make sure we appreciate the last days we have here to build friendship and value the possibilities that we are lucky enough to get. Some preparations before departure are musts, but many "shoulds" and "coulds" can wait. Whatever isn't ready by Tuesday can probably be done during the Pacific crossing or in the next port.
We started our Saturday morning with our friends and sleepover guests; Cecilia, Patricio and Alice. It was SO nice. You can't NOT take this invaluable time. 🙂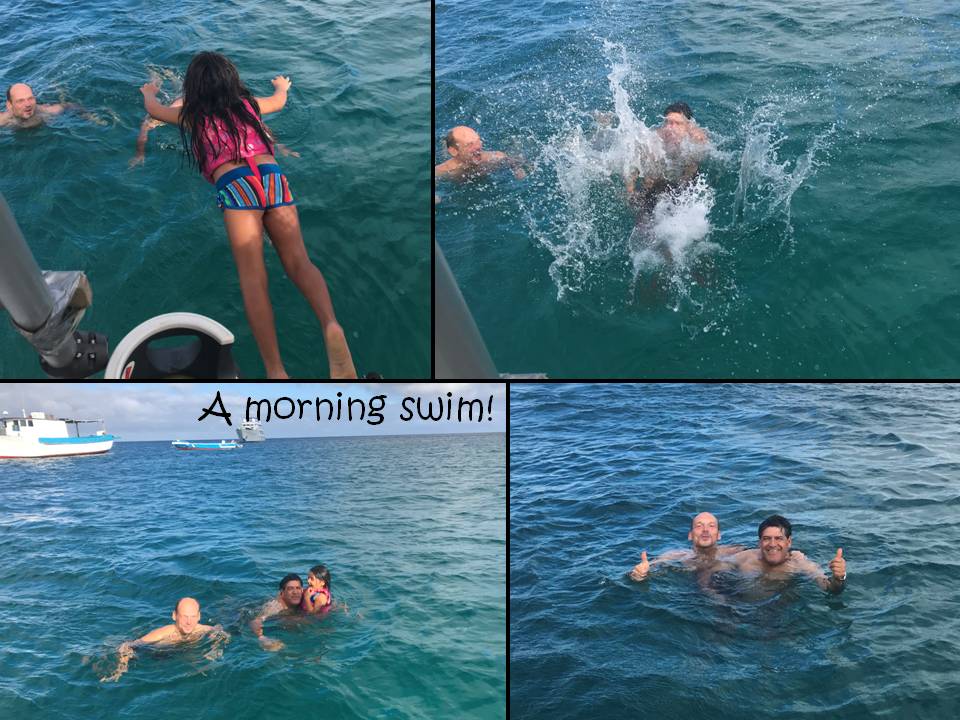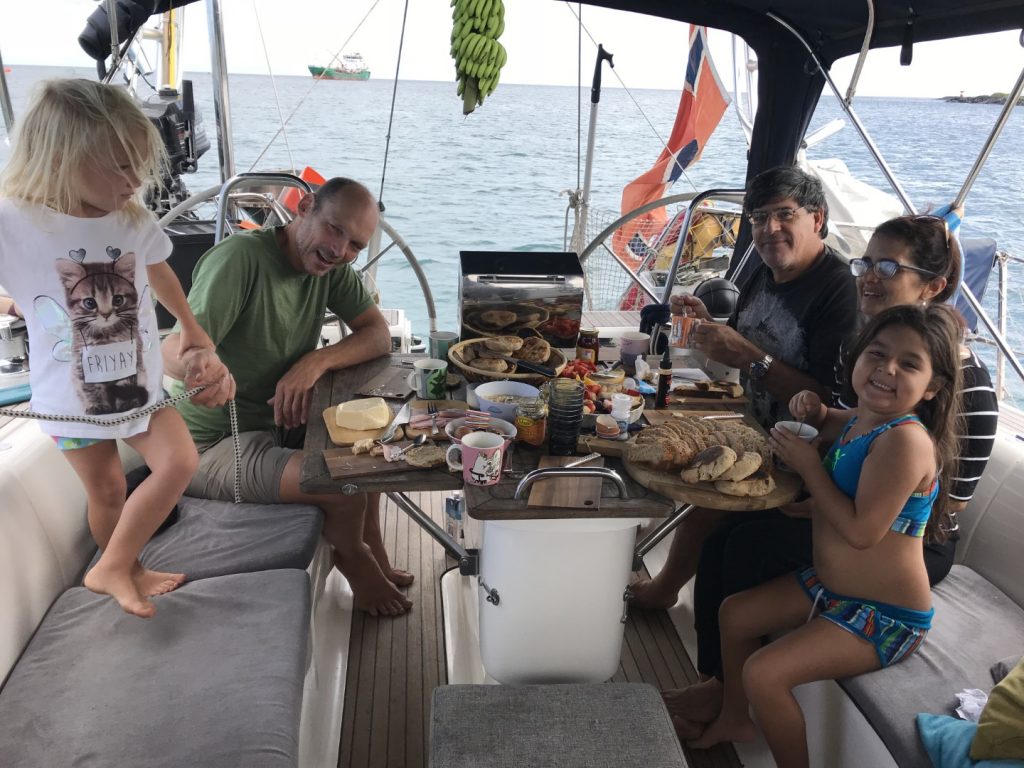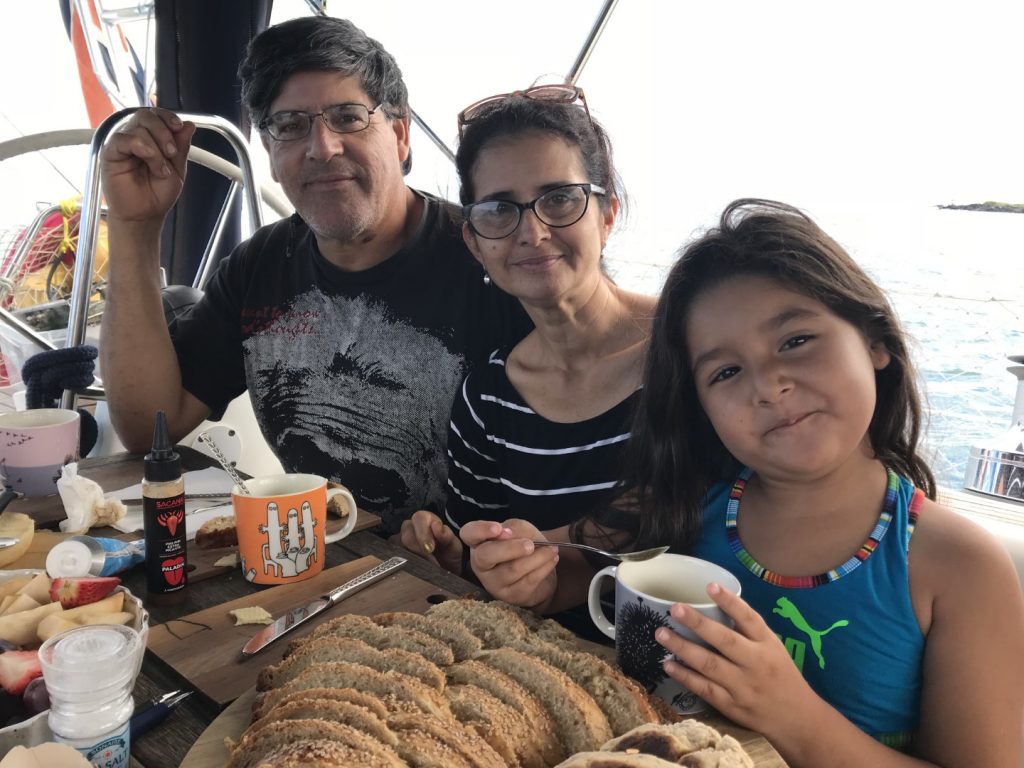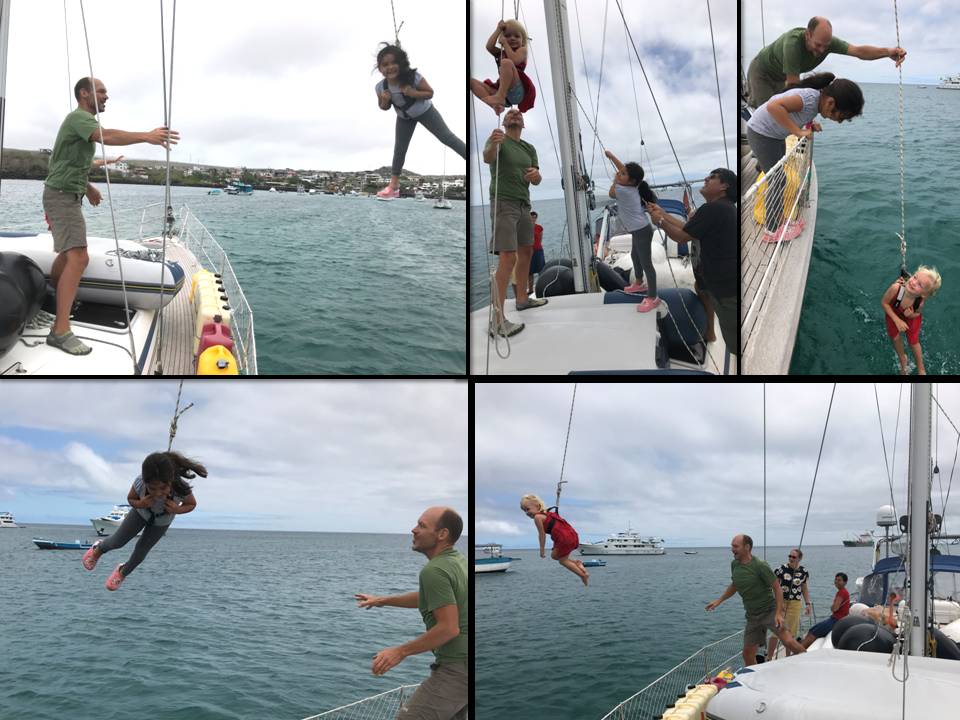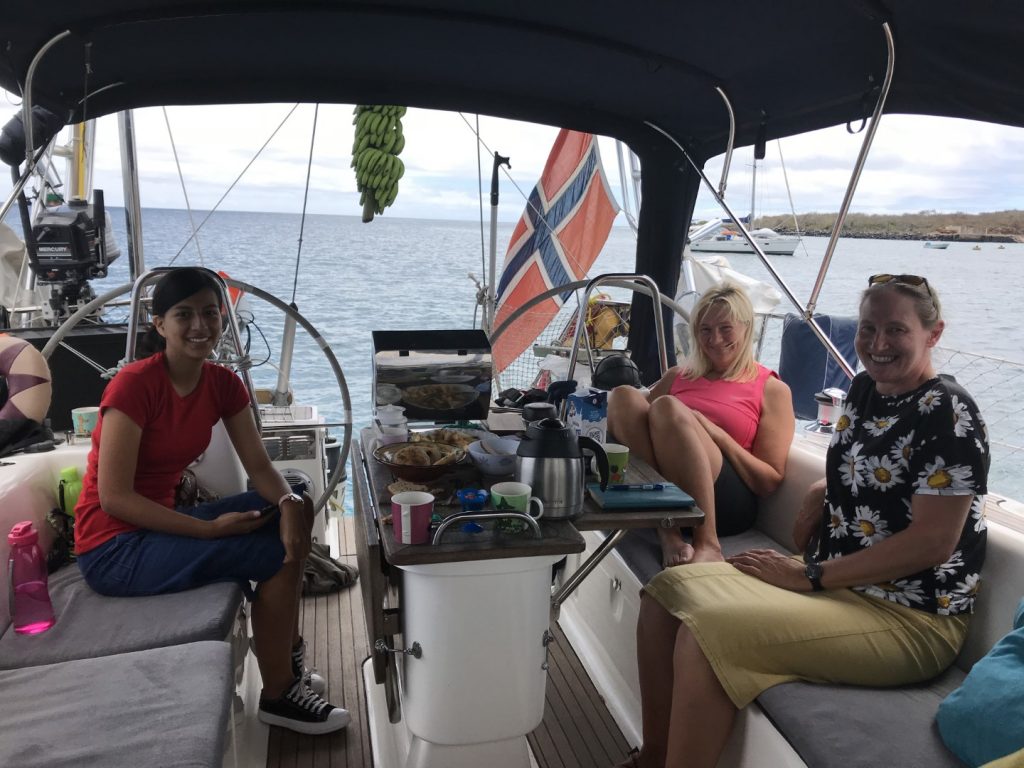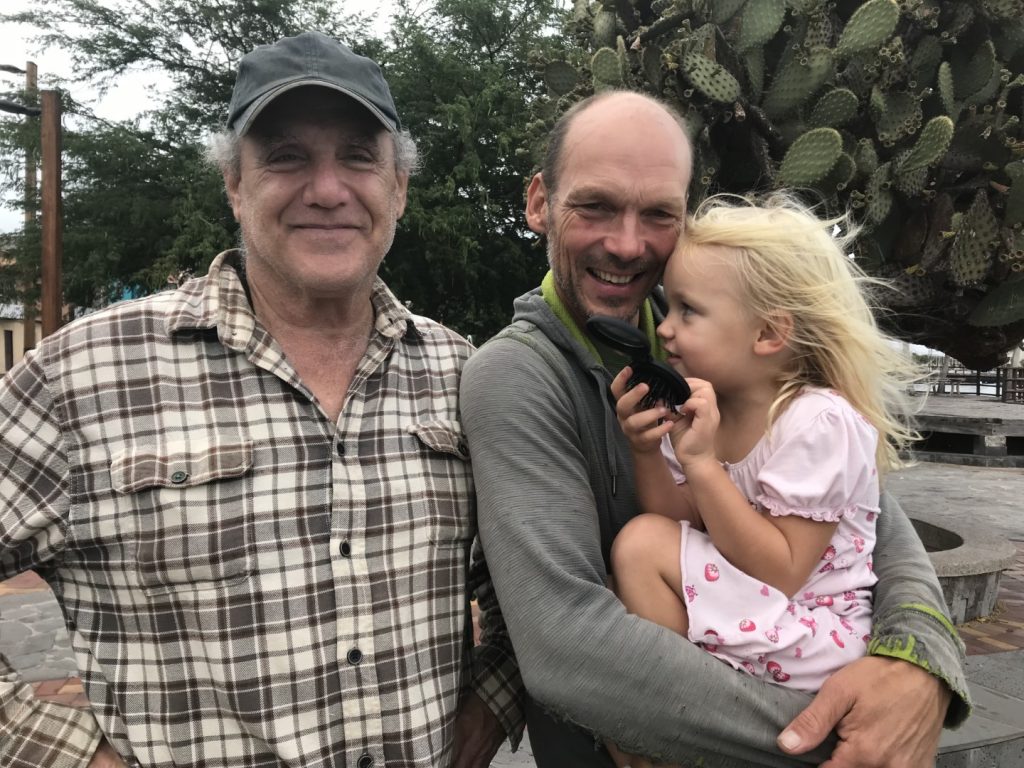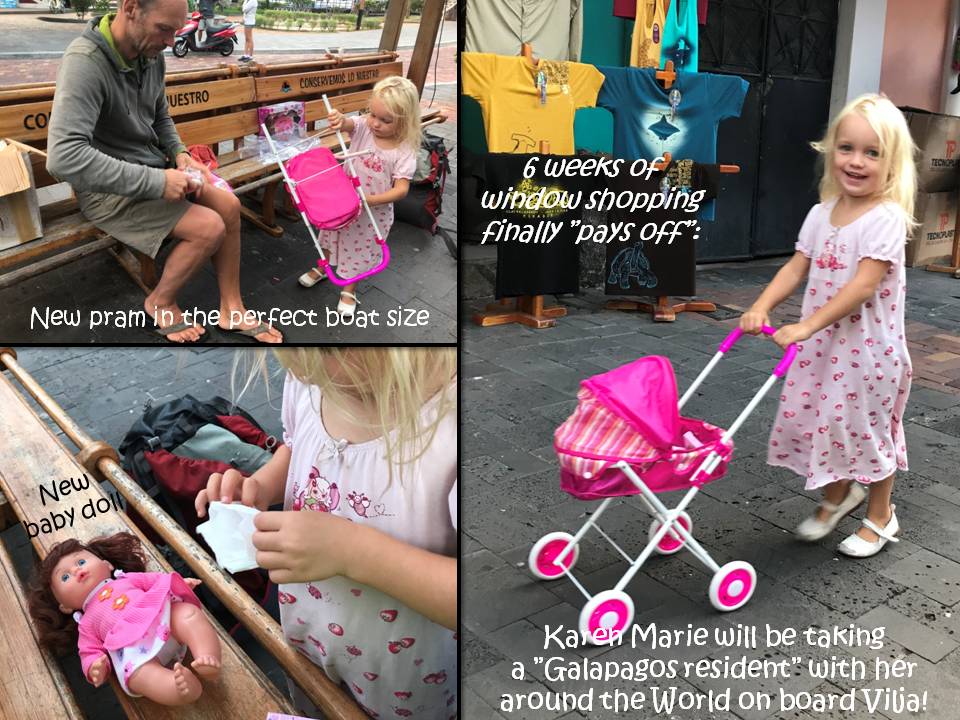 ____________________________________________________
____________________________________________________
FRIDAY 03.08.2018: SAN CRISTÓBAL, GALAPAGOS
Key words: Galapagos birds in our "home & garden". The manual roller furling system is installed. The highlight of today; having sleepover guests!
First a short update on the technical side: The manual roller furling system is nearly finished installed, and looking good so far!
Then to everyday life in San Cristóbal, which is getting SO good these days:
We're not allowed to use our own dinghy here on San Cristóbal. The local taxi boats take us to and from land. They start at 6 am in the morning, and stop at 7 pm. This system works fine, with a copule of exceptions: The first is that we can't visit neighbor boats unless we swim over to them (which we do!). The second is that it limits the evening activities on land. The good thing about it though outweighs this, because: If we want to socialize with friends in the evening, either they or we have to sleep over! This has given us very special experiences; Our American friend Don slept over on July 25th. On July 31st we spent the night at the Zapalla's home in El Progreso (see Everyday blog). Today Cecilia, Patricio and their granddaughter Alice came and spent the night at our home, on board Vilja.  We really appreciated their company.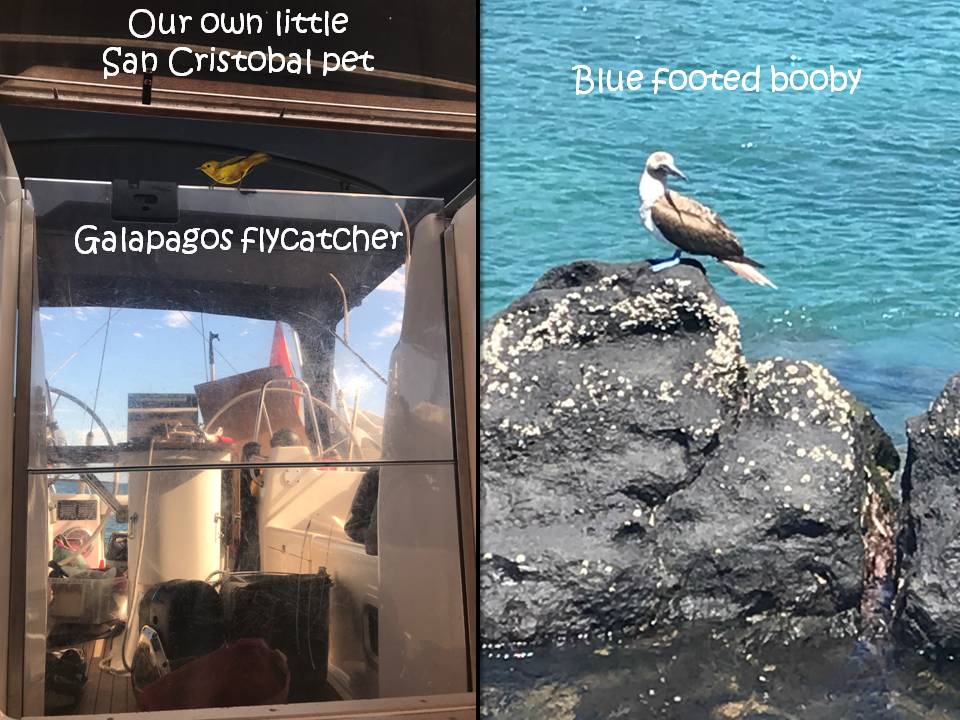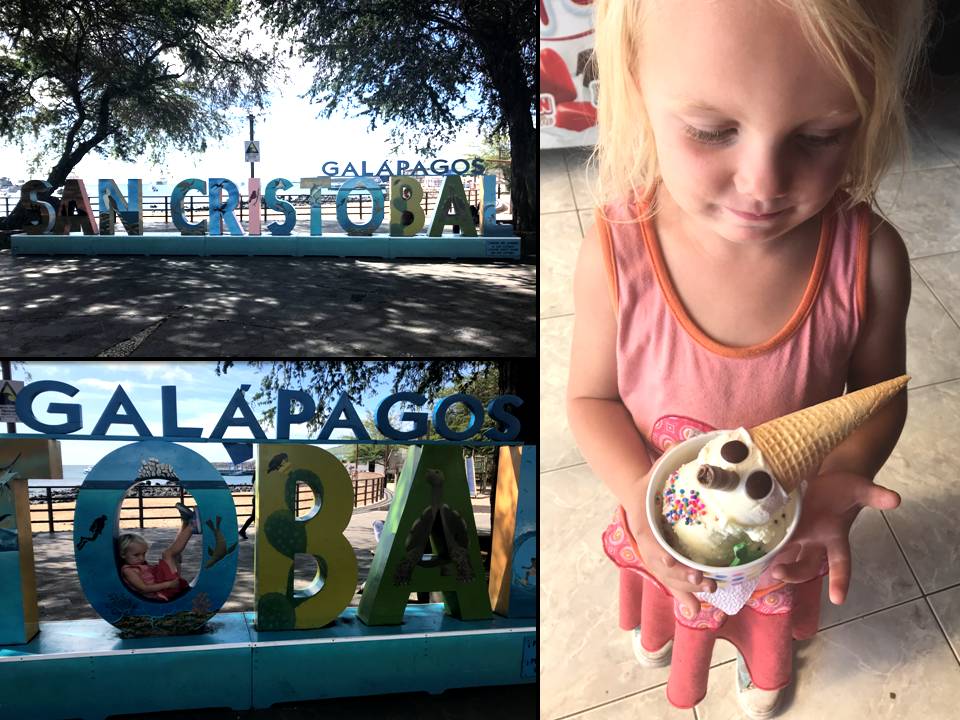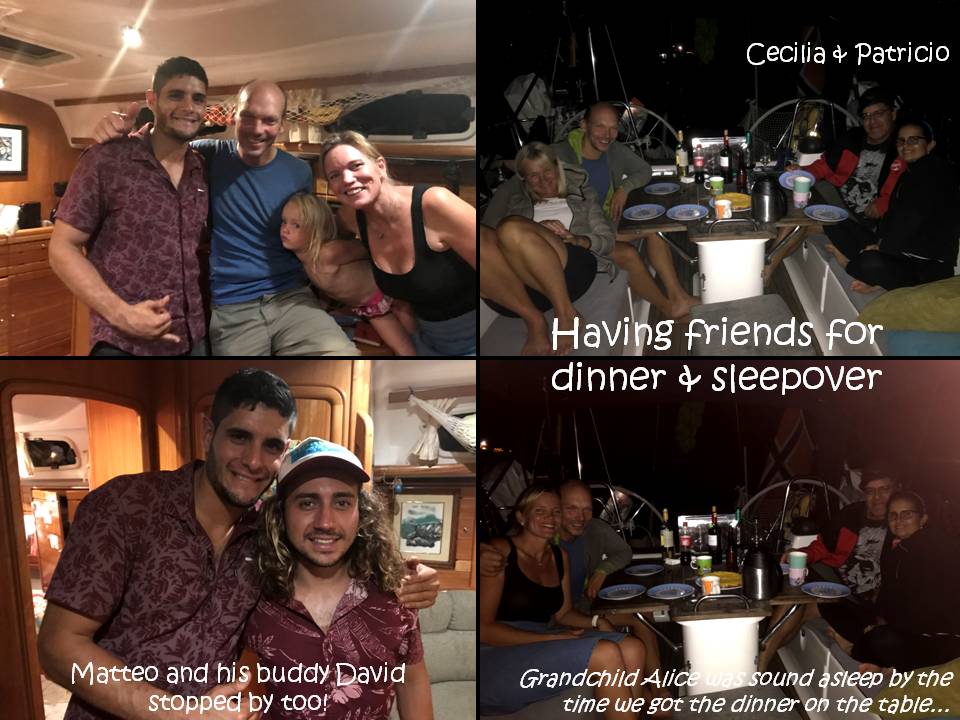 Ps. We had invited the Zapallas over for dinner at somewhere around 6 pm. Ingrid TOTALLY miscalculated dinner preparation time, and had the food ready at 9:30 pm…. And this miscalculation happened regardless of the fact that she'd prepared the very same meal before! The last time was during the 10 day sail over from Panama. She hadn't thought at all of the food preparation being time consuming then. Which gave us a good reminder of how time has no significance when you long distance sail. 😉 (Thank God we have patient friends…)
______________________________________________
______________________________________________
THURSDAY 02.08.2018: SAN CRISTOBAL, GALAPAGOS
Ingrid spent the whole day (9 am to 7 pm!) on land at cafés, drinking coffee… Her mission: To edit and finish an article that will be published in the magazine "RS Magasinet" in September. RS Magasinet is the member magazine of the Norwegian Society for Sea Rescue (Redningselskapet).  Mission completed: The article was finished and sent by midnight. In good time before the deadline of August 20th, by which time we're hopefully sailing across the Pacific. Time for more piña colada?! 😉
Meanwhile Brynhild, Karen Marie and Jon Petter stayed on board for most of the day. Jon Petter was busy adjusting the locally made mechanical roller furling system. It needs further adjustment and paint. We expect it will be installed on Friday. Keeping our fingers crossed!
Brynhild and Karen Marie were "the kid sisters» on board today, keeping themselves entertained. Brynhild did some "boatwork" (meaning: "housework" on board) in between.
Finally, we all met in town and had a cup of coffee (cup #7 or 8 in Ingrid's case…) & ice cream.
A good everyday in Galapagos.
________________________________________
________________________________________
WEDNESDAY 01.08.2018: SAN CRISTOBAL, GALAPAGOS
Key words: A day with the Zapalla family at their home and farm at El Progreso. A chicken hunt. A ride home. And people, talks, stories and an atmosphere that we'll take with us in our minds and hearts for a long time.
We met a man 2 days ago. His name is Julio Patricio Zapalla. Not only did he help us repair the boat so we can continue our sail across the Pacific. He and his wife opened up their home to us and made us feel at home. We've shared stories of our life experiences, we've lived the present, found interest in sharing stories from the past and thoughts about the future.
Patricio and Cecilia have shared with us their story of…
…life change
…family history
…warmth and hospitality
…openheartedness
…love and respect – for your partner, your children, family, people, your surroundings
…appreciating NOW, and valuing what WAS to take you better equipped into what WILL BE
…life wisdom, and (still) learning…
We are forever grateful! These last 24 hours have been one of the most unforgettable days of our journey. We came back home to the boat and all 4 of us were simply a bit mind blown. Maybe we'll share some of the stories and experiences from today in a "Message in a bottle" in the future. But for now we simply share some pictures, knowing that there isn't any way we could fully describe the experience we've had anyway. You'd have to be there in person!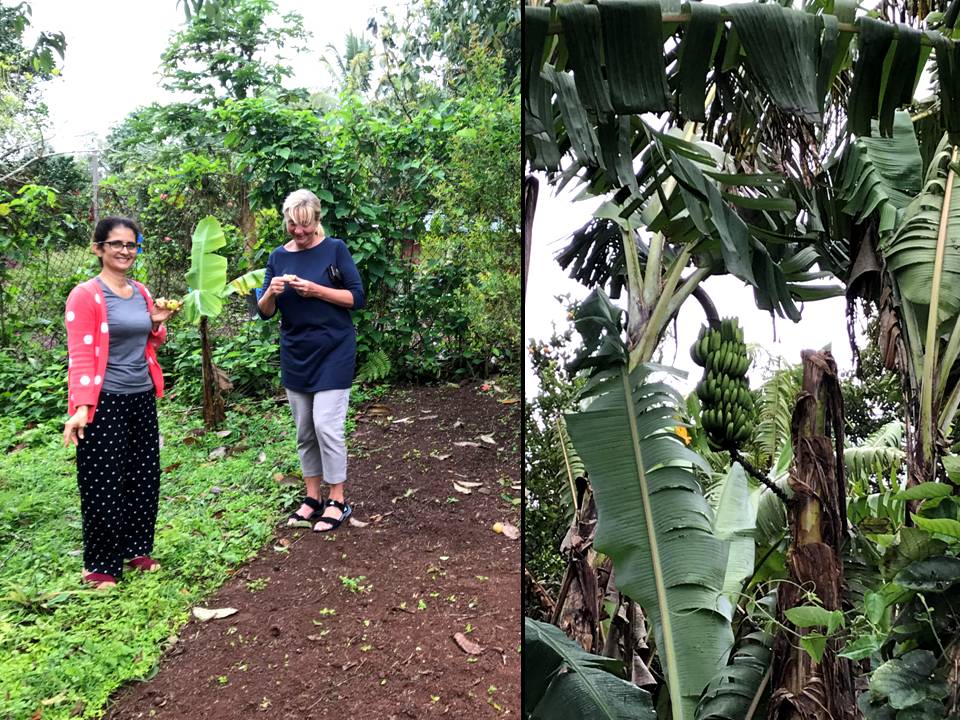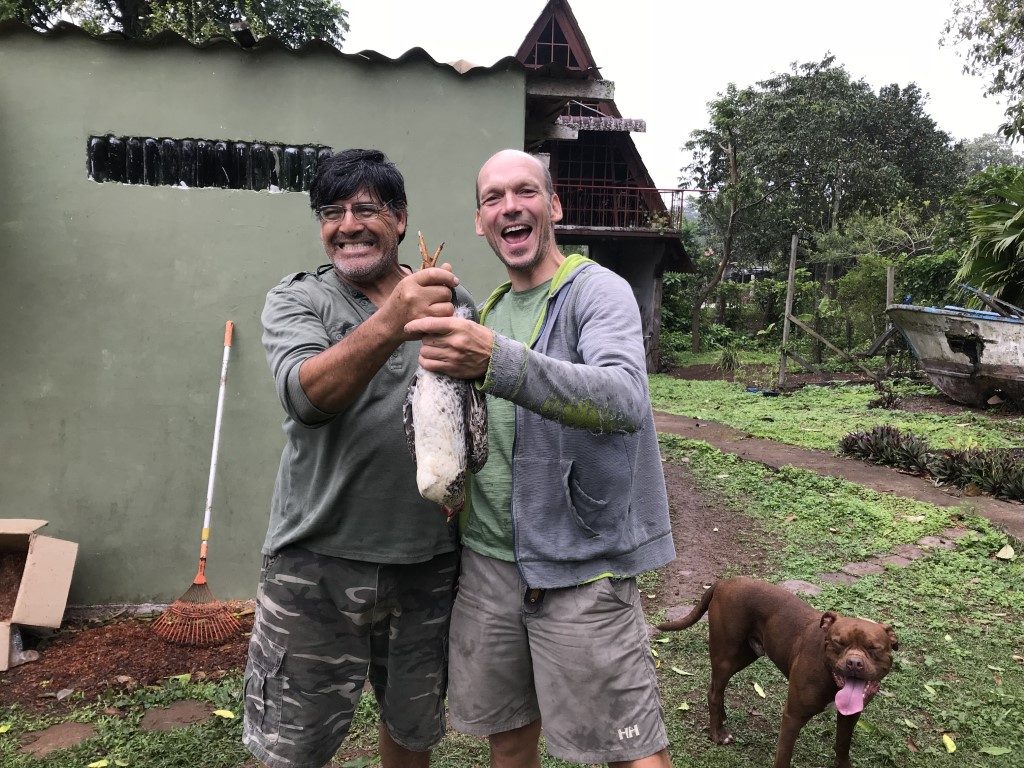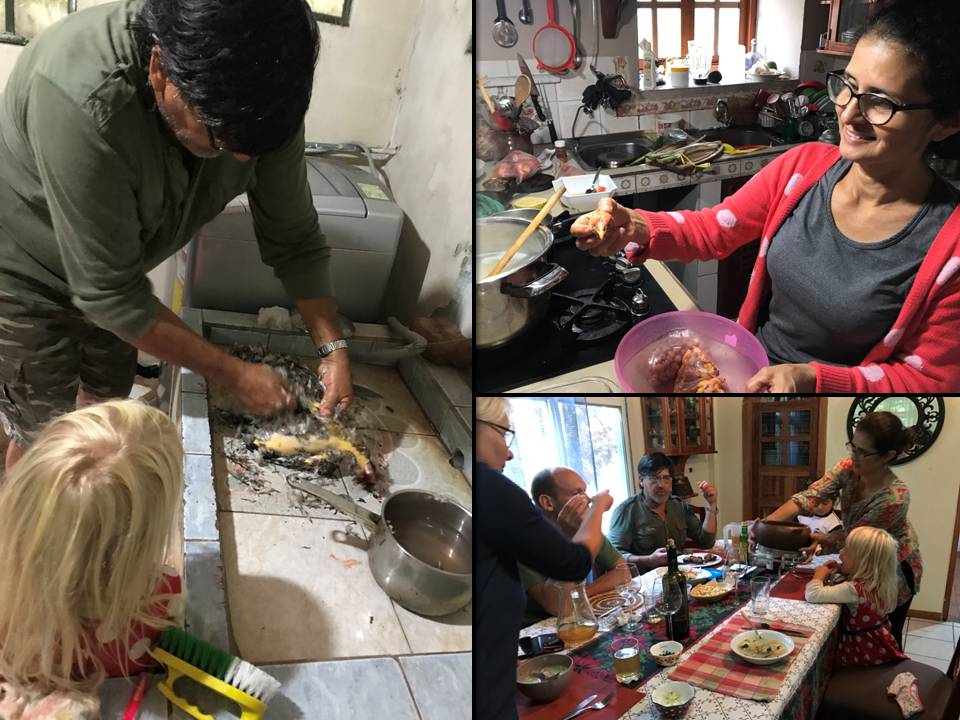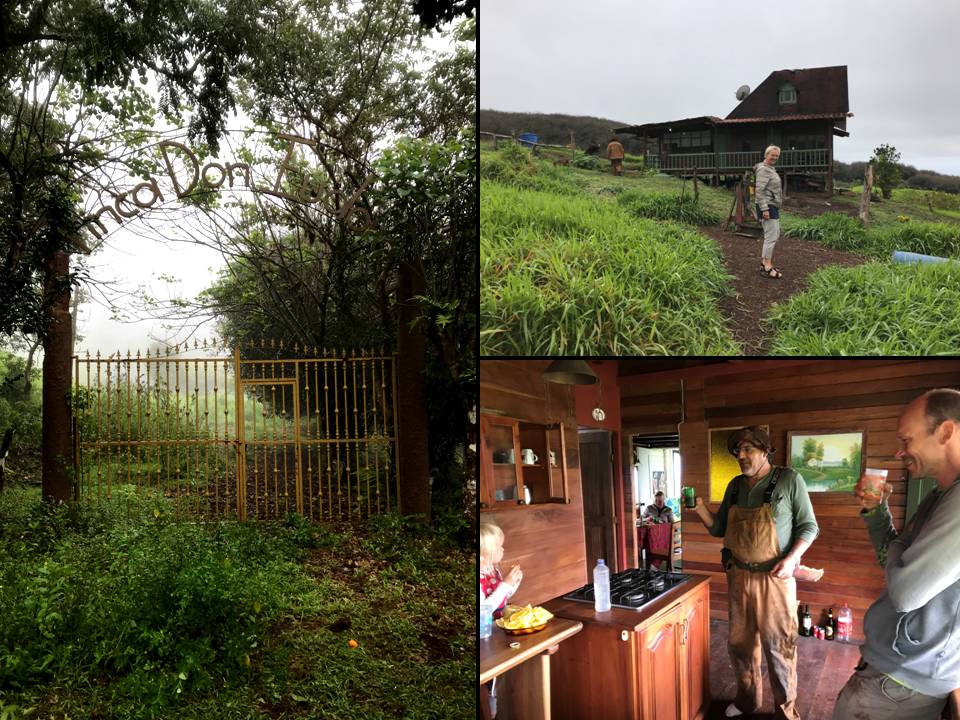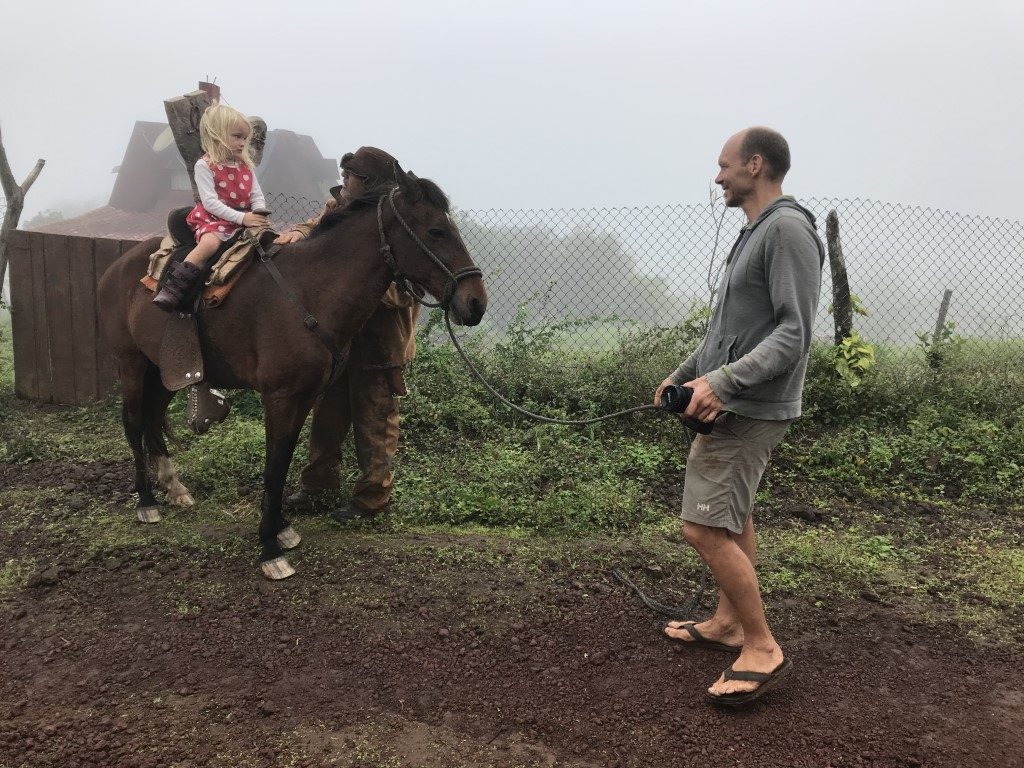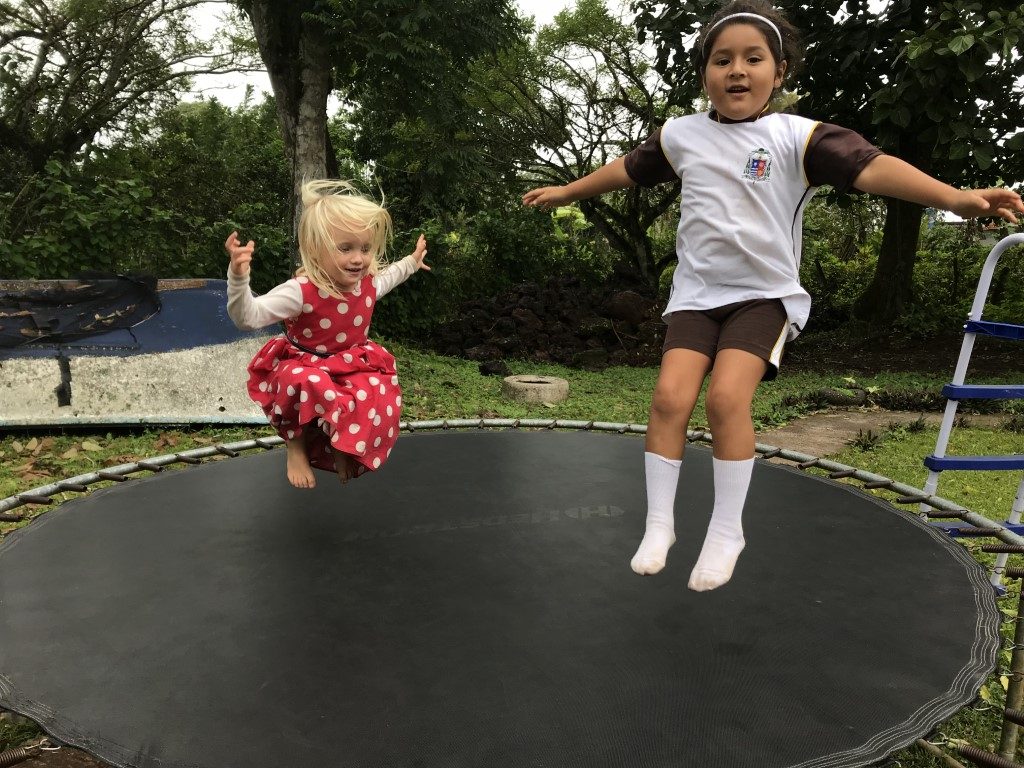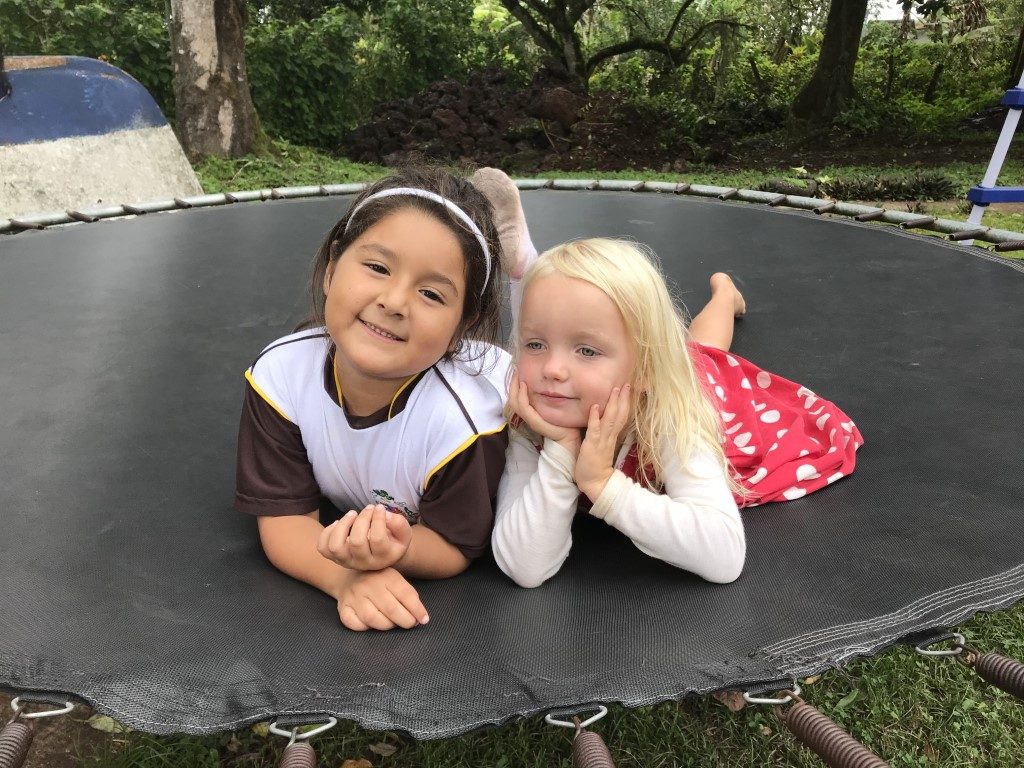 TUESDAY 31.07.2018: SAN CRISTOBAL, GALAPAGOS
Key words: Breakthrough on the electric motor: Ditch it! We're going for Plan D: Mechanical furling. Stocking up food for the long sail. We experience the incredible hospitality of a Galapagos family: We left Vilja for the night and spent it in El Progreso at our new friends' home!
We've spent the last 3 weeks waiting, thinking, guessing, hoping and turning our minds inside out to find a solution that will take us further on our journey across the Pacific. Up until yesterday we walked up one dead-end after the other, banging our heads into the wall over and over again. But that was until yesterday…
Yesterday we met Julio Patricio Zapalla. In the last 24 hours things have turned from questioning whether "this is it?" for our crossing the Pacific this year, to suddenly being in a rush to actually get ready to go! 'Cos Jon Petter and Patricio say that the mechanical furling system for the genoa will be ready on Wednesday!!!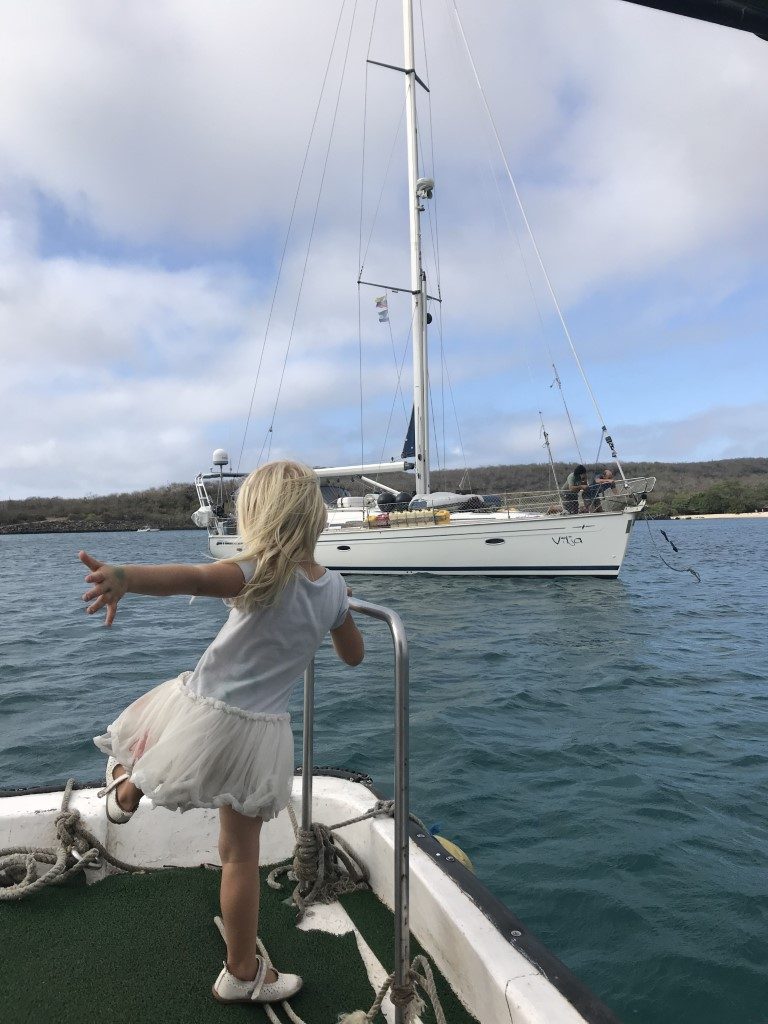 We can hardly believe the sudden «ketchup effect» in our progress. And not only that; It turns out that Patricio is an extraordinary person, and so is his whole family. Right now we are in El Progreso, and are staying in Patricio's and his wife Cecilia's home. We had a wonderful dinner and evening here this evening, and tomorrow (Tuesday) they have invited us to stay and get to know El Progreso better. What an incredible hospitality, not to mention what a wonderfully nice and interesting family. Again we realize we're incredibly Lucky!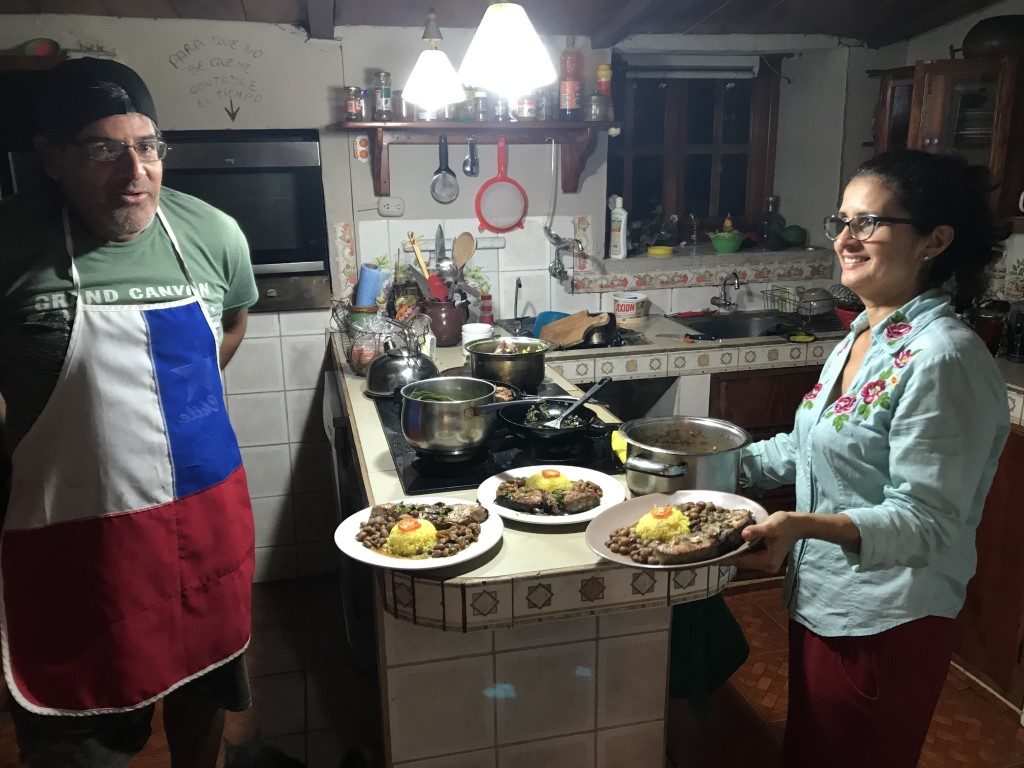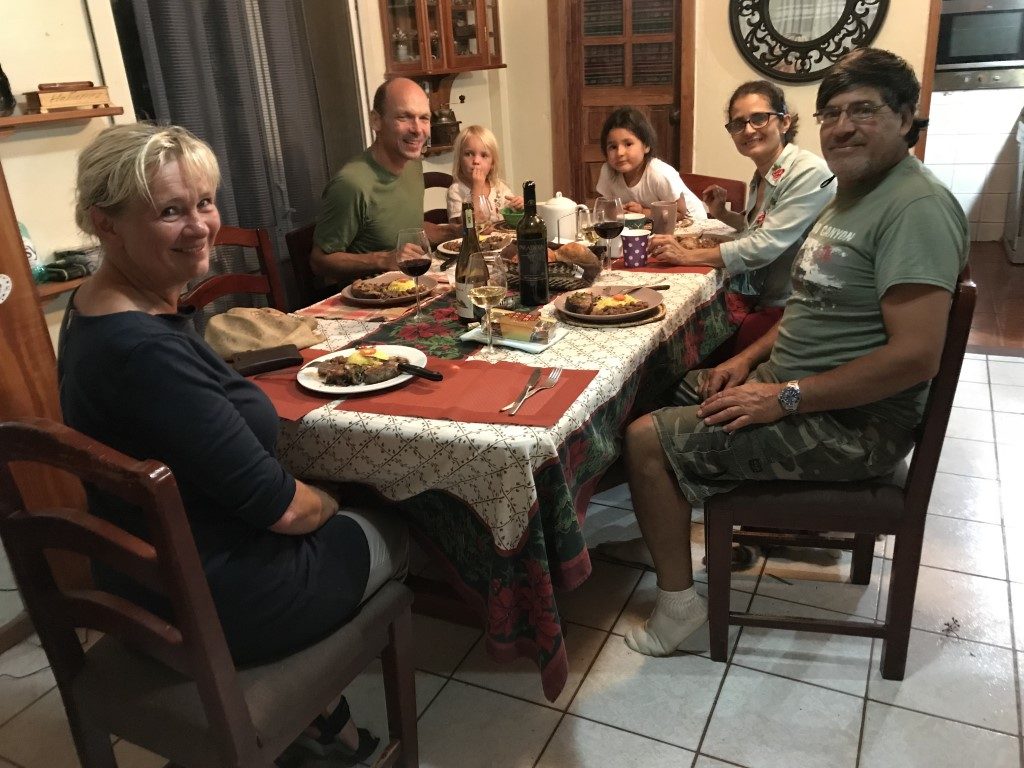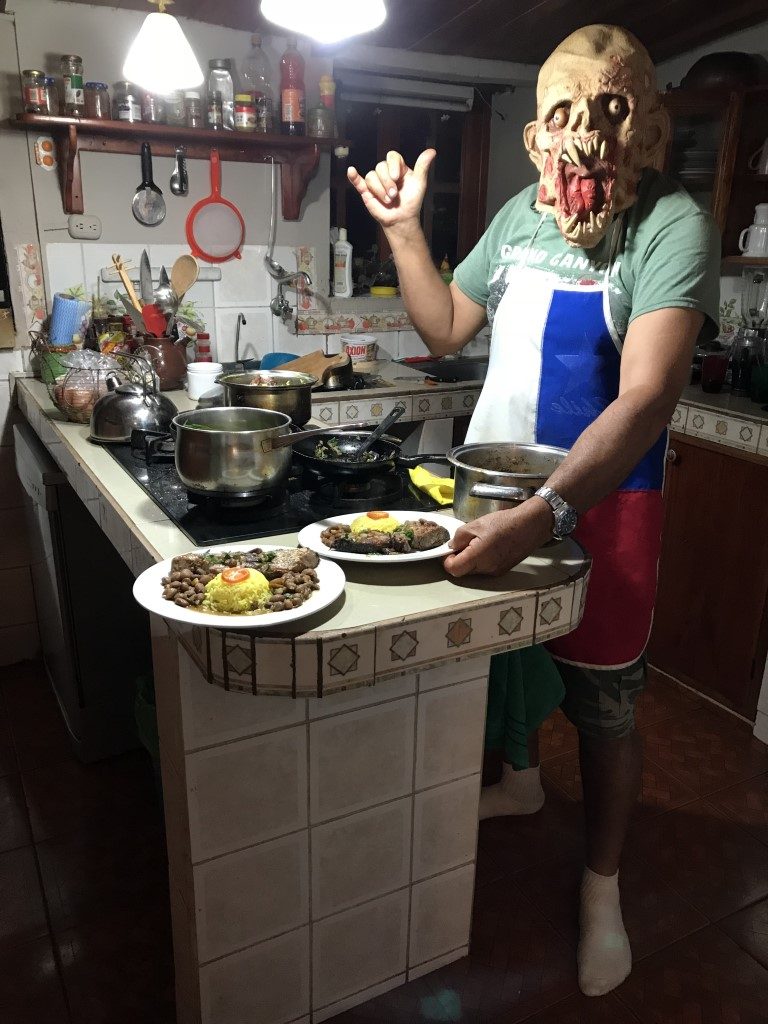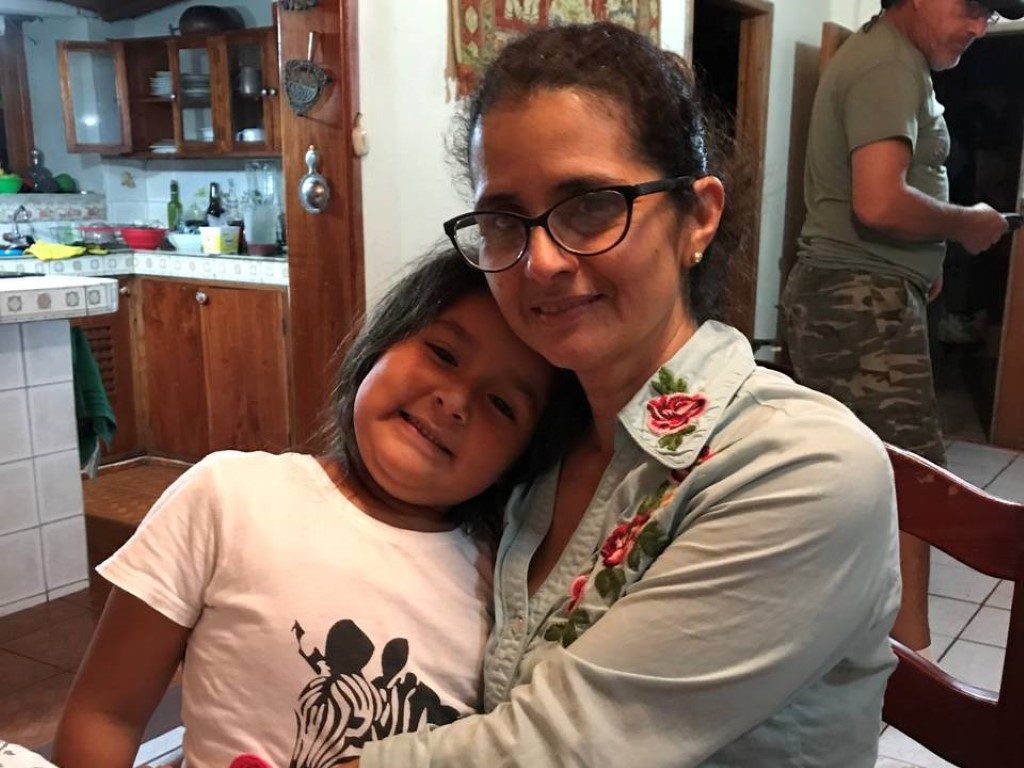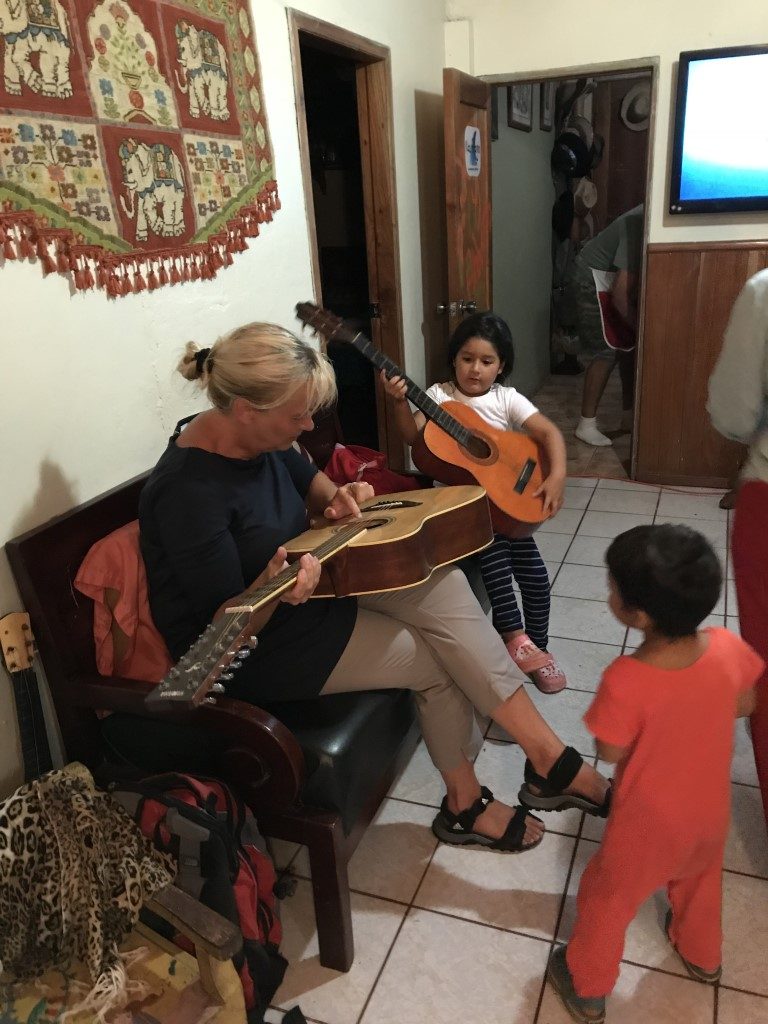 MONDAY 30.07.2018: SAN CRISTOBAL, GALAPAGOS
Key Words (and questions): Plan A, B and C are discarded. Still no solution to our broken motor. Now what?! Can this be the end to our sail westwards?! We invent a new Plan D. And hey, it may work out!?!
Remember our Plan A, Plan B and Plan C? (See Everyday blog from July 27th).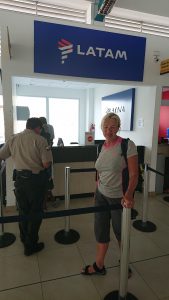 Plan A was trashed many days ago. On Sunday we gave up on Plan B. Today Plan C also went down the drain when we were told that even express packages from the States (with new spare parts) will take 3 weeks to get here…
The situation is: We have to be in New Zealand in 3,5 months before the tropical storm season sets in. We have at least 7000 nautical miles left to sail to get there. Brynhild has her work back home to consider and can't stay on board forever. We're REALLY set on her being part of the team that sails the 3000 nm long stretch over to the Marquesas islands.
S.O.S.!!! WE'RE RUNNING OUT OF TIME!
So we have made up a plan D: Jon Petter will make parts himself and here on San Cristóbal for rebuilding to a mechanical furling system for the genoa sail.
Yesterday afternoon Jon Petter spotted a guy working on a car engine outside a "workshop" and went to talk with him. An hour later he came back, all enthusiastic. It turns out that the guy he met is a self-taught mechanic. Jon Petter trusts him. They've agreed to team up and work on this project together. Tuesday will be THE day.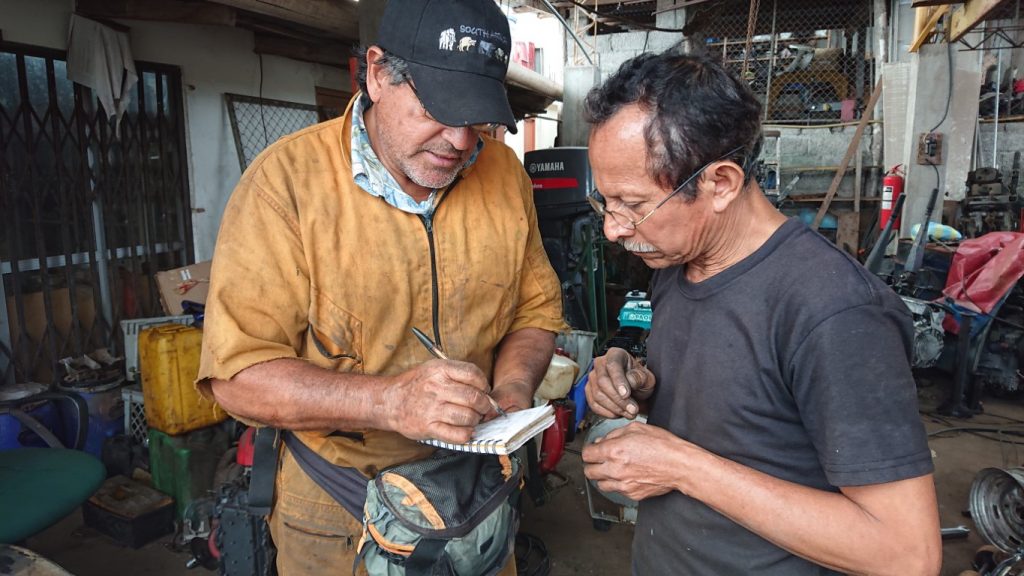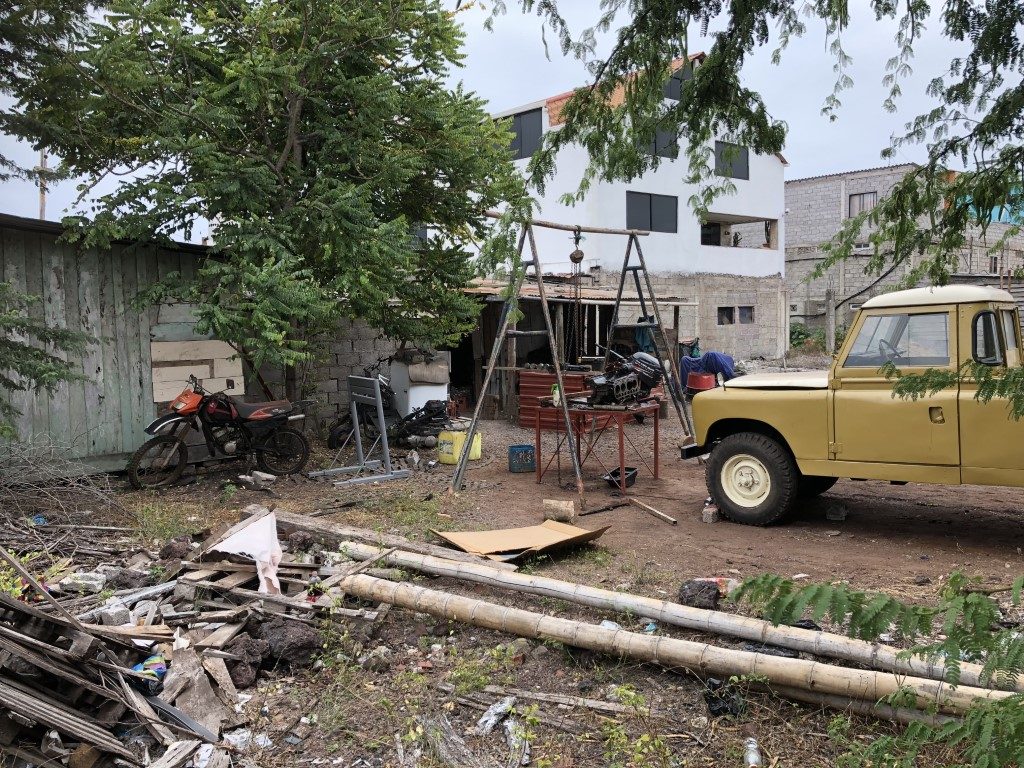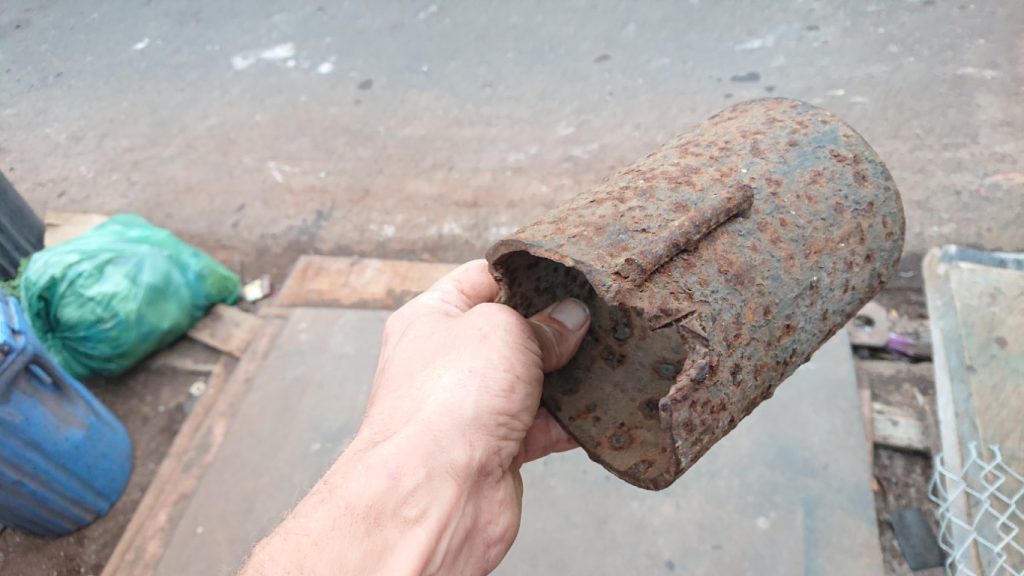 WISH US LUCK. WE NEED IT!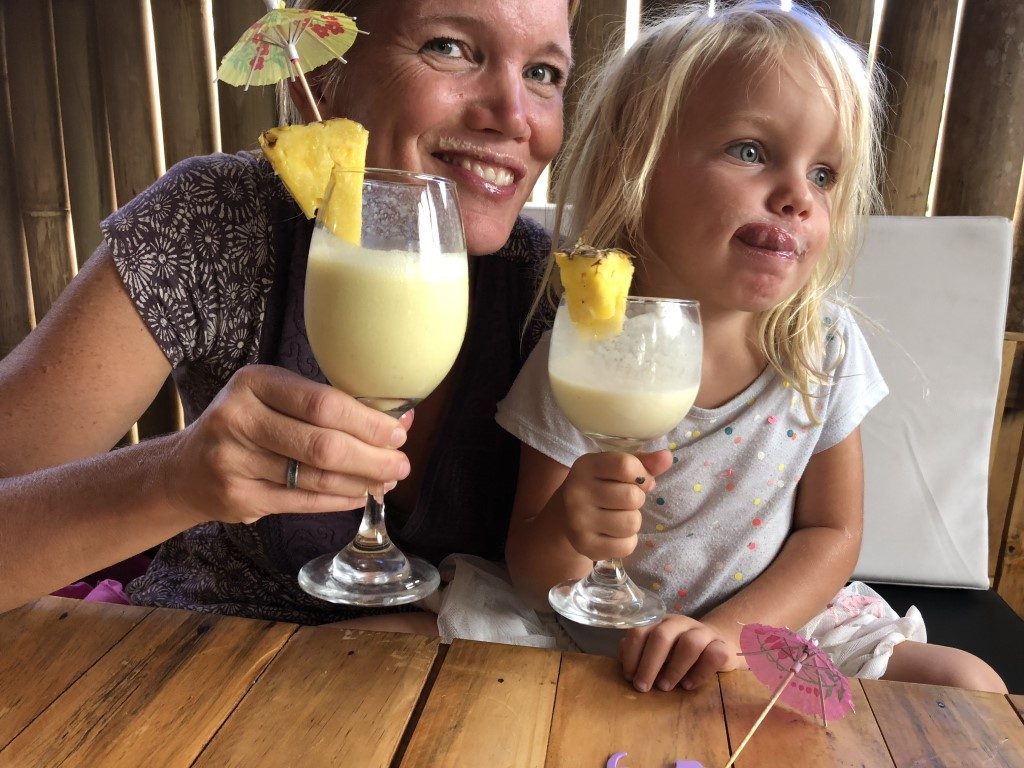 _________________________________________________
_________________________________________________
SUNDAY 29.07.2018: SAN CRISTOBAL, GALAPAGOS

Key Words: Opening up the defect electric motor, to see what's wrong. Maintenance day. Snorkeling with dolls & seals. Don, our American friend stops by for a visit. A volcano eruption on board S/Y Vilja!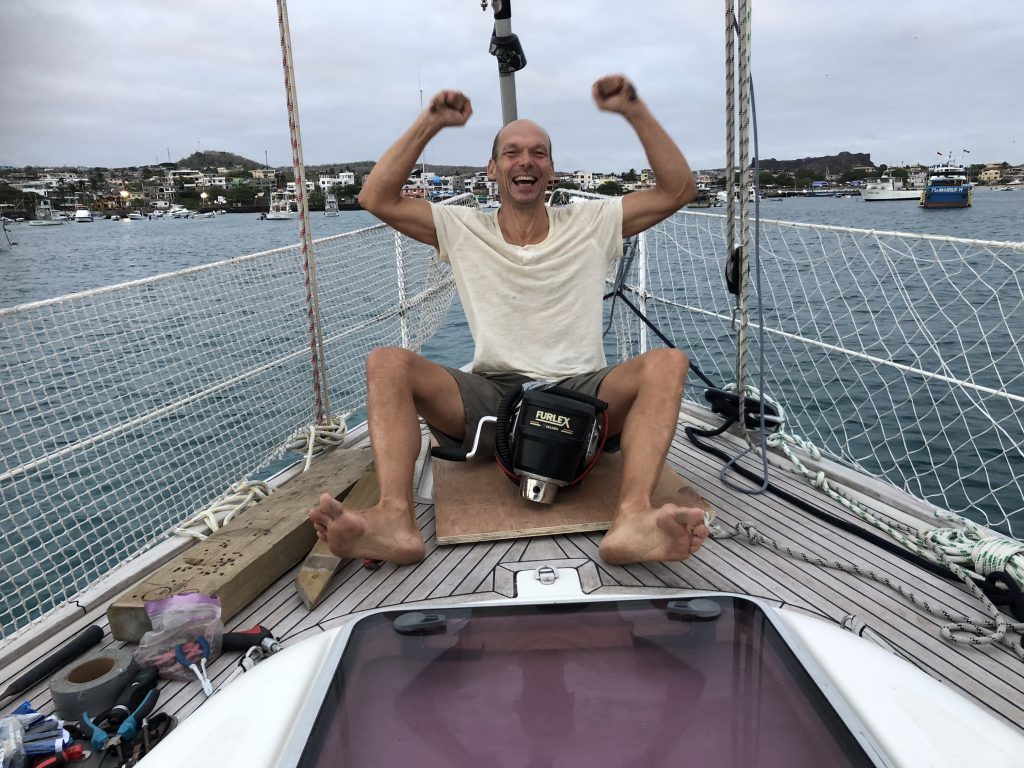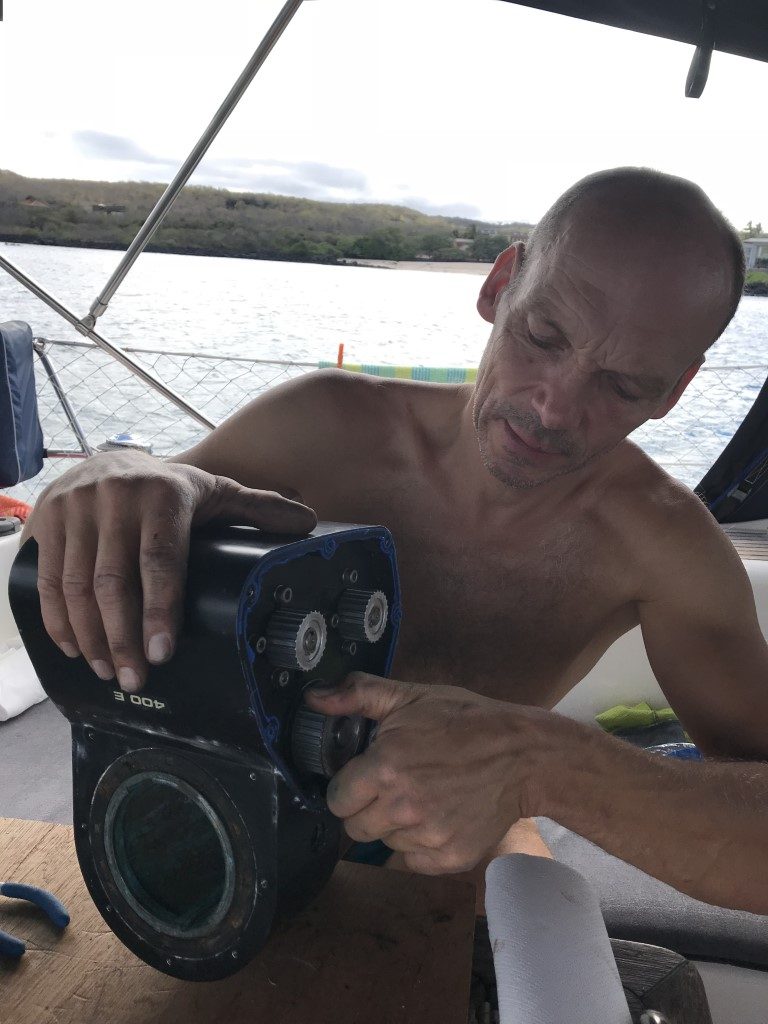 Brynhild made a short trip on land to get some exercise and a well deserved time-out after having patched up wear and tear on the steering wheel's suede cover. She took a walk along the path to the nature reserve Cerro de las Tijeretas and back again along Love Beach + read a book at a café.
Meanwhile, the rest of us stayed on the boat. JP & Ingrid had a dip in the ocean to scrub algae off the boat. (It's amazing how fast it grows in these waters!) Then we took the rest of the day off.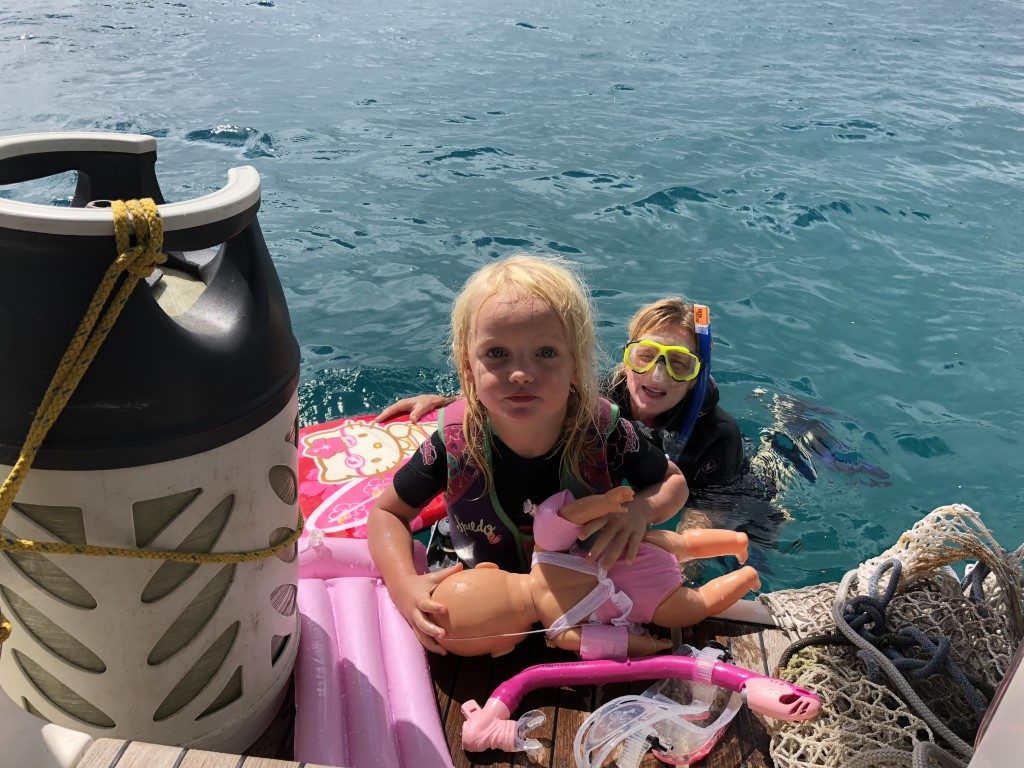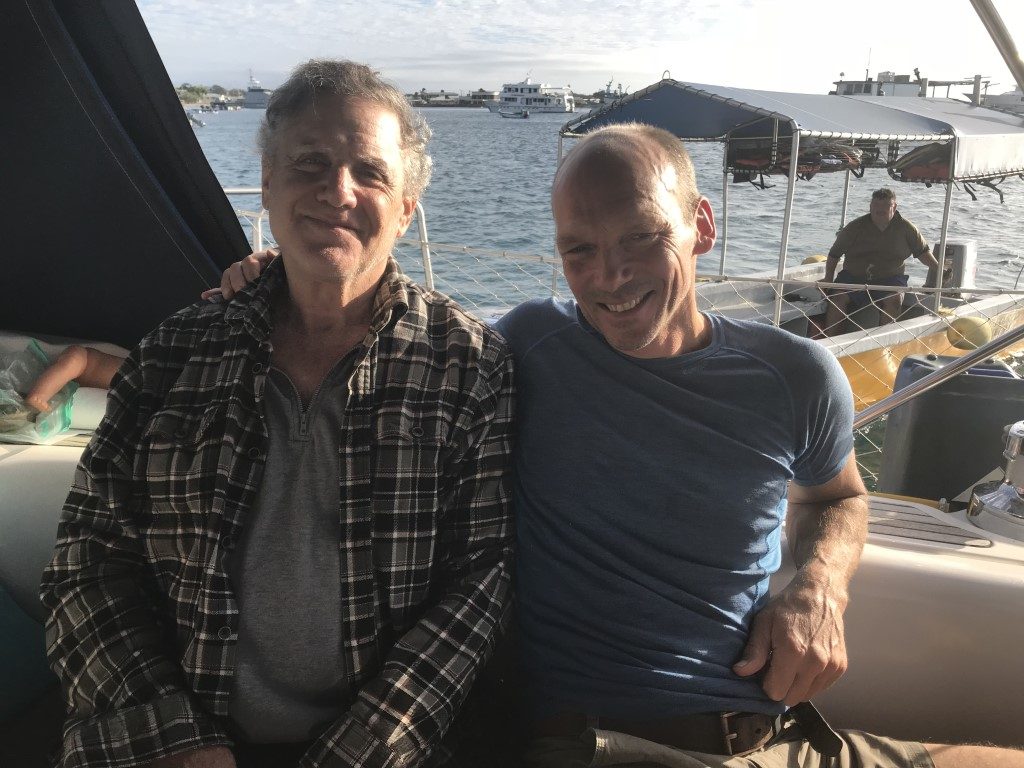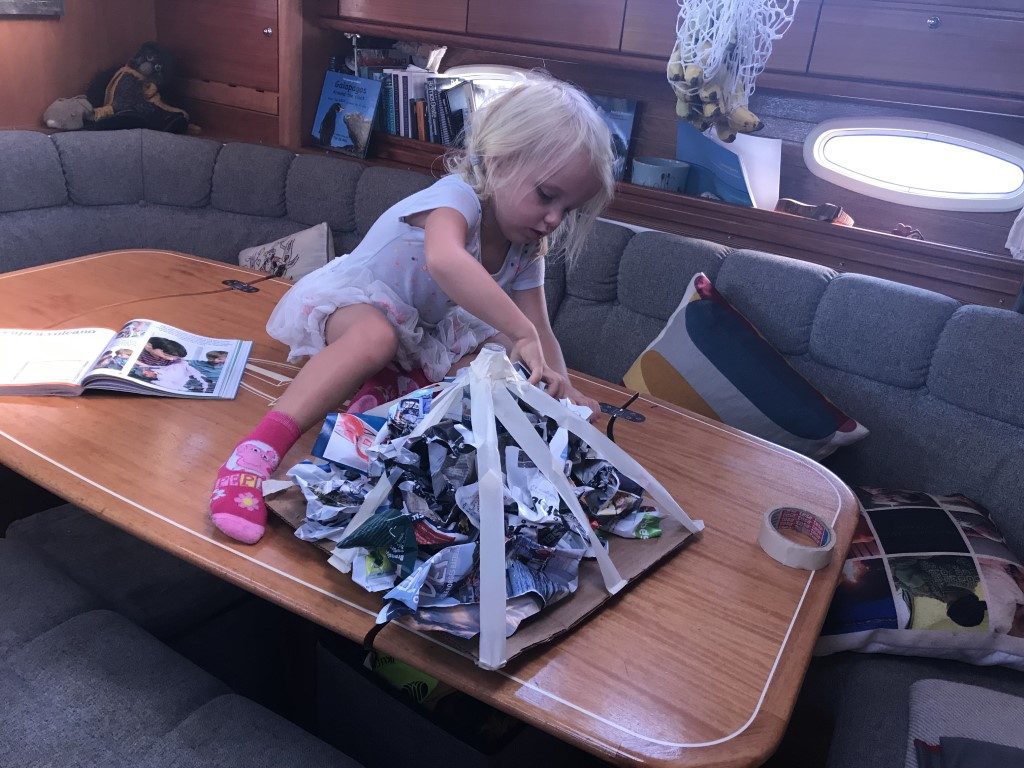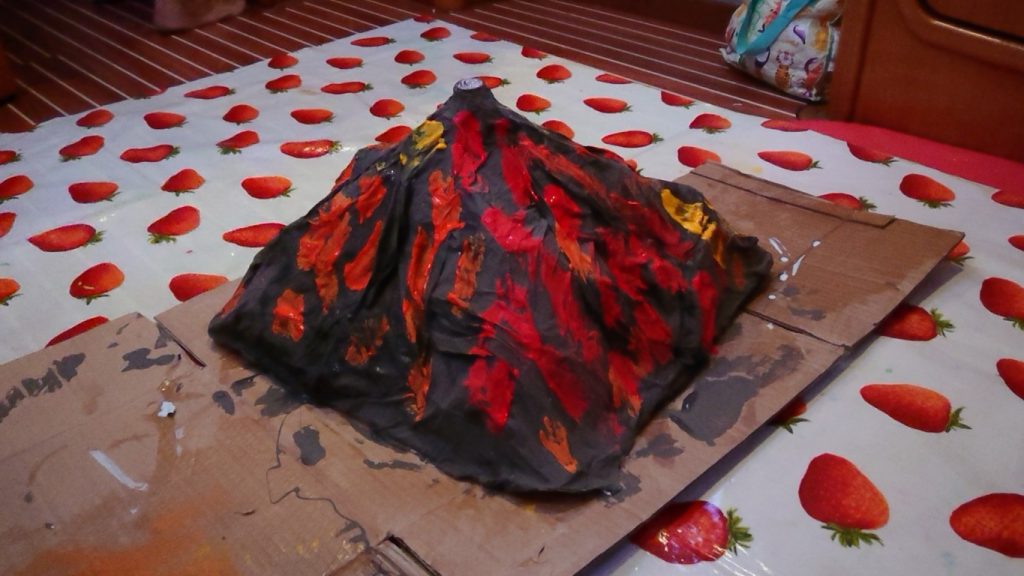 ____________________________________
____________________________________
FRIDAY 27.07.2018: SAN CRISTOBAL, GALAPAGOS
Key Words: The motor is STILL lost in transit. We must move on to Plan B or C. An unexpected and nice visit by a local family on kayak. Breaking news: We have a TV on Board Vilja! And finally: the genoa was taken down at midnight.  
Ok, let's face it: The electric motor for furling/unfurling the genoa (headsail) is lost!
It's been 16 days since Brynhild arrived in Galapagos, whilst one of her checked-in luggages didn't… Inside the missing box is a new electric motor for furling and unfurling the genoa.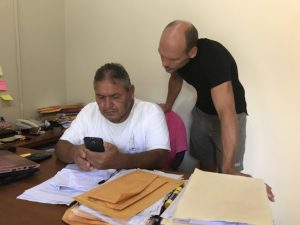 We've spent the last couple of weeks clinging on to plan A (see below). Daily we've spent hours at our agents' offices – first James Hinkle on Isla Isabela and now Bolivar Pesantes in San Cristobal – doing our best to keep the pressure up on trying all channels there are at finding the lost luggage. Our superb agents have put in a lot of effort to help us, but they can't work wonders. LATAM Airlines has no clue as to where they've put our box! After 16 days we realize it's time to give up plan A, and move on to Plan B or C.
Plan A: Waiting for the lost luggage with the motor to turn up.
Plan B: Fixing the old, broken one. Seldén Mast in Sweden do not advise us to do so (which is why we initially bought a new one). We have practically no access to customized tools or spare parts here on the island.
Plan C: Rebuilding the system to a manual system for furling and unfurling the genoa. Probably our best bet.
We're in dialogue with Seldén Mast in Sweden and USA to order the necessary parts for rebuilding the system and have them shipped here. In the meantime we'll be exploring Plan B.
I guess one could say that the main achievement these past weeks has been to keep our spirits up in Team Vilja. We've had to reset our minds from focusing on the Pacific crossing, to seeing the value in spending everyday life in Galapagos. We've actually managed to have a lot of fun, too!
(And yeah yeah, we know: There could've been a lot of worse places to be stranded than on the Galapagos islands! No complaining from our end.)
Here are some glimpses from our everyday life today:
A family was paddling by in their kayak, and we invited them to come on board for a cup of coffee. So then we met Carlos, Vicky and Misha (3). They stayed for snacks while we had late (as always) breakfast. Vicky is from Santa Cruz and Carlos from the mainland of Ecuador. The family lives here on San Cristobal. Really nice to get to know this very nice family. The fact that they're locals is extra nice for us, as it gives us the chance to get to learn more than just the touristy stuff about Glapagos. Maybe they'll come back to visit again before we leave? We hope so.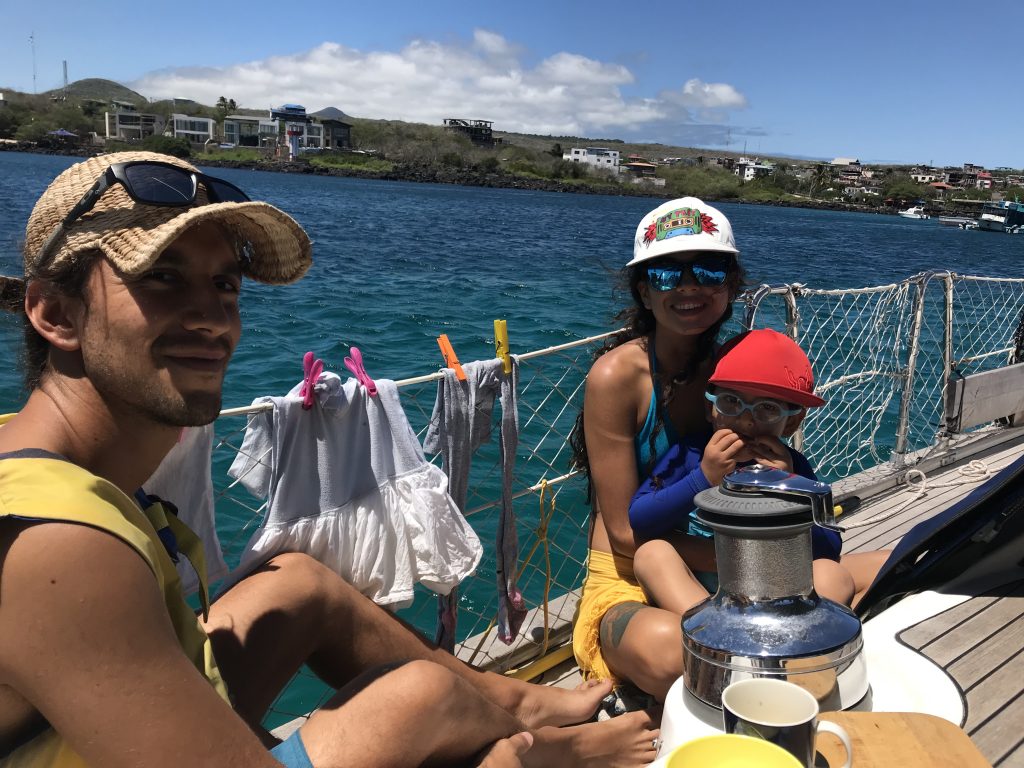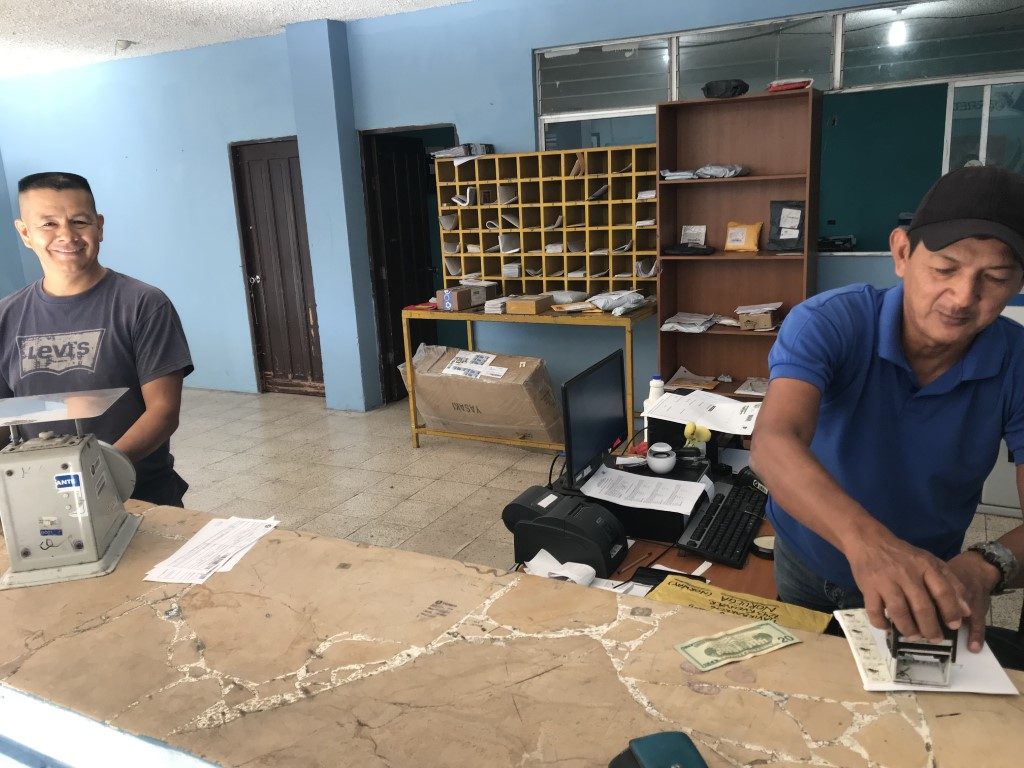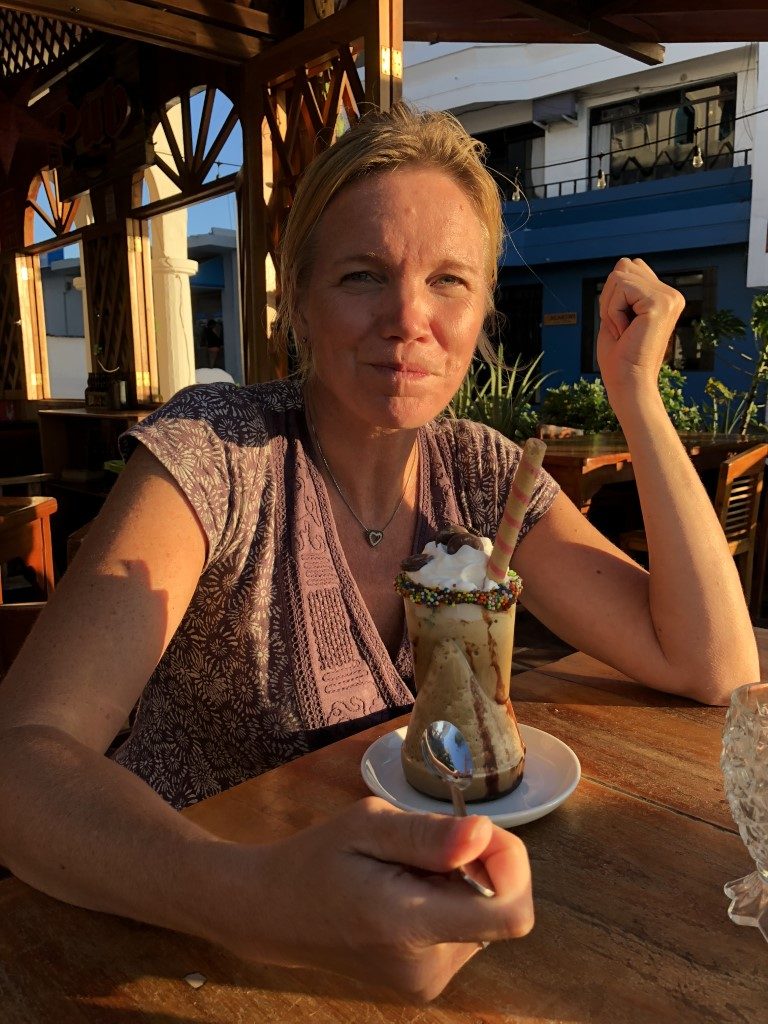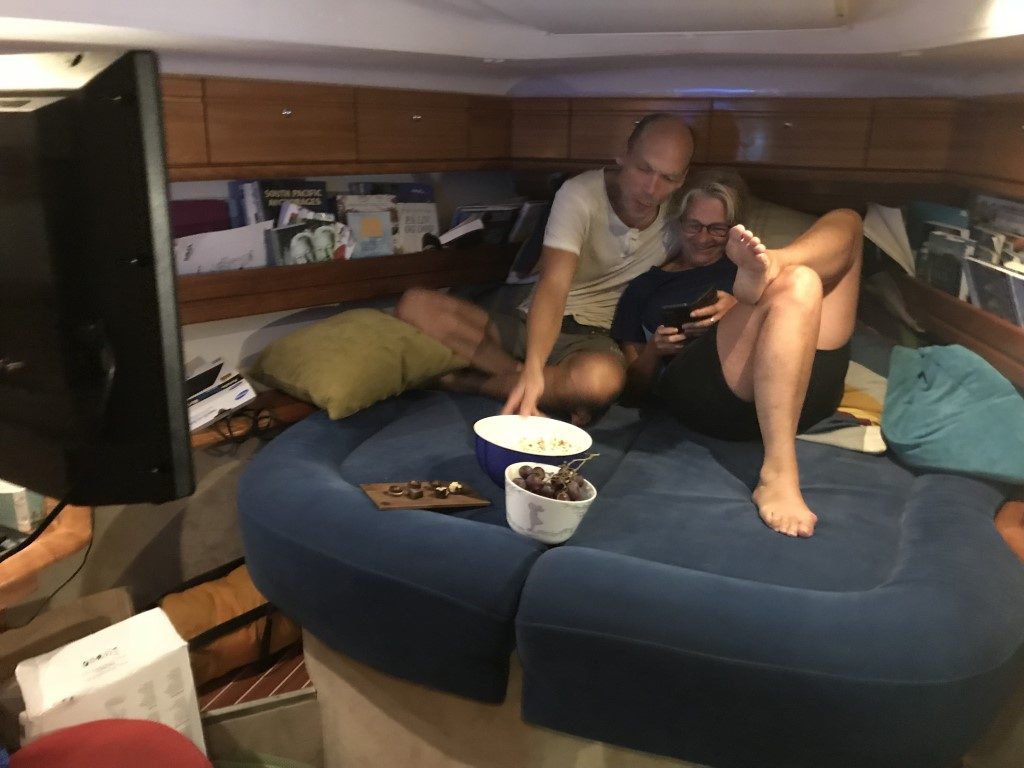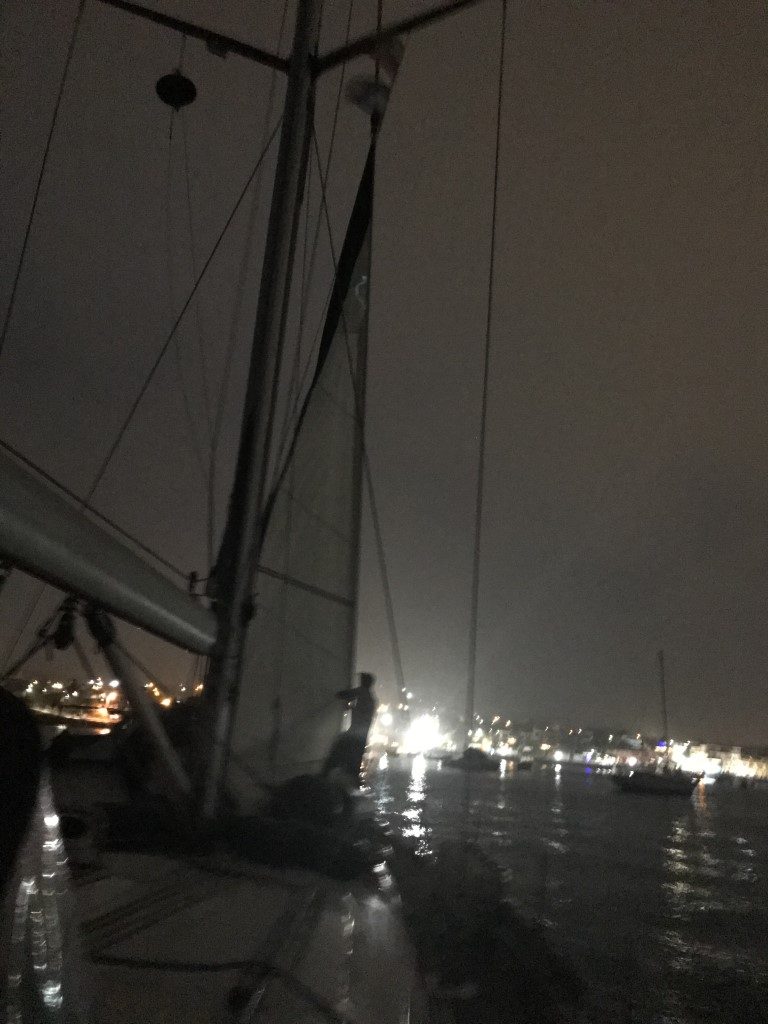 So now it's time to start Plan B and/or C. Wish us luck!
__________________________________________________
__________________________________________________
SUNDAY 15.07.2018: ISLA ISABELA, GALAPAGOS
Key words: Good news on the genoa motor, cleaning up after nightly visit by our flippered friends, bon voyage to the Red Pearl crossing the Pacific, enjoying a good visit and Norwegian waffles with newfound Isabela friends, an unexpected visit from Norway.
Good morning! Hope's up on board Vilja. Supposedly the motor for the genoa is stuck in customs, and they have requested for an address here on Galapagos. This means the motor isn't completely lost! Now we're keeping our fingers crossed that we won't have to pay import taxes here. We've already paid €1000 in VAT in Norway…
Other than that, here's what's happening in our everyday life on Isla Isabela:
Ingrid's knee is still swollen and not good after yesterday's crash. She spent the day on board, while Jon Petter and Karen Marie went on land to explore & run some errands.
Everyday morning chores in Galapagos: Scooping sea lion shit out of the dinghy…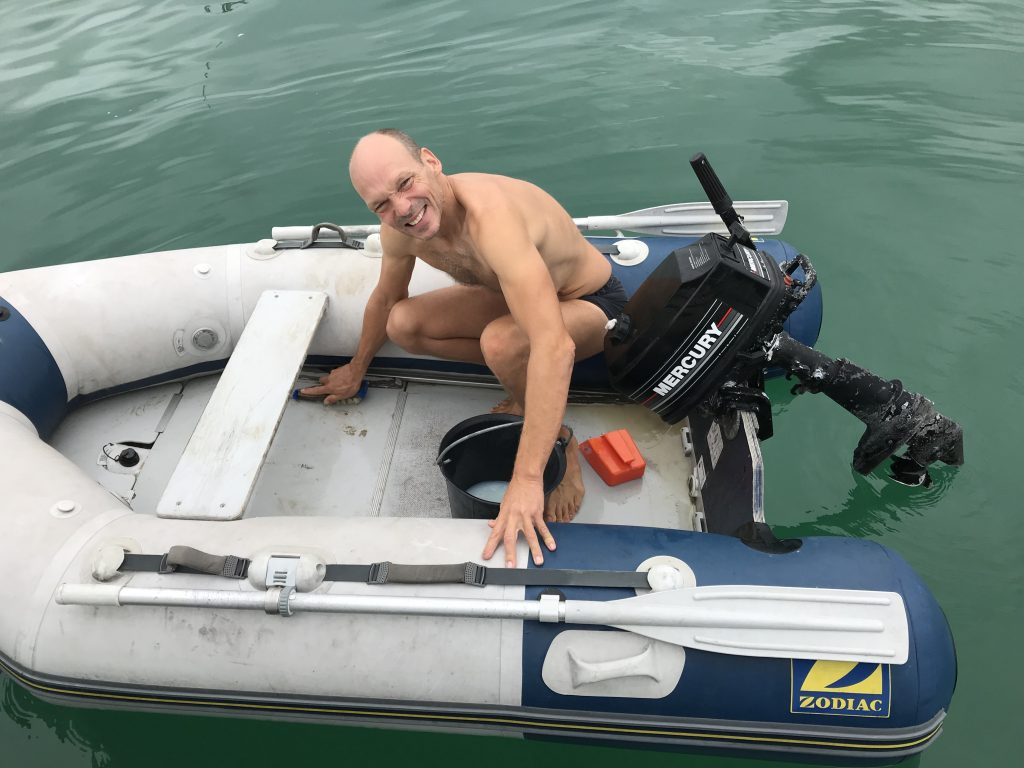 Waving goodbye to the Red Pearl (the second-last boat crossing the Pacific?)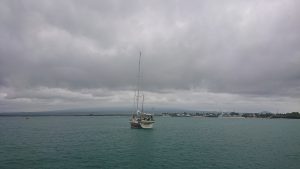 Even though a part of us wishes it was us who were setting sail, we're really happy for these guys that they're finally on their way now. God knows they really deserve it! You see, this is their second time around; More than a month ago they were on their way to Marquesas and had sailed nearly 200 nm from the coast of Galapagos when suddenly they LOST their rudder! With no pre-warning, it all of a sudden simply detached and disappeared into the deep blue… Without a rudder, you're like a message in a bottle, not knowing where or even IF you'll ever reach a shore. They sent out emergency signals, and were out there bobbing in the vast Pacific Ocean for nearly a day. Finally they were rescued, and their sailboat tugged back to Isabela. The tug back took them 4 days. And since then they've been stuck in Isabela, waiting for a new rudder to be made and shipped. It finally arrived this week, and now they're on their way. We admire their ability to stay motivated and not give up.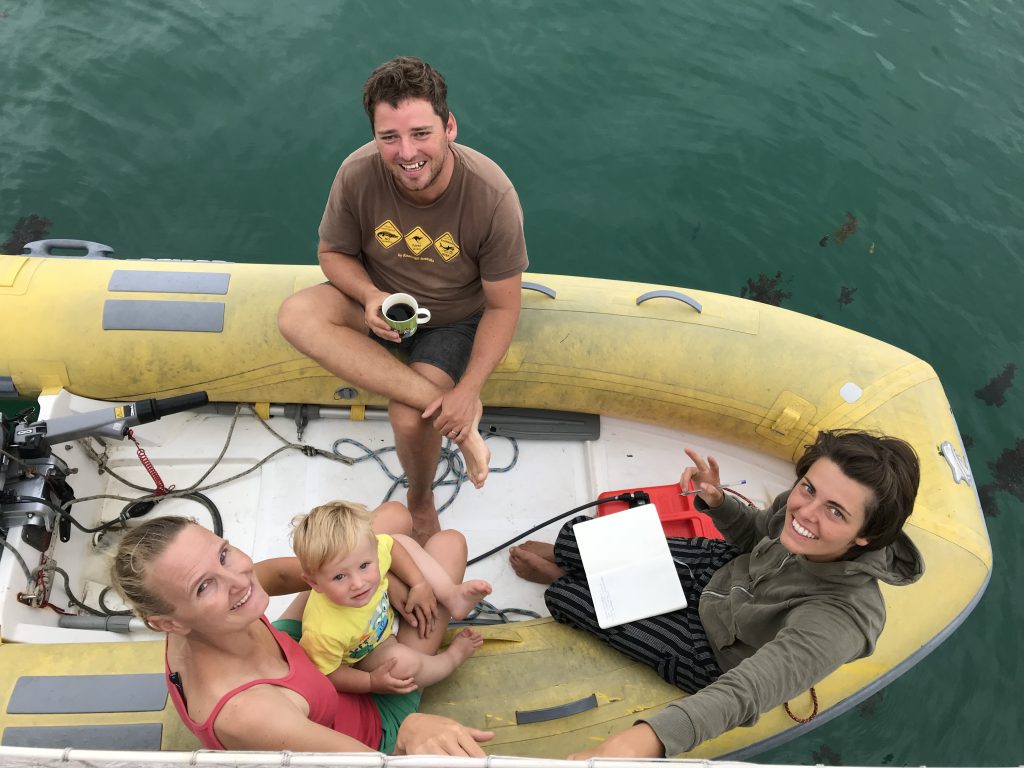 So now we're the last boat in the harbor of Isla Isabela… Looks like we're going to be the last boat crossing the Pacific this year?! I wonder when we'll actually sail?
A lovely and fun visit
We had our favorite Galapagos couple over for a visit: Our agent James Hinkle and his wife Marlene. The couple runs the Booby Trap Bar, which we've visited frequently during our stay here on Isla Isabela. Not only has James given us priceless help in our struggle to get spare parts for the boat; it just so happens that the Booby Trap serves great food and the best mojitos and piña coladas we've tasted in a looong time!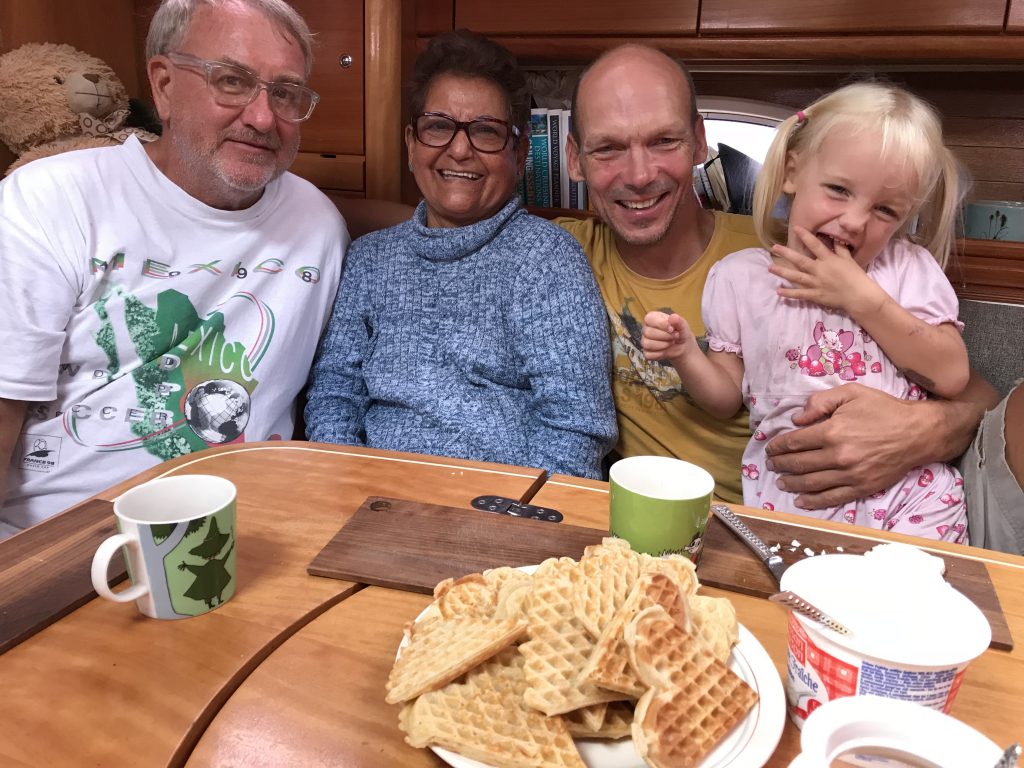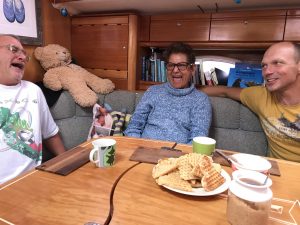 Well anyway – today Marlene and James came on board for Norwegian waffles, and we ended up having a really interesting and fun conversation. I'm telling you: These are extraordinarily nice people!
Unexpected visit from Norway
Towards the end of the day we had unexpected visitors from Norway!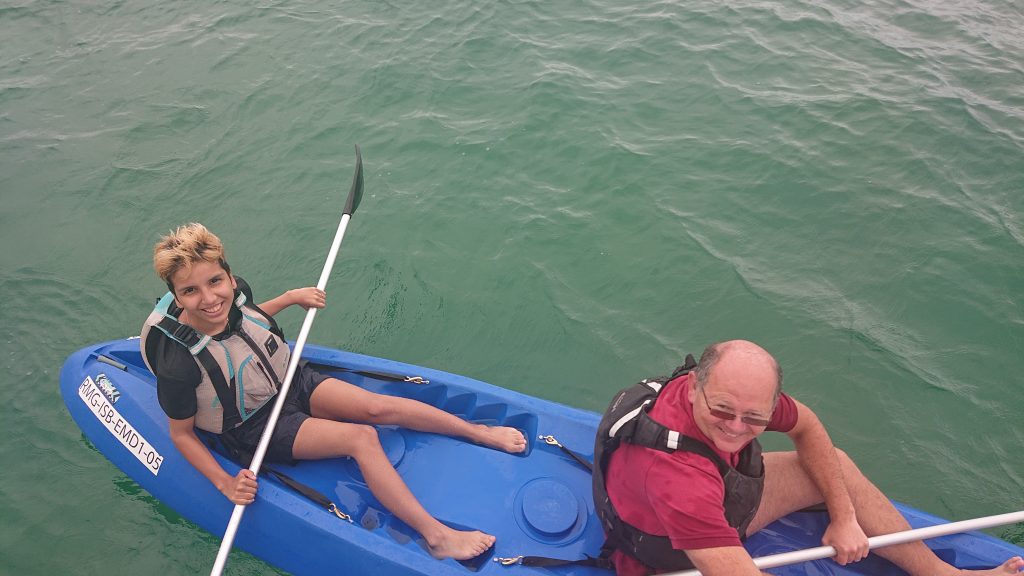 ___________________________________________________
___________________________________________________
SATURDAY 14.07.2018: ISLA ISABELA, GALAPAGOS
Key words: Motor "lost in transit". Stuck in Galapagos. TheSailingvilja- team is functioning. Meeting a good helper and new friend; agent James Hinkle. Crashing on the scooter, and battering up my knee. All-in-all: A day of ups and downs…
We started rough; Today's first DOWN: Message from Brynhild, our new crew mumber who arrived on Santa Cruz (the neighbor island) 3 days ago: Her luggage is still lost. And hey, we're not talking about some lost t-shirts and a toothbrush here. No, the box holding the electric motor for hauling the genoa (front sail) in and out is lost. Without it, we can sail nowhere. Not to mention the monetary value of this "precious metallic gem"… The old motor broke down as we sailed into the harbor of Galapagos. We HAVE TO have a new one in order to be able to sail on.
Obviously, both Jon Petter and I are stressed about the whole thing. The thought struck me: "Oh my God, maybe we're not going to be able to sail on from here?! We have 8000 nautical miles to New Zealand and 4 months to sail them. WE DON'T HAVE TIME FOR THIS!!!"
Today's first UP: Being able to talk about it! The dark clouds from fear of the situation with technical problems and uncertainty were filling up my mind. Instead of keeping it to myself, I sat down opposite Jon Petter in the cockpit and said: "I'm worried. And afraid that "this is it" for our circumnavigation.". That gave a kick start to a good talk between us, and a sharing of the situation. Being a team means everything. We're in the same boat on this one, literally spoken.
Then another UP: We went over to the Booby Trap Bar to meet the owner and our agent James Hinkle and discuss the missing motor and all the other technical issues on the boat that we're struggling with. This guy is the best! He contacts people, makes things happen, translates all our messages and is our "right hand" and life saver. It means SO much when we're in a Spanish speaking country where our English is worth virtually nothing.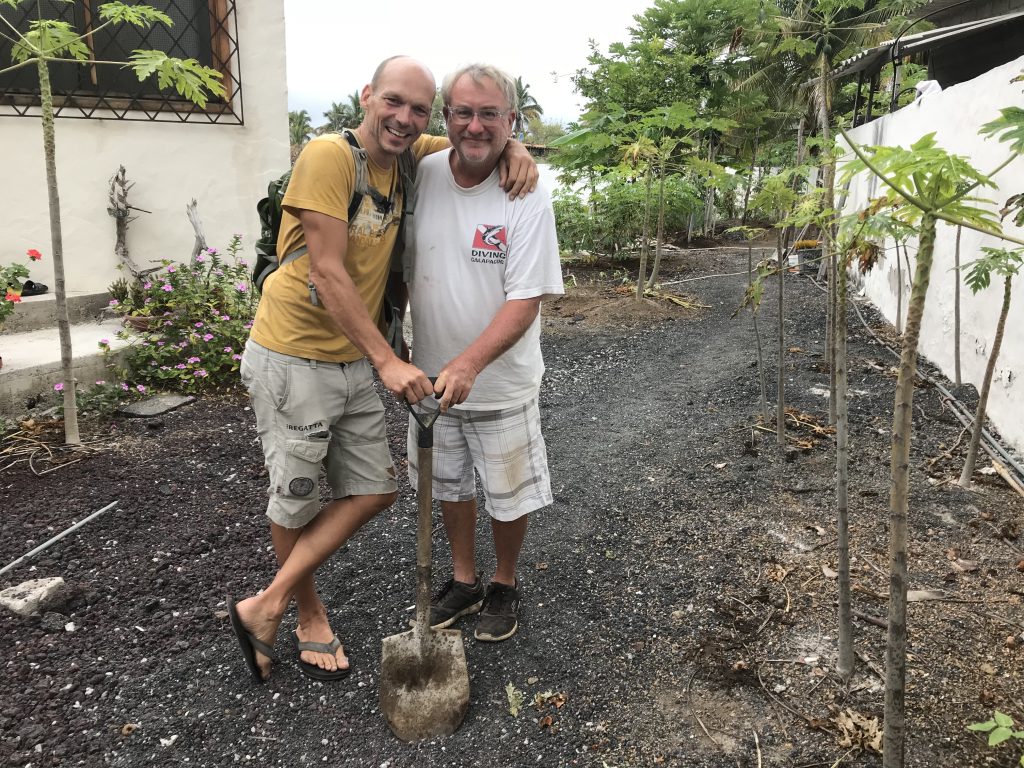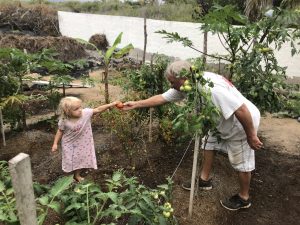 After the technical talk, he took us for a walk in his kitchen garden, showing us how he's nursed all kinds of fruits and vegetables to grow in this volcanic sand. Ha picked a bunch of tomatoes, chilis (HOT HOT!) and lemon grass for us to take home.
After the garden tour we enjoyed a drink in the bar; mojito for the guys and a piña colada/ virgin colada for the girls over a good talk.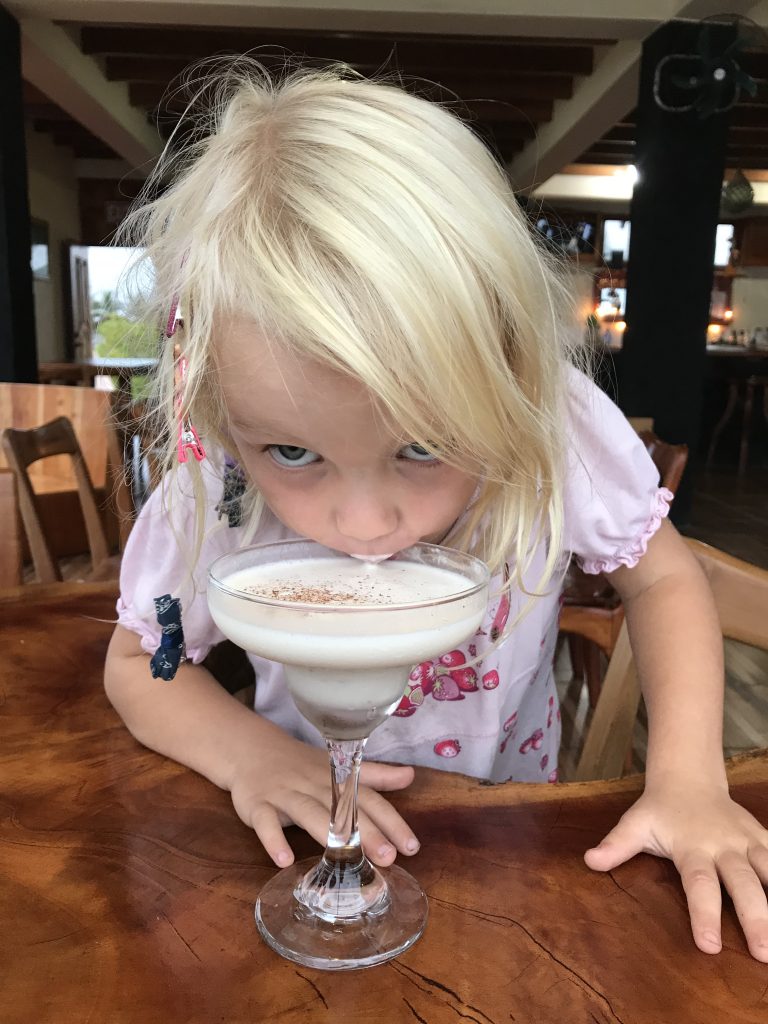 James shared some fascinating stories from his years as an American gringo on Galapagos. Meeting people like this makes all the difference for our trip. We feel truly grateful.
And then another DOWN, literally: Ingrid crashed with her scooter on the way home! We were racing our scooters towards the harbor in the dark. I completely forgot to pay attention to the fact that we were racing on a dirt road. Suddenly the front wheel got caught in the dirt, and off I went in a half summersault, completely ungracious. I must have been clutching on to the handlebars, because the only limbs I landed on were my left knee and my forehead! OUCH! (Note to myself: I've been so careful and cautious all my life not to put myself in situations where I get hurt, that I completely missed out on the useful lesson that experience gives you in how to fall without killing yourself!) My head is ok, just a bump and a scratch. But my knee is battered and hurts like hell! We took a taxi to the harbor and the dinghy back home to Vilja. There Dr. Karen Marie and Nurse Jon Petter cleansed my boo-boos and gave me lots of care. So after all – I realize I'm lucky in the middle of my transient state of misery. 😉