Hi! Welcome to our story of Sailingvilja!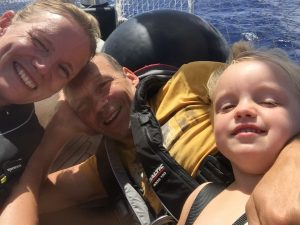 We're a Norwegian (and «a bit» American) family of 3 living and sailing S/Y Vilja: Jon Petter (51), Ingrid (45) and Karen Marie (3). Ps. You'll find some more info about us further down. S/Y Vilja became ours in 2005, and we've lived in her since. We sold our houses on land, worked a couple of more years in Norway, before we went ALL in: On Tuesday July 11th in 2017 we set sail and departed from our home harbour "Grilstad Marina" in Trondheim, Norway. Our current plan is to circumnavigate and return to Norway by Fall in 2020.
Underway we've made many new friends, some of which have wished that we write our blog in English. So here is our first attempt at sharing some short updates in English.
Some links:
A bit about the Slungaard Myklebust Family: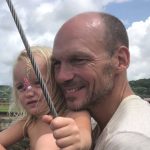 Jon Petter Li Slungaard Myklebust: Born in Svolvær, Norway in 1966. He's lived in Grong and Trondheim in Norway most of his adult life. Jon Petter is a professional diver, holds a certificate of apprenticeship in welding, has a bachelor's degree in mechanical engineering and a certificate as shipmaster (captain). Is employed by the Norwegian Coastal Administration as captain on board MS Ona. His employer has granted him a 3,5 years leave away from work until November 2020 to sail around the World.
Ingrid Slungaard Myklebust: Born in New Jersey, USA in 1973. Grew up in the little town of Meråker, Norway. Moved to Trondheim at the age of 15 and has lived there since. Ingrid holds a Master's degree in engineering within the field of Energy and Environment. She resigned her job as a senior advisor for the governmental energy agency Enova in 2017 to sail around the World.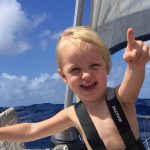 Karen Marie Slungaard Myklebust: Born in Trondheim in 2014. She has lived on board Vilja since she was 8 months old, and so has – in percentage of time lived – the highest share of time spent on board a boat out of all of Vilja's crew. Karen Marie is definitely the person that brings most spontaneity, play, unexpected input, curiosity and good questions, laughter and tears into our voyage. She is without a doubt a key crew member on board Vilja.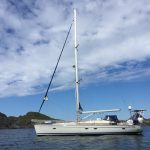 S/Y Vilja: "Born" by Bavaria Yachtbau GmbH in Giebelstadt, Germany in 2005. She is a 50 foot Bavaria 50 Cruiser sailboat. We've done A LOT of upgrading to her, so she's ship shape and for us the perfect home and sailboat to enjoy sailing and living far and away on.